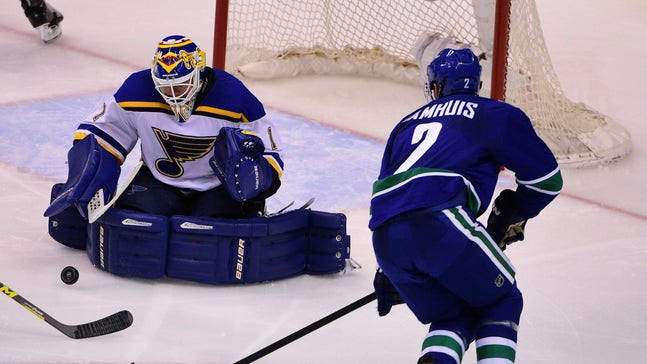 Blues shut out Canucks 3-0 in Elliott's return
Published
Mar. 20, 2016 12:45 a.m. EDT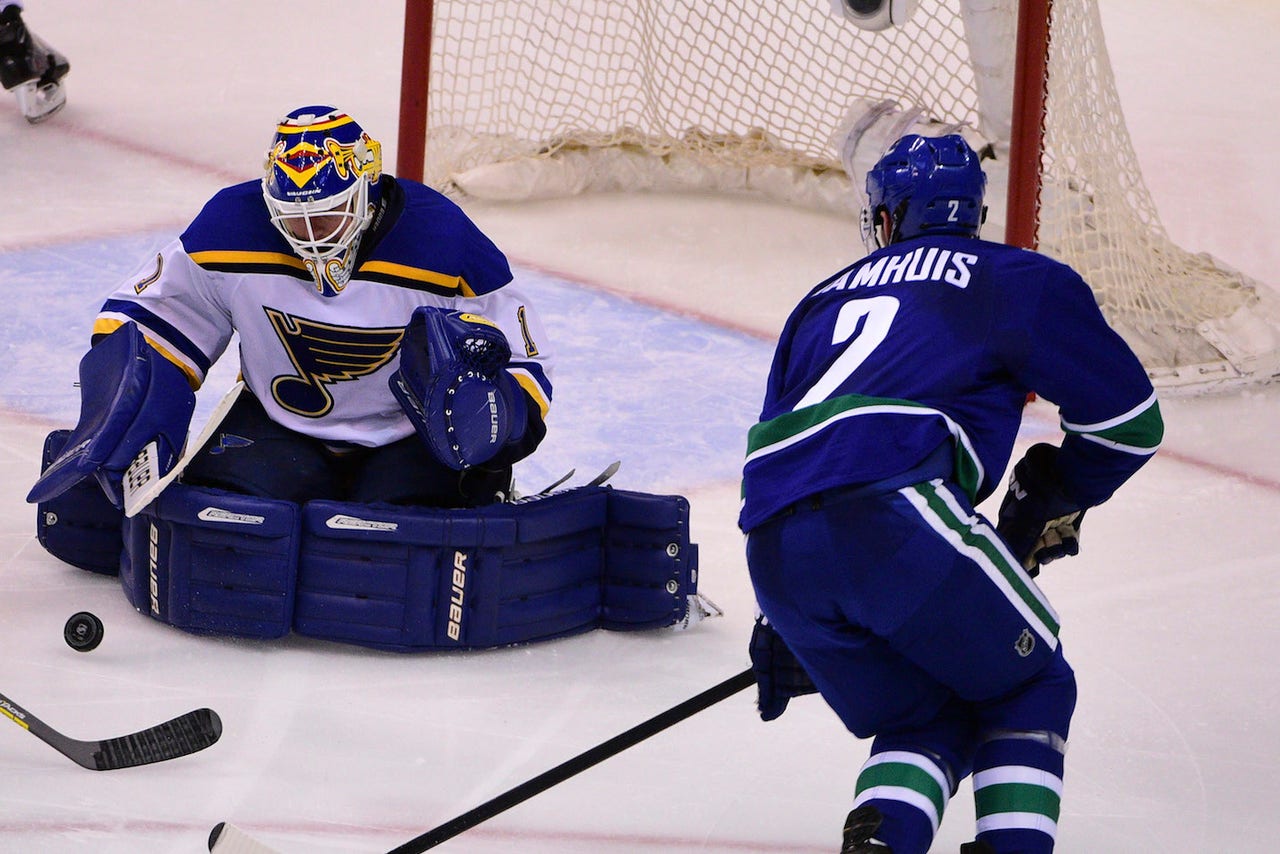 VANCOUVER, British Columbia -- A few days off and the return of their goaltender helped the St. Louis Blues snap a short skid and stay within striking distance for the Western Conference lead.
Brian Elliott made 19 saves in his return from injury and the Blues handed the Vancouver Canucks their second straight shutout loss, 3-0 on Saturday night.
St. Louis had dropped two straight but been off since a 6-4 loss to Edmonton on Wednesday. They had a season-high 50 shots on goal against Vancouver.
"I think for our whole team, we needed to have a good game and get a good solid St. Louis Blues type of hockey game," Elliot said. "We didn't play well the last couple of outings and this is good. Hopefully we can take it into San Jose and wrap up the road trip with a high."
Troy Brouwer, Vladimir Tarasenko and Jaden Schwartz scored for the Blues, who are two points behind Dallas for the Central Division and Western Conference lead.
This was Elliott's first game since Feb. 22, when he went down with a lower-body injury. Saturday was his second shutout this season and 32nd of his career.
Vancouver slumped to its fourth straight loss to equal a season high. The struggling Canucks lost 2-0 in Edmonton on Friday.
Watch the Blues Live pregame and postgame shows before and after every St. Louis Blues game on FOX Sports Midwest.
Ryan Miller made 47 saves for Vancouver.
"That was a rested team that had something to prove to their coach," Miller said of St. Louis. "I knew they would be focused and ready. That's the kind of night where you have to weather it and see what you can get out of it."
Miller started the game strong with a big save on Tarasenko, stopping a 2-on-1 between Robby Fabbri and Brouwer, then shutting the door on Scottie Upshall alone in front of Vancouver's net. Miller faced 18 shots in the first period.
Elliott had a bit more to do in the second. He gloved a wrist shot off Daniel Sedin's breakaway seconds into the period, and 4 minutes later stopped a hard shot from defenseman Dan Hamhuis in the slot.
St. Louis finally broke through at the other end while on the power play at 16:18. Again it was Fabbri and Brouwer with the 2-on-1, but this time Brouwer had a wide open net with Miller out of position.
"Fabbri did a good job faking everybody out and was able to slide it over to me for an empty netter," Brouwer said. "We did a lot of good things to generate a lot of great opportunities tonight."
Brouwer almost had another before the period's end when he spun around and beat Miller a split second after the buzzer went off. It was the end of another busy period for Miller, who faced 37 shots through two.
Daniel Sedin was back at it in the third with a clean look from the slot, but again Elliott denied the Swede's dangerous wrist shot.
Tarasenko doubled the lead when he deposited a big rebound off Schwartz's shot at 11:54. It was Tarasenko's 34th of the year and the 100th of his career.
"It's actually really a better feeling because we win today and thanks to my teammates to make me reach this 100 and hope more to come," Tarasenko said.
Schwartz added some insurance with an empty-netter.
NOTES: Vancouver called up veteran Chris Higgins from Utica (AHL) for the first time since sending him down in January.
---
---