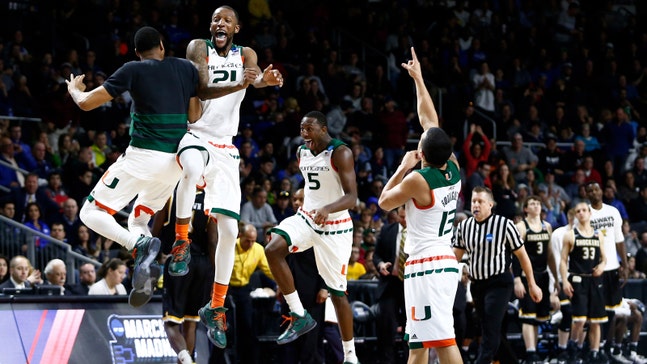 Angel Rodriguez steps up, Miami holds off Wichita State to advance to Sweet Sixteen
Published
Mar. 19, 2016 4:26 p.m. ET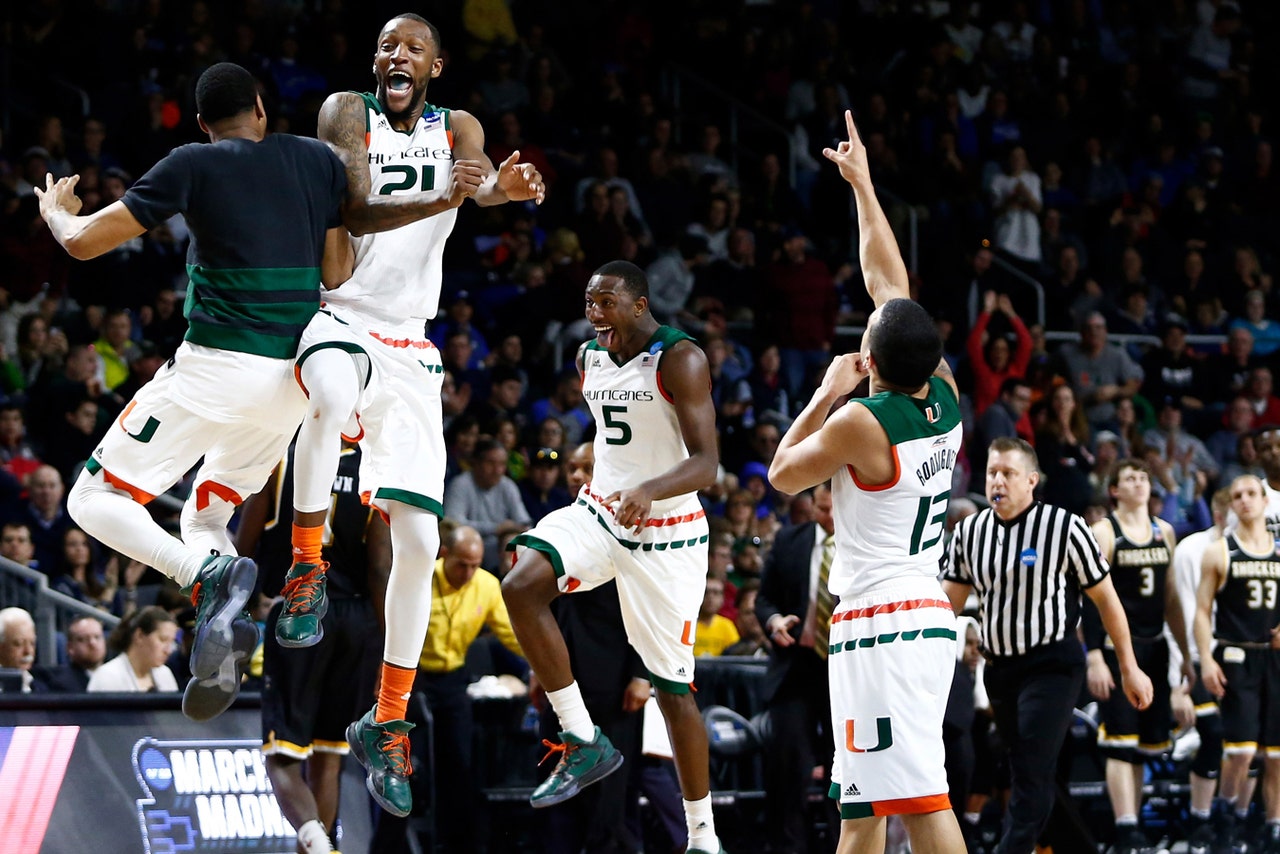 PROVIDENCE, R.I. (AP) -- Maybe it was the technical against Miami coach Jim Larranaga. Maybe it was Sheldon McClellan repeatedly yelling in the huddle: "We're not losing this game!"
Whatever it was, Angel Rodriguez made sure the Hurricanes would play another day.
The smallest guy on the court, Rodriguez played large on Saturday. He took over after Miami blew the 21-point lead that he pretty much had created, hitting a big 3-pointer with 72 seconds remaining and scoring 28 points to lead the third-seeded Hurricanes over Wichita State 65-57 on Saturday to advance to the Sweet 16 of the NCAA Tournament.
"There was a lot on the line. Obviously, everybody wants to advance," said Rodriguez, who was 9 for 11 shooting and had five assists and four steals. "I just felt good. I had a really good energy about the team, not about me."
The Hurricanes (27-7) will play either Iowa or Villanova next weekend in Louisville in the South Region semifinals.
Miami looked like the best defensive team around, building its big lead at the outset and went into the locker room at halftime with a 32-19 edge.
"Anytime you can't get stops, it just takes your rhythm completely for the offensive end," Wichita State's Fred VanVleet said. "And they were making shots, so they were ultra-aggressive, and it was just not a good combination."
Still, with so much at stake and their fans cheering "We shock! We shock!," Wichita State erased the daunting deficit with a gutsy, 22-4 spurt by a team that won a play-in game and then upset sixth-seeded Arizona.
A steal and slam by Shaquille Morris pulled Wichita State within a basket and was more than enough for Larranaga, who protested a call and was given a technical.
Just over a minute later, Ron Baker's 3 with 10:25 left gave Wichita State a one-point lead, but the old coach had sent a message with his tirade and the Hurricanes regrouped behind Rodriguez. It was just the second technical for Larranaga in five years with Miami.
"The way we were playing to start the second half, we had careless turnovers, we were very tentative, very unlike the way we played to start the game," Larranaga said. "And as they began to whittle down the lead, instead of getting tougher-minded and fighting harder, we tended to let up.
"I think it snapped our guys out of the doldrums and got them aggressive again, which I'd have to say was good timing. We were fortunate that the players responded that way."
Sheldon McClellan finished with 18 points and Davon Reed had 10 for the Hurricanes, who made it to the round of 16 three years ago under Larranaga.
VanVleet had 12 points and Baker 11 for 11th-seeded Wichita State (26-9), a tough ending to their college careers for the dynamic backcourt. Morris also had 12 points.
After Baker's 3 gave Wichita State its first lead, McClellan scored nine points and Reed hit a deep 3 from the wing for some separation.
McClellan nearly gave it away, though, when he failed to convert a lob from Rodriguez with 2:59 left and Miami clinging to a 55-51 lead.
Rodriguez came back with a stunning hook off the glass for a 57-53 lead with 2:05 left and followed with his clutch 3 from the wing.
The gritty 5-foot-11, 185-pound point guard and his teammates simply refused to lose.
"He has great confidence in himself, and when he's focused, he has the ability to play at a very, very high level," Larranaga said of Rodriguez. "His biggest challenge is he needs competition. When the competition is at its highest, he's at his best."
Much of the focus figured to center on the performance of the backcourts featuring four seniors-- VanVleet and Baker against Rodriguez and McClellan. The Miami duo is a tad older, but the Shockers had more tournament experience.
Age took over at the start and came through at the end.
Rodriguez was 7 for 7 for 16 points in the opening half, scoring 11 points in the first eight minutes as Wichita State struggled to find any room to shoot, missing its first five 3-pointers and hitting only 1 of 12 shots.
TIP-INS
Wichita State: VanVleet, already the school's assist leader, had four steals for 225 in his career, a Wichita State record. VanVleet needed a win for his 121st, which would have been a school and Missouri Valley Conference record.
Miami: Rodriguez is a transfer from Kansas State and McClellan came over from Texas. Both 23-year-old stars made the move after the 2012-13 season and had played a combined 269 games entering Saturday's matchup.
STATS
The Shockers were allowing just 58.9 points per game to lead the nation and ranked fifth in field goal percentage defense (38.3). Miami shot 12 of 20 (60 percent) in the first half and 55.3 percent for the game.
SHOOTING BLANKS
Baker's 3-pointer in the first half was his only basket of the period. He and VanVleet were 3 for 13 for nine points compared to Rodriguez and McClellan, who were 9 or 11 for 23 points. The only blemish was Rodriguez's six turnovers.
UP NEXT
Miami: Either Iowa or Villanova in the Sweet 16.
---
---