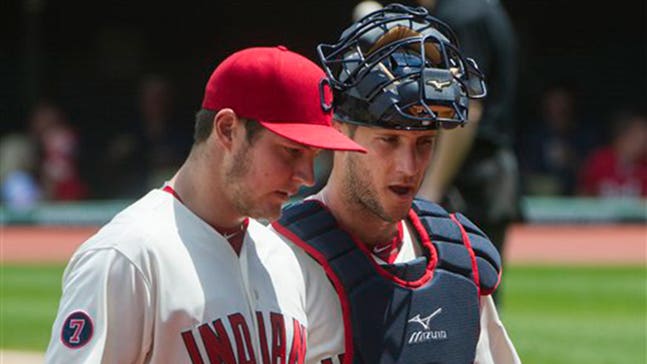 A normal game for Gomes as he makes his return to Indians' lineup
Published
May. 24, 2015 7:21 p.m. EDT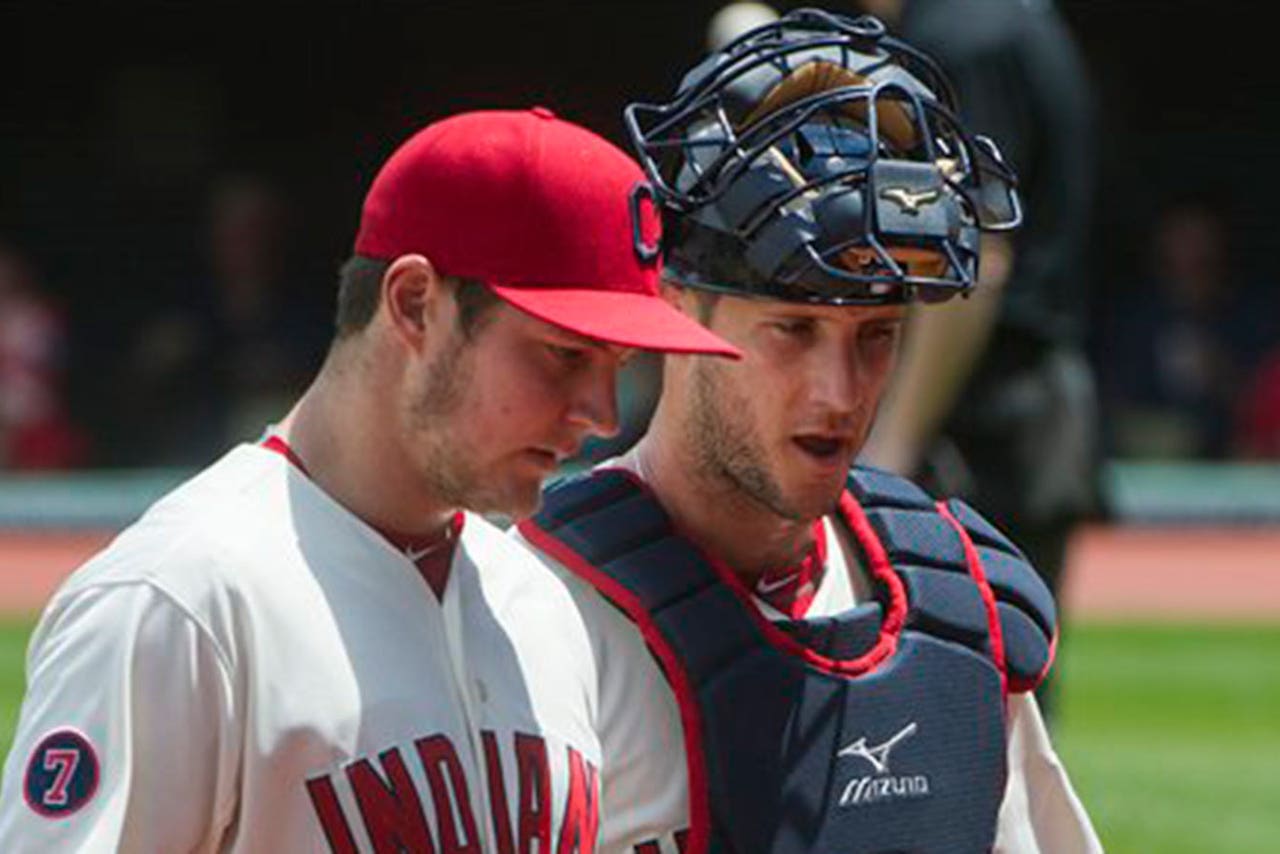 CLEVELAND -- When Yan Gomes sprained the MCL in his right knee on April 11, Indians manager Terry Francona admitted that the preliminary timetable of Yan Gomes being out 6-8 weeks might have been a tad optimistic.
Six weeks after being placed on the disabled list though, Gomes was back behind the plate for the Indians on Sunday against the Reds. Gomes caught the entire game and was hitless in four at-bats as the Tribe completed their first sweep of the season with a 5-2 win.
"Yeah, as soon as that first pitch went by it was kind of back to normal and letting all those jitters go away, being back," Gomes said. "Throughout the warmup you think about it a lot. Six weeks is a long time. After the first pitch, most of that was done. It was like I was never out."
It had all the appearances of a regular game for Gomes. He reacted well to a couple pitches down low and didn't have to throw down to second to get an opposing base runners.
Sunday's game marked the fourth game that Gomes caught this week. In Columbus he caught five innings on Monday, seven on Wednesday and all nine on Friday. He drove up to Cleveland on Saturday and was in the clubhouse for one last look before being activated.
During his rehab stint in Columbus, Gomes admitted that he has felt some tightness in the knee early in games but that it gets better as the games go along. However, Gomes said he felt find throughout Sunday's game, but that might have been due more to adrenaline taking over.
In less than two years, Gomes has established himself as one of the team leaders. He proved that again during his rehab as he was on the field doing catching drills three weeks after the injury. There was some thought about bringing back Gomes sooner, but trainer James Quinlan wanted Gomes to catch a full nine innings in the minors first.
Said Francona of Gomes' emergence as a leader: "It is not supposed to happen that quick. To gain that much respect takes time. He wasn't even a full-time catcher two seasons ago. What he's done with his success is so important to what we're doing and appreciated. It doesn't always work that way."
Even though Gomes went hitless, he should help the bottom of the order, which has been inconsistent. He did reach base in the seventh when Reds' pitcher J.J. Hoover was unable to handle a grounder and then scored later in the inning.
Trevor Bauer, who went 7 2/3 innings en route to his fourth win of the season, said there were a couple times that he wasn't on the same page as Gomes. But he added that it was good to have him back there, especially from a team morale standpoint.
"He caught really well today," Bauer added. "He blocked a couple balls and, shoot, I beat him up. Threw a couple of 40-footers. I should probably go apologize to him for that."
The plan over the next couple weeks is for Gomes to catch every other day and likely be the designated hitter the other times. A lot of it will depend on how Gomes feels as Francona wants to make sure that they have Gomes for the rest of the season.
Gomes return comes as the Tribe are on their hottest streak of the season. They've won six straight, and the rotation has started to show the form they had the final two months of last season. Since May 10, Cleveland starters are 8-2 with a 2.57 ERA, 111 strikeouts, 15 walks and holding opposing hitters to a .216 average.
---
---