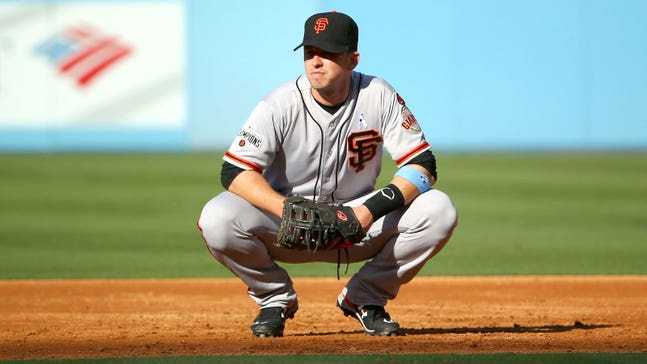 A look inside the Fielding Bible Awards
Updated
Mar. 4, 2020 7:21 p.m. EST

We're only two days away from finding out who's winning Gold Gloves this year. But we don't have to wait even that long for fielding awards, as the Fielding Bible Awards were announced over the weekend ...
Here are this year's winners!
P – Dallas Keuchel
C – Buster Posey
1B – Paul Goldschmidt
2B – Ian Kinsler
SS – Andrelton Simmons
3B – Nolan Arenado
LF – Starling Marte
CF – Kevin Kiermaier
RF – Jason Heyward
MP – Ender Inciarte
Whilst you ponder that list, I'm going to run the same list, but with last year's winners in parentheses:
P – Dallas Keuchel (Keuchel)
C – Buster Posey (Yadier Molina)
1B – Paul Goldschmidt (Adrian Gonzalez)
2B – Ian Kinsler (Dustin Pedroia)
SS – Andrelton Simmons (Simmons)
3B – Nolan Arenado (Arenado)
LF – Starling Marte (Alex Gordon)
CF – Kevin Kiermaier (Juan Lagares)
RF – Jason Heyward (Heyward)
MP – Ender Inciarte (Lorenzo Cain)
So not including that last category — more on the "multi-position" guys in a minute — we've got four repeat winners. Which seems ... approximately right, right? If there weren't any repeaters, you'd figure something was wrong. If there were eight or nine, you'd figure something was wrong. But somewhere between four and six, or maybe three and five: that just feels right.
To me, anyway.
And it's more than an academic matter, to me, since I've been a Fielding Bible voter for all 10 years of the awards' existence.
This time around, there were only two votes that wound up being particularly close: Ender Inciarte over Addison Russell, and Dallas Keuchel over Zack Greinke. My first choice was also the consensus choice in all but two cases: I had Manny Machado instead of Arenado (whom I ranked second), and Brock Holt instead of Enciarte.
We're not given any real direction with the multi-position guys, but I place a high premium on guys who play all over the field. Which is how I wound up with Holt No. 1 (he finished fifth) and (I think) Josh Harrison third (he finished 11th).
In case you're wondering, here's how the whole thing works: Around the middle of September, Baseball Info Solutions sends the voters a large pile of BIS data and metrics, and then shortly after the end of the regular season, we vote.
Considering how much agreement there is among the voters, you might guess that we're all relying on the same data.
Well, we're not. I don't think we are, anyway. I look at the BIS data, sure. But I'm also looking at various other publicly available numbers, along with reputations, extenuating circumstances, etc.
Of course you're going to miss stuff, and it's always been my fervent hope that an award didn't hinge on something I missed. I don't think it's ever happened, because there's usually a decent gap between No. 1 and No. 2, and even if I missed something and didn't have someone in my top slot, I probably had him not far below.
Just looking at the voting for every player who finished in the top 10 at their positions, I'm concerned when I see that Yonder Alonso and D.J. LaMahieu both finished fifth but weren't among my top 10. But the biggest discrepancy is at catcher, where Russell Martin finished third but also wasn't among my top 10.
If I had known that was going to happen, I probably would have a) bowed (or caved, if you prefer) to the consensus and at least gotten Martin on my ballot, and/or b) kept detailed notes about my reasoning, so I could explain myself to you, Constant Reader. But sitting here now, I don't even have my package from BIS handy. I do wonder if a catcher who had so much trouble with R.A. Dickey's knuckleball should be considered the third-best defensive catcher in the majors. I also suspect I took his struggles with the knuckleball and his (apparently) diminished pitch-framing skills a bit too seriously. But again, Martin wasn't anywhere close second-place Yadier Molina, let alone Buster Posey. So even if I'm wildly wrong about Martin, I didn't cost him a single thing in the overall balloting.
Granted, the fact that I actually care about such things might mean I'm not cut out for the big awards that people argue about on the Internet every year. If I worry so much about Russell Martin, how many hours would I spend deciding between Clayton Kershaw and Jake Arrieta and Zack Greinke?
The good news is that BIS has designed a system, I think, that does result in tremendous choices. You might look at this year's results and think someone who won an award should have finished second or even third. But is there anyone on that list who's not, by your lights, an outstanding defensive player? If your answer is "no," then we're already way ahead of the Gold Glove Awards.
---
---