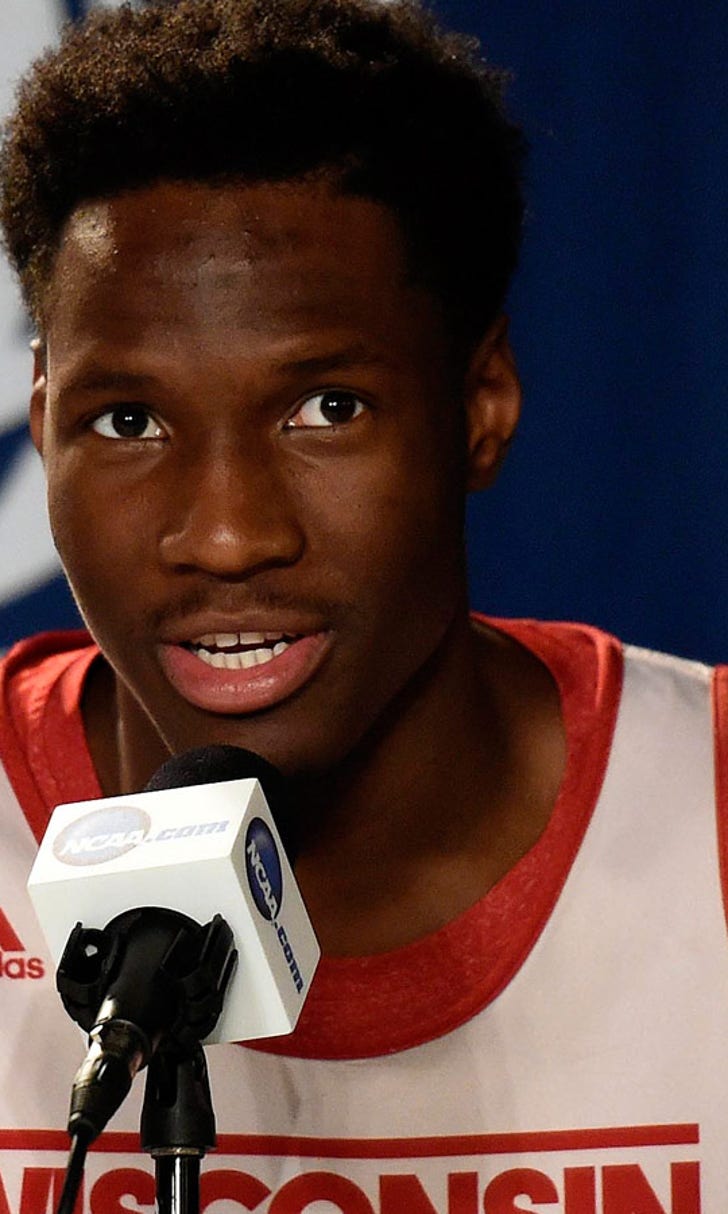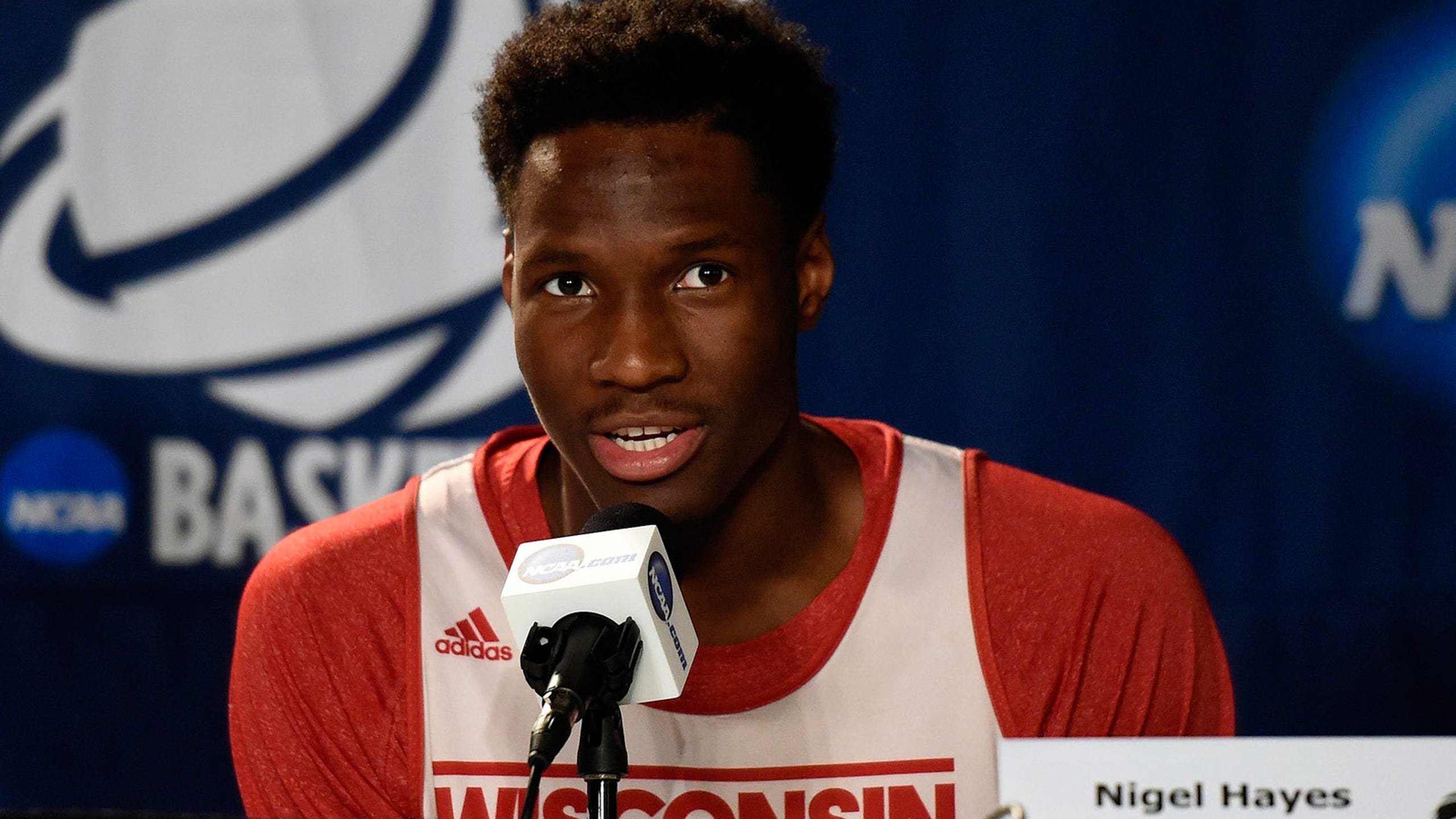 A Letter to Nigel Hayes
BY foxsports • November 20, 2015
Recently I read an article about Nigel Hayes and how all he wanted to do was play basketball and have a relatively quiet life on campus. In this article he talks about some of the pressures of being a star college athlete and how weird it can be sometimes. I am now three years removed from the scene and have had time to reflect on what happened during my four-year run and why it is strange as a 20-something to become famous for being really good at putting a ball through a hoop. 
First off, I would like to note that it was my own fault for garnering much of the attention I received. Being 6-foot-7 and walking down the street with a ginger fro is rare in everyday society. It is quite the anomaly on a D1 basketball court and is a good way to capture the attention of thousands even if it is not always wanted.
During my time in Madison, I would walk down the street and people would call out "Hey Bruesewitz," and depending on my mood, I would smile, wave and say hello, or keep my head down and pretend to not hear anything. Often times it was the latter because I did not want to stop and talk basketball or talk about my hair, which was the norm for this type of interaction with strangers. I just wanted to be left alone because I felt like a normal college kid who just happens to play on the basketball team. Not to sound bitter or jaded but answering the same questions over and over again starts to get a little annoying even though people have the best intentions in mind.
Humans are always looking to connect with others, especially those who are "elevated" in social stature by what they do or who they hang out with. This elevation can come in many different forms in every day society. As a big-time college basketball player, there are several different platforms (large arenas, media outlets) that are your stage and change the perception people have of you.
Friendship is a shared experience and what you give people as a college basketball player is a highly emotional experience. The large arenas and television sets give each player a main stage to elevate themselves in the minds of the thousands that are watching. Games bring a community together and the players are the life of the party, the epitome of stress, anxiety and excitement.
This is a strange phenomenon, because in a friendship both parties share the experience equally, and with a similar point of view, which creates a bond between two or more people. As a player, the experience is shared amongst your teammates, coaches and opponent. To the thousands watching, YOU are the experience, and the bond between fans to players is singular. As a player you feel disconnected to strangers who come up to you and act like they know you and treat you as a friend, because to them you are.
Watching games brings the state together and the last two years you were able to bring a ton of joy and stress to peoples lives. As people watch games, there are all kinds of emotions and YOU are at the center of it all. They shared these moments with their family, friends and you, Mr. Hayes. You were there with them, with the magical run you and the squad made and unfolded before their very eyes.
I know it is strange because I have lived through a similar experience.  I always questioned people's motives and had a some serious identity issues, wondering if people wanted to be around me cause they liked me or because it was cool to hang out with the guy who is on ESPN every week. This is what it is like when you are a really great basketball player with some personality and a little flare. You have created so many happy, positive and emotional memories for people that they often believe they know you.
People are always looking for an "in" with others. Basketball is something people feel they can relate to you with, because they see it is a passion of yours. The things you do in the media create even more emotional responses and allow fans to further believe they know the real Nigel. You are Super League with two L's which means you will have to get used to this type of lifestyle change cause as long as you play major college and professional basketball this will continue.
Yes, it is strange but do your best to enjoy the ride despite the redundant conversations and people treating you more like an object than a human at times. Everyone is looking for a way to connect for one reason or another. Whether you are tall, attractive, a great basketball player or just look like an interesting person people will always want to talk to you. In my case I clearly have all four traits, which is a burden in itself. Did I mention I am quite modest as well?
College basketball comes with large amounts of pride, especially in the Badger state, because Sconnies are crazy people in the best way possible. They love their sports teams almost to a fault and that is one of the biggest compliments that I can give. When you put on the Wisconsin jersey, you truly are part of their family forever.
I am sure you have handled yourself well but just be sure embrace those with excitement and be grateful that you are able to do something so cool that you literally make thousands of people's days just by showing up and smiling.
The power you have is a strange one but Jim Carrey said it best: "How amazing is it that I get to do something that I love, and do it so well that it makes other people want to present what they believe as the best version of themselves to you."
---
---