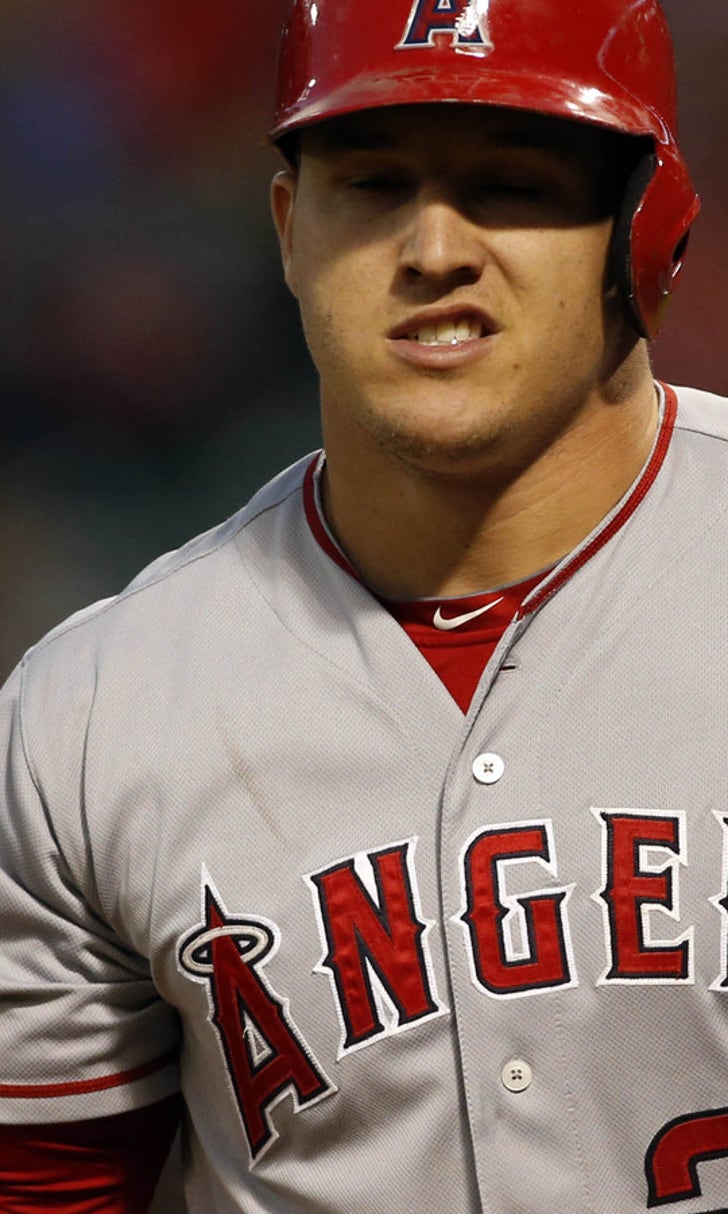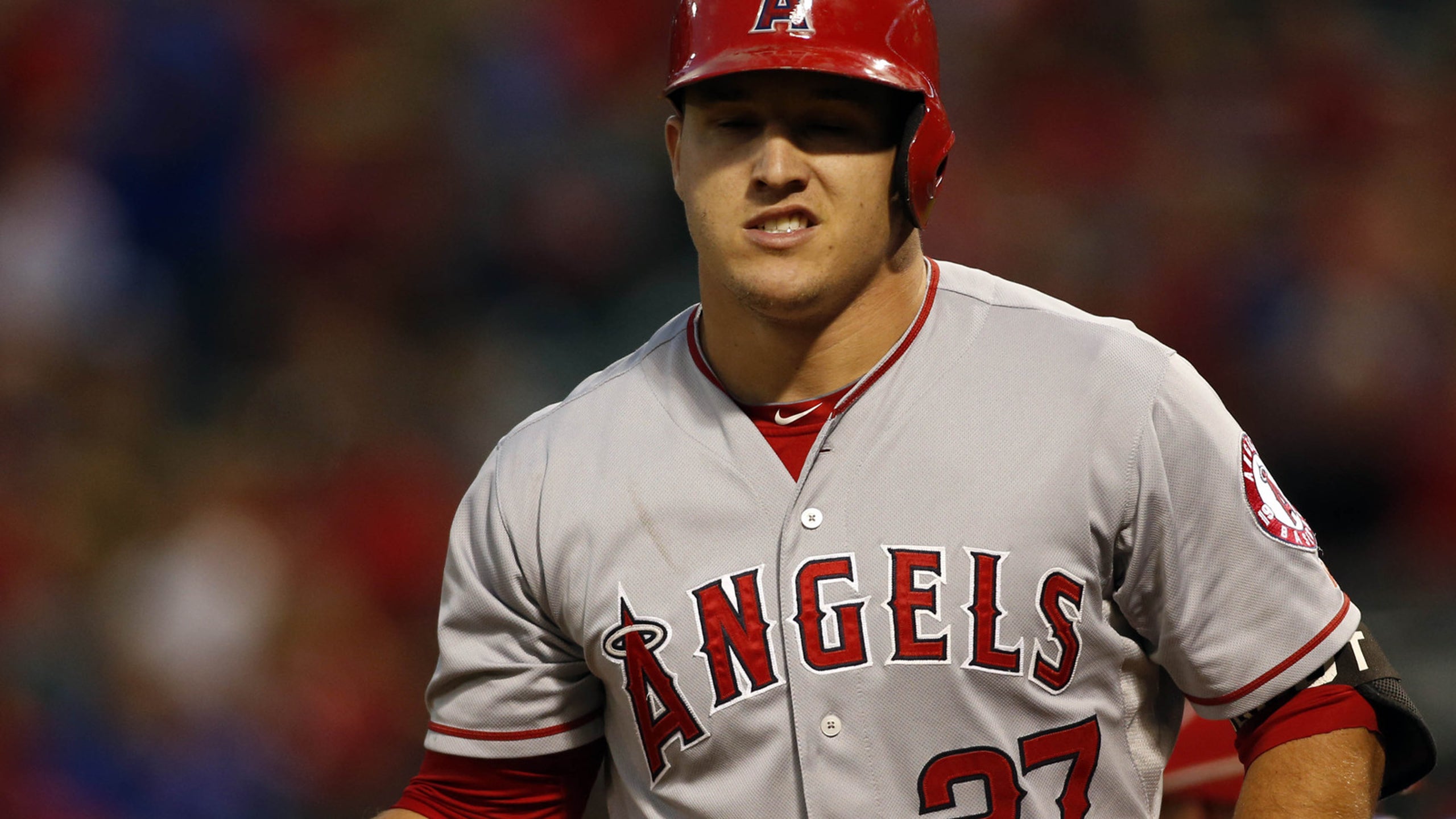 2016 Fantasy Baseball Draft Strategy: Top 50 Player Notes and Information
BY foxsports • February 3, 2016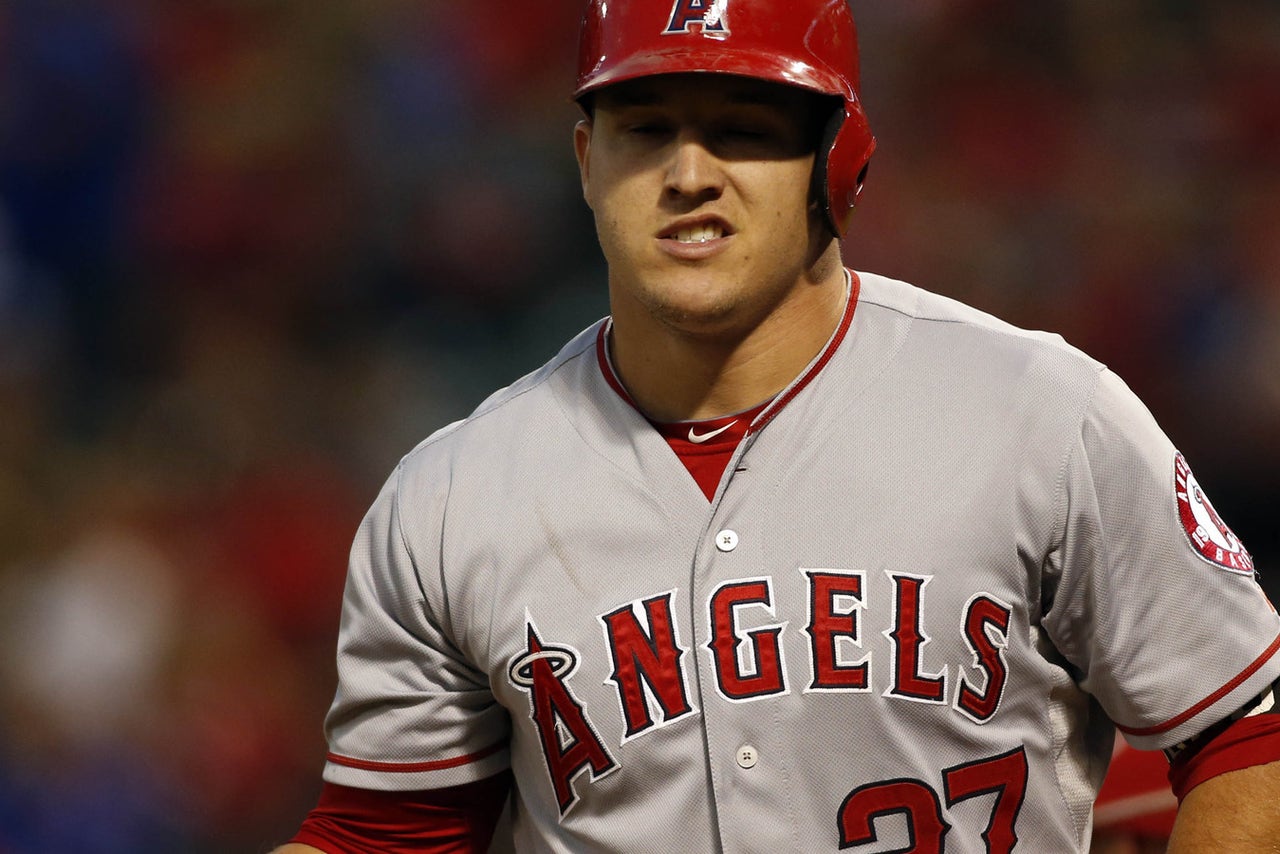 To accompany our 2016 fantasy baseball draft rankings, we created some notes to help you with the top 50 players on the list - check 'em out below.
Links for each positional fantasy baseball pre-draft ranking can be found below or you can visit the FOX Sports fantasy baseball draft guide for strategy, advice and analysis.
Crave more MLB info and analysis?  Follow us on Twitter and fire away!
Ryan Fowler @FOXSportsFowler
Adam Meyer @FOXSportsMeyer
John Halpin @jhalpin37
D.J. Foster @FOXSportsFoster
Top 300 (PRINT) | C (PRINT) | 1B (PRINT) | 2B (PRINT) | 3B (PRINT) | SS (PRINT) | OF (PRINT) | SP (PRINT) | RP (PRINT) | Draft Guide | Play FOX Fantasy
Top 50 Player Notes
Mike Trout, OF
Trout is first overall again, but he's not the slam-dunk choice he's been for the past couple of seasons, as Harper and Goldschmidt have attracted some early drafters and analysts. Can someone in Anaheim please tell Trout to start stealing lots of bases again? Thanks.
Bryce Harper, OF
The National League MVP was otherworldly in the first half of 2015 and merely awesome in the second. Harper probably won't bat .330 again this season, but those in OBP leagues will love the 124 walks he drew last season. Monster.
Paul Goldschmidt, 1B
Goldschmidt crashes the Trout-Harper blue-chip party for some people, and picking him first isn't a terrible idea -€" he's got the whole five-category package, and will give you an edge of 15-20 steals on most of the sluggers at his position.
Giancarlo Stanton, OF
Stanton broke the hamate bone in his left hand last June, but should be fine when spring training starts. You can worry if you'd like, but he was on his way to a 50-homer season before the injury. There's a slight bit of risk involved in picking him here.
Josh Donaldson, 3B
Donaldson graduated from top-tier third baseman to star in 2015, thanks to batting mostly second in a loaded lineup and playing home games in a homer-happy ballpark. Maybe his HR total drops a bit in 2016, but everything else looks great.
Clayton Kershaw, SP
Kershaw's ERA from 2013-15 was 1.92, and he whiffed 301 batters last season. He's the perfect pitcher, in real life and fantasy.
Andrew McCutchen, OF
McCutchen's stolen-base total dropped to a career-low 11 last season, but his consistent very-goodness in the other categories makes him a low-risk pick in the middle of the first round. FYI, his NFBC ADP has been lower than this.
Anthony Rizzo, 1B
The 17 stolen bases were a surprise, but everything else was just about what we expected from the Cubs' young superstar. Give us one good reason why Rizzo won't post a repeat. One!
Manny Machado, 3B
FOXSports.com fantasy analyst John Halpin before 2015: "Machado is a better real player than fantasy player."
FOXSports.com fantasy analyst John Halpin after 2015: "Um ... never mind."
Machado emerged as a fantasy stud last season, and at 23 years old he's just getting started. The usual peripheral number suspects (BABIP, HR/FB%, etc.) don't suggest that any luck was involved in his 2015 breakout.
Carlos Correa, SS
Don't we all love a fantasy stud in the middle infield? Correa arrived in 2015 like a comet, batting .279 with 22 homers and 14 stolen bases in 99 games. He hadn't really hit with that kind of power in the minors, but can't we say that about most 20-year-olds? He'll be a first-round fantasy pick for a long time.
Jose Altuve, 2B
Correa's teammate is clearly the top option at the keystone. In 2015, he added 15 homers to a package that already included excellent speed and a terrific BA. Look for more of the same in 2016.
Jose Bautista, OF
Bautista seemed to make a concerted effort to hit more homers last season, as he hit fly balls on 48.8 percent of his batted balls. His .250 BA was worrisome, but not far from what was expected for a .257 career hitter. Remember that he's batting between Donaldson and Edwin Encarnacion, who should help fuel a repeat in runs and RBI.
Kris Bryant, 3B
We've got some studs at third base this season, huh? Bryant was terrific after his slightly delayed MLB debut, batting .275 with 26 home runs and 13 steals in 151 games. The one red flag is his 30.6 percent strikeout rate, which will need to improve if he wants to bat .275 again. On the other hand, Bryant's minor-league track record – brief as it may have been – suggests that more power is coming.
Miguel Cabrera, 1B
Miggy's out of the first round? That'll happen when you miss 40-plus games with a calf injury. When you need a first baseman early in the second round, remember that he won the batting title and posted a .974 OPS last season.
Nolan Arenado, 3B
There may be some some disagreement among the FOXSports.com fantasy team on Arenado, as Halpin nearly fainted when he saw Arenado ranked this low (he's going seventh overall in NFBC drafts). Apart from a worrisome, hack-tastic walk rate (21 UIBB in 665 PA), he looks primed for a repeat. Thanks, Coors Field!
A.J. Pollock, OF
Pollock was viewed by many as a breakout candidate last season, but his numbers exceeded expectations. A full repeat seems unlikely, but if we were sure that was going to happen, he'd be a top-10 pick. The middle of Round 2 sounds about right.
Max Scherzer, SP
Scherzer was as overpowering as ever, and cut his walk rate almost in half. If he's the same guy but doesn't win more than 14 games this season, I'll eat a bag of dirt.
Buster Posey, C/1B
After Posey, when do you take another catcher? Kyle Schwarber's NFBC ADP is 31, but beyond that, risk abounds. Posey is as clear-cut a frontrunner at his position as anyone.
Jose Abreu, 1B
Abreu was very good again last season, but not quite as good as in 2014. There's probably nothing to worry about, and Abreu's averages of .303, 33 homers and 104 RBI are fine for a second rounder.
Edwin Encarnacion, 1B
It's a close call between Encarnacion and Abreu, with the former having a bit more power and a better supporting cast, and the latter getting the BA edge. E5 is second in the majors with 109 home runs over the last three seasons.
Mookie Betts, OF
Mookie is hot, hot, HOT in early drafts after a stellar performance in his first full season. He's going to score lots of runs if Pedroia and Bogaerts hit well behind him.
Joey Votto, 1B
We've got Votto ranked much higher than his NFBC ADP of 35, probably because of his stolen-base ability. He starts the second tier at his position behind the studly top five, but that's nothing to be ashamed of.
Dee Gordon, 2B
It would be surprising to see Gordon bat .333 again, despite the fact that he led the majors with 36 infield hits. His BA should remain strong, however, and let's not nitpick about a guy who's swiped 122 bases over the last two seasons.
Charlie Blackmon, OF
Blackmon is probably more of a creature of Coors Field than his teammates, but if he's going to play there, the numbers will keep coming. Blackmon hit the ball harder last season, and that's a nice trait to pair with Coors' spacious gaps.
Starling Marte, OF
Despite a terrible walk rate, Marte broke out with a .287 BA, 19 home runs and 30 stolen bases in 2015. He moved around the batting order a bit, but seems likely to bat cleanup this season, so we might see an RBI bump.
Jake Arrieta, SP
Arrieta's ERA was ONE-SEVENTY-SEVEN? Yep, and while he probably won't repeat that, something in the mid-2.00s should work. Lots of whiffs, plenty of ground balls ... this is a top-shelf ace.
Chris Sale, SP
Remember when we were all positive that Sale's arm was going to fall off because of his funky mechanics? He's averaged 29 starts over the last four seasons, while ranking third in strikeouts and 10th in ERA over that time. Sale's ERA was a career-worst 3.41 in 2015, but his K and BB rates were career bests. A big year is likely.
George Springer, OF
Springer was close to a 30-30 pace before breaking his wrist in early July, and he was again pretty good after returning in September. Springer worked to make more contact last season, and a lower K rate brought a much-improved BA (.276) along with it. He could have a huge year if he stays on the field.
Chris Davis, 1B
Davis' strikeout rate and BABIP checked in at career norms in 2015, so we can assume -€" or is it hope? - that his .262 BA was about right, and that his .196 mark in 2014 was the outlier. On to the home runs, where the totals from Davis' last four seasons are 33-53-26-47. That averages out to about 40, which is close to what we should expect.
Madison Bumgarner, SP
In terms of K, BB, ERA and WHIP, Bumgarner was a bit better last season than he was in his unforgettable 2014, so those who bet against him due to workload reasons lost out a bit. MadBum is a rock-solid guy around whom to build your fantasy staff.
Zack Greinke, SP
Greinke heads to Arizona and an easier hitter's park. There were some smoke and mirrors involved with his 1.66 ERA, as his BABIP (.229) and LOB% (86.5) were much better/luckier than career norms. Look for another very good season, but not a repeat.
Jacob deGrom, SP
deGrom was surprise impact starter in 2014, and improved last season. His K rate got better, and he cut his BBs by a full walk per nine innings. deGrom is probably the Mets' best starter, which is no small feat. A repeat seems reasonable.
Nelson Cruz, OF
Let's not be greedy enough to expect another .300 BA from a .270-ish career hitter. Also, while we won't argue too much with Cruz posting his only two 40-homer seasons in 2014 and 2015, he hit fewer fly balls than ever before, while his HR/FB rate of 30.3 percent was abnormally high for him AND the best in the majors. Cruz hits bombs, but look for a slight decline to 30-35 HRs this season.
Jose Fernandez, SP
Fernandez came back from Tommy John surgery to make 11 starts in 2015, and they were pretty frickin' terrific. Heck, he even cut his walk rate. It would not be shocking to see Fernandez emerge as fantasy's best starter in 2016.
David Price, SP
Boston's $217-million man is consistently very good, but not spectacular. Over the last three seasons, Price ranks seventh in strikeouts (647), eighth in wins (43), 13th in WHIP (1.08) and 15th in ERA (3.01). Fenway Park might hurt Price a bit in the homer department, but he's still solid as a low-end SP1.
Adam Jones, OF
Jones doesn't run much anymore, but figure that his BA, runs and RBI will return to previous levels. He's steady but not flashy, and that's OK.
J.D. Martinez, OF
Flashy was this guy busting out with 38 home runs after a sneaky good 2014. It's probably legit, as Martinez's hard contact rate (42.7 percent) ranks behind only David Ortiz and Miguel Cabrera over the last two seasons. When you mash like that, a .339 BABIP and .282 BA look sustainable. Don't be scared away if you hear any "he only did it once" talk.
Todd Frazier, 3B
Frazier has averaged 32 homers and 16.5 steals over the last two seasons, and goes from one pitcher's park (Cincinnati) to another (Chicago), so what's not to like? And what odds would you give us on Frazier being the best fantasy third baseman in Chicago? We prefer Kris Bryant, but he's going about three rounds higher than Frazier, who's good enough to make this competition interesting.
Ryan Braun, OF
Braun had offseason back surgery, and says he "won't be 100 percent for the start of spring training." The injury issue is factored into this ranking slot; there would be risk taking Braun here, but if he repeats his 2015 numbers, he'd be a bargain. Let's agree to keep an eye on his situation, and ranking.
Justin Upton, OF
If Upton's BA returns to its normal .270 range -€" and it probably will -€" he'll be a strong OF2 in mixed leagues, even if he doesn't steal 19 bases again. It'd be nice if he steals at least 10, though.
Troy Tulowitzki, SS
So, Tulo isn't the fantasy first-rounder he once was, because it's a stretch to think he'll be on the field for 130 games. Also, his walk rate nosedived and his strikeout rate shot up in 2015. Still, if he plays 110 games, he'll probably be worth a pick near the end of Round 4.
Matt Harvey, SP
No more innings limits, thank goodness. He's ranked as our 10th starter, and could exceed expectations if you decide to wait on him as your SP1. Check out Harvey's 2013 stats to see what he's capable of.
Robinson Cano, 2B
Will we get first-half Cano (.251 BA, six homers) or second-half Cano (.331 BA, 15 homers)? The schizophrenic Cano finished with a strong season, ranking first at his position in RBI (79), second in homers (21), and seventh in both BA (.287) and runs (82). He's pretty clearly the third-best keystoner on the board.
Gerrit Cole, SP
Cole was the third-hardest thrower in the majors last season, behind only Garrett Richards and Yordano Ventura. At 25 years old, he merely needs to maintain his 2015 performance to be an ace big-league starter and fantasy SP1. Cole will be a trendy Cy Young pick for those who want to be a little different.
Corey Kluber, SP
Don't be fooled by the 3.49 ERA, as Kluber's peripheral numbers in 2015 basically matched those from the previous season. A sub-3.00 ERA with 250 strikeouts -€" like Kluber had in 2014 -€" is in play.
Adrian Gonzalez, 1B
So you waited, missed the studs at first base, and have to settle for Gonzalez? He'll probably bat .275 with 25 homers, and a return to the 100-RBI level is certainly possible. You could do worse.
Yoenis Cespedes, OF
Cespedes was sensational after getting traded to the Mets - better than he'd ever been as a big leaguer, actually. At age 30, will it happen again? We've got him ranked a bit lower than his NFBC ADP, so you can say we're a bit skeptical.
Prince Fielder, 1B/DH
Fielder played 18 games at first base last season, so he's a DH-only in many leagues. If that's the case in your league, how much do you want to invest on a 32-year-old who hasn't hit 30 homers or slugged .500 since 2012?
Carlos Gonzalez, OF
CarGo hit 40 homers last season, and he's being drafted near the end of the fifth round per NFBC ADP. He has a checkered injury history, and doesn't run much anymore. But did we mention his 40 homers?
Lorenzo Cain, OF
Cain had a nice breakout in 2015. He might not hit quite as many home runs this year, but the other numbers look stable enough. Not bad for a mid-level OF2.
---
---