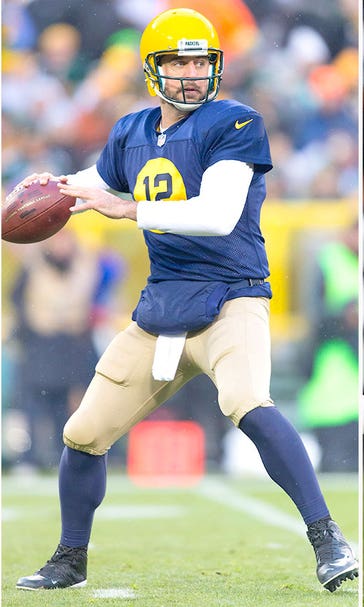 '15 Star-Driven Fun Facts' to ponder for NFL Week 12
November 18, 2014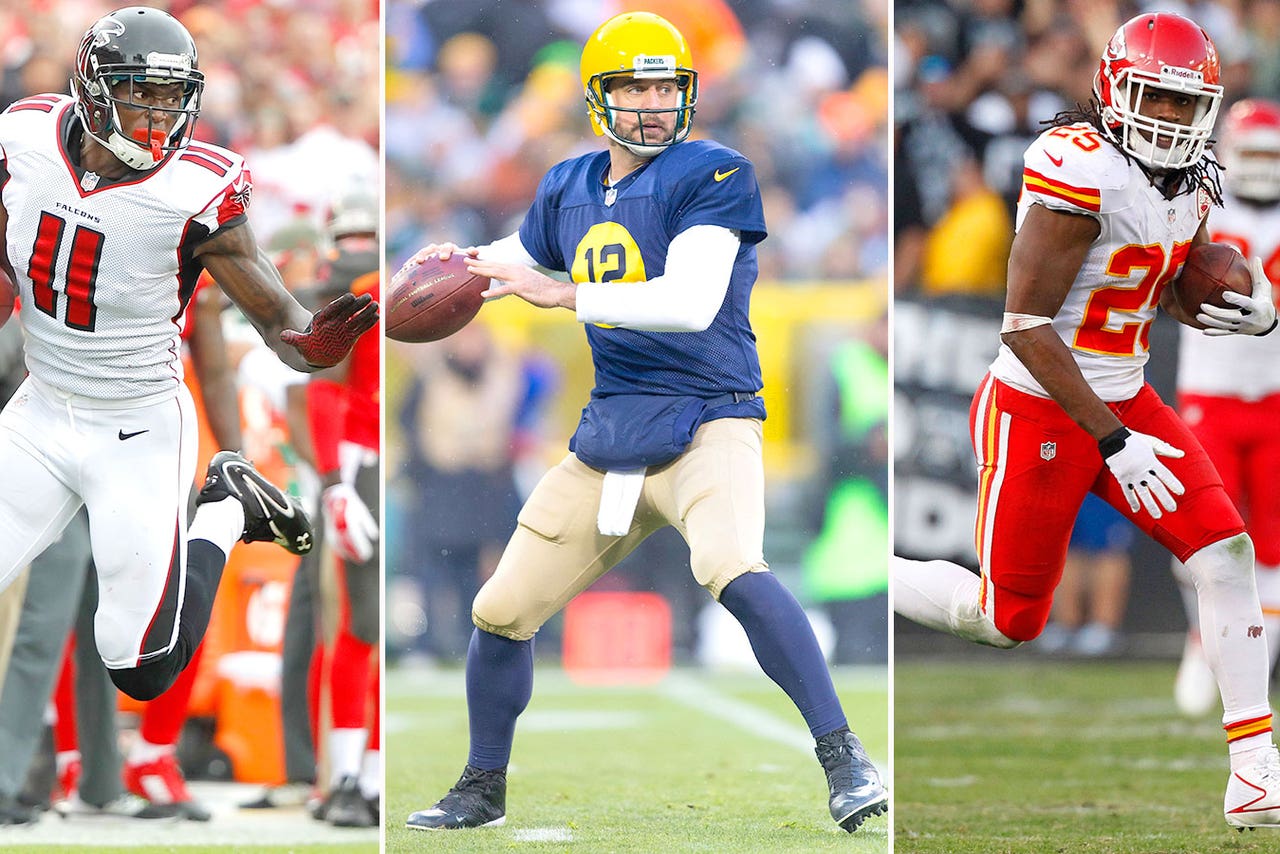 FOX Sports South takes a whimsical and diverse look at 15 star-driven factoids for NFL Week 12 -- a piece that might help shape fantasy-league decisions and/or inspire more real-world and barstool debates, among friends and kind strangers:
1. Let's start with a mind-blowing factoid that's only relevant because the Vikings have a two-year temporary home at TCF Bank Stadium -- an outdoors venue on the campus of the University of Minnesota:
In Aaron Rodgers' illustrious career, the Packers quarterback and MVP candidate has started only one cold-weather ROAD game during the month of November -- Week 12 of the 2012 season against the Giants.
On that blustery day at MetLife Stadium, Rodgers accounted for only 219 yards passing and one touchdown, which undoubtedly played a role in the Packers' 38-10 blowout loss.
2. It's certainly wise to include Jamaal Charles among the top-10 tailbacks for this week, given his 215-yard, five-TD ravaging of the Raiders last December. (In case you forgot, 185 yards came on the receiving end.)
On the flip side, it's also not wise to bet the proverbial house that Charles (eight TDs in his last five games) will live up to that elite-level fantasy promise.
Check this out: Of his last nine outings against the Raiders, Charles curiously has five games of 100-plus total yards (with nine total TDs) ... and four clunkers of 30 or fewer total yards (with zero touchdowns).
That's quite a discrepancy. Almost eerie for a superstar.
3. With Broncos playmakers Montee Ball (groin), Ronnie Hillman (foot) and Julius Thomas (ankle) hurting, you have to looooooove Demaryius Thomas's chances of hitting the 100-yard receiving mark for an eighth consecutive outing.
During his prodigious stretch of seven games, Thomas (72 catches, 1,105 yards, six TDs in 2014) has tallied five touchdowns, six outings of double-digit targets and seven straight occasions of seven-plus receptions.
The only downside the above proclamation: The Dolphins haven't surrendered a 300-yard passing day to a single quarterback all season.
4. Of his last 10 games against NFC foes -- including his 354-yard, five-TD decimation of the Bears in Week 8 -- Patriots QB Tom Brady holds rock-solid averages of 305 yards passing/2.1 touchdowns per outing.
On a more recent note, the Hall of Fame shoo-in has averaged 313 yards passing and 3.6 TDs since Week 6.
One last note: Since the NFL-AFL merger (1970), the Patriots have only lost to the Lions (this week's opponent) once in the month of November (2000).
The significance of that occurrence: It was Brady's NFL debut (1 of 3 for 6 yards in relief of Drew Bledsoe).
5. Here's something cool: Of his last 31 games, dating back to the 2012 campaign, Bears tailback Matt Forte (1,308 total yards, 6 TDs) has amazingly racked up 95 total yards and/or one touchdown 26 times.
In fact, when hearing that factoid, it's stunning that Forte (10,893 career yards from scrimmage, 53 TDs) has never posted a season of 2,000 total yards.
But that'll change in, oh, about four weeks.
6. The Philadelphia Eagles have never defeated the Titans franchise (formerly the Houston Oilers) since they relocated to Tennessee in the mid-1990s (0-4 in that span).
But that quirky stat only tells half the story here.
The Eagles, in turn, were a perfect 6-0 against the Oilers during their time in Houston (1960-1995) -- including back-to-back victories on Monday Night Football in the 1990s ... when the anemic Oilers tallied just six points both times.
7. Of his last 10 games against non-conference foes (AFC), Falcons wideout Julio Jones has notched 95 yards receiving and/or one touchdown seven times.
Incidentally, Jones (67 catches, 912 yards, 3 TDs in 2014) hasn't found the end zone in his last seven games -- the longest touchdown drought of his career.
8. Jets QB Michael Vick, the permanent-for-now starter in New York, has failed to pass for 200-plus yards in four straight starts ... and that doesn't even include Vick's extended relief role from Week 8 -- when he tossed 36 balls (completing just 18) for 153 yards and zero TDs against the Bills (this week's foe).
Also, Vick has started only one career game at Buffalo's outdoors stadium, and that came in September 2005 (temperature at kickoff: 77 balmy degrees).
9. Only time will tell if Bucs wideout Mike Evans can break the 100-yard threshold for a fourth consecutive week (against the Browns).
Of his last six games, the rookie boasts stellar averages of 109 yards passing and 1.2 touchdowns -- including last week's 209-yard, two-TD demolition of the wretched Redskins.
Which brings us to this: The NFL hasn't produced a ton of prodigious rookie receivers over the last 25 years ... unless you count Randy Moss's 18-touchdown campaign of 1998 (17 receiving TDs, one punt-return score during the regular season).
In fact, check this out: Of Moss's final nine outings of '98 (including the playoffs), he averaged 5.2 catches/96 yards/1.44 TDs for that span ... and found the end zone at least once every time.
10. Colts QB Andrew Luck, who has accounted for 27 touchdowns in his last nine games, has amassed either 300 yards passing or three TDs in eight of his previous 11 home outings (including the playoffs).
It's worth noting, though: For the 2013-14 seasons, Luck passed for only 16 touchdowns in 12 total outings against AFC South foes -- a pedestrian 1.3 TD passes per game.
11. It's impossible to know if Browns wideout Josh Gordon -- the NFL's receiving-yardage king last year -- will have his proverbial sea legs under him on Sunday, upon returning from a lengthy suspension (drug-related).
However, he couldn't have picked a better opponent to mark the occasion.
The Falcons currently rank as the NFL's worst pass defense, allowing 281 air yards per game.
That bodes well for an athletic freak (Gordon) who collected six touchdowns, seven outings of double-digit targets and back-to- back 200-yard efforts in his final seven games last season.
12. Here's a perfect example of What's real, what's not?
In three career outings against the Texans (including the playoffs), Bengals QB Andy Dalton has notched a grand total of one touchdown pass. In that span, he has averaged 191 yards passing (meh).
On the flip side ... Houston currently ranks as the NFL's 31st-ranked pass defense, surrendering 278 yards per game. In fact, since Week 5, spanning six outings, the Texans have allowed 290-plus passing yards five times.
13. Cowboys tailback DeMarco Murray, the NFL rushing leader (1,514 yards), is a lead-pipe cinch for monster numbers this week against the Giants, who have surrendered staggering averages of 191 rushing yards in their last five games -- all New York losses.
14. For a playmaker-starved club like the 1-9 Jaguars, it would be a shock to see team officials pass on Wisconsin's Melvin Gordon (NCAA single-game record of 408 rushing yards last week) in next year's NFL draft -- on the sole rationale that running backs are no longer worthy of a high-end Round 1 pick.
But there is one way of justifying that move: If quarterback-turned-tailback Denard Robinson should maintain or improve upon his four-game average of 105 total yards/1 TD for Jacksonville's final five outings ... maybe, just maybe, Gordon -- a physical clone to Jamaal Charles -- won't be a necessity for the Jaguars.
(Doubtful.)
Which brings us to this: On what planet is Gordon only the 28th-best prospect in next year's draft, even if tailbacks have been universally devalued by the NFL establishment?
That's the projection in the latest mock draft for Great Blue North (a highly reputable draft publication) ... which should thrill Detroit Lions fans everywhere.
From my perspective, Gordon is a can't-miss superstar at the next level ... and someone who can be counted for consistent home and away touchdowns.
Unlike the next guy listed here.
15. Let's address something of fantasy importance, especially for those who believe Vikings tailback Matt Asiata will re-emerge as Mr. Wonderful at home against the Packers:
Asiata's only a lock for monster (or even moderate) fantasy numbers when playing at home ... against non-divisional conference foes.
Don't believe me? In his three-year career, Asiata has nine total rushing touchdowns; and each one occurred in a three-game home span against the Eagles (66 total yards, three TDs in November 2013), Falcons (100 total yards, three TDs in September 2014) and Redskins (26 total yards, three TDs in Week 9).
For his other 33 career outings, Asiata holds microscopic averages of 14.4 total yards and zero rushing TDs.
The next time to ride the former Utah Ute? Asiata's last non-divisional conference home game comes on Thanksgiving weekend (Nov. 30) ... when the Vikings host the Panthers at (presumably snowy) TCF Bank Stadium.
He'll be a lock for three scores then.
Jay Clemons, the 2008 Fantasy Football Writer of the Year (Fantasy Sports Writers Association), can be reached via Twitter, day or night, at @ATL_JayClemons.
---
---