Bergsma wins gold, leads Dutch in speed skating sweep
Published
Feb. 18, 2014 10:52 a.m. ET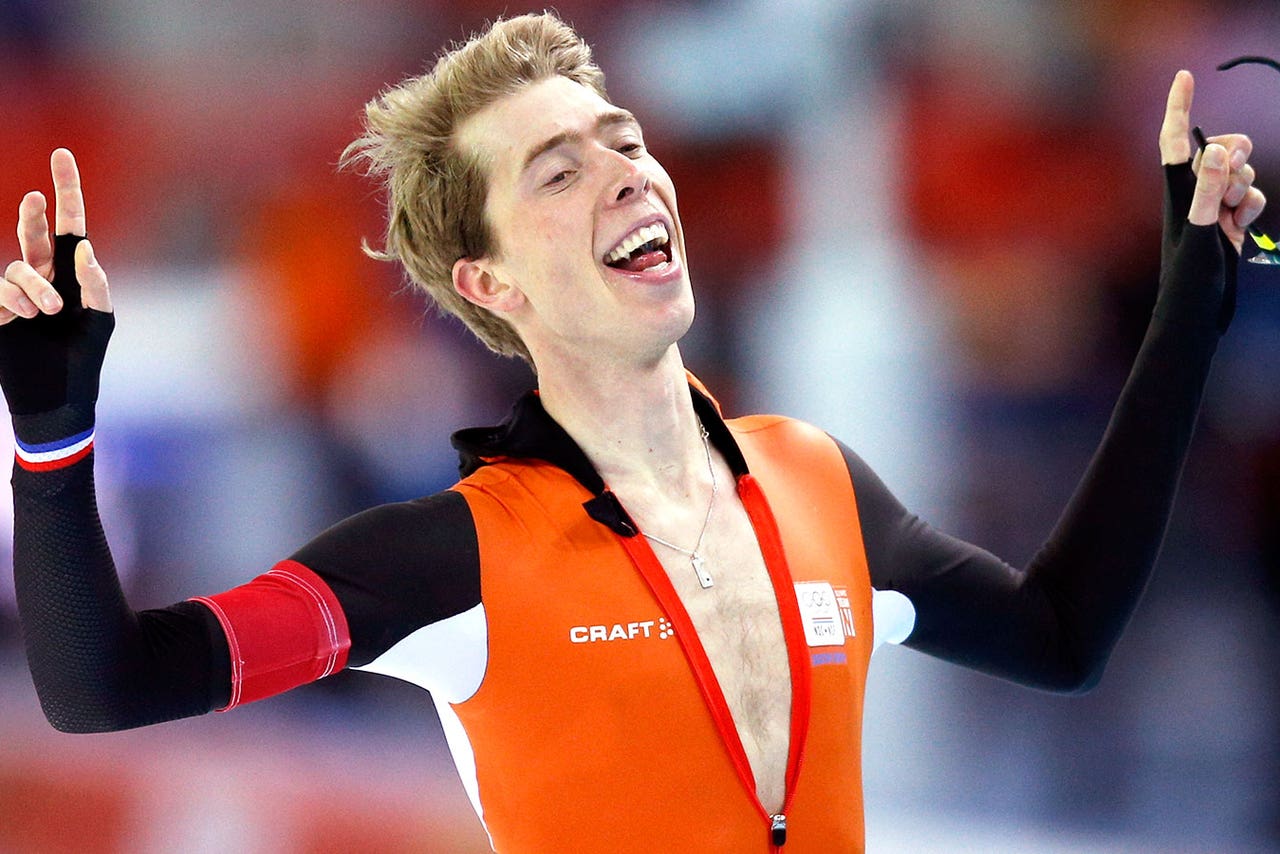 SOCHI, Russia (AP) -- Sven Kramer stayed in the right lane this time.
No matter. He was again denied a gold medal in the speedskating race he wanted more than any other.
With a stunner of a finishing kick, Jorrit Bergsma knocked off the world's greatest distance skater, winning the 10,000 meters with an Olympic-record time on Tuesday.
"I'm still dazed," Bergsma said.
Kramer gave away a sure gold in speedskating's longest event with an inexplicable mistake while changing lanes at the 2010 Vancouver Games.
This time, he simply got beat by -- almost inevitably at the Sochi Games -- a fellow Dutchman.
Bergsma turned in the fastest sea-level time ever, 12 minutes, 44.45 seconds, and shattered the Olympic record of 12:58.55 set by South Korea's Lee Seung-hoon four years ago.
Kramer settled for silver in 12:49.02. The bronze went to 37-year-old Bob de Jong.
While the order of finish didn't go as expected, the guys on the podium were no surprise at all.
It was another orange sweep, the fourth 1-2-3 finish for the Netherlands at Adler Arena, its speedskating medal haul climbing to 19 out of a possible 27.
Bergsma's last five laps were all under 30 seconds, a pace Kramer simply couldn't match skating in the final pair with Lee.
"I was doing 29-second laps and was able to hold on to those late in the race," Bergsma said. "We fought really hard for this."
For Kramer, it was another bitter disappointment.
Sure, he already had captured his second straight 5,000 gold, but he really wanted to make up for the 10,000 victory that got away four years ago. During a routine crossover on the backstretch, Kramer's coach, Gerard Kemkers, inexplicably directed him to the wrong lane. The skater dutifully followed the instructions, leading to a disqualification. Lee took the gold, even though his time was 4 seconds slower than Kramer's.
"Now he has lost the gold medal twice, four years ago and now," said another of Kramer's coaches, Geert Kuiper.
Smooth and relaxed in the early laps, Kramer was grimacing in a desperate search for more speed the closer he got to the end.
His lap times climbed steadily higher. When the bell rang for the final trip around the oval, Bergsma already was celebrating in the infield.
"Sven for a long time matched my (lap) times," Bergsma said. "I knew my finish was pretty fast. I knew I had a fast time. But he kept matching me for a long time. And then I realized he couldn't hold on to those laps."
On his cool-down lap, Kramer stopped to shake hands with his countryman. But he could barely muster a smile on the medal podium and didn't hang around long for the victory parade, leaving the arena to Bergsma and De Jong.
"That's what top sports is," Kuiper said. "Normally he would increase his pace at the end, but he already had trouble matching the laps of Bergsma. At the end, Sven did not have the acceleration."
In his fifth Olympics, De Jong won his fourth 10,000 medal with a time of 13:07.19. He's now got two bronzes to go along with a gold and a silver.
"I thought I could go a lot faster," De Jong said. "The conditions were much tougher than I thought."
Lee faded badly over the final laps, finishing fourth in 13:11.68.
There have only been 10 medal sweeps in all of Olympic speedskating history -- four of them produced in Sochi by the amazing Dutch. They have crushed the previous record for overall medals at one games (13 by the East Germans in 1988) and tied another mark on Tuesday with their sixth victory in nine events, matching the Soviet Union's six golds at the Squaw Valley Games in 1960.
Bergsma was feted on Twitter by his fiance, American speedskater Heather Richardson.
"GOLD in the 10k for my amazing fiance," she wrote, "so happy for him!!!!"
As expected, the American speedskaters went another day without a medal. Seventeen-year-old Emery Lehman of Oak Park, Ill., finished 10th -- more than 44 seconds off the winning pace. The high school senior got sick in a bucket labeled "Vomit Bin" after he was done with the 25-lap race.
"I've never really thrown up after a race," Lehman said, chuckling, "but might as well do it at the Olympics."
Patrick Meek of Chicago, who got into the 14-man field as an alternate, was 11th.
---