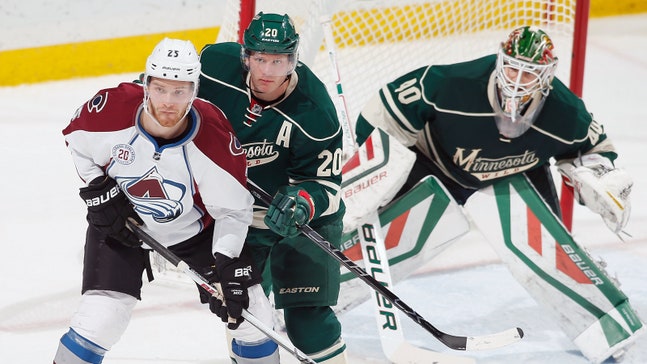 With Dubnyk hurt, relief goalie completes shutout for Wild against Avs
Published
Dec. 6, 2015 12:45 a.m. ET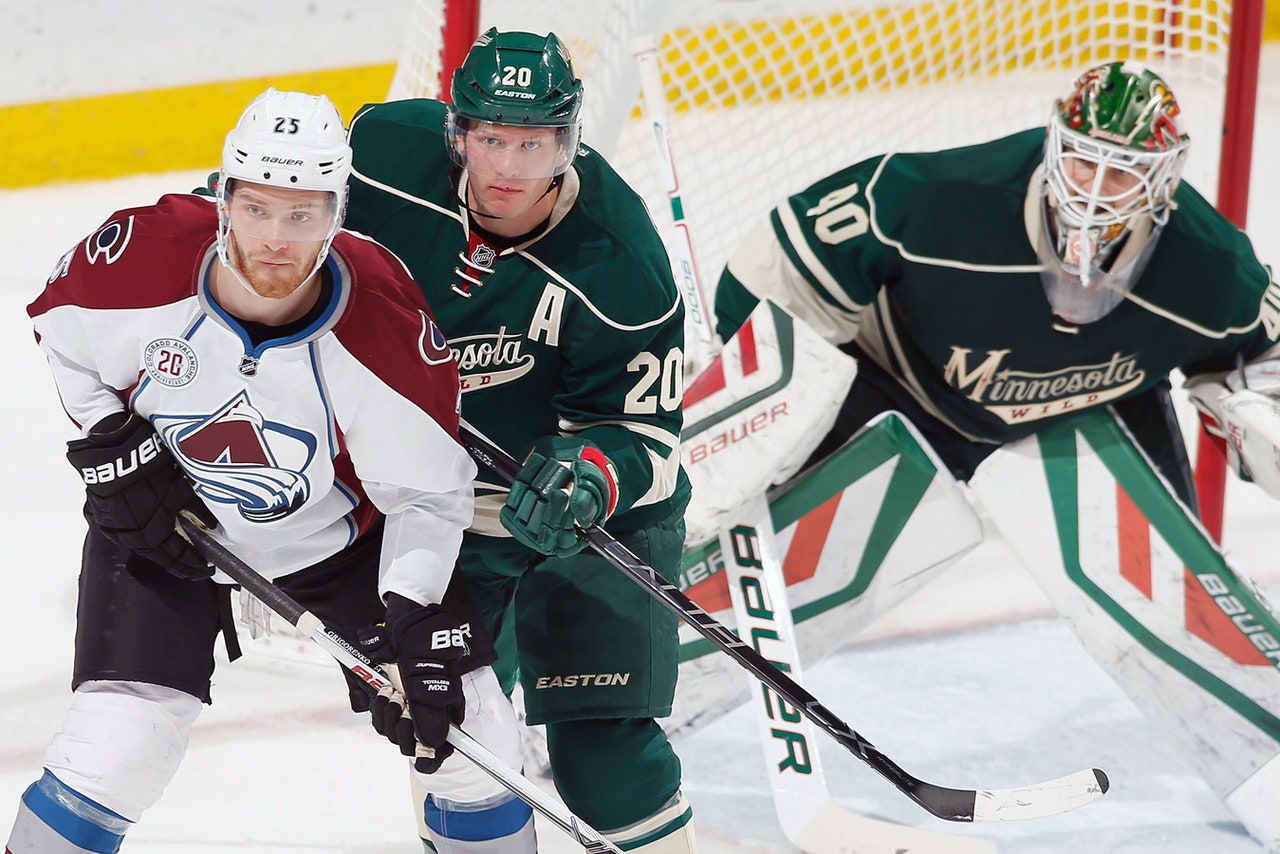 ST. PAUL, Minn. -- Watching goaltender Devan Dubnyk leave the ice with an injury Saturday night could have been a letdown for the Minnesota Wild.
Matt Dumba's quick goal provided a lift, Darcy Kuemper delivered the steady goaltending and the Wild handled the loss of their big goaltender.
Kuemper stopped all nine shots he faced in relief of Dubnyk and Minnesota beat the Colorado Avalanche 3-0.
Dubnyk left a scoreless game with a lower-body injury midway through the second period after making 11 saves. Kuemper kept the shutout intact to earn his first win of the season.
''I was pretty impressed with how we handled that,'' Wild coach Mike Yeo said. ''You can read guys' body language, and you can tell with the things that they are saying. Certainly a lot of positivity and I think it reflected in the play the way we went out.''
Matt Dumba opened the scoring on a big slap shot with 6:33 left in the second period, then Justin Fontaine and Jason Pominville scored in the third.
Neither Wild goalie was challenged much. Minnesota controlled play and outshot Colorado 44-20.
''Anytime you get thrown in there, you're just trying to get into it as soon as you can and as quick as possible,'' Kuemper said. ''So I was spraying water on the face and trying to get loose. The guys did a really good job of allowing me to kind of work my way into the game. They didn't give up much.''
Dubnyk pulled up after a shot by Colorado's Jarome Iginla in the second period and appeared to clutch his left knee after sliding across the crease on the play. At the next stoppage in play, Dubnyk gingerly tried some side-to-side movements in front of the Wild bench before leaving.
Yeo said Dubnyk is scheduled for an appointment for his injury on Sunday. Yeo said Dubnyk likely wouldn't join the team for a trip Monday to Colorado, particularly with Dubnyk's wife also expecting a baby at any time.
''Don't expect it to be serious at all,'' Yeo said of Dubnyk. ''But certainly don't see any reason why we would try to rush him back if he's not 100 percent.''
Dubnyk sparked Minnesota to a playoff berth last season and is fourth among all goaltenders in minutes played this season.
Kuemper has played in just four games all season. His last appearance was Nov. 28 against the Dallas Stars when Minnesota lost in overtime as part of a frustrating stretch which prompted Yeo to light into his team at the next practice.
The Wild have won three straight games since and have allowed one goal. Minnesota has also killed eight of nine short-handed situations.
Colorado had won four of its past six games but was shut out for the second time this season. Goaltender Semyon Varlamov made a season-high 41 saves for the Avalanche.
''They were first on pucks, they were competing better than us, they won those 1-on-1 battles better than us and they were quicker than us for some reason,'' Avalanche coach Patrick Roy said. ''They played a really good game. I'd rather give them credit. Yes, we didn't play well, but these guys had a strong game.
Colorado finished a four-game trip, playing its league-high 17th road game. The Avalanche are 8-9 on the road and just 3-6-1 at home.
''In this long group of road games we've been playing, we've been playing pretty well overall but we know we have to win,'' Iginla said. ''This was a big one for our team and unfortunately we didn't get it.''
NOTES: Minnesota carries three goaltenders on its roster. Veteran Niklas Backstrom has been a healthy scratch for every game this season. He's the franchise's all-time leader in wins, shutouts and games played by a goaltender. ... The Wild have won six of the past seven games between the two teams the past two seasons. Saturday was the first meeting since Minnesota won 5-4 in the season opener. ... Colorado D Francois Beauchemin skated in his 700th career game. His first NHL game was on Feb. 27, 2003, against the Wild for the Montreal Canadiens. He has 62 career goals and 170 assists.
---
---