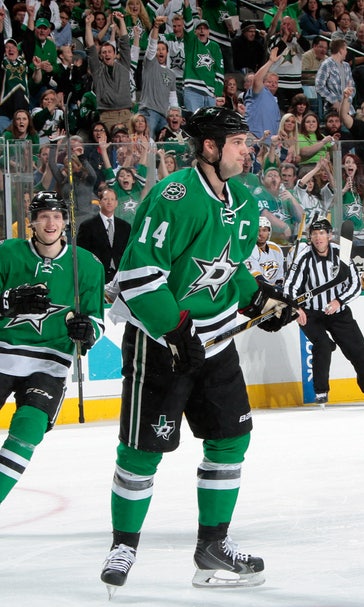 Stars' Benn captures NHL scoring title with 3 goals, assist vs. Preds
April 11, 2015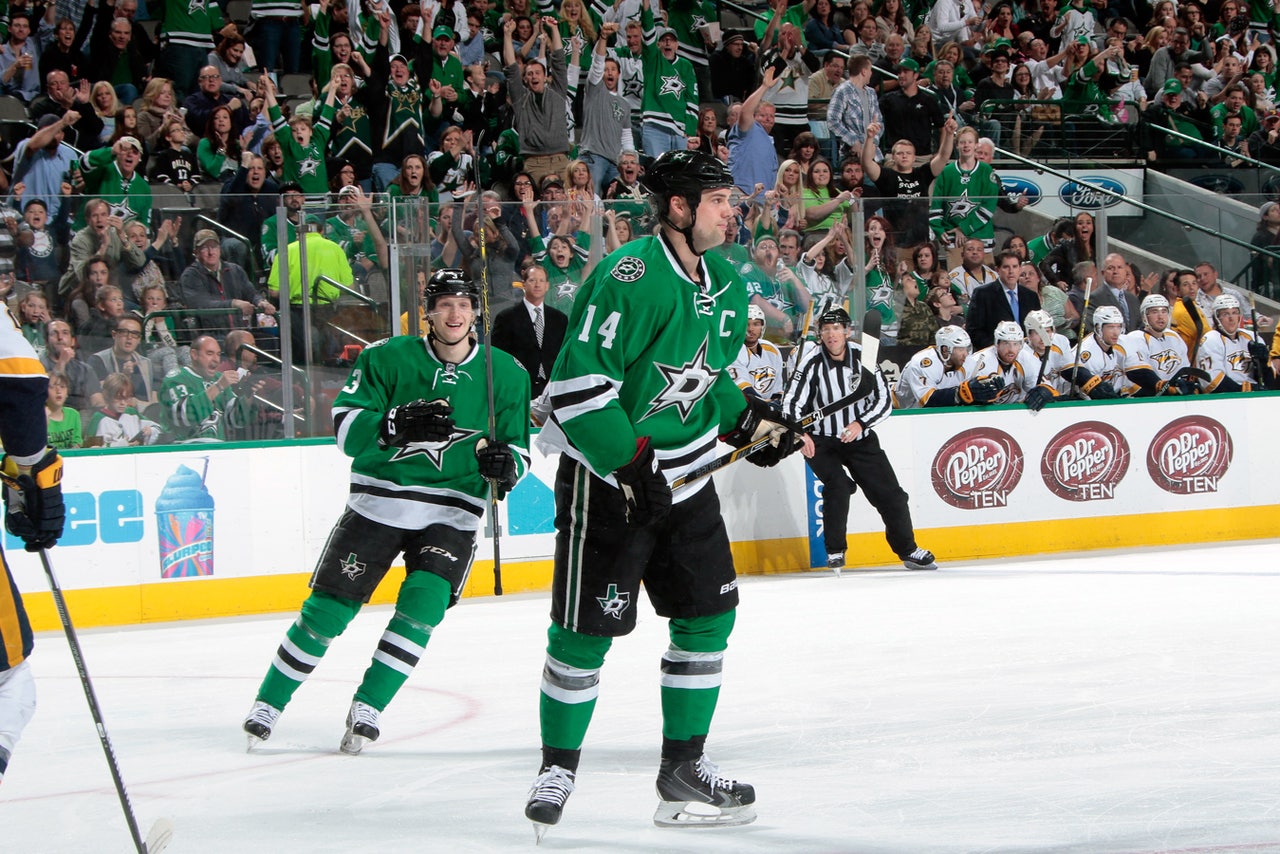 Jamie Benn's closing charge was enough to secure the NHL scoring title.
Benn had three goals and an assist, and the Dallas Stars beat the Nashville Predators 4-1 on Saturday night.
Benn had 13 points in the final five games to edge Islanders star John Tavares by one point for the Art Ross Trophy as the NHL scoring leader. Benn finished the season with 35 goals and 52 assists.
But the captain told the sellout crowd: "I'm disappointed that we set a goal at the beginning of the season but we didn't reach it."
That goal was a second straight playoff berth. Instead, Dallas finished out of the postseason for the sixth time in seven years.
Benn scored at 7:35 and 13:33 of the first period. He shot into an empty net with 2:05 to play and assisted on Cody Eakin's goal with 9 seconds left.
"I was actually still trying to get the point there and if it happened, it happened," Benn said. "It's a little bittersweet because obviously we're not in the playoffs.
"But it was pretty special to see your teammates work so hard for you."
Defenseman Trevor Daley took a pass from Benn and passed to Eakin for the final goal.
"(Benn's) the true definition of a captain," Daley said. "When we're down, he's the guy that's put us on his back and carried us. I've seen him since he came in as an 18-year-old. It's been pretty special to watch him."
Eakin also had an assist on Benn's first goal.
Rookie Filip Forsberg scored for the Predators at 11:33 of the first period. Backup goalie Carter Hutton had 21 saves.
Nashville lost its last six games of the season, but finished second in the Central Division and will face Chicago in the first round of the playoffs.
"I think guys are excited to get to the playoffs and open up in our building," Predators coach Peter Laviolette said. "It's an exciting time you work all year for. I think guys will be excited."
Despite Benn's late-season rush -- 12 goals and 11 assists in the last 12 games -- Dallas finished sixth in the division.
Jhonas Enroth was in goal for the Stars' last four games, all wins. He made 24 saves.
Enroth's biggest save came midway through the third period with Dallas leading 2-1. He stopped Mike Ribeiro's shot on a two-man breakaway with the teams skating 4 on 4.
"We got caught trying to get (Benn) the puck in a couple situations," Stars coach Lindy Ruff said. "(Enroth) stood tall on that 2 and 0. He made probably three or four real big saves for us. There was two he made when the game was 2-1, which are difference makers."
NOTES: Tyler Seguin, who led the Stars with 37 goals, was a healthy scratch after arriving late for Friday's practice. ... Ds Alex Goligoski (undisclosed injury) of Dallas and Roman Josi (lower body) of Nashville sat out after playing in the first 81 games this season. ... Playing in all 82 were the Predators' Forsberg, Seth Jones, Craig Smith and Mike Ribeiro, and the Stars' Benn and Jason Spezza. ... LW Antoine Roussel played in his 200th NHL game, all with Dallas. ... The Stars' team photo, taken Friday, included Rich Peverley in uniform. He has not played since collapsing on the bench during a game on March 8, 2014. ... Nashville equipment manager Pete Rogers took part in his 2,000th NHL game over 13 seasons.
---
---