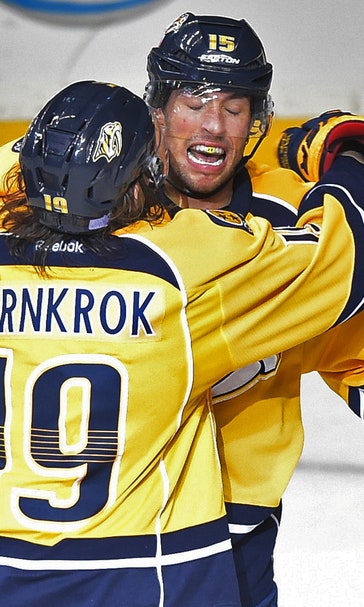 Smith's late goal leads Predators over Jets
BY foxsports • November 15, 2014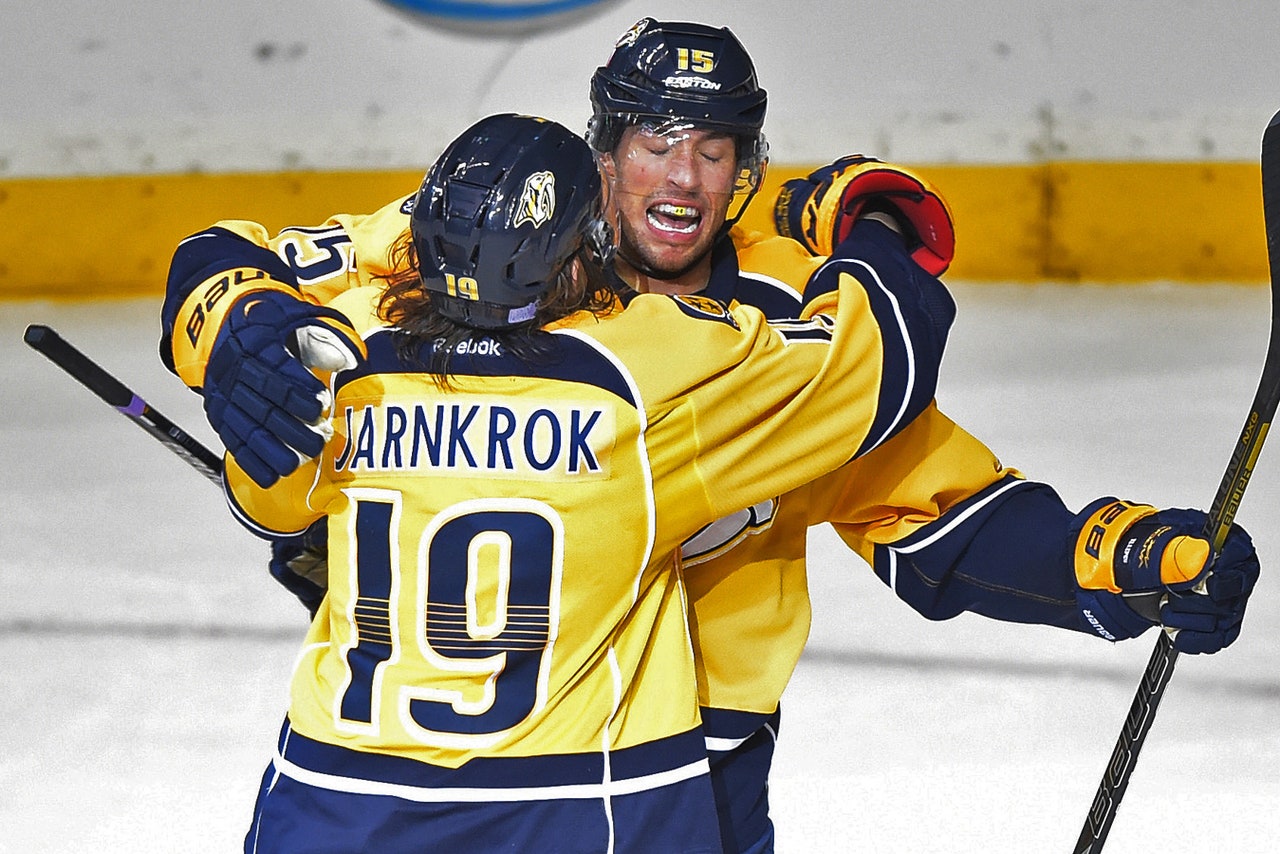 Craig Smith's late goal gave his team a win and his coach a milestone victory.
Smith scored at 17:58 of the third period to lead the Nashville Predators to a 2-1 win over the Winnipeg Jets Saturday night.
James Neal also scored for Nashville, winners of four of their last five.
Blake Wheeler had the lone Winnipeg goal. The Jets have lost two of three.
With time winding down in the third, Calle Jarnkrok's shot was blocked, but it found Smith at the bottom of the left circle, where he beat Winnipeg goaltender Ondrej Pavelec for his sixth goal of the season.
"I was off to the side, so the shot was taken from the middle," Smith said. "He went down to try to pick it up and then it was on my stick before he could get up and move over. Hit the net."
Pavelec made 27 saves in the game.
"I didn't see it, pretty much just a lot of bodies in front," Pavelec said. "I think we blocked it, but we blocked it right to the guy's stick, easy for him."
The win was the 400th career victory for Nashville coach Peter Laviolette.
"I wouldn't have known unless I read it in the notes," Laviolette said. "Really the most important thing was it was a big win for our team tonight. We have to keep pushing wins and trying to stay on top of what we are doing here because if you don't, to stay at the top is hard and to fall is easy."
Wheeler scored the game's first goal at 6:57 of the second period.
After a turnover in the neutral zone by Nashville's Matt Cullen, Wheeler skated in on the right side and beat Predators goaltender Pekka Rinne with a wrist shot to the glove side.
RInne finished with 21 saves. He is 6-0-0 in his career against Winnipeg.
Wheeler's eight goals lead the Jets. He has three in his last two games.
After not allowing a short-handed goal against last season, Nashville has allowed two so far this season. The Predators did not record a shot on goal in eight minutes of power play time in the game.
"The penalty kill has been outstanding all year for us, and it was again tonight," Winnipeg coach Paul Maurice said. "It's part of the reason we've won more than we've lost."
Neal tied the game 1-1 at 15:45 of the second on a one-timer from the high slot off a pass from Mike Ribeiro that beat Pavelec high to the glove side.
That goal came just eight seconds after Ribeiro appeared to have tied the game. The goal was waived off when it was ruled that the puck was played with a high stick.
"It was a tough call there," Neal said. "We felt like we were right there to get one and you get your emotions all ramped up when you score and you feel like you are back in the game. It was a little bit of a let down when it didn't happen, but to come right back and score on them was big. You could feel the game kind of change from that point on."
Notes: Nashville C Colin Wilson returned to the lineup after missing two games with a lower-body injury. Predators rookie C Filip Forsberg's six-game goal-scoring streak was snapped. Nashville has allowed the first goal in 12 of 17 games this season. Neal has points in four consecutive games... Winnipeg completes their current five-game road trip Sunday in Minnesota.
---
---