Joe Pavelski
Joe Pavelski
Sharks aim to continue dominance over Flyers (Dec 30, 2016)
Published
Dec. 29, 2016 9:14 p.m. ET

Other than one time over nearly 13 years, the San Jose Sharks have skated away with wins in their matchups with the Philadelphia Flyers.
San Jose will try to continue its dominance over Philadelphia on Friday night at SAP Center.
The Sharks (22-12-1) may have the right opponent coming while looking for their eighth win in nine games. San Jose has taken five straight -- and 14 of the last 15 -- from Philadelphia (20-13-4) dating back to Feb. 16, 2004, outscoring Philadelphia by a 58-35 margin.
The teams have not met since the Sharks scored three power-play goals en route to a 4-2 win on Dec. 30, 2015, in San Jose. Currently, the Sharks are in the bottom half of the league with only 19 man-advantage goals.
The Sharks, winners in 12 of 16 games in northern California, return home after defeating the Anaheim Ducks 3-2 in overtime on Tuesday behind Brent Burns' team-high 14th goal and his 100th with San Jose.
The Sharks are the only division leader yet to reach 100 goals, scoring 88 or an average of 2.51 per game. As has been the case in recent seasons, the Sharks are succeeding through a stingy defense. Heading into this contest, San Jose has surrendered just 77 goals, or an average of 2.20 per game. Only the Washington Capitals, Columbus Blue Jackets and Minnesota Wild have lower per-game averages.
"We don't need to score four to win," Sharks coach Peter DeBoer told the San Jose Mercury News. "A lot of nights, two is enough with the way we defend and the pride we take in that, and the goaltending we get."
That stellar defensive play begins with Martin Jones. If he starts, Jones will be trying to join the Blue Jackets' Sergei Bobrovsky as the only goalies with 20 wins this season. At home, Jones is 10-4-0 with a 1.65 goals-against average, a .930 save percentage and a shutout.
"He's good now. I can only imagine many years from now how good he will be," Sharks defenseman Marc-Edouard Vlasic told the Mercury News.
Over the last 15 matchups with the Flyers, San Jose is 9-0-0 when limiting them to two goals or less.
Sharks captain Joe Pavelski will be looking to notch a point in his fifth straight game. Given his history against the Flyers, he should see his name on the scoresheet at least once.
Pavelski has nine goals and three assists in 12 career games versus Philadelphia. Pavelski scored twice, including the game-winner, in the most recent matchup a year ago, and recorded the second of his four career hat tricks in a 7-3 win over the Flyers on Feb. 27, 2014 in Philadelphia.
Pavelski needs four points to reach 600 for his NHL career.
Philadelphia will try to avoid its fifth loss in six games after giving up four third-period goals in Wednesday's 6-3 loss to the St. Louis Blues.
"We just wanted too easy of a night. We wanted to play too easy of a game. We have to be better and we'll address that and get forward," Philadelphia coach Dave Hakstol said after the loss.
The Flyers are 8-8-1 on the road, and have been outscored 13-4 during a three-game skid away from home. They'll close out this road trip on New Year's Day against Anaheim.
"Overall, we have to do a better job of taking time and space away," Flyers goalie Steve Mason told the Philadelphia Daily News. "We have to be a lot better. We have some tough games in the next couple of days and if we get the same type of play, we're going to end up on the losing end again."
Playing in an opposing rink, Mason is 4-7-1 with a 3.22 GAA and .887 save percentage, and he's lost in each of his last three road starts, allowing nine goals on 59 shots. He's 0-1-2 against the Sharks and was in net during the Flyers' loss in San Jose last season.
The player to watch on Philadelphia is Claude Giroux. In 11 career matchups with San Jose, he's scored six goals -- no current Flyer has more than two. The center is tied with Wayne Simmonds for second on the club with 31 points; however, Giroux has recorded only two assists in his last six road games.
Simmonds, who scored his team-leading 17th goal in the loss to the Blues, has only two assists in six career games against the Sharks.
The Sharks and Flyers will conclude their season series on Feb. 11 in Philadelphia.
---
---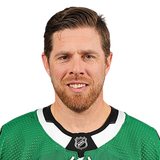 Get more from Joe Pavelski
Follow your favorites to get information about games, news and more
---