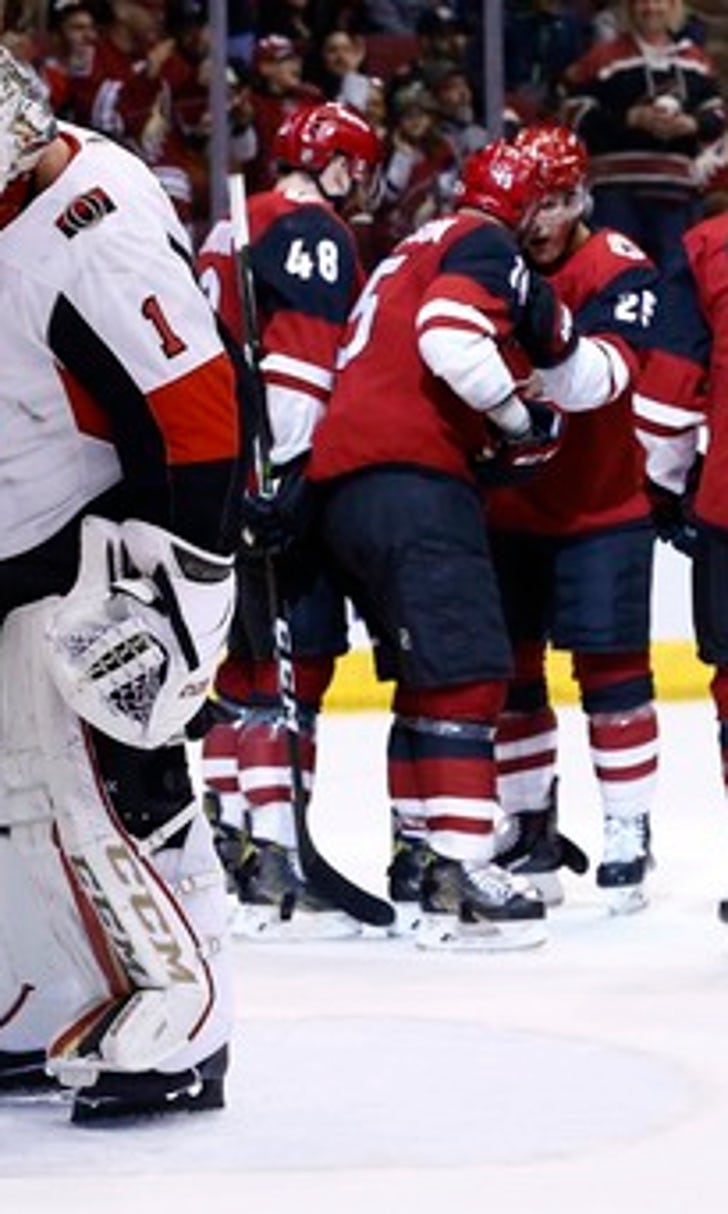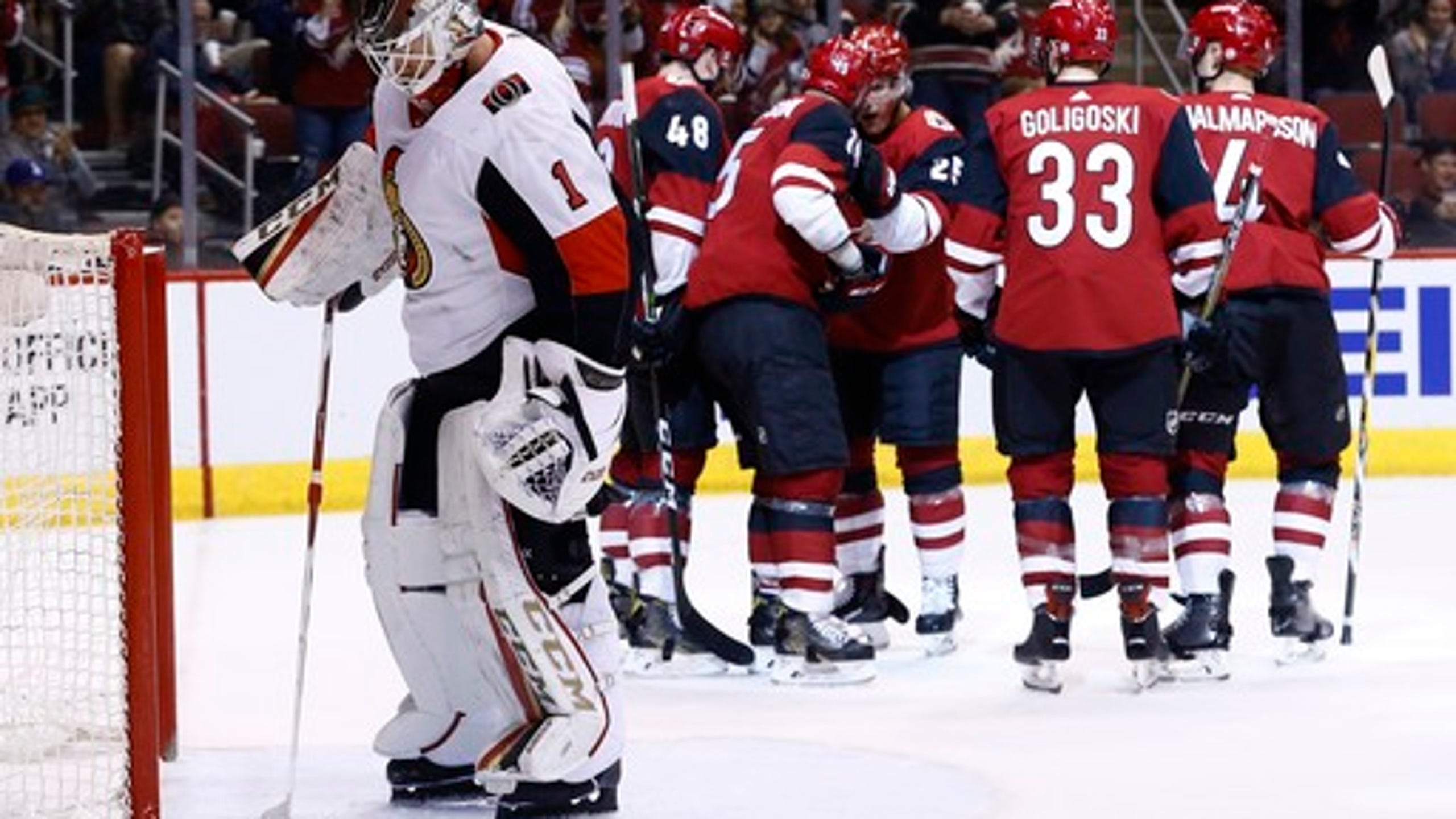 Raanta stops 23 shots, Coyotes rally to beat Senators 2-1
March 3, 2018
GLENDALE, Ariz. (AP) His postgame TV interview complete, Antti Raanta raised both fists and smiled as he made his way back into a triumphant Arizona Coyotes locker room.
Raanta had plenty to be happy about. He made 23 saves to help Arizona beat the Ottawa Senators 2-1 Saturday night. He's won five of his last six starts, and the Coyotes - despite the NHL's worst record - completed a seven-game homestand with a 5-2 mark.
''I saw lots of shots. When you see shots from the point or when there's not that much traffic on you, it makes it a little bit easier,'' Raanta said. ''I pretty much saw all the shots and I was able to track the puck pretty good.''
Oliver Ekman-Larsson and Jordan Martinook scored to help Arizona improve to 8-2-1 in its last 11 games.
Jean-Gabriel Pageau scored his second goal in two nights for Ottawa, and Mike Condon made 25 saves. The Senators have lost six of their last seven games.
Condon came off the ice twice in the final moments for an extra attacker, but the Senators couldn't force overtime.
''I don't really care about the statistics, but it's something people measure you on,'' said Condon, who is 4-12-5 in goal this season. ''I'm playing with a lot of confidence and a lot of energy.''
The Senators took an early lead but never scored again. Pageau passed to linemate Bobby Ryan and took off for the net. He was in the right spot to redirect Ryan's shot past Raanta at 3:24 of the first period.
Pageau raised his goals total to 10, and Mark Stone picked up his 40th assist and 60th point, both team highs for Ottawa.
Condon stopped Jordan Martinook's breakaway attempt at 14:40 of the first, but the Coyotes made good on another shot later.
The Coyotes sent it to the first intermission tied at 1 when Brendan Perlini screened Condon at the same time as Ekman-Larsson's shot zipped toward the net, and Ekman-Larsson scored his ninth of the season with 1:14 to play. The All-Star defenseman ended a streak of 16 games without a goal.
''It's always fun to score goals, but at the same time, I'm a defenseman,'' Ekman-Larsson said. ''Everybody's doing the little things, and that's why we're winning hockey games now.''
Ottawa got the game's first power play in the second period, and Raanta reached out to catch Alexandre Burrows' shot headed to the far post to help kill the penalty.
Raanta's 12 second-period stops kept Ottawa from taking the lead, and the Coyotes went in front 2-1 at the 14:08 mark when Martinook put in Brad Richardson's backhand pass from behind the net.
Martinook registered his sixth goal of the season.
The Senators' Matt Duchene served four penalty minutes in the third period on two tripping penalties, but Ottawa did not allow a goal on any power play.
''We didn't take those guys lightly at all,'' Senators coach Guy Boucher said. ''The disappointing part was the third period. We sabotaged ourselves.''
Coyotes coach Rick Tocchet said he is pleased with the improvement he's seeing from his young team, which he saw in the players' effort during the stretch of home games.
''When you play at home, you've got to be hard to play against, and I think we've established a work ethic here,'' Tocchet said.
NOTES: Senators F Marian Gaborik was scratched with an undisclosed injury for the second straight game. ... Coyotes C Zac Rinaldo was scratched due to an upper body injury. ... C Derek Stepan was credited with an assist on Arizona's first goal, and reached 400 career points. ... The Coyotes are 10-1-1 in their last 12 games when holding opponents to two goals or less. ... Several former WWE superstars attended the game, including The Godfather and Jimmy Hart.
UP NEXT
Senators: At Dallas on Monday night.
Coyotes: At Edmonton on Monday night.
---
---