National Hockey League
National Hockey League
Patricks' power: Kane, Sharp lead Blackhawks to win over Ducks
Published
Jan. 31, 2015 12:59 a.m. ET

Patrick Sharp got the puck on the boards and abruptly whipped it in front to Patrick Kane, who scored before the Anaheim Ducks even knew where it went.
Although the Chicago Blackhawks are still looking up at Anaheim in the Western Conference standings, they left a reminder of what will be facing the Ducks if these NHL powers end up face-to-face in the postseason.
Kane had two goals and an assist, and Sharp assisted on every Chicago goal in a 4-1 victory Friday night.
Captain Jonathan Toews and Duncan Keith also scored for the Blackhawks, who beat the NHL-leading Ducks for the third straight time at Honda Center. Corey Crawford made 21 saves as Chicago controlled the night, taking a three-goal lead in the second period.
"They're the best team in the NHL this year, (but) we knew they were coming off a back-to-back games and three in four nights," said Kane, who clinched the fifth 25-goal season of his career. "We played a perfect road game. It was a fun game."
The Blackhawks bounced back impressively after blowing a lead in the final minutes of a 4-3 loss at Los Angeles two nights earlier in the opener of their six-game road trip.
After a blowout loss in San Jose on Thursday night ended their six-game winning streak, the Ducks have lost consecutive games in regulation for the second time all season, and the first since Nov. 28-29 -- another back-to-back set against the Blackhawks and the Sharks.
And when the Ducks lose, they really lose: Anaheim has lost in regulation just nine times since Halloween, but eight of the nine were by at least three goals apiece.
"We know that we've lost two, (but) let's not talk like we're Buffalo," Anaheim coach Bruce Boudreau said. "You can obviously tell how far you have to go to be the best. They turned it up, and we weren't able to handle it. So as a measuring stick, I hope this stays in our minds for a long time. They played so much faster than us, and smarter."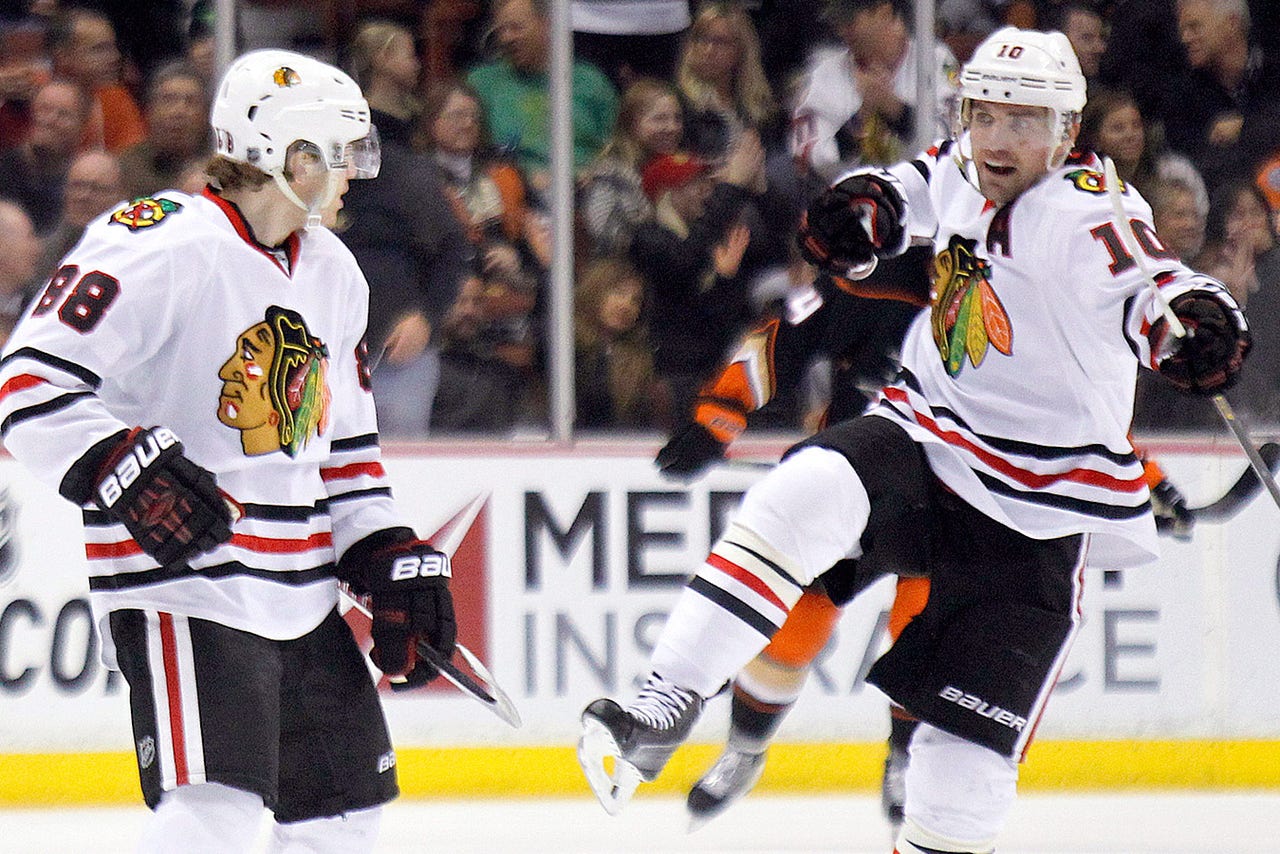 Blackhawks left wing Patrick Sharp celebrates with Patrick Kane after assisting on his goal in the second period against the Ducks.
Frederik Andersen stopped 29 shots for the Ducks.
After Rickard Rakell broke up Crawford's shutout bid and briefly energized the home crowd with 9:54 to play, Kane scored his 25th goal on that brilliant pass off the boards from Sharp. Kane has scored at least 21 goals in every season of his eight-year NHL career.
"Kaner has had the hot stick all season long," Sharp said. "I feel comfortable with him, and we've had a good stretch of games."
While the Blackhawks celebrated a host of beautiful goals, defenseman Ben Lovejoy summed up the Ducks' ugly effort as "ditch-digging."
"That Chicago team thrives off of quick-strike, fancy offense, and that's not how we're successful," Lovejoy said. "We have guys that are capable of making those plays sometimes, but we are a big physical team that wants to grind in the offensive zone, and we did not get to that tonight."
Toews put Chicago ahead in the opening minutes, beating Andersen with an unobstructed shot on a setup from Kane. The goal was the first from Toews in Chicago's last 14 road games.
Midway through the second period, Keith's shot found its way through traffic while Toews fell backward on top of Andersen, knocking down the Danish goalie. Boudreau angrily demanded a goaltender interference call, but didn't get it on an unreviewable play.
Kane made it 3-0 a few minutes later with a nasty shot for his fourth goal in five games.
Anaheim had a two-man advantage for 25 seconds during a lengthy stretch of power-play time in the third period, but got nothing until Rakell and Corey Perry skated in on Crawford for Rakell's fifth goal.
NOTES: Andersen lost for just the fourth time in 21 games since Dec. 1. ... Before the game, Anaheim assigned Colby Robak to its AHL affiliate in Norfolk after the defenseman cleared waivers. Eric Brewer is expected to return next week from his 24-game absence with a broken foot. ... Keith became the fifth defenseman in Blackhawks history to score 400 points with his goal.
---
---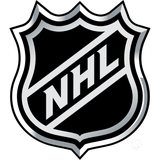 Get more from National Hockey League
Follow your favorites to get information about games, news and more
---