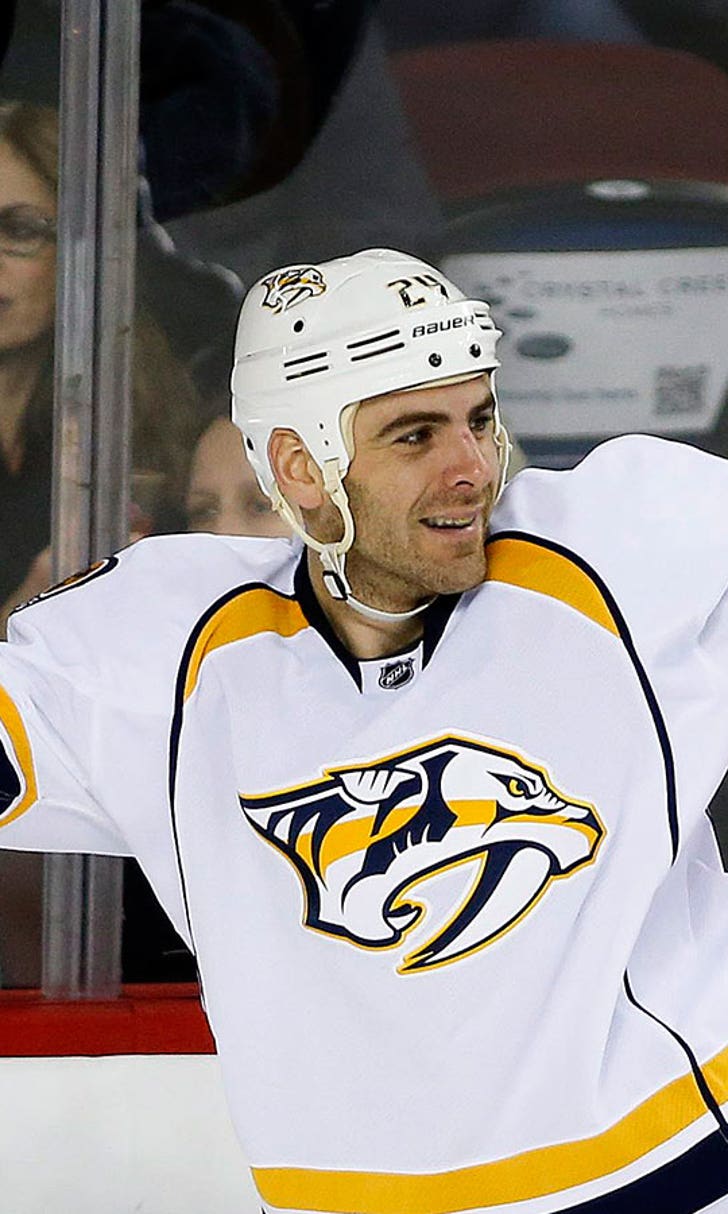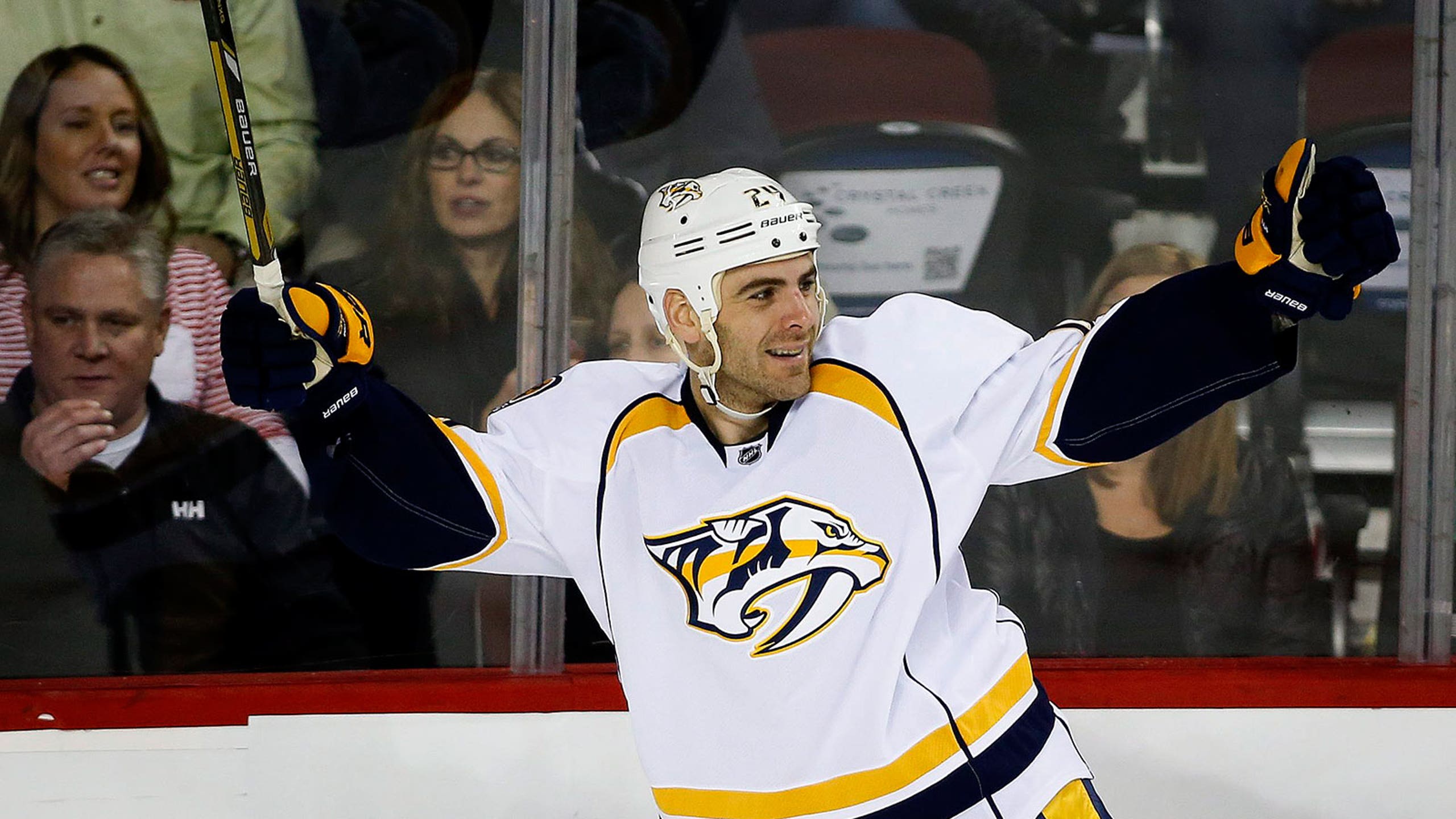 Nystrom scores 4 for Predators, but Flames get win in shootout
BY foxsports • January 25, 2014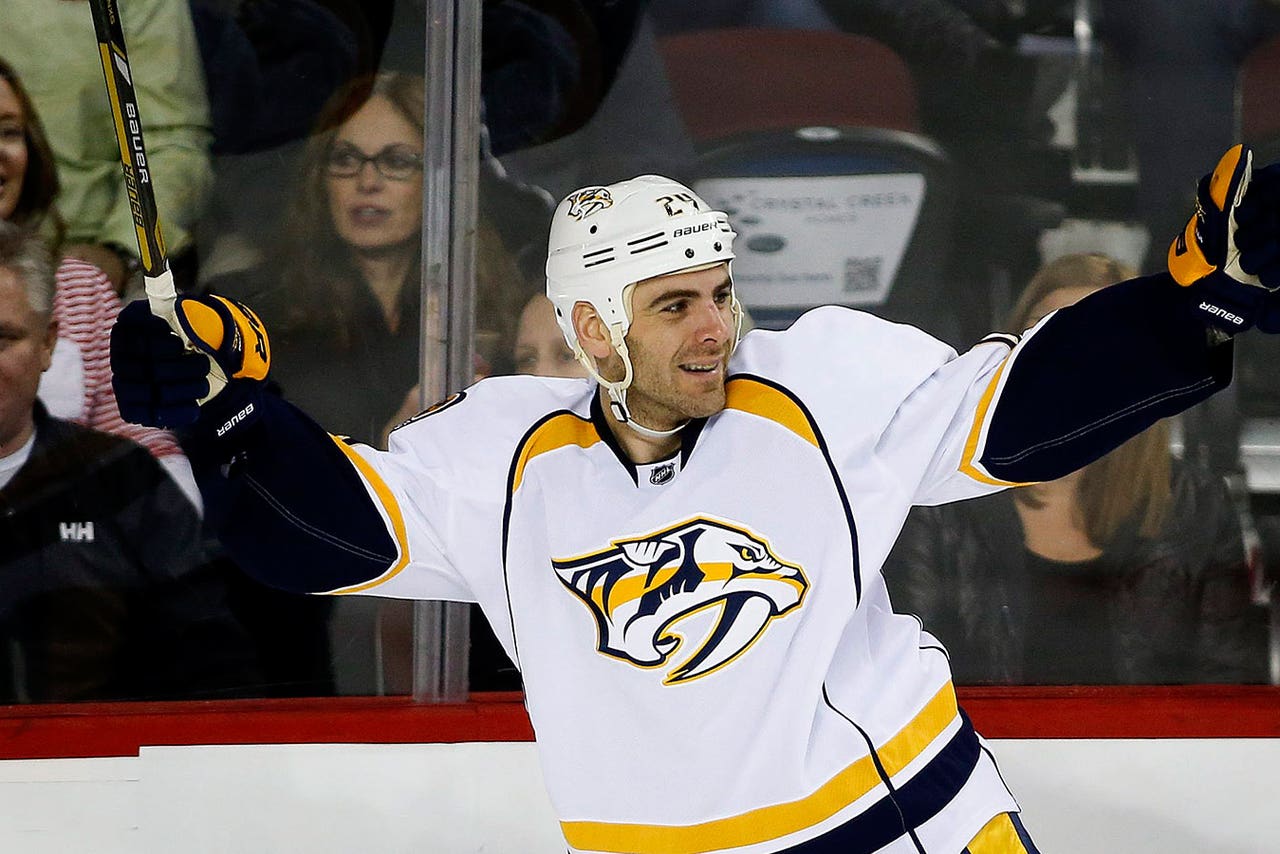 CALGARY, Alberta (AP)
A career night for Eric Nystrom was supposed to feel a lot better.
Sean Monahan scored the shootout winner for Calgary, spoiling Eric Nystrom's four-goal game in the Flames' 5-4 victory over the Nashville Predators on Friday night.
"We had it in our hands and we let it slip away," Nystrom said quietly, as he sat dejectedly in his locker.
Drafted 10th overall by the Flames in the 2002 NHL Draft, Nystrom had never scored more than twice in 457 career games.
"I've had some really bad luck this season so it's nice to be rewarded but at the same time, it really means nothing when it comes to a win and a loss," he said. "I'll take the win every day of the week."
Nystrom entered with one goal in his previous 19 games.
Monahan, the Flames 19-year-old rookie and leading scorer, beat Devan Dubnyk on a deke after Jiri Hudler scored in the shootout for Calgary and Roman Josi replied for the Predators to even it after three shooters.
"Huds came down and brought it to his backhand and something opened up so I tried to do the same thing and fortunately enough, I found a spot through his five hole," said Monahan, who says he enjoys having the game on his stick.
"It's pretty crazy. The crowd's pretty loud there. It's a little bit of pressure on you but as a hockey player, you've got to like being in those situations and that's something I like to do," Monahan said.
Reto Berra improved to 4-0 in shootouts this season as he sprawled to get a pad on shot from Ryan Ellis.
Nashville moved within seven points of one of the two wild-card spots in the Western Conference.
David Jones scored twice, and Mark Giordano and Mikael Backlund also scored for Calgary. The Flames have now won two straight for the first time in over a month.
The Flames trailed 3-1 entering the third period but got back to within one on Jones' first goal in 18 games at 1:24.
After Nystrom restored the two-goal cushion, redirecting Matt Cullen's shot through the pads of Berra at 10:47, the Flames answered less than two minutes later with Backlund deflecting in Kris Russell's point shot for Calgary's third power-play goal.
Jones tied it at 13:36, deflecting Brodie's shot over Dubnyk's shoulder.
"It feels great. We've been on the other end of this so many times so to come back twice from two goals down, that means a lot for our team," Jones said.
"I try to hide in that situation," said Jones with a chuckle. "I like the guys we have in it. They know what they're doing and this Monahan kid is something else.
"Once I knew he was going. I was ready to just get off the bench because I knew we were going to get the two points."
Nystrom gave Nashville the early lead as he fired a shot past Karri Ramo from the slot just 1:51 into the game.
The 30-year-old gave the Predators the lead again on a strange goal 1:50 into the second period. From center ice, Josi flipped the puck toward the Calgary net where it took a weird bounce. Ramo was able to get his shoulder in front of it, but Nystrom was first to the rebound and he jammed it under the goalie.
Nystrom made it 3-1 less than five minutes later, tipping Paul Gaustad's shot from deep in the corner over Ramo's shoulder.
Ramo was promptly pulled by Flames coach Bob Hartley after Nystrom's third goal, leaving the game with nine saves on 12 shots. It was the first time Ramo had been pulled this season.
Dubnyk was making his second start since being acquired from the Edmonton Oilers on Jan. 15 in a trade for Matt Hendricks. He had 27 saves. Berra had 12 in relief.
Nashville coach Barry Trotz pointed to Jones' goal early in the third as the one that turned the game around.
"They scored the second goal, it's 3-2 and they have all the momentum," said Trotz. "Then we played losing hockey where we're trading chances."
NOTES: The Flames had multiple power-play goals for just the second time since Oct. 21. The last time they had two was Dec. 23... Nystrom had 19 goals and 20 assists in 204 games with Calgary over parts of four seasons... Paul Byron (foot) returned to the Flames line-up after missing one game. Scratched for Calgary was RW Brian McGrattan (foot) and D Ladislav Smid (undisclosed)... The Predators are 8-3-2 against the Pacific Division... The Flames win for the first time (1-3-2) when Jones scores.
---
---