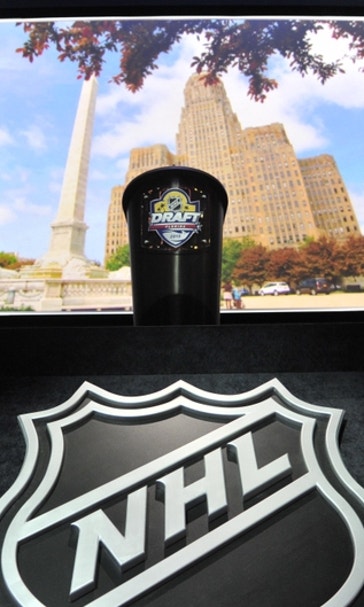 NHL Draft Profile: Gabriel Vilardi, Windsor Spitfires (OHL)
December 28, 2016

Fansided, Ryan Ritchie/FanSided via Puck Prose
NHL Draft Profile: Windsor Spitfires center Gabriel Vilardi is a consensus top 10 pick by most scouting agencies. Before suffering a knee injury early in the season, Vilardi posted 22 points in his first 16 games.
Set to be held on June 23/24th in Chicago, Illinois, the 2017 NHL Draft will mark the 55th time for the annual event. There isn't a lot of buzz surrounding this year's crop of talent, but it doesn't mean that teams won't find cornerstone pieces for the future.
To help get fans better acquainted with draft-eligible prospects, we plan to roll out a whack load of draft profiles and numerous mock drafts over the next few months. Make sure to keep us bookmarked for all your NHL draft coverage.
With the NHL's 31st franchise set to debut, we'll obviously have one extra pick in each round for a total 217 opposed to 210 from previous years. The Vegas Golden Knights will be given the 3rd highest odds in the Draft Lottery, the same spot Edmonton occupied in 2015-16 before dropping to 4th. Las Vegas will then receive the 3rd pick in each subsequent round.
Gabriel Vilardi, Windsor (OHL)
Height/Weight: 6'2/192lbs
Position (handedness): C (right)
Date of Birth (mm/dd/yyyy): 07/16/1999
Birthplace: Kingston, Ontario
Player Bio/Stats
At 6'2 192lbs, Vilardi has the perfect blend of size and skill to make him a potentially impactful player at the next level. Coming off his OHL rookie season, Gabe had a solid start as a 16-year-old in 2015-16. With the Windsor Spitfires, he posted 17 goals, 21 assists (38 points) in 62 games.
The 17-year-old looked poised to challenge the likes of Dylan Strome (Erie), Alex DeBrincat (Erie), Taylor Raddysh (Erie), Adam Mescherin (Kitchener), and Jeremy Bracco (Kitchener) in 2016-17, but unfortunately was lost to a knee injury early in the season. Still, he managed to tally nine goals, 13 assists (22 points) in 16 games before going down.
Talent Analysis/Skill-Set
More from Puck Prose
The thing that stands out most to me watching Gabe Vilardi is his deceptive skating ability. To the untrained eye, he looks like an average skater with good speed.
But it's his quick feet for such a big man that is most impressive. He has excellent acceleration which allows him to change gears in a hurry. Those quick starts/stops help him create space to stick handle or get open for a pass.
Gabe is also a threat in the offensive zone. A slick, nifty puck handler, Vilardi has that exceptional ability to deke in close range on defenders to create room for a shot or drive the net to undress the goaltender.
He also owns a heavy shot with an incredibly quick release that is tough for netminders to track.
Quotes
via TSN's Bob McKenzie,
"The Windsor Spitfire is a slick and skilled offensive centre with high-end hockey sense who excels at making plays but can also finish them. Vilardi isn't a high-end or pretty skater, but it's not a weakness either. His strength on the puck, skill and smarts are noteworthy."
via TSN's Craig Button,
"A smart, playmaking, offensive producing centre who can not only make plays but can finish them as well. He has an ease to his play, both physically and mentally, that he combines with excellent skill to impact the game in every situation. He has all the elements to be a No. 1 offensive centre in the NHL."
via NHL Central Scouting's Matt Ryan,
"He's a highly skilled center with good size and deceptive skating ability. He maneuvers extremely well in traffic and is able to create time and space for himself effectively."
NHL Player Comparison: He kind of reminds me of Jason Spezza. A lot of deception in both of their games.
---
---