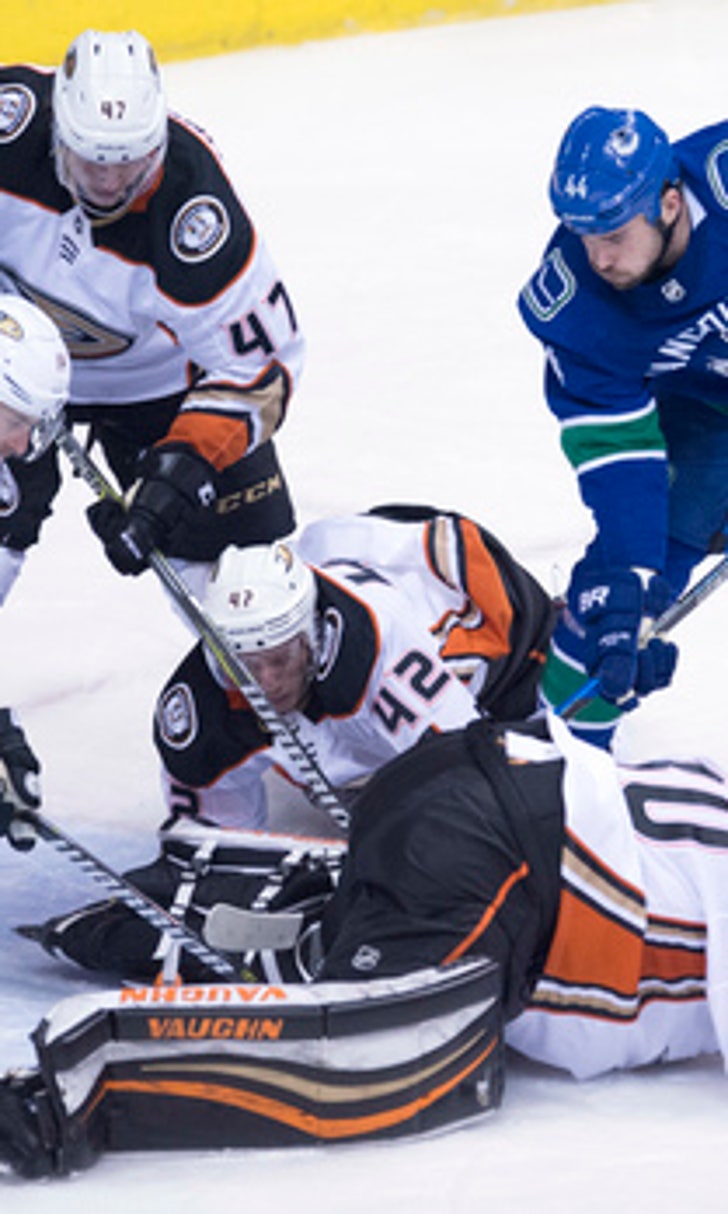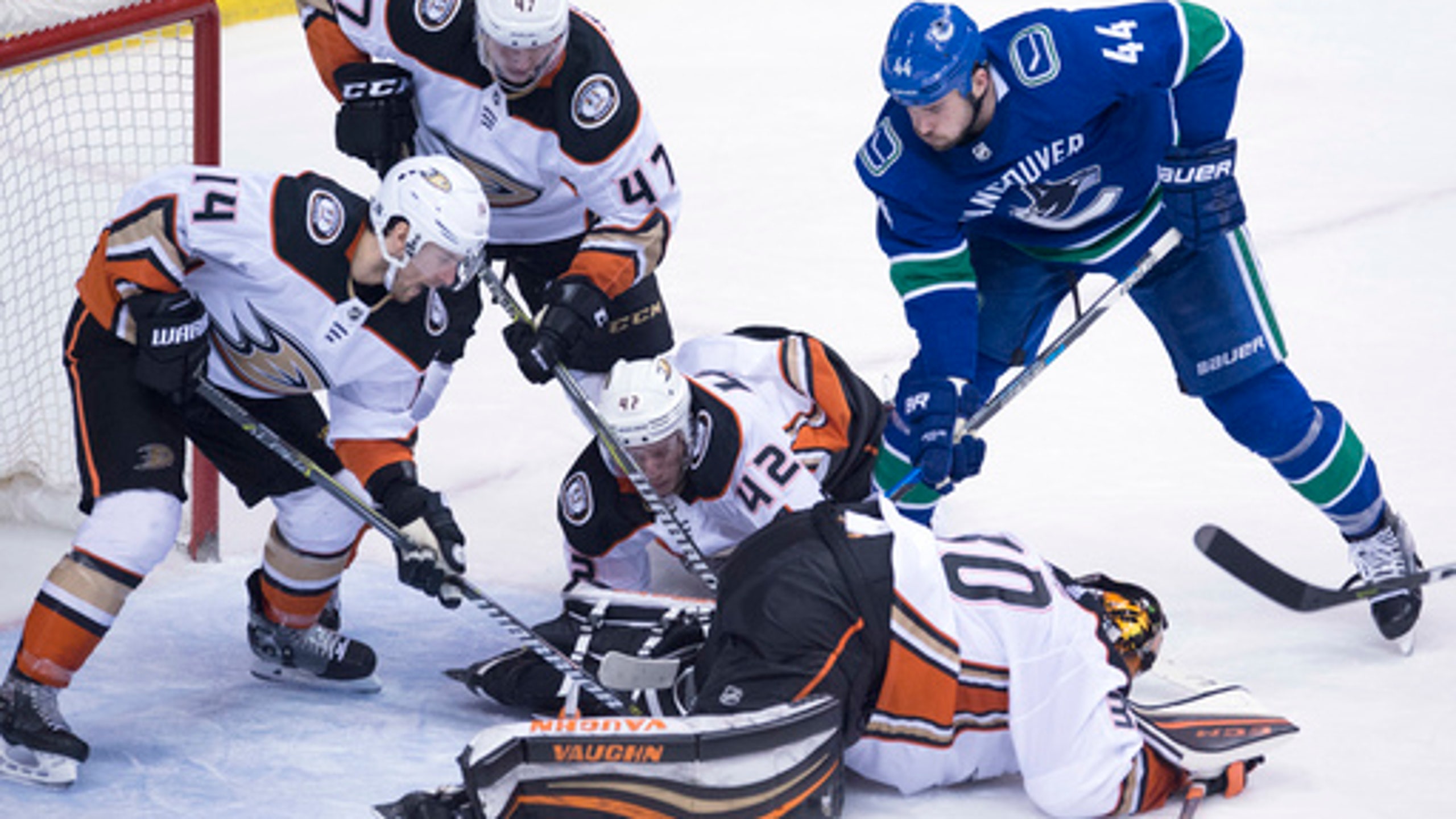 Miller wins in return to Vancouver as Ducks beat Canucks 5-0 (Jan 02, 2018)
BY AP • January 3, 2018
VANCOUVER, British Columbia (AP) Ryan Miller acknowledged an ovation from the crowd marking his return to Rogers Arena with a wave moments before the opening faceoff.
The veteran goalie then went out and stopped 31 shots for his second shutout of the season and the 41st of his career in leading the Anaheim Ducks to a 5-0 victory over the Vancouver Canucks on Tuesday night.
Signed by Anaheim during the summer to back up John Gibson after three seasons as the Canucks' starter, the 37-year-old Miller was his usual solid self, making timely stops when Vancouver pushed as Anaheim picked up its fifth victory in the last six games.
''I enjoyed my time here immensely,'' Miller said. ''My wife and I have great memories up here. My son was born here, so it's always going to have a big place in our heart beyond just the hockey.''
Ryan Getzlaf had a goal and two assists, Rickard Rakell added a goal and an assist, and Antoine Vermette, Adam Henrique and Derek Grant also scored for Anaheim. Josh Manson had three assists, and Hampus Lindholm had two.
Miller, who had a combined .914 save percentage with the Canucks, bumped his mark up seven points to .935 with the Ducks.
''It's nice to come back,'' he said. ''I just tried to have fun with it.''
Anders Nilsson allowed four goals on 19 shots for slumping Vancouver, which has just two wins in its last 12 games, before getting pulled early in the third period. Jacob Markstrom came on and finished with seven saves.
Making his first start since a 7-5 home loss to the Montreal Canadiens on Dec. 19, Nilsson gave up a bad goal just 56 seconds into the game. Lindholm fired a clearing attempt from his own blue line that Nilsson steered into the path of a hard-charging Henrique, who swooped into the corner and fired a shot from below the goal-line that somehow caromed off the goalie's stick and in for his ninth of the season.
''You'd like to make every save out there,'' said Nilsson, who saw his save percentage dip to .900. ''First one was definitely on me, that's something I would like to have back.
''I wasn't able to make that extra save.''
Nilsson recovered to make a blocker save with Kevin Roy in alone moments later before also punching away another chance by Henrique on a short-handed breakaway.
Rakell then roofed a quick snapshot after whiffing on another opportunity seconds earlier for his team-leading 15th with 6:16 left in the first.
Set to begin a stretch of seven games away from home, injury-riddled Vancouver, which entered play 2-8-1 since No. 1 center Bo Horvat went down with a broken foot on Dec. 5, had a bit of a push to start the second.
Alexander Edler hit the post as the Canucks briefly crowded Miller's crease, but Getzlaf, who missed 19 games earlier this season after taking a puck to the face, tipped home his third at the five-minute mark to make it 3-0.
''Guys are working hard,'' Getzlaf said. ''We did a good tonight getting pucks to the net, scoring goals, and getting ourselves that cushion.''
Anaheim, which weathered its own injury woes earlier this season, managed the rest of the period, with Vancouver's best opportunity coming on Brock Boeser's chance from in tight that Miller blocked with his glove before smothering the rebound.
The Ducks made it 4-0 just 20 seconds in the third as Nilsson stopped the puck at the side of his net on a dump in for Rakell to collect and feed to Getzlaf, who in turn found Vermette for his eighth.
That would be the end of Nilsson's night, but Markstrom didn't fare much better as Manson charged up the ice on an Anaheim change and found Grant alone in front of a porous Vancouver defense for his eighth at 7:41.
''A couple goals I didn't like,'' Vancouver head coach Travis Green said. ''I have full confidence in our goaltending, that it'll come around. They haven't been great the last month.
''They'd be the first to admit it. There's been a couple untimely goals.''
Miller made an awkward save to keep his shutout alive on Michael Chaput's shot that took a double deflection with nine minutes left, but wasn't challenged much from there.
NOTES: Miller beat Vancouver 4-1 in Anaheim on Nov. 9, but left with under 10 minutes to go with a lower-body injury that kept him out two weeks. ... Still missing Horvat, forward Sven Baertschi (jaw) and center Brandon Sutter (lower body), Vancouver got defenseman Christopher Tanev back after he missed seven games with a groin injury. ... Boeser was named the NHL's rookie of the month for December after also getting the nod in November. The 20-year-old leads both his team and all first-year players with 21 goals and 38 points.
UP NEXT
Ducks: At Edmonton on Thursday night to continue a stretch of five straight on the road.
Canucks: At Toronto on Saturday to start their seven-game trip.
---
---