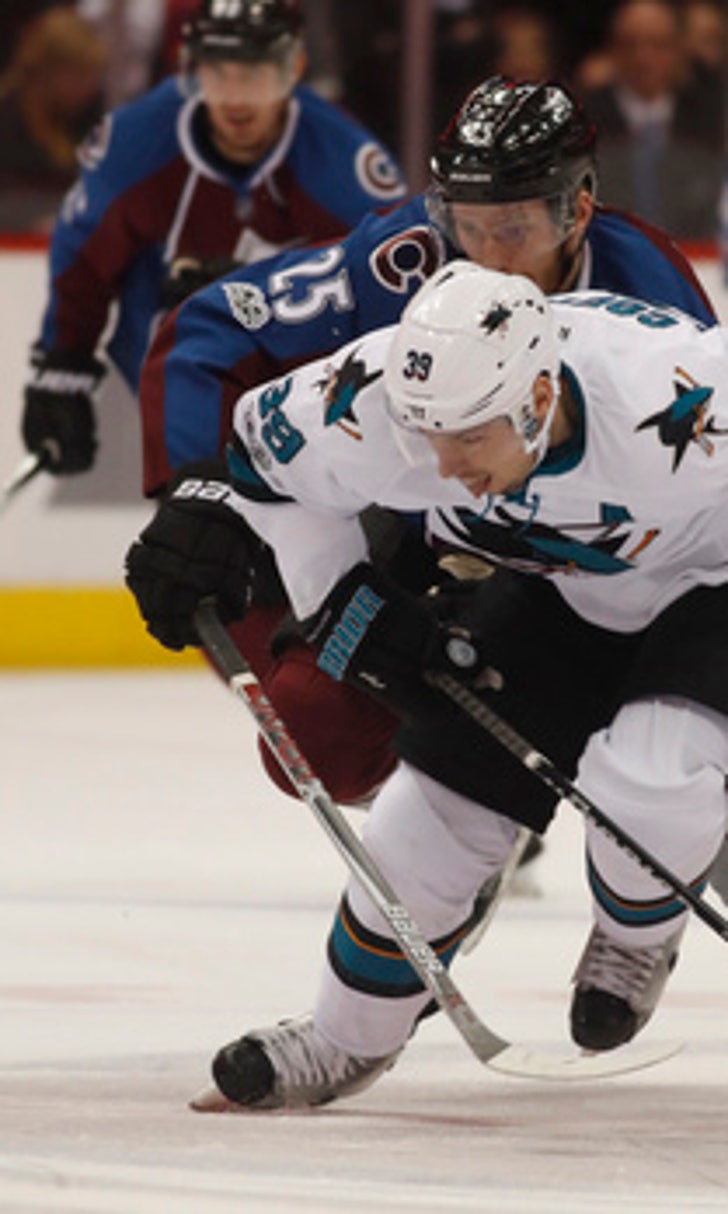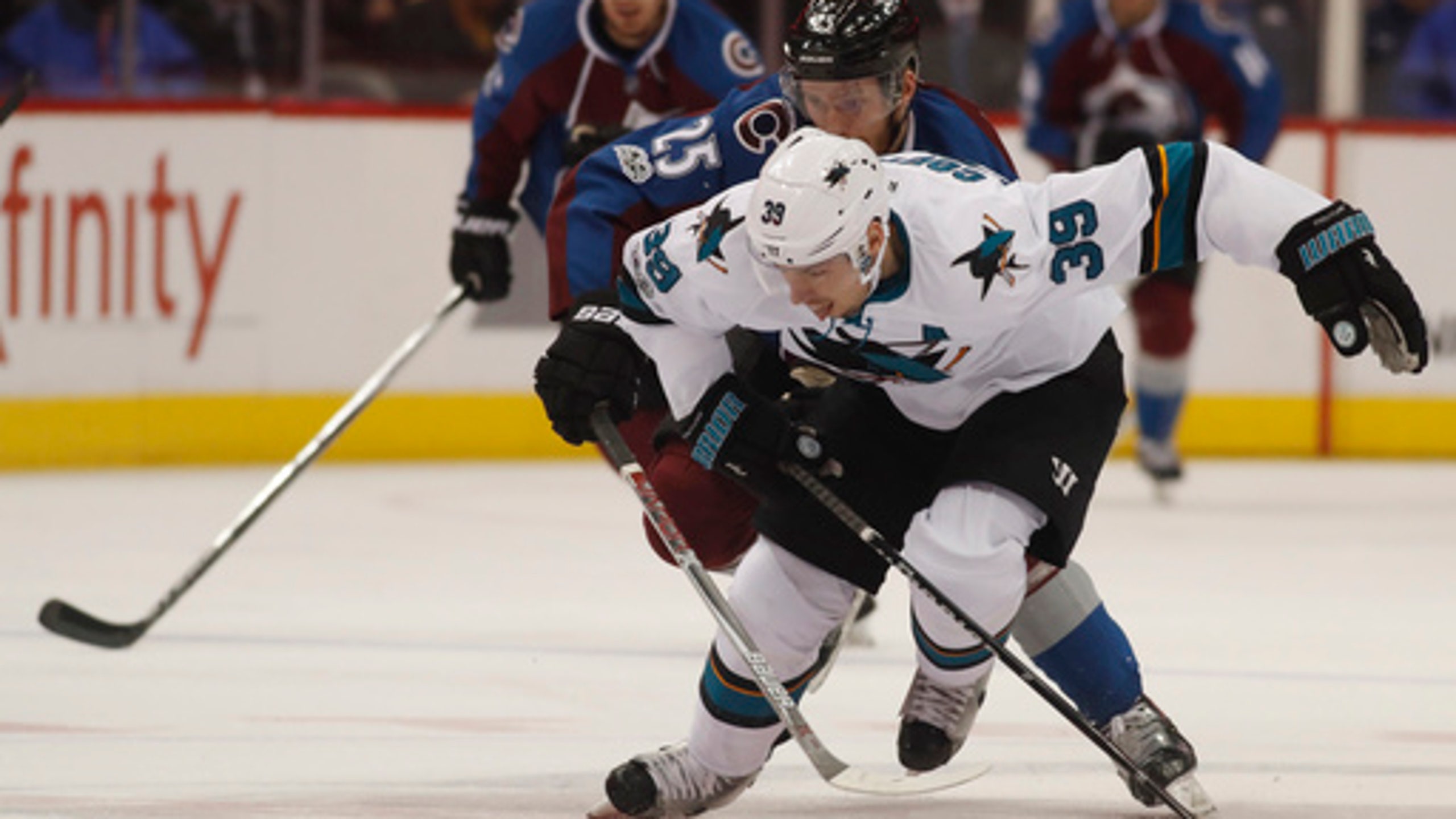 Marleau scores 4 goals in 3rd, Sharks beat Avalanche 5-2 (Jan 23, 2017)
BY AP • January 24, 2017
DENVER (AP) Patrick Marleau had a third period to remember: Four shots and four goals.
Not bad for a 37-year-old veteran.
Marleau's four-goal flurry in a 13 1/2-minute span helped the San Jose Sharks beat the last-place Colorado Avalanche 5-2 on Monday night for their fifth straight win.
The left wing became the 12th player in NHL history to score four goals in a period and the first since Mario Lemieux on Jan. 26, 1997, at Montreal, according to the NHL.
It was the third four-goal game in Sharks history. Marleau joins Owen Nolan (Dec. 19, 1995) and Tomas Hertl (Oct. 8, 2013).
Afterward, Marleau was humble as always as he ended a seven-game goal drought.
''It was a good period to have,'' said Marleau, who's now just three goals shy of No. 500 for his career. ''Tonight was a lot of fun.''
Marleau scored in a variety of ways to break open a game tied at 1 heading into the third: He tipped a shot in off the post, scored on a wraparound, lined in a wrist shot and finally lifted a backhander over rookie goaltender Spencer Martin.
''Great player. Still a lot of gas left in the tank, a lot of juice left in those legs,'' Sharks coach Peter DeBoer said. ''Considering our schedule and his age, to play a game like that, that's an exceptional feat. It's an exceptional feat when you're 22, never mind 37 in the middle of seven games in 11 nights. He's a great player. It was great to be part of it.''
To commemorate Marleau's achievement, the team made sure to retrieve the puck for him. That's quite a souvenir.
''It was one of those kinds of periods, he got the momentum going, everything found him and he put everything in,'' Joe Pavelski explained. ''Those were nice goals.''
Brent Burns had a goal and two assists as the two teams concluded their home-and-home set. The Sharks beat the Avalanche 3-2 in overtime on Saturday.
Jarome Iginla and Andreas Martinsen scored for Colorado, which fell to 1-10-1 over its last 12 games. Matt Duchene, the team's leading goal scorer, was a late scratch due to an illness and left the Avalanche with only 19 players. Duchene's absence raised some eyebrows since the talented forward has been the subject of recent trade rumors.
''He came to the rink this afternoon and was not feeling good,'' Avalanche coach Jared Bednar said. ''He was thinking he was going to play. He sat through our meetings and all that and it kind of deteriorated as the night went on so we sent him home.''
Martin Jones stopped 26 shots for the Sharks.
Marleau took over early in the third period when he scored twice in a 3:04 span. He was just getting warmed up as Colorado had no answer for No. 12.
''I would like a few of those back,'' Martin said.
Iginla's goal was his first since Dec. 27 and tied the game at 1 midway through the second period. He now has 617 career NHL goals, which moves him eight away from tying Avalanche Hall of Famer turned team executive Joe Sakic for 15th place on the career list.
Burns gave the Sharks a 1-0 advantage with 59.8 seconds remaining in the first period when he lined a wrist shot past Martin.
It was Burns' 20th goal of the season.
Until Burns' blast, Martin was off to a torrid start in just his second NHL game. Martin made his debut Saturday by turning back 27 shots against the Sharks.
A third-round pick by Colorado in 2013, Martin spent most of the season with San Antonio of the American Hockey League, where he was 15-9-2 with a 2.62 goals-against average. He was recalled with Semyon Varlamov sidelined by a nagging groin injury. Varlamov is out until after the All-Star break.
NOTES: San Jose C Logan Couture and Marc-Edouard Vlasic each had two assists. ... The Sharks scratched C Ryan Carpenter, RW Barclay Goodrow and D Tim Heed. ... Avalanche D Tyson Barrie and F Rene Bourque missed the game with lower-body injuries. ... The Avs have been outscored by a 54-27 margin in the third period.
UP NEXT
Sharks: At Winnipeg on Tuesday night.
Avalanche: Host Vancouver on Wednesday. Calvin Pickard is expected to start in goal for Colorado.
---
---