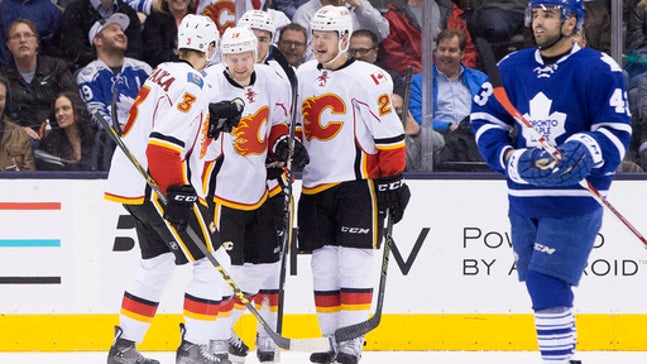 Maple Leafs topple Flames 5-2
Published
Mar. 22, 2016 1:58 a.m. ET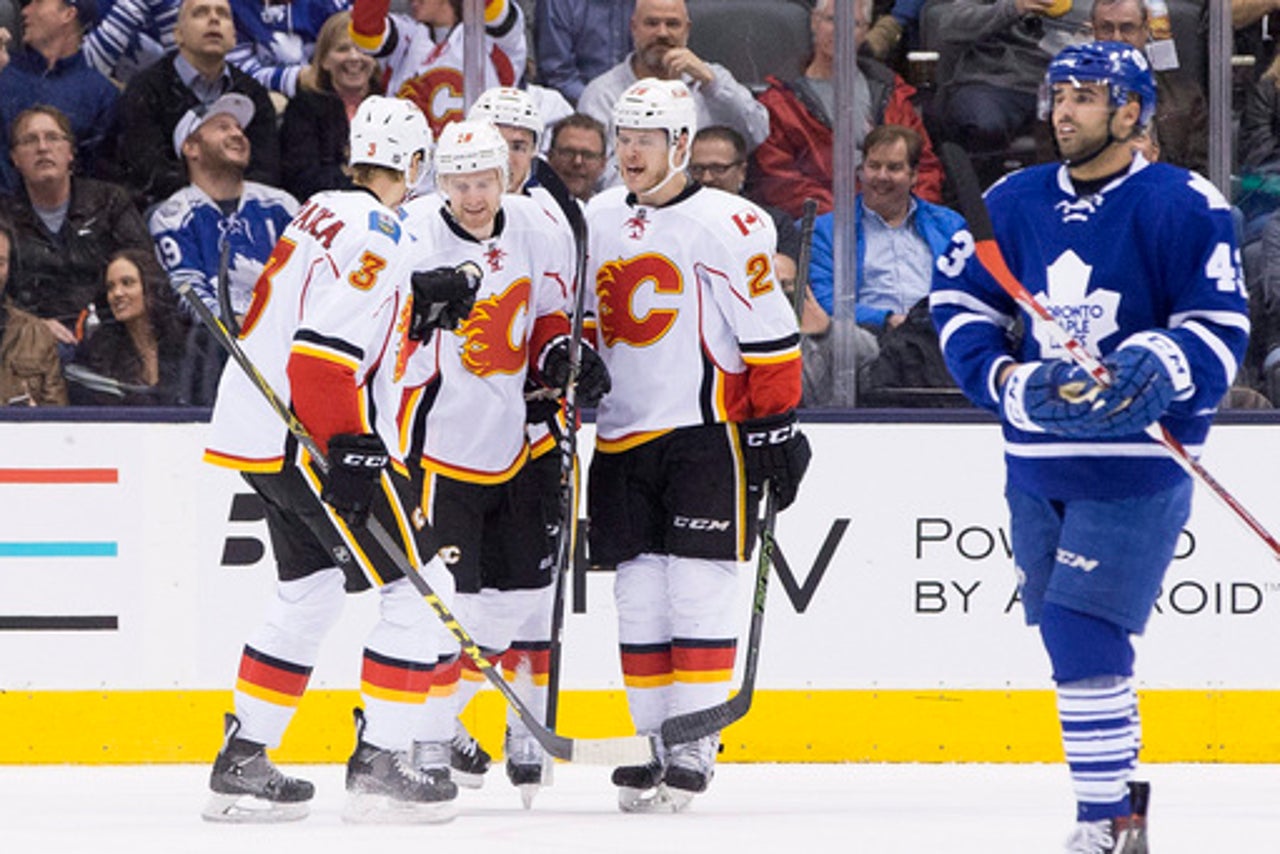 TORONTO (AP) William Nylander is three weeks into his NHL career and is gaining confidence.
The 19-year-old registered the first three-point game of his NHL career in a 5-2 Toronto Maple Leafs win over the Calgary Flames on Monday night.
It was Toronto's fourth victory in the past five games and fifth in the past seven outings.
Nylander led the effort. He scored his fourth NHL goal past Jonas Hiller for the winner 29 seconds into the third period and added two assists.
''When you're feeling it you're feeling it and he certainly was tonight,'' Leafs defenseman Jake Gardiner said.
Matt Stajan and Joe Colborne scored for Calgary.
Coming off the first multipoint game of his career over the weekend, Nylander also registered 12 shot attempts against the Flames, won 9-of-18 faceoffs and was dominant in the puck possession game.
He most impressed his head coach by his efforts in areas outside the offensive zone.
Mike Babcock liked the way he back-checked, the way he got pucks free from opponents, as well as his 80 percent success rate (4-5) on defensive-zone faceoffs.
''The other stuff, we know that he has that,'' Babcock said.
Teammates have noticed a young player gaining in confidence. Nylander, who has five points in the past two games after joining the Leafs from the AHL's Toronto Marlies on Feb. 29, is 12 games into a promising NHL career.
''Confidence, for sure,'' teammate Nazem Kadri said of Nylander's apparent growth.
''If you get on a roll and start scoring in this league you start to become more confident, more poised with the puck and really start to not doubt yourself and not doubt that scoring touch. He's got that. He's gifted in that sense.''
Gardiner echoed Babcock, sensing a player who was ''buying into the system, playing a complete game and starting to get better''.
''He's the kind of player who likes the puck on his stick and he likes to hold onto it and make plays and in order to do that you have to have confidence,'' said linemate Zach Hyman, who also scored his fourth NHL goal in the win.
Nylander helped the Leafs open the scoring in the first period, picking a puck free from Hiller behind the Calgary net before finding linemate P.A. Parenteau in front. He added his second assist a period later, winding up for a shot that was redirected into the net by Hyman.
It was the first two-assist night in Nylander's brief NHL tenure.
His fourth NHL goal and first NHL game-winner was a blast that electrified the Toronto crowd moments into the final period.
Hanging just inside the blue line as Gardiner dipped deeper into the Flames zone, Nylander one-timed his pass beyond Hiller, benefiting from the presence of Hyman in front.
He scored on a loud wrist shot against the Sabres two nights earlier.
''He's just got an elite shot,'' Hyman said.
The 23-year-old Hyman noted that Nylander liked to go blocker-side typically with such a shot, though playing against the left-handed Hiller, the shot streamed by the goaltender's glove.
Nylander's performance came with the head coach of Sweden's entry at the world championships in attendance, though Babcock declared that the AHL playoffs would be first priority for the former first-round pick come spring.
Babcock seems intent on testing Nylander as the NHL season winds down. He sees a difficult matchup ahead for Nylander on Thursday night, one that could feature either Ducks captain Ryan Getzlaf or the club's equally imposing No. 2 center, Ryan Kesler.
''Then you get out there every shift against men and you figure out how hard it is to have the puck in the league,'' Babcock said.
The Leafs coach planned to match Nylander against Calder Trophy candidate Jack Eichel over the weekend only to have Eichel miss the game with the flu.
Babcock has made it clear that he'd rather not play Nylander at center at this early stage in his NHL career, if only to shelter him from the demands of facing those such as Getzlaf and Kesler.
He's sensed an aspiration for greatness in Nylander, describing him as a ''smart, smart guy'' who ''knows what you're going to talk to him about before you talk to him.''
It's apparent that Nylander is finding more and more of a comfort zone. Some evidence is apparent, such as the electric offensive capabilities. Other details that suggest growth, such as the ability to backcheck with vigor, are less so.
Babcock believes Nylander's drive to continually improve will determine how high he ultimately flies down the line.
''What's going to decide that for him is just how much drive he has to do all the little things right, to train, to eat, to live.
''But he's got ability and seems to be comfortable with himself. He's a kid, let's not kids ourselves. It takes time in this league to be a man and become a player.''
---
---