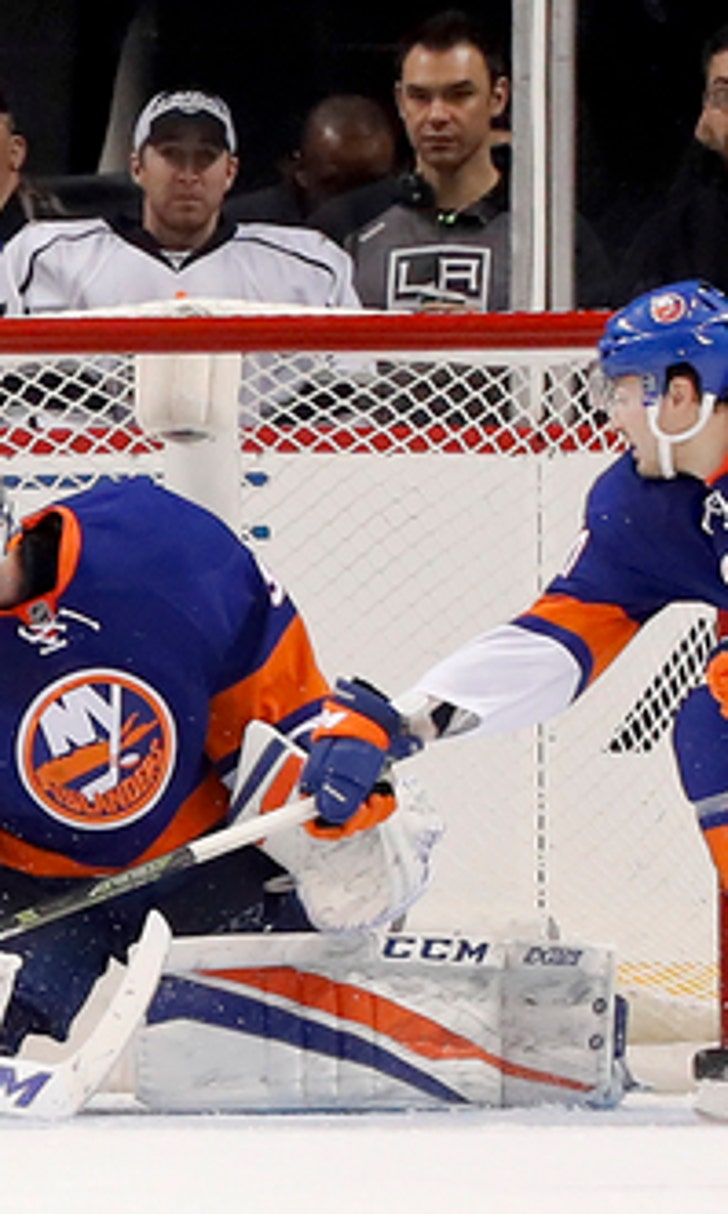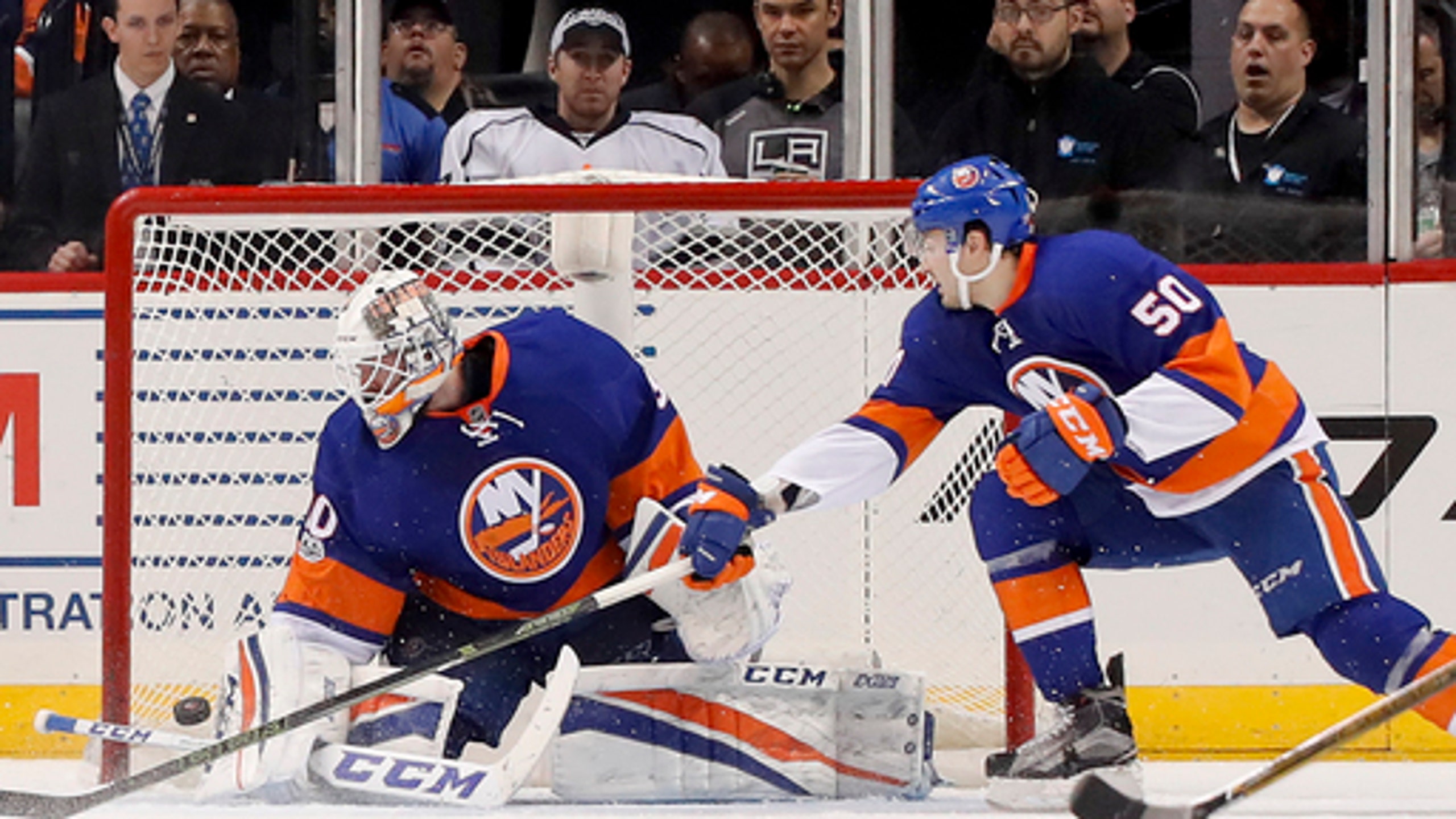 Lee scores 2 power-play goals, Islanders beat Kings 4-2 (Jan 21, 2017)
BY AP • January 22, 2017
NEW YORK (AP) The New York Islanders are on quite a nice roll.
Anders Lee scored two power-play goals to lead the Islanders to a 4-2 victory over the Los Angeles Kings on Saturday night, giving New York its third straight win and fourth in the last five games.
''We've been keeping it simple of late,'' said Lee, who has four goals in two games against the Kings this season. ''We've been getting shots on net and being more effective. I'll do my thing down low.''
John Tavares had a goal and an assist, Jason Chimera also scored and Jean-Francois Berube stopped 34 shots to earn his first win in his third start of the season.
Nick Leddy added two assists as New York, last in the East, pulled five points behind Toronto for the conference's second wild-card spot.
''We believe we're a playoff team,'' Berube said. ''We trust each other. We have to build on this. We're going a game at a time. Tomorrow against Philly is a huge game for us.''
After Los Angeles scored twice early in the third period to tie it, Lee put the Islanders ahead for good at 9:31, deflecting a slap shot by Leddy past Peter Budaj for his 17th of the season.
Tavares added a power-play empty-netter with 44 seconds to go, giving him eight goals and nine points in his last five games.
Islanders interim coach Doug Weight improved to 2-0-0 since replacing Jack Capuano when he was fired earlier in the week.
''We have to just win one game in a row and keep it moving,'' Chimera said. ''We're just looking to play well each and every game.''
Drew Doughty had a goal and an assist, and Jeff Carter also scored for Los Angeles, which lost its third straight. Budaj finished with 32 saves.
The Kings trailed 2-0 after two periods despite outshooting the Islanders 27-18.
''We did have some really, really good chances and Berube made some big saves,'' Doughty said. ''There were maybe four or five of those. ... I'd say a good 15 of them were easy saves, with guys not in front and guys not going to the net.''
Los Angeles finally got on the scoreboard 37 seconds into the third, ending the Islanders' shutout streak at 166:44. Carter backhanded the rebound of a shot by Doughty for his 24th of the season and 20th goal and 46th point in 46 games against the Islanders.
The Kings tied it about 3 1/2 minutes later as Doughty fired a shot from beyond the right circle that appeared to deflect in off Leddy's skate for his eighth.
After coming in with the NHL's ninth-ranked penalty-kill at 83.1 percent, the Kings gave up three power-play goals and have allowed six in 16 chances over their last four games. The Islanders, 3 for 5 on the man advantage, came in 0 for 21 over their previous six games
''Getting results is important sometimes,'' Weight said. ''It seems as though we were having two games where we're 0 for 4 and really putting shots on (goal) and getting zone time. And then we're having one game we're horrific and we're 0 for 5.''
Lee doubled the Islanders' lead at 7:09, just 50 seconds after the Kings' Jake Muzzin was sent off for hooking as he stuffed in the rebound of a shot by Tavares.
Chimera got the Islanders on the scoreboard with a fluky goal. He brought the puck up the left side and sent it at the net from the left faceoff circle. The puck hit Budaj's mask and fell down and crossed the goal line 2 1/2 minutes into the game for Chimera's ninth of the season and fourth in the last five games. It came on New York's first shot.
NOTES: The Kings, coming off a 3-4-0 homestand, opened a stretch with nine of 10 on the road. ... Kings C Nic Dowd left in the second period and didn't return. ... Lee had one goal in his first 18 games of the season. He has 16 in 26 games since, starting with a two-goal effort in the Islanders' 4-2 loss at Los Angeles on Nov. 23. ... Berube was drafted by the Kings in 2009 and spent six seasons in the organization before being claimed off waivers by the Islanders in October 2015. ... The Islanders improved to 15-5-5 when scoring first and 15-0-3 when leading after two periods.
UP NEXT
Kings: At the New York Rangers on Monday night in the second game of a five-game trip.
Islanders: Host the Philadelphia Flyers on Sunday night in the third game of a season-high six-game homestand.
---
Follow Vin Cherwoo at www.twitter.com/VinCherwooAP
---
---