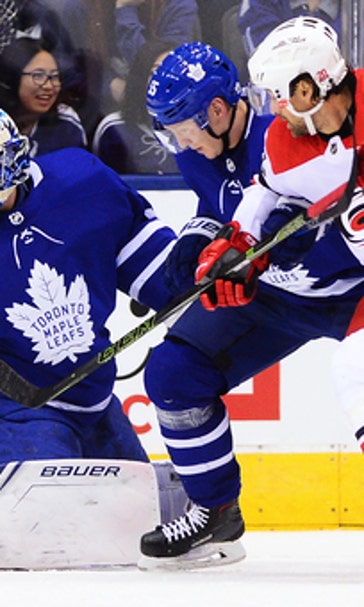 Jooris scores 2 to lead Hurricanes past Maple Leafs, 6-3 (Oct 26, 2017)
October 26, 2017

TORONTO (AP) The Carolina Hurricanes simply took advantage of their opportunities and pulled out a big win against the Toronto Maple Leafs.
Josh Jooris scored twice, Teuvo Teravainen had a three-point night and the Hurricanes beat the Maple Leafs 6-3 on Thursday night.
Victor Rask scored midway through the second period to give Carolina the lead and Brock McGinn and Jooris added insurance goals in the third. Elias Lindholm and Teravainen also scored for the Hurricanes, who ended a two-game losing skid.
''We were working super hard the whole game,'' said Hurricanes goalie Scott Darling, who finished with 31 saves. ''Retrieving pucks, getting pucks deep, back-checking hard. The (Leafs are) a really good team, really skilled.''
Auston Matthews, Zach Hyman and Dominic Moore had the goals for Toronto, which capped a solid 10-game season-opening stretch with one of its worst efforts in recent memory.
''They deserved to win, we didn't deserve to win,'' Maple Leafs coach Mike Babcock said. ''We didn't work, they worked. They were organized, we were unorganized. They were prepared, we were unprepared.''
Carolina pulled ahead by taking advantage of a poor clearing effort by Andreas Borgman behind the Toronto net. Teravainen took possession and fed the puck to Rask, who one-timed it past Maple Leafs goalie Frederik Andersen.
McGinn made it a two-goal game by faking a slap shot and snapping the puck over Andersen's right shoulder for his first goal of the season. Jooris capped the scoring by burying a pass from Jeff Skinner into the top corner.
Toronto seemed flat at the start and both teams made plenty of mistakes, missed passes and blew assignments over 60 minutes.
''Non-competitive right from the start until the end,'' Babcock said.
The Hurricanes silenced the home crowd early. Jooris potted his first goal of the season by one-timing a pass from Trevor van Riemsdyk at 2:20 of the opening period.
Teravainen made it a two-goal lead just 33 seconds later. He snapped home a loose puck off the faceoff for his third goal of the campaign.
Toronto halved the lead at 9:19 as Patrick Marleau flipped a pass to Matthews, who was left alone in front. Matthews beat Darling on the glove side for his eighth goal.
Andersen made an all-world glove save on Noah Hanifin later in the stanza. He snared the slap shot from the hash mark despite being prone in the butterfly position.
Carolina scored on its next opportunity, however, as Lindholm tipped in a shot from the point to make it 3-1 at 16:08.
''I think we've got to play with more pride,'' Andersen said.
The Maple Leafs pressed in the second period and were rewarded with two quick goals.
Moore flipped in a rebound near the crease at 5:47 and Hyman tied it at 7:11. It was Moore's third goal of the season and the fourth for Hyman.
In the third, McGinn tallied at 10:15 and Jooris scored at 12:19. Carolina outshot Toronto 38-34.
NOTES: Toronto sratched D Connor Carrick, F Eric Fehr and F Josh Leivo. .. Carolina sat D Klas Dahlbeck and F Janne Kuokkanen. ... The Maple Leafs entered play leading the NHL with an average of 4.4 goals per game. ... Canadian tennis star Milos Raonic was in attendance. He grew up in Thornhill, Ontario, just north of Toronto.
UP NEXT
Hurricanes: Host St. Louis on Friday.
Maple Leafs: Host Philadelphia on Saturday to wrap up a three-game homestand.
---
---