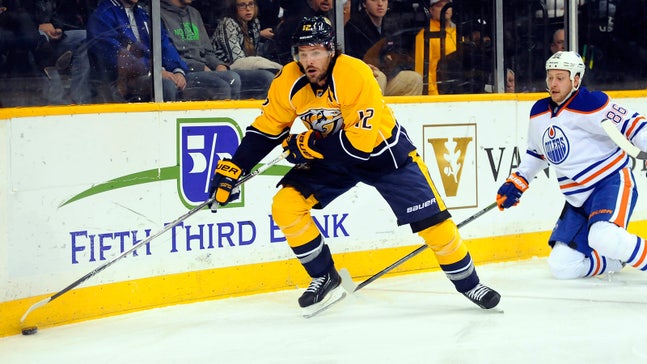 In need of a new contract, the Predators look to reel in the Fish
Published
May. 7, 2015 3:20 p.m. ET

Mike Fisher has made a name for himself in Nashville in more ways than one.
That's why over the next several weeks it will be among GM David Poile's top priorities to re-sign Fisher, who as of season's end, is an unrestricted free agent.
Since joining the Predators in February of 2011 following a trade with the Ottawa Senators, Fisher has emerged as Nashville's highest scoring forward, racking up 172 points over that span. This year, despite his injury-riddled season, Fisher was able to accumulate 19 goals, and 39 points over 59 games, leading the Predators to their most successful season in franchise history before suffering a disappointingly early exit from the playoffs.
"He's a real leader." Poile told Adam Vingan in a recent interview with The Tennessean, "I truly feel that the best place for Mike is here in Nashville. As long as I'm the manager, he can play as long as he wants."
Fisher's influence on the city has extended far past the ice of Bridgestone Arena, however. He has remained active in the community, and he just gave birth to his first-born son with his wife and country star singer, Carrie Underwood.
The Predators' wildly successful season has seen optimism levels for the future rise to an all-time high, and all reports indicate that Fisher shares the organization's desire to re-sign with the team. "This group is still young and is only going to get better" Fisher told Vingan, "That really obviously excites me and what the future can hold here."
Following a lull in conversation between Fisher and the team's front office, contract talks are expected to resume this week, and Vingan reports that an extension similar to Fisher's current 2-year $8.4 million contract seems quite plausible, as the two sides don't seem to be far off on the terms.
"It's something that will have to be worked out here in the next little bit" Fisher told The Tennessean, "I'm pretty confident that something will get done and I'll be back."
List of Predators' current free agents:
Restricted:
Taylor Beck ($550,000)
Gabriel Bourque ($825,000)
Calle Jarnkrok ($790,000)
Craig Smith ($2 million)
Colin Wilson ($2.5 million)
Unrestricted:
Matt Cullen ($4 million)
Mike Ribeiro ($1.05 million)
Mike Fisher ($4.2 million)
Mike Santorelli ($1.5 million)
Cody Franson ($3.3 million)
Anton Volchenkov ($1 million)
---
---