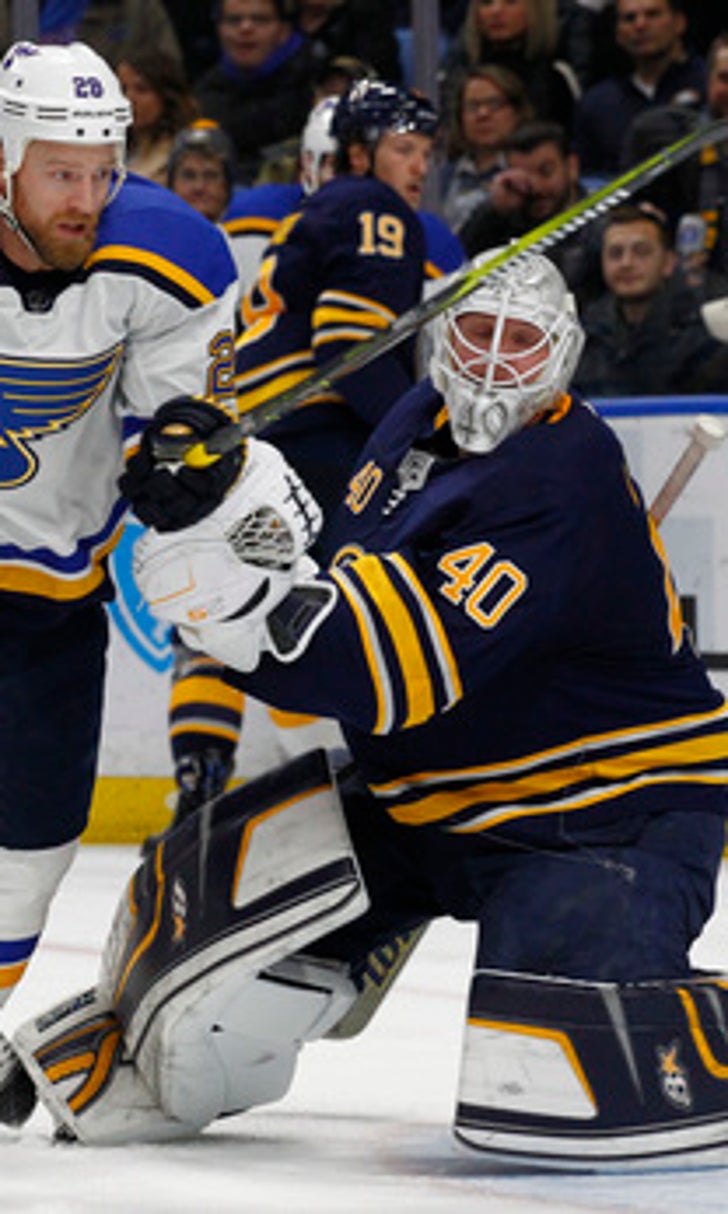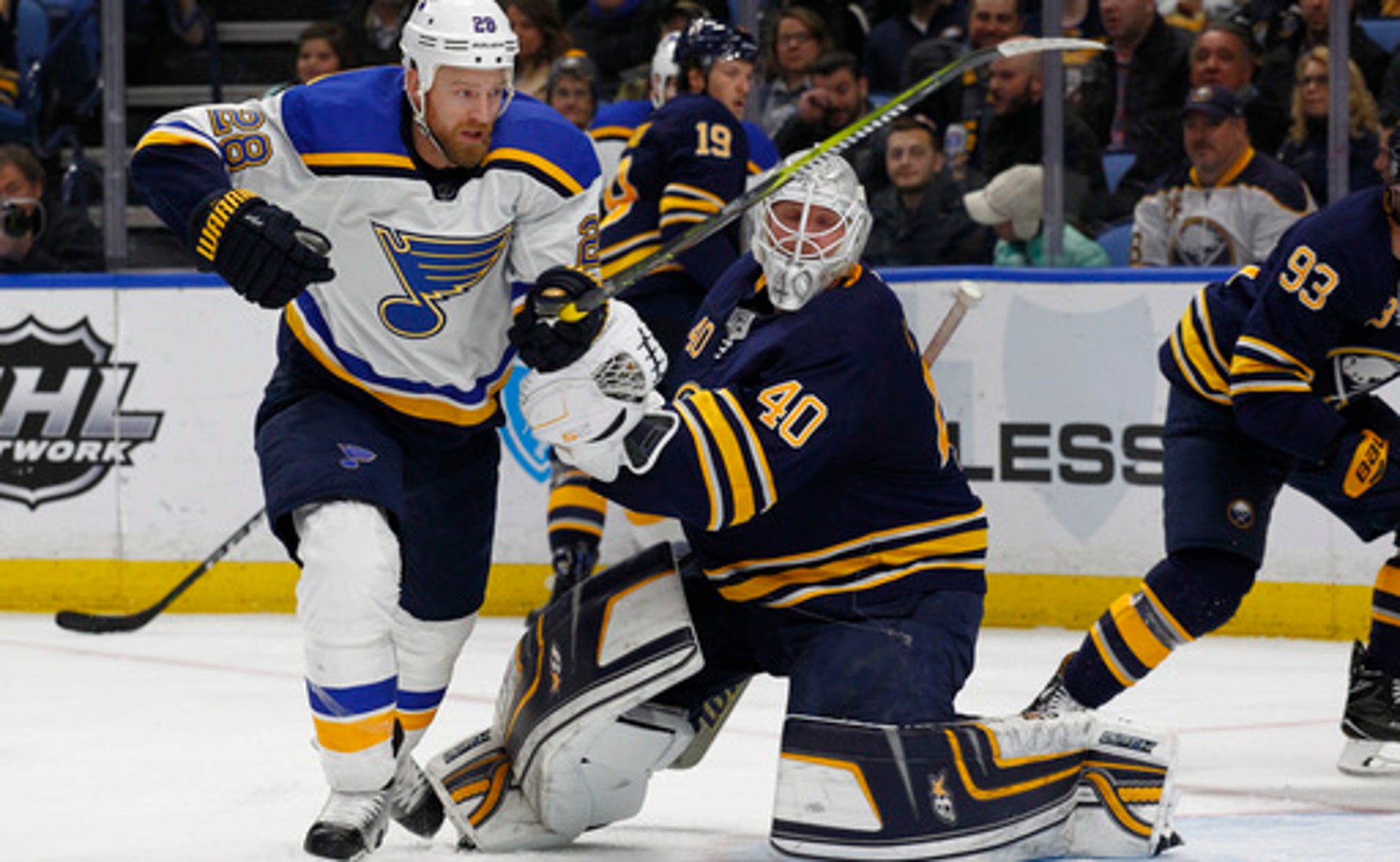 Hutton stops 27 shots in Blues' 1-0 win over Sabres
February 4, 2018
BUFFALO, N.Y. (AP) Two shots off the crossbar and another one off of St. Louis goalie Carter Hutton's skate were the difference in the Blues securing a 1-0 win over the Buffalo Sabres on Saturday night.
Of the 27 saves Hutton made in earning his third shutout of the season, one his last stops proved to be his finest with 32 seconds left. Hutton spread-eagled through the crease to have Sam Reinhart's one-timer bank off his right skate blade.
''I think it jammed him a bit, and he tried to get it off quick and luckily enough I get a skate on it and it stayed out,'' Hutton said.
Otherwise, Hutton was also thanking the crossbar, which played a factor at both ends of the ice in the final minutes.
Carl Gunnarsson scored with 5:41 left, when his shot from the blue line sneaked through a crowd and banked in off the crossbar behind goalie Robin Lehner.
The Sabres were on the receiving end of yet another unfortunate bounce with 3 seconds left, when Rasmus Ristolainen's blast from the blue line hit the crossbar and stayed out.
''We hit the bar and it goes in. They hit the bar and it goes at the end,'' Hutton said. ''That's the way it goes sometimes.''
It was a timely goal for Gunnarsson, too, coming in his first game back in the lineup after the defenseman sat out the previous three as a healthy scratch.
''We got lucky, but it's good to see it go in,'' said Gunnarsson, who was set up at the point by teammate Peter Stastny winning a faceoff to the left of the Sabres net.
Lehner simply shook his head about a fraction of an inch deciding a game in which he stopped 32 shots.
''I know I saw it late,'' Lehner said of Gunnarsson's goal. ''They throw, I don't know, 60 or 70 shot attempts and one goes through. You want to be in position, but they scored the goal.''
St. Louis won its fourth in five games while bouncing back from a 3-1 loss at Boston on Thursday. The Blues also continued their domination of the Sabres by improving to 11-1 in their past 12 meetings and 21-3 in their past 24 dating to the 1998-99 season.
The Sabres have dropped the first three games of a five-game homestand. And the Eastern Conference's last-place team continues having difficulty generating offense, particularly at home.
The Sabres are last in the league in scoring with 117 goals overall and just 47 in 24 home games.
Reinhart was frustrated when asked a second time about his missed opportunity.
''I've got to talk about it again? I mean, it is what it is,'' said Reinhart. ''I don't know what you want me to say. I've got to put it in the net.''
Both goalies put on a show.
Hutton made two key saves during a Sabres power play with just under eight minutes left. First he got a piece of Kyle Okposo's slap shot from the right circle and recovered in time to stop Ryan O'Reilly attempting to convert the rebound at the right post.
Lehner's best stops came during a short span just under six minutes into the third period. Evander Kane's giveaway led to Brayden Schenn breaking in alone. Faking right and going to his left, Schenn had Lehner down only to shoot it into the goalie's pad. Some five seconds later, Lehner got across to his left in time to smother Vladimir Tarasenko's one-timer from the slot.
''It could've gone either way,'' Sabres coach Phil Housley said. ''It's just what we've got to deal with right now. We've got to find a way.''
NOTES: Former Sabres captain and current Blues assistant coach Steve Ott nearly took the wrong turn out of the elevator on way to the locker room during first intermission. Ott laughed and said: ''I didn't spend any time in the press box here as a healthy scratch.'' ... Sabres C Johan Larsson served the first of a two-game NHL suspension for cross-checking Florida forward Vincent Trocheck in the face during Buffalo's 4-2 loss on Thursday. ... The Sabres activated D Nathan Beaulieu from IR and sent RW Nicholas Baptiste to AHL Rochester.
UP NEXT
Blues: Host Minnesota on Tuesday.
Sabres: Continue a five-game homestand against Anaheim on Tuesday.
---
More NHL hockey: https://apnews.com/tag/NHLhockey
---
---