Pierre-Edouard Bellemare
Pierre-Edouard Bellemare
Flyers beat Devils 4-3 in OT for 4th straight win
Published
Dec. 4, 2015 11:12 p.m. ET

NEWARK, N.J. (AP) Patience paid off for Matt Read and the Philadelphia Flyers.
After faking a couple of shots, Read scored on a 2-on-1 break 3:24 into overtime and the Flyers beat the New Jersey Devils 4-3 on Friday night for their season-high fourth straight victory.
Other than an empty-net goal against Winnipeg on Nov. 7, it was Read's first score in 22 games.
Leading a break with Sean Couturier, Read faked several shots with defenseman Andy Greene taking away his passing lane, and then fired the puck off Cory Schneider's shoulder, with the shot crawling into the net for his fourth goal.
''I knew I had a lot of time,'' Read said. ''I was looking for a pass pretty much the whole time and I didn't have it, so I looked for a shot and I would say it's pretty lucky it hit the goalie in the shoulder and how it rolls over and goes in the net. I'll take it and it's a good two points.''
Coach Dave Hakstol said Read hasn't had much luck lately.
''Even this one, I don't know if it got more than six inches across the line, I haven't looked at the video yet,'' Hakstol said. ''Nice to see one go in, hopefully that will spark him a little bit.''
Schneider felt he should have stopped it.
''I knew he had a lot of time so I was trying to out wait him,'' he said. ''I liked the position I was in - I didn't commit too soon, I held my ground - once again, I got a piece of it and it wasn't enough. That's twice in two games so that's frustrating for me. I should have had that one.''
Jakub Voracek set up power-play goals by red-shot Wayne Simmonds and Claude Giroux, and Michal Neuvirth made 15 saves while helping the Flyers to their third win (3-10-2) over New Jersey since the start of the 2012-13 season.
Pierre-Edouard Bellemare also scored for Philadelphia, which has won five of six overall.
''It feels good,'' Simmonds said. ''Guys are confident in our team. We're doing the right things. We have confidence on the bench and I think it shows.''
Mike Cammalleri, Stefan Matteau and Kyle Palmieri scored for the Devils in a feisty game that featured a couple of scrums and one fight.
Cammalleri tied it with 1:01 left in regulation with a power-play goal on which the Devils had pulled Schneider for an extra skater. It was his 10th goal of the season and ended a streak of 24 straight penalty kills for the Flyers.
Lee Stempniak got the primary assist on Cammalleri's third goal in two games by kicking the puck from out in front of the net to his teammate in the left circle for a shot that beat Neuvirth.
The Flyers had taken a 3-2 lead with 10:30 left on a rebound in close by Bellemare. Palmieri tied it at 2 early in the period, seconds after a Philadelphia penalty ended.
Devils coach John Hynes was happy with the point with his team struggling in its second game in two days.
''Philly played real well and we were not at our best, but we found a way to stay with it,'' he said. ''That's a real good sign for our team.''
The Devils jumped in front 6:36 into the first period when Neuvirth gave up a horrible goal. Matteau skated the puck from his own blue line into the right corner in the Flyers' end and backhanded a shot at the goaltender along the ice. Neuvirth misplayed the puck and Matteau got his first goal of the season.
Simmonds tied it a little more than three minutes later on a power play. Giroux sent a cross-ice pass from the left circle to Voracek in the right circle. He found Simmonds at the left side of the net with a quick pass that seemed to go into the net off his skate. The play was reviewed and the goal was allowed.
NOTES: Simmonds' power-play goal was the first allowed by the Devils at home since Oct. 31 against Islanders. They had killed off 23 straight short-handed situations. ... Flyers' Scott Laughton got the best of Devils' Bobby Farnham in a one-punch, second-period fight. ... The teams have split two games this season.
---
---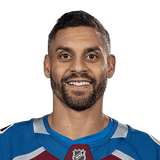 Get more from Pierre-Edouard Bellemare
Follow your favorites to get information about games, news and more
---