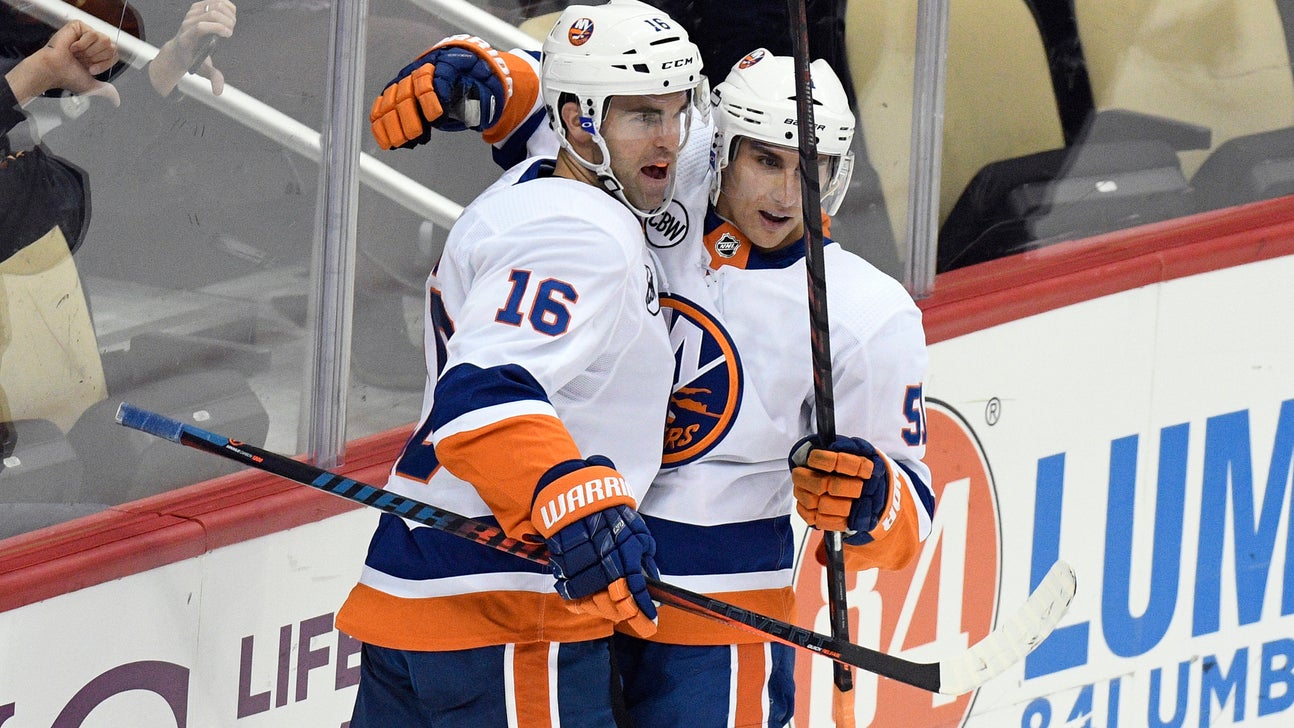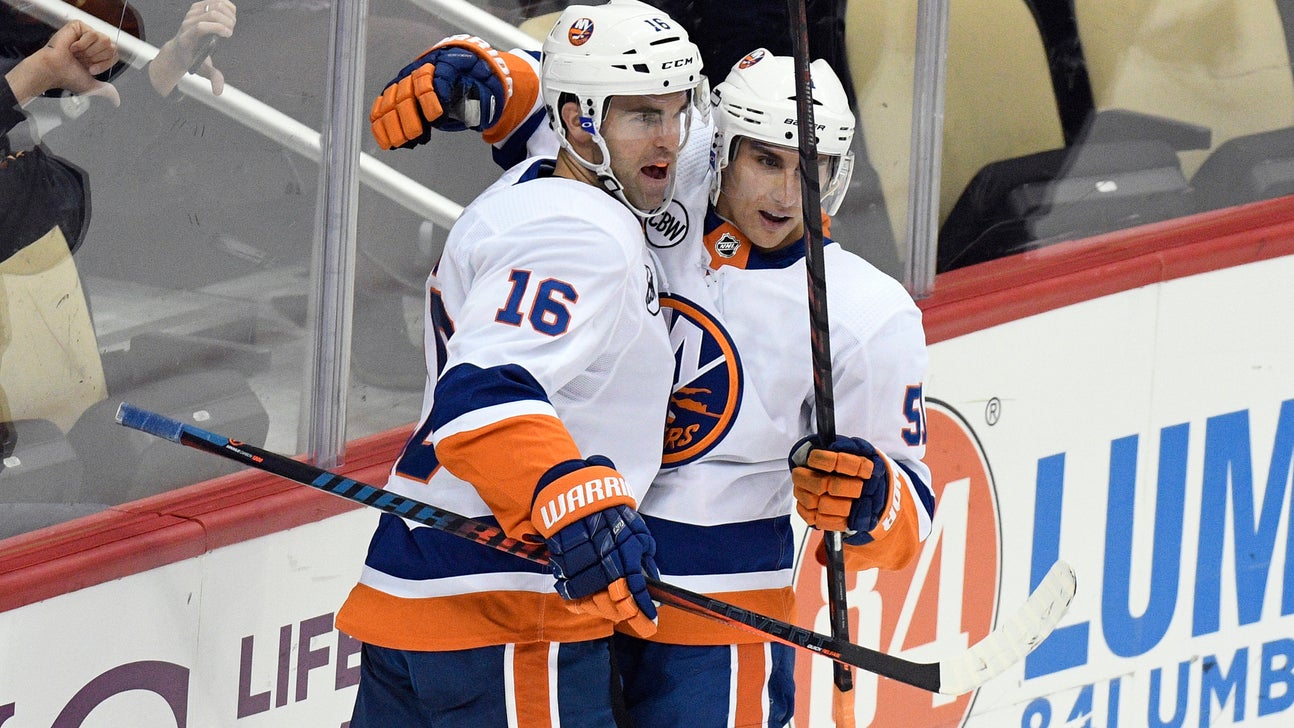 Eberle's 2 goals lead Islanders over Penguins 6-3
Updated
Mar. 4, 2020 11:34 p.m. ET
PITTSBURGH (AP) — Following an emotional pregame ceremony for their mourning city, Sidney Crosby and the Pittsburgh Penguins channeled their emotions into a flurry of a first period.
The Islanders spoiled their efforts for an uplifting finish, though, with Jordan Eberle scoring twice in the second period of New York's 6-3 victory Tuesday night.
The Penguins held a ceremony to honor the victims of Saturday's synagogue shooting in the Pittsburgh neighborhood of Squirrel Hill. It included an 11-second moment of silence in memory of the 11 people slain, whose names appeared on the scoreboard.
Then the Pens came out flying, peppering goalie Robin Lehner with scoring chances, but New York escaped the first period in 2-2 tie.
"We wanted to go out there and play for them," said Crosby, who scored late in the period. "You try to recognize that and play as hard as you can to show your appreciation. Words are one thing, but you try to go out there and follow it up the same."
Islanders coach Barry Trotz said it ranked among New York's "worst periods of the season" and the team struggled with "heavy boots," but he understood the impact of the circumstances.
"I watched the news like everybody else, and it was absolutely cowardly what happened with the whole tragedy," Trotz said. "But sometimes sports teams can help a city rally, and full marks to the Penguins because they came out hard. We got some great goaltending in the first period and that was the reason why we won the game."
Eberle scored his second and third goals for the Islanders, who swept a three-game road trip. Brock Nelson scored his sixth of the season and fifth goal in five games, while Tom Kuhnhackl, who won two Stanley Cups in Pittsburgh, scored his first as an Islander. Andrew Ladd and Matt Martin also scored for New York, which has won four of six after starting the season 2-3.
Lehner stopped 23 of 25 shots, but he left the game after the second period after suffering what Trotz described as a strain. Thomas Greiss stopped 12 shots for the Islanders, who are playing eight of their first 11 games on the road for the first time in team history.
"They're becoming road warriors," Trotz said. "We looked at the schedule to start the season and thought it could be a tough start, but the guys bought in, they've been battling and I think being on the road, especially with new personnel, has probably been a blessing in disguise."
Crosby, Evgeni Malkin and Dominik Simon scored for Pittsburgh, which ended its four-game winning streak. The Penguins outscored the opposition 23-6 during a perfect four-game Canadian road trip.
Crosby has six goals and nine points in his last four games after going his first six games without a goal. Malkin has an eight-game point streak.
Matt Murray stopped 5 of 9 shots before he was pulled following Eberle's power-play goal. Casey DeSmith made 14 saves in relief.
"We had a lot of different emotions going through our minds to start, but the bottom line is that we wanted to find a way to get a win for a lot of reasons," Crosby said. "Unfortunately, it didn't happen."
Ladd and Nelson staked the Islanders to an early lead in the first, but Simon and Crosby responded to tie it.
The Islanders broke it open with three second-period goals in a span of 4:17.
Martin finished a one-timer from Casey Cizikas, and Eberle scored the next two for a 5-2 lead.
"I liked our response in the second," Eberle said. "We're just continuing to win and play well. I think that's the key."
STRONGER THAN HATE
Penguins players wore a special "Stronger than Hate" patch, which incorporated the team logo and the Star of David, and the Islanders wore a similar decal on their helmets.
A black and white silhouette of the city with the words "Stronger than Hate" flashed on the scoreboard during the pregame ceremony, while a video tribute played prior to faceoff. A ceremonial puck drop featured Pittsburgh police Chief Scott Schubert along with Anthony Burke and Mike Smigda, officers wounded in the attack.
The Penguins held a blood drive Monday, and the team also donated to the Jewish Federation of Greater Pittsburgh in addition to a fund established by the City of Pittsburgh Department of Safety to benefit police officers wounded in the attack.
NOTES: Penguins' D Kris Letang missed the game with a lower-body injury. Letang, who leads Penguins' defensemen in scoring, left Monday's practice after getting hurt Saturday against Vancouver. .. Penguins F Derick Brassard (lower body) and Islanders F Cal Clutterbuck (upper body) both missed their second straight game because of injury. ... Mathew Barzal has 12 points in 11 games and Josh Bailey has a six-game point streak for the Islanders.
UP NEXT
The Penguins and Islanders meet again in New York on Thursday.
---
---