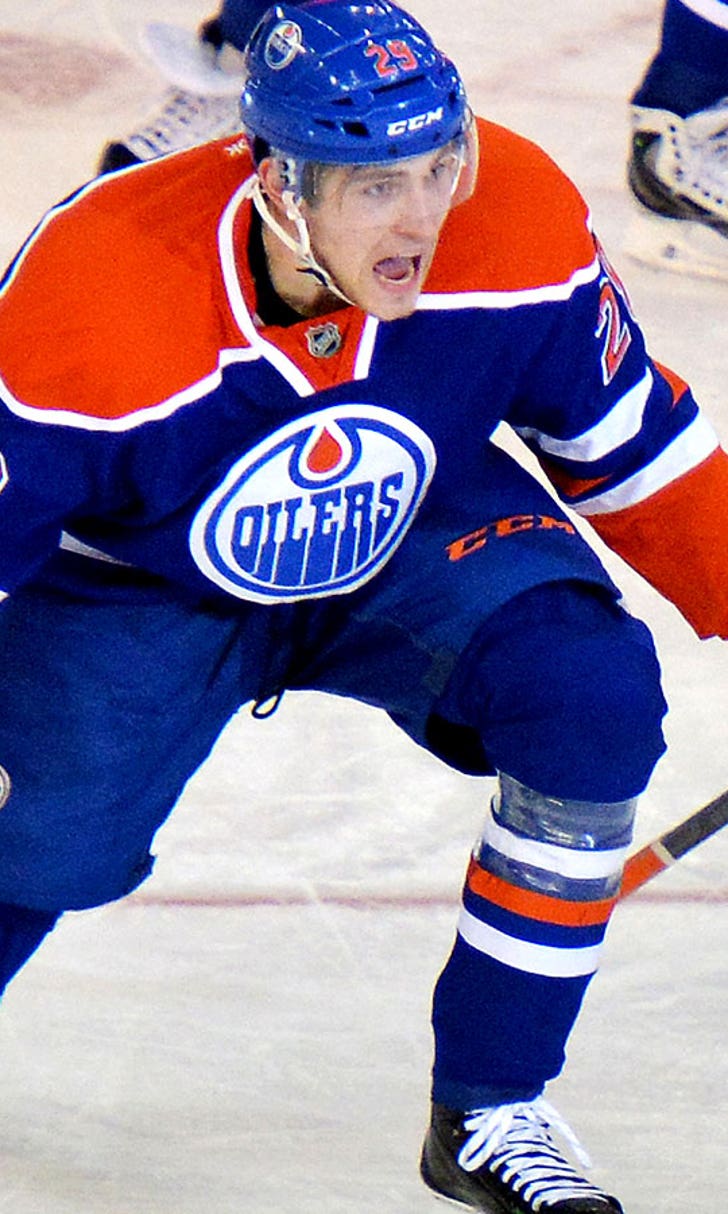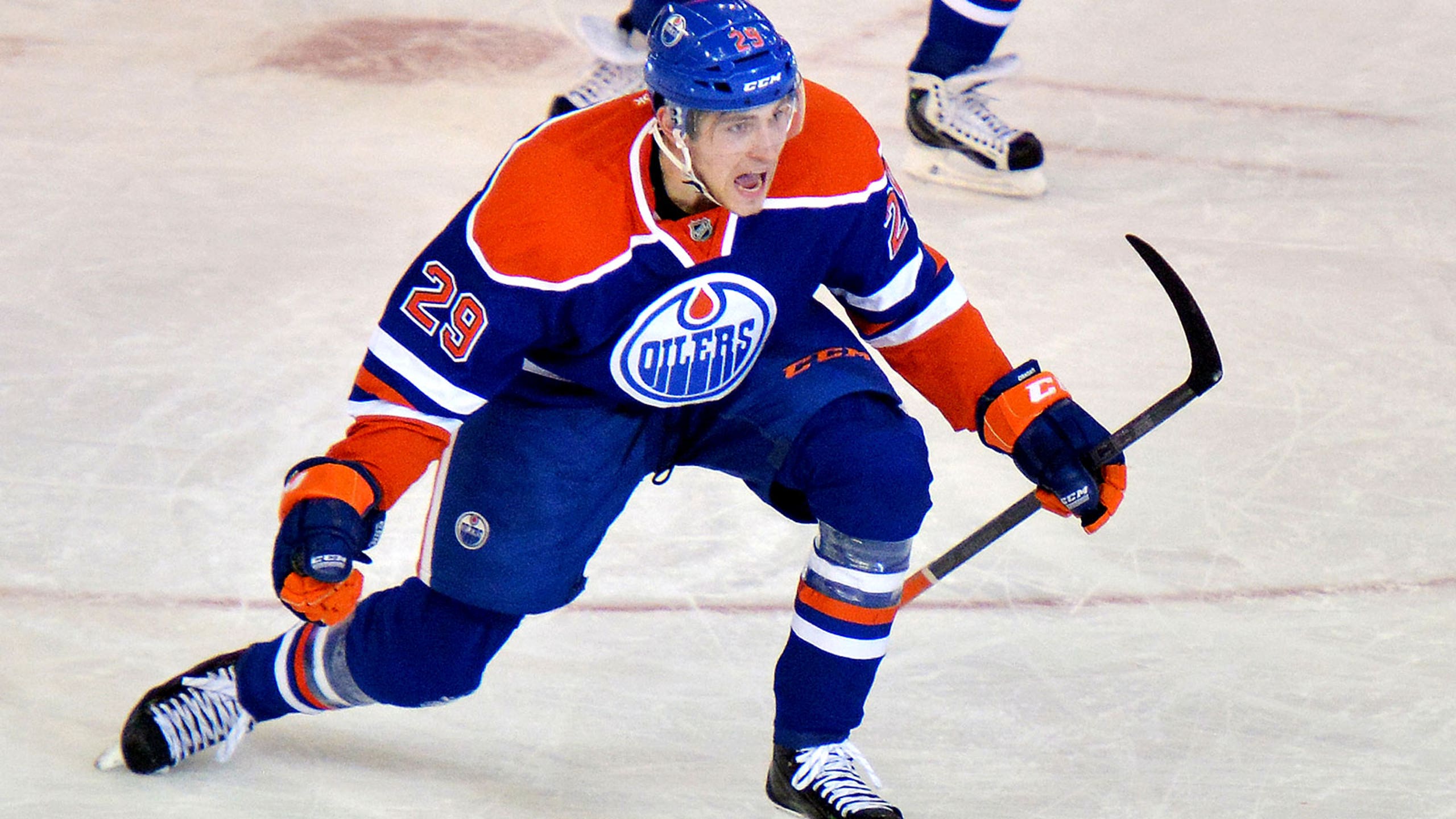 Eberle scores 2, Draisaitl nets winner as Oilers down Hurricanes
BY foxsports • October 25, 2014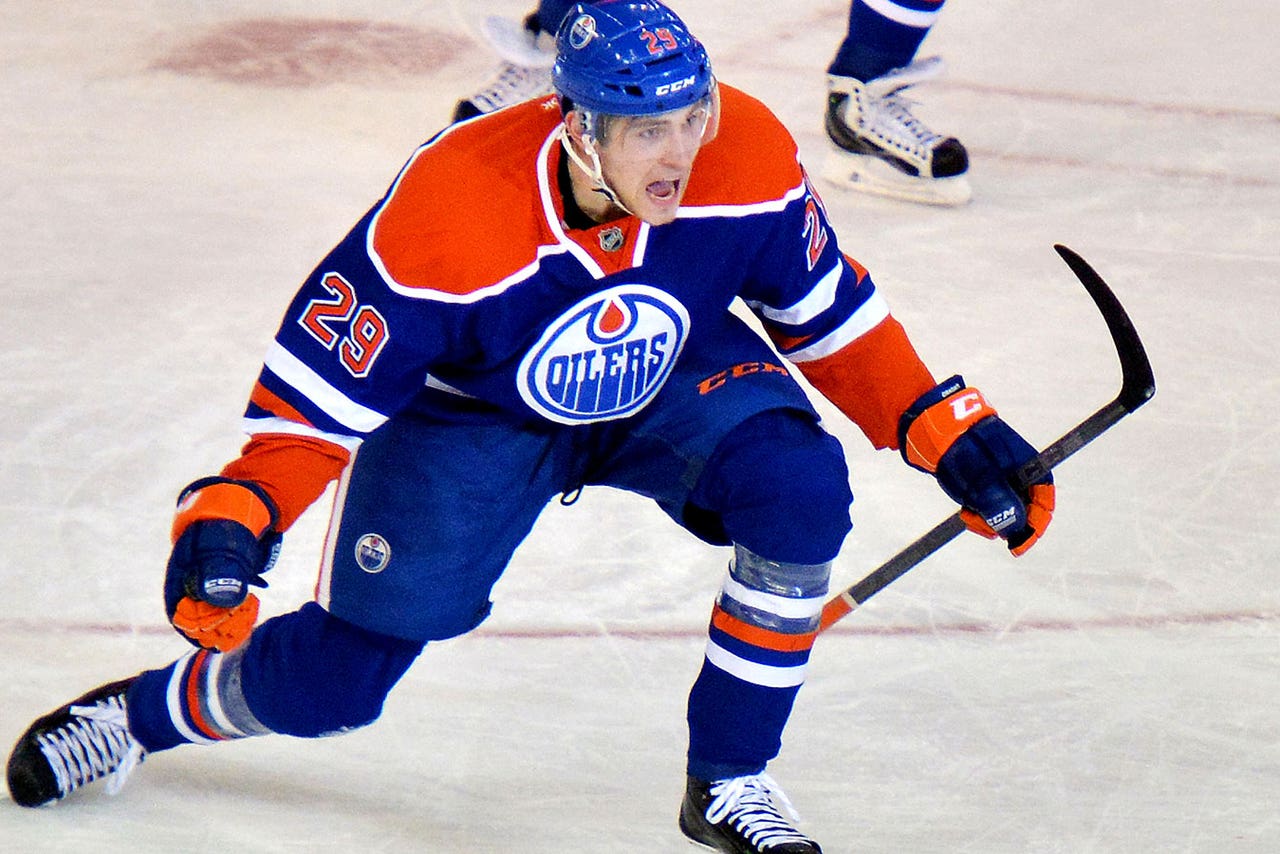 It was just last week that the Edmonton Oilers and Carolina Hurricanes were the two remaining teams without a win in the NHL.
Things have picked up for one of those clubs.
Jordan Eberle had two goals and an assist and the Oilers won their third straight game, defeating the Hurricanes 6-3 on Friday night.
Jesse Joensuu, Leon Draisaitl, Matt Hendricks and Ryan Nugent-Hopkins also scored for the Oilers (3-4-1), who have turned things around on their current homestand after a troubling beginning to the season.
Jordan Eberle had two goals and an assist, and the Edmonton Oilers beat the Carolina Hurricanes 6-3 on Friday night for their third consecutive victory. Ben Scrivens finished with 30 saves.
"We found a way to win in the third, and that's the most important thing," Eberle said. "We got the win, we got the two points. That's something we weren't doing last year. We have a little bit of a streak going here."
Eberle's goals were his first two of the season.
"It's definitely nice to get the monkey off my back," he said. "It seems like it's the same every year, you get one and I feel good, and I start playing my game again. It's funny how it works, you get one and the net turns into a soccer net."
Joensuu said he feels the current Oilers group has a bit more composure this year.
"Last year we had some frustrating losses in games like this," he said. "This time it was a good frustration in some of the guys. We knew we had the tools to win the game, we have the skill in this room. We said let's go out and do it instead of talking about it."
Riley Nash, Jeff Skinner and Jay Harrison had Carolina's goals. The Hurricanes are the only winless team in the NHL, off to a franchise-worst 0-5-2 start.
Edmonton grabbed control with four goals in the third.
Eberle gave the Oilers a 3-2 lead at 4:26 when he used Taylor Hall as a screen to beat Anton Khudobin with a glove-slide slap shot on a power play. Carolina complained that there should have been a penalty on the play for Edmonton's Benoit Pouliot for breaking his stick on a slash of Hurricanes defender Brett Bellemore, who then turned the puck over to Eberle.
The Hurricanes then tied it again 7:50 into the period. Scrivens got caught out of position after trying to play the puck behind the net, allowing Harrison to score on a wrist shot through traffic.
But Edmonton grabbed the lead for good on Draisaitl's first NHL goal with 7:05 remaining. Draisaitl picked up his own rebound and sent a backhand into the net.
"It was tough the way it ended, it's tough to swallow," Skinner said. "We showed some character coming back as many times as we did. We just couldn't find that one goal to put us up."
Harrison said the Hurricanes need to find a solution to their winless woes -- and fast.
"We're a bit emotional in here right now," he said. "We knew it wasn't going to be easy, and it is not going to get any easier. It's up to the guys in this room to get us out of this."
Draisaitl, the third-overall pick in the 2014 draft, was playing his eighth game with one more to go before the Oilers need to decide whether to keep him for the entire season or send him down to Prince Albert of the Western Hockey League.
Nugent-Hopkins added his third goal at 15:50, and Hendricks closed it out with an empty-netter.
Edmonton got the first goal of the game midway through the second period when Eberle picked off Harrison's clearing pass and went in on a 2-on-1, dishing it off to Hall before getting it back and scoring his first goal of the season.
Nash tipped a Justin Faulk point shot past Scrivens, and Skinner also scored as the teams headed to the third period tied at 2.
The Oilers play the fifth game of a season-long, seven-game home stand against Montreal on Monday. The Hurricanes conclude a five-game trip in Vancouver on Tuesday.
NOTES: It was the first meeting of the season between the two teams. Edmonton won both games against Carolina last year. ... The Hurricanes came into the game already having lost 24 man games to injury. With Eric Staal (upper body) and Jordan Staal (leg) out, Carolina's top-line center has been former Oilers draft pick Riley Nash. Also out for Carolina were Patrick Dwyer (lower body), John-Michael Liles (lower body) and Nathan Gerbe (lower body). ... Edmonton remained without the services of goalie Viktor Fasth (groin) and Luke Gazdic (shoulder).
---
---