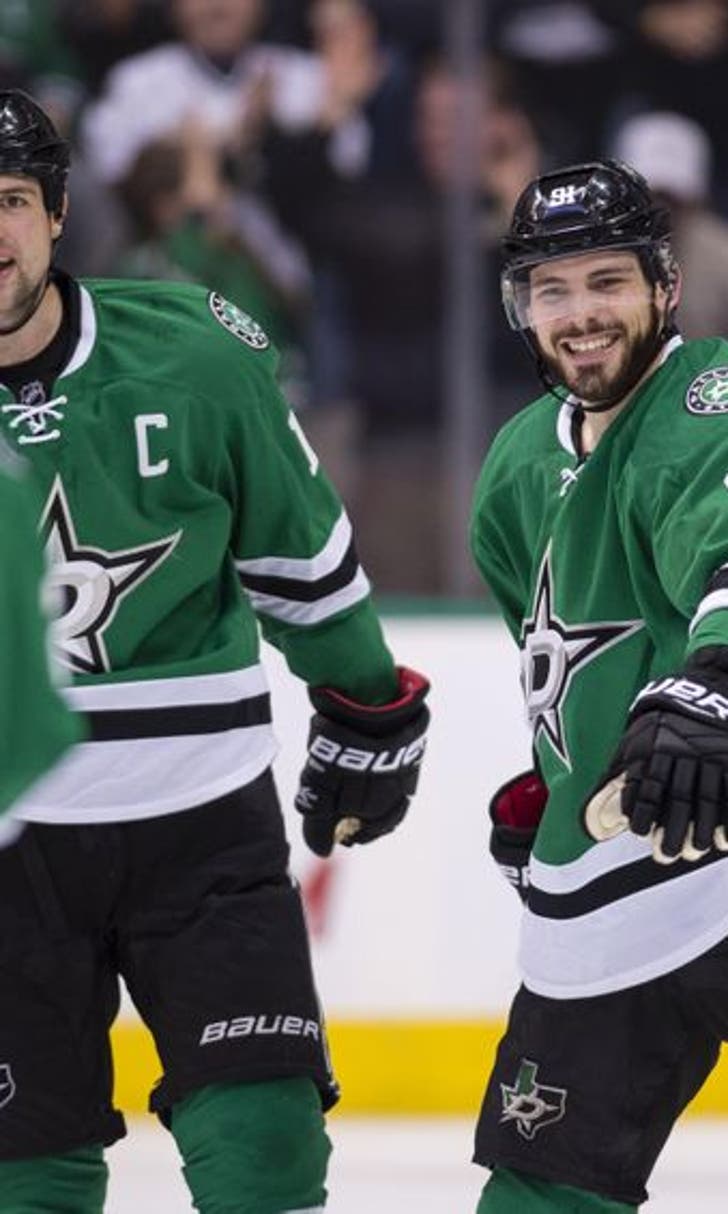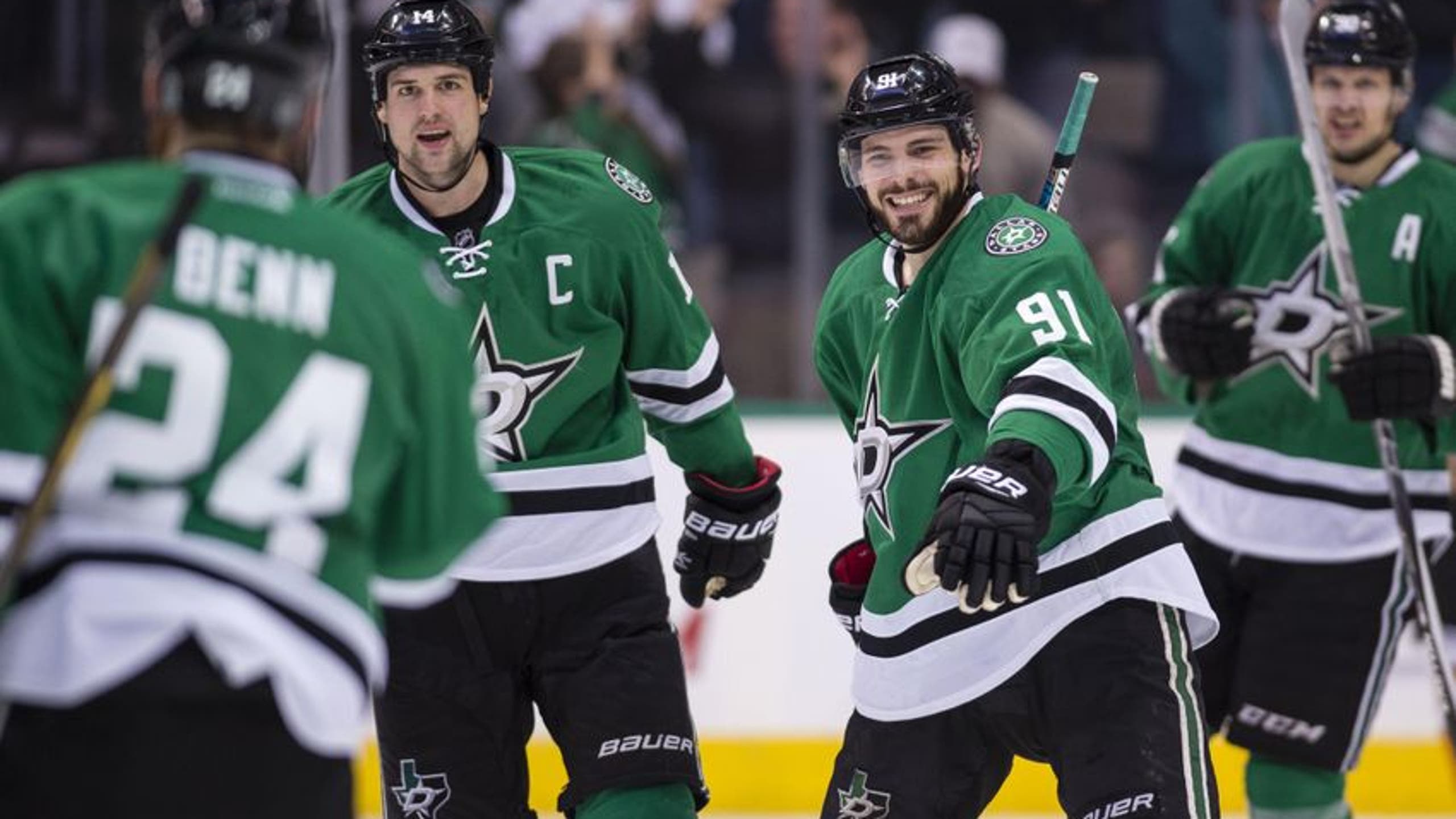 Dallas Stars Proving That They Aren't Going Anywhere Just Yet
BY Fansided and Josh Clark/FanSided via Blackout Dallas • December 14, 2016
The Dallas Stars have been playing some quality hockey lately, and it finally paid off last night in an impressive 6-2 win. They are definitely starting to gain steam,  but it they have plenty of catching up left to do.
Last night, the Dallas Stars offense reminded everyone that they can still be an offensive juggernaut when they set their mind to it.
Going into the third period, the Stars were tied 1-1 in an airtight game against the Anaheim Ducks. They were on a two-game losing skid, were going dry on offense and special teams, and were quickly slipping in the standings. It had gotten to the point where head coach Lindy Ruff basically said that the upcoming homestand would define how the rest of the season went.
That homestand started off with Anaheim, and a win was necessary in more ways than one. Dallas needed the two points to get off on the right foot and build some early momentum to kick things off.
After just 1:08 of the third period, it looked as though all hope was lost. Dallas sacrificed a power play goal to Corey Perry and the Ducks took the critical 2-1 lead. Anaheim had only given up 15 third period goals, while Dallas had given away 35. The odds weren't stacked in the Stars' favor in any way, and it seemed as though another loss was set to be tacked on to the record.
But the Dallas Stars weren't going to take another loss. After two straight games of giving a solid effort but losing due to tiny mistakes, something snapped the Stars back into place.
stars
Blackout Dallas 7wDallas Stars Prepare To Host Emotional Hockey Fights Cancer Night
More headlines around FanSided:
12w - Dallas Stars Lose Radek Faksa To Injury In World Cup12w - Dallas Stars: World Cup Action In Full Swing12w - Dallas Stars Updates: Breaking Down Tyler Seguin's Injury13w - Dallas Stars Pull Tyler Seguin From World Cup Due To Injury13w - Dallas Stars Hopping On WCH Stat Sheet EarlyMore News at Blackout Dallas

They went "2015-16 Stars" on Anaheim, scoring five goals (including one on the power play) in a span of 8:14. Dan Hamhuis, Adam Cracknell, Jamie Benn, Patrick Eaves, and Radek Faksa all tallied goals, which only further proves Dallas owning a balanced and fearsome offensive attack.
The Stars ended up turning a close game into a blowout by defeating the Ducks 6-2.
The offense was on fire (as you can already tell). They were creating chances and capitalized at the right time. The defense gave up 36 shots, but the majority of them were from along the boards and did not come as high-quality chances. The goaltending of Antti Niemi was nothing less than superb as he stopped 34-36 and improved his home record to 6-1-1.
The special teams were back for the most part as well. Dallas went 1/4 on the power play and 4/5 on the penalty kill (which included 2:24 of 5-on-3 time).
Overall, the Dallas Stars were back in full force. They have now won four of their last five at home and are 12-13-6 on the season. Their 30 points have them tied for the final wild card spot in the West.
The Stars have proved over the past few games that they are in fact back (or at least back for the most part). Everything is starting to connect again. After a dominating 5-2 win this past Thursday against the Nashville Predators on home ice, Dallas hit the road for a weekend trip with momentum.
And while they could not secure the win in either of the two road games, they began playing a more energetic and efficient style of game. Just one or two mistakes hit them the wrong way and ended up being the reason they lost both games.
If they can keep their efforts intact, the wins will soon follow. Maybe they'll follow in massive bunches now? Don't hold your breath just yet. But the Stars are definitely taking encouraging steps in the right direction.
The biggest thing that they must do is keep their foot on the accelerator. Too many times this year the Stars have won a game and immediately sunk back into their shell of mediocrity in time to lose the following one or two games.
"Tonight we enjoy and tomorrow we look at what we did right and what we can correct," said Stars forward Adam Cracknell, who had a goal in the game against Anaheim. "We know we have that many games at home but we can't define our season through that and we have to get ready for the Rangers who are a powerhouse team."
"It's a step in the right direction and that's what our main focus should be right now."
The New York Rangers come to town on Thursday, followed by the Philadelphia Flyers on Saturday. The Rangers are tied for the top spot in the Metropolitan Division, while the Flyers have won nine in a row. Two very difficult opponents lie ahead over the next four days.
That's why it is imperative that Dallas not let this big win define their season. They cannot afford to slip back into a hole yet again. They must take the positives out of this game and translate them into Thursday night. Otherwise, this homestand is quickly going to pick up some negative hype.
But on Tuesday night, the Dallas Stars proved that they can still be the team that people expected them to be. On top of that, they proved that they aren't going anywhere anytime soon. There is a lot of season left, and a lot of homestand left. The Stars can charge back into the standings race, and they've got time to do it.
The question is whether they will be able to. One thing is for sure: Tuesday night's play could have the potential to win a lot of hockey games.
More from Blackout Dallas
This article originally appeared on
---
---