Darcy Kuemper
Darcy Kuemper
Canucks-Wild Preview
Published
Dec. 14, 2015 3:47 p.m. ET

The Minnesota Wild have never posted three straight home shutouts and they'll be turning to a different goaltender than the one who started their last two games at the Xcel Energy Center.
Darcy Kuemper enters off a road shutout and will get the start Tuesday night against a Vancouver Canucks team experiencing some road woes.
Minnesota (15-7-6) returns home after a three-game trip that consisted of two overtime losses before Kuemper made 25 saves in Saturday's 2-0 win over San Jose for his first shutout and the sixth of his career.
Kuemper will make his fourth straight start since entering Dec. 5 in relief of Devan Dubnyk, who was hurt in that night's 3-0 home win over Colorado.
"(He) looks very comfortable in there, looks very confident in there and obviously has a lot of the right habits from a lot of the things he's been doing in practice," said coach Mike Yeo about Kuemper.
Dubnyk, who is nearing a return, started the last home game against the Avalanche as well as a 1-0 win over Toronto two days earlier. Kuemper stopped all nine shots to get credit for beating Colorado.
The Wild, who have an NHL-best six shutouts, are 4-0-3 in their last seven games heading into a stretch of six of seven at home.
"I think that we should be coming home with a little bit of momentum but now we really have to put our foot on the gas," Yeo said.
Vancouver (11-12-8) started a six-game trip with Sunday's 4-0 defeat to Chicago. The Canucks are 0-2-2 in their last four road games and 1-5-3 in their last nine.
Coach Willie Desjardins insisted that the road play isn't that bad, pointing to earlier wins at Anaheim and Los Angeles.
"Winning on the road is hard," he said. "We've won some big games on the road, there are some tough buildings to win in and we've won in them."
The Canucks' lone road victory in their last nine was a 3-2 win at Minnesota on Nov. 25. Radim Vrbata scored twice and Daniel Sedin had two assists.
That defeat was part of a 1-4-2 stretch to close November for the Wild, who haven't forgotten about it.
"As far as we're concerned, we didn't play a very strong game against these guys last time so we have to be ready to pick it up," Yeo said.
The coach opted to tinker with his lines at Monday's practice, most notably moving Jason Zucker onto a unit with Thomas Vanek - who has a team-high 10 goals - and Mikko Koivu - who leads all Wild forwards with 16 assists. Zucker is mired in a 10-game pointless drought.
"The best part for Mikko and myself is his speed," Vanek said. "I think he's gonna create a lot of space for us and then obviously he's a great finisher so we're going to look to find him."
The Sedin brothers combined for seven points in consecutive wins before Sunday - a result that Vancouver believes is a minor setback.
"We did everything we could to win and we just came out on the wrong end of it,'' Desjardins said.
---
---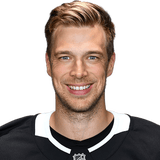 Get more from Darcy Kuemper
Follow your favorites to get information about games, news and more
---