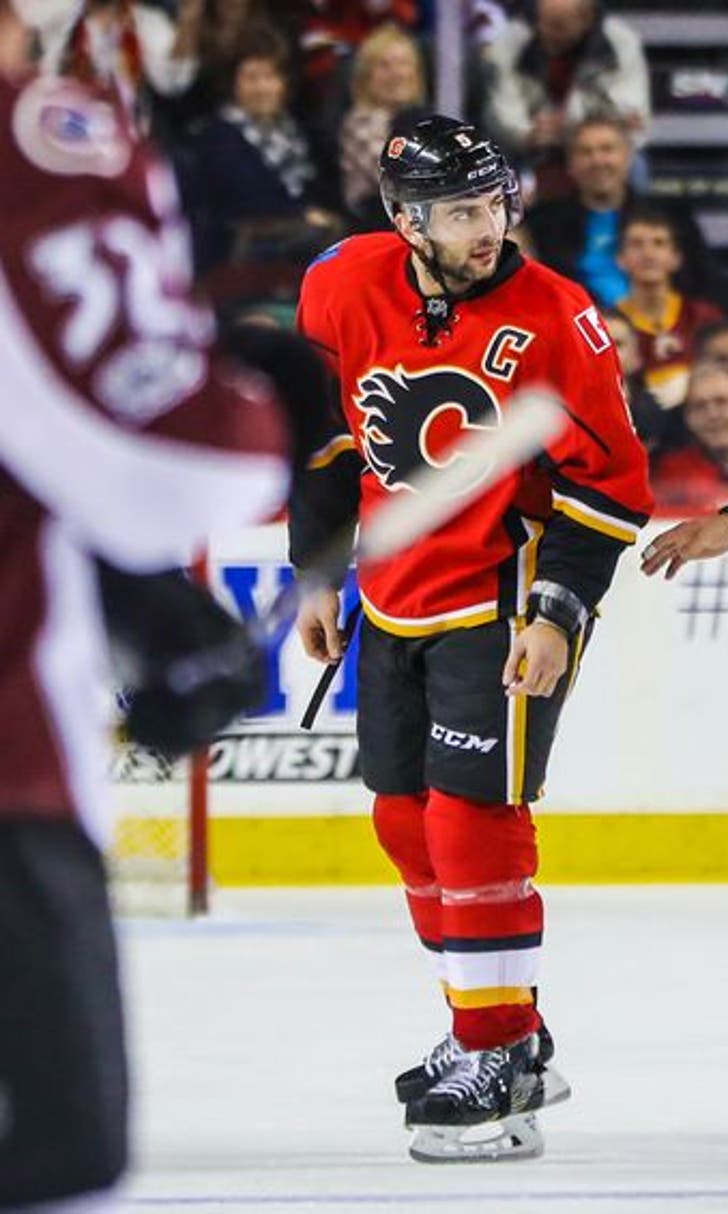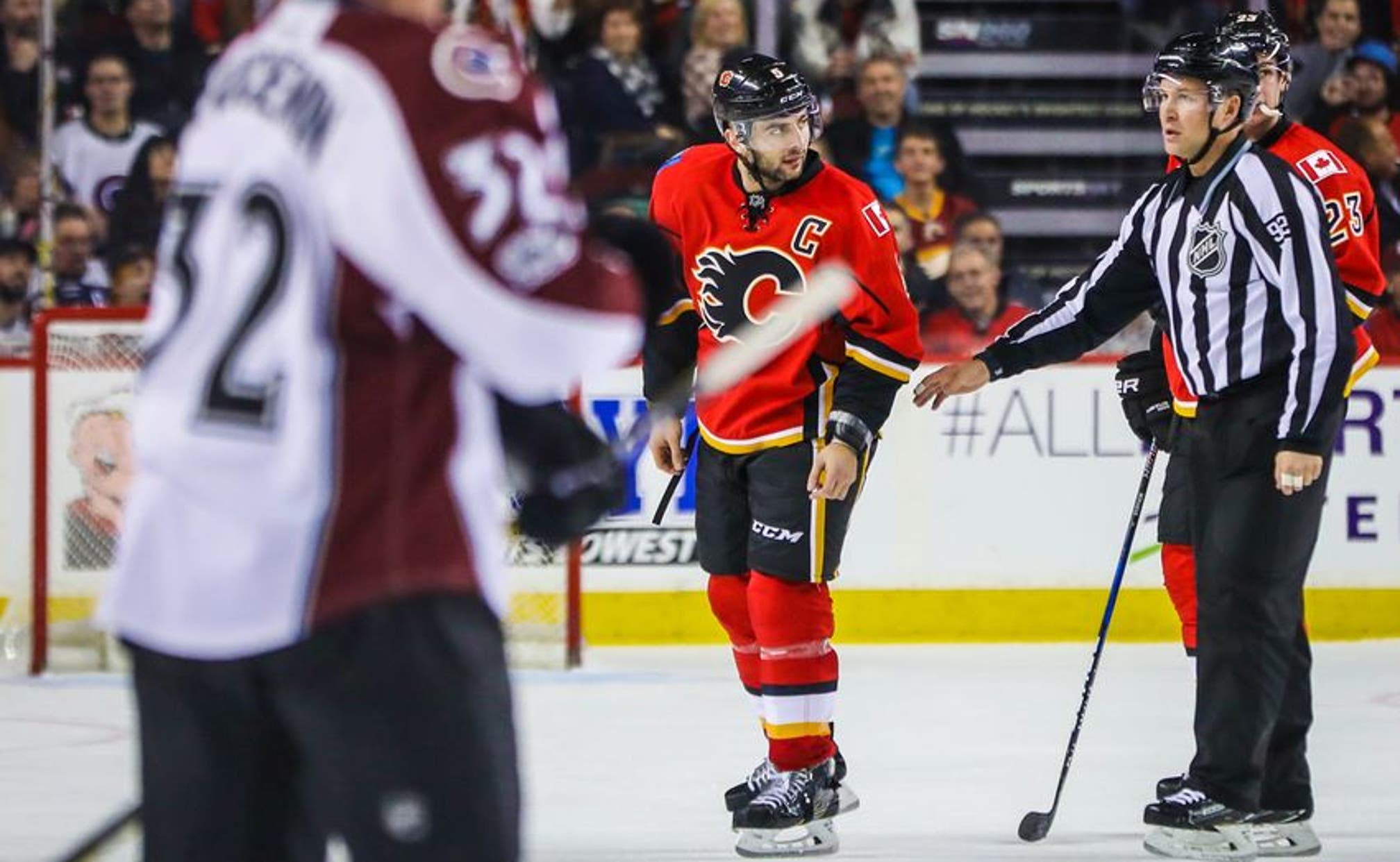 Calgary Flames Top Avalanche While Iginla and Giordano Almost Fight
BY Fansided and Ramina Shlah/FanSided via Flame for Thought • June 30, 2017
Jarome Iginla comes back to the Dome. Manages to get into a fight with an old teammate and my heart hurts. The Calgary Flames top the Colorado Avalanche 4-1.
Man, the things I could say about this game. We're gonna leave the almost-Jarome-Iginla-fight until later down because I still need a few minutes to cope with it. The Calgary Flames start 2017 on a high note and with a win. They topped the Colorado Avalanche 4-1 and their special teams continue to improve.
Not every team can manage to go from 29th overall on the PP to 10th overall in one month. But the Flames can. They started 2017 with a power play goal in the first period to take the lead 1-0 after 20 minutes of play. The Flames this game went 3/7 on the PP and killed off all three penalties.
Since the start of December, they're 34.7% on the PP which is highest in the league. Even higher than the hottest team in the league right now, the Columbus Blue Jackets.
flames
Flame for Thought 13hCalgary Flames Top Five Weirdest Moments of 2016
More headlines around FanSided:
16h - Calgary Flames: Brian Elliott vs Chad Johnson Debate16h - Calgary Flames Daily: Rigorous Schedule, Iginla Back in Town1 d - Calgary Flames Daily: Elliott Looking Calm, Flashback For Johnson2d - Calgary Flames Daily: 25 Years After 10-Player Trade, Parsons Shines4d - Calgary Flames: What's Going On With Chad Johnson?More News at Flame for Thought

Since the start of December, they're also fourth on the PK with 89.1%. It's nice to know that they're 100% so far in 2017 on the PK.
We also have some point streaks that continue. Mikael Backlund is now on a five-game point streak and Matthew Tkachuk is on a seven-game point streak. Backs point-streak has goals in each game, which is the longest goal-scoring streak for a Flame since 2012, with Curtis Glencross who scored in seven straight games.
Brian Elliott was the starter in net for the Calgary Flames tonight and came so very close to a shutout. His first as a Flame. But of course, it's the Flames. And they let in a goal with 1:25 left of the game. He has now won five straight.
Oh before I forget, how can we not mention this BEAUTY of a goal from Johnny Gaudreau?
Alright, now let's get into this Iginla nonsense.
Iginla vs Giordano? What?
You guys, my heart hurts. Jarome Iginla and Mark Giordano ALMOST got into a fight. But the refs stopped it (thank you refs). This looked similar to when the refs stopped the almost Iginla and Dion Phaneuf fight a few years back. Now that one, I wouldn't have minded.
With this almost fight, Twitter was going CRAZY.
First, we have people confused:
Oh my. Iggy and Gio just tried to go. Linesmen wanted no part in that happening. #Flames

— Aaron Vickers (@AAVickers) January 5, 2017
Gio and Iggy?!?! The two wanted to drop 'em but the refs quickly intervened. #COLvsCGY

— Calgary Flames (@NHLFlames) January 5, 2017
What!!! I don't understand what just happened there? Giordano vs Iginla… That would have been awesome. (Poor Colborne is torn) #flames

— Jermain Franklin (@TSNJFranklin) January 5, 2017
Then, we have a lot of people who wanted the fight to happen:
A Giordano and Iginla fight…. why did we have to miss out on that one refs? So disappointing. #Flames.

— Jon Bateman (@sportfanyyc) January 5, 2017
Then we have people (like myself) who were genuinely very upset. I'm still crying, thanks for asking.
And of course, people making jokes, because it's Twitter.
Gio vs iggy would have tore a hole in the time/space continuum. #flames

— 4.5FingerDeathPunch (@Deringer45) January 5, 2017
Some good news, but Giordano made jokes about it afterwards.
That's it for this post game recap. I'll need a few days to get over Iggy and Gio almost fighting. But for now, the Calgary Flames are starting off the New Year on a good note.
More from Flame for Thought
This article originally appeared on
---
---