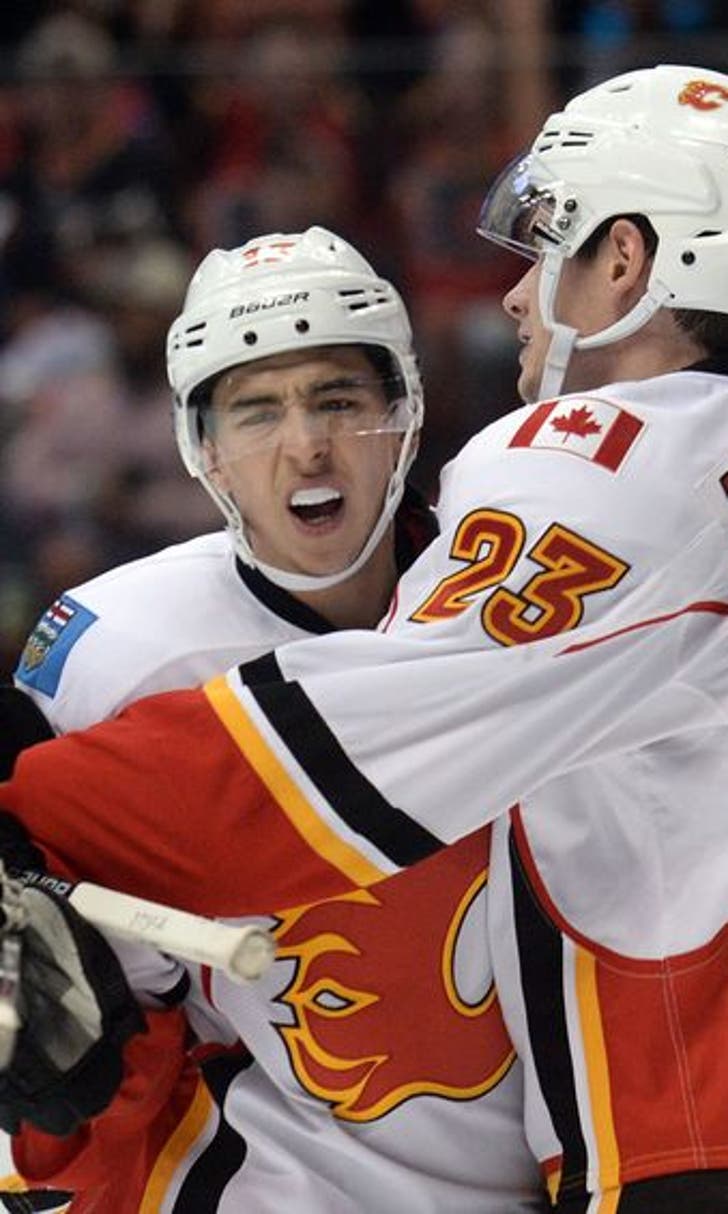 Calgary Flames: Monahan and Gaudreau Finally Living Up To Paychecks
BY Fansided and Ramina Shlah/FanSided via Flame for Thought • December 14, 2016
Sean Monahan and Johnny Gaudreau of the Calgary Flames had slow starts to their season. Much like the rest of the team. Thankfully, they've almost done a complete 180 and have turned their seasons around.
Basically every player on the Calgary Flames had slow starts to their season. Except Michael Frolik and Mikael Backlund who I love deeply with my entire heart. However, some of the highest paid players were not living up to their new and improved contracts.
Based on the title of this article, I'm sure you can guess who I'm talking about (Johnny Gaudreau and Sean Monahan). Both of these guys signed big contracts in the off-season. Monahan signing a seven-year $44.625 million contract, with an average salary of $6.375 million. Gaudreau signed a six-year $40.5 million contract, with an average salary of $6.75 million.
So let's take a look at these guys seasons so far.
Sean Monahan
Sean Monahan is currently on a career-high seven-game point streak. In those seven games, he has four goals and five assists. He went pointless in eight of his previous nine games.
But like I said, he has nine points in seven games. Let's look at how his season started.
In his first five games, he had just two goals and a -2 rating. He was also averaging the highest amount of ice-time of all forwards on the Calgary Flames. But okay, two points in the first five isn't horrible or anything. It happens, even to the best players. Let's look at his next five.
He had, again, two goals in five games, and a -3 rating this time. He was also averaging the second highest amount of ice-time among forwards, right after Johnny Gaudreau. So he's now at four points in 10 games and a -5 rating… alright so not the best. But hey, maybe his next five will be better, right?
Unfortunately, no. He had just two assists in five games and a -5 rating. So now he would be at six points in 10 games and a -10 rating through his first 15 games of the season. This basically continued until he got a goal on November 28th where the Flames lost in OT.
But since that game, Monahan and the Flames point streaks have continued. From the start of the season until November 28th, he had eight points in 24 games, a -10 rating, and one PPP. Since then, he has nine points in seven games, a +3 rating, and four PPP. I don't quite know what changed about his guy and what brought his confidence back up, but let's all hope it never goes away.
Feb 27, 2016; Calgary, Alberta, CAN; Calgary Flames left wing Johnny Gaudreau (13) celebrates his second period goal with center Sean Monahan (23) against the Ottawa Senators at Scotiabank Saddledome. Mandatory Credit: Candice Ward-USA TODAY Sports
Johnny Hockey
Johnny Gaudreau is also racking up the points lately. Since his return from injury to the lineup on December fourth, he's had multi-point games in all four games. But let's look at how his season also started.
Want your voice heard? Join the Flame for Thought team!
It wasn't that bad, given how the Calgary Flames season started. But it definitely wasn't highest-paid-player-on-this-team good. It was nowhere near good enough to be projected as one of the top 20 forwards in the league this season. Through his first 16 games, he had ten points, but a painful -10 rating, and just one PPP.
Since his return to the lineup, he has eight points in four games, a +5 rating, three PPP, and he's now leading the team in points even with missing ten games. But if we count his games before his injury, he's technically on a five-game point streak and has 11 points in his last seven games. Definitely in important piece to this Flames puzzle. I don't know what Flames fans did to deserve having Gaudreau on their team, but are we ever lucky.
Safe to say that these guys are finally playing like they're worth $6 million. And if they continue to play like this, this playoff position the team is currently in will become permanent.
More from Flame for Thought
This article originally appeared on
---
---