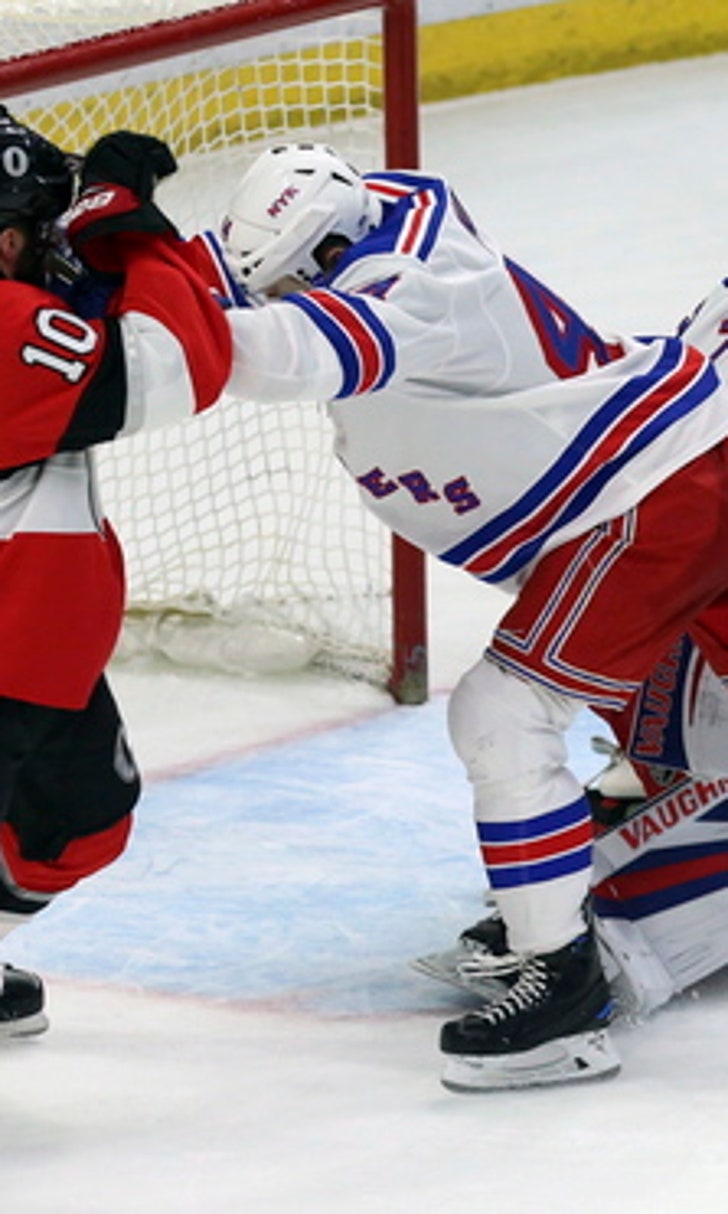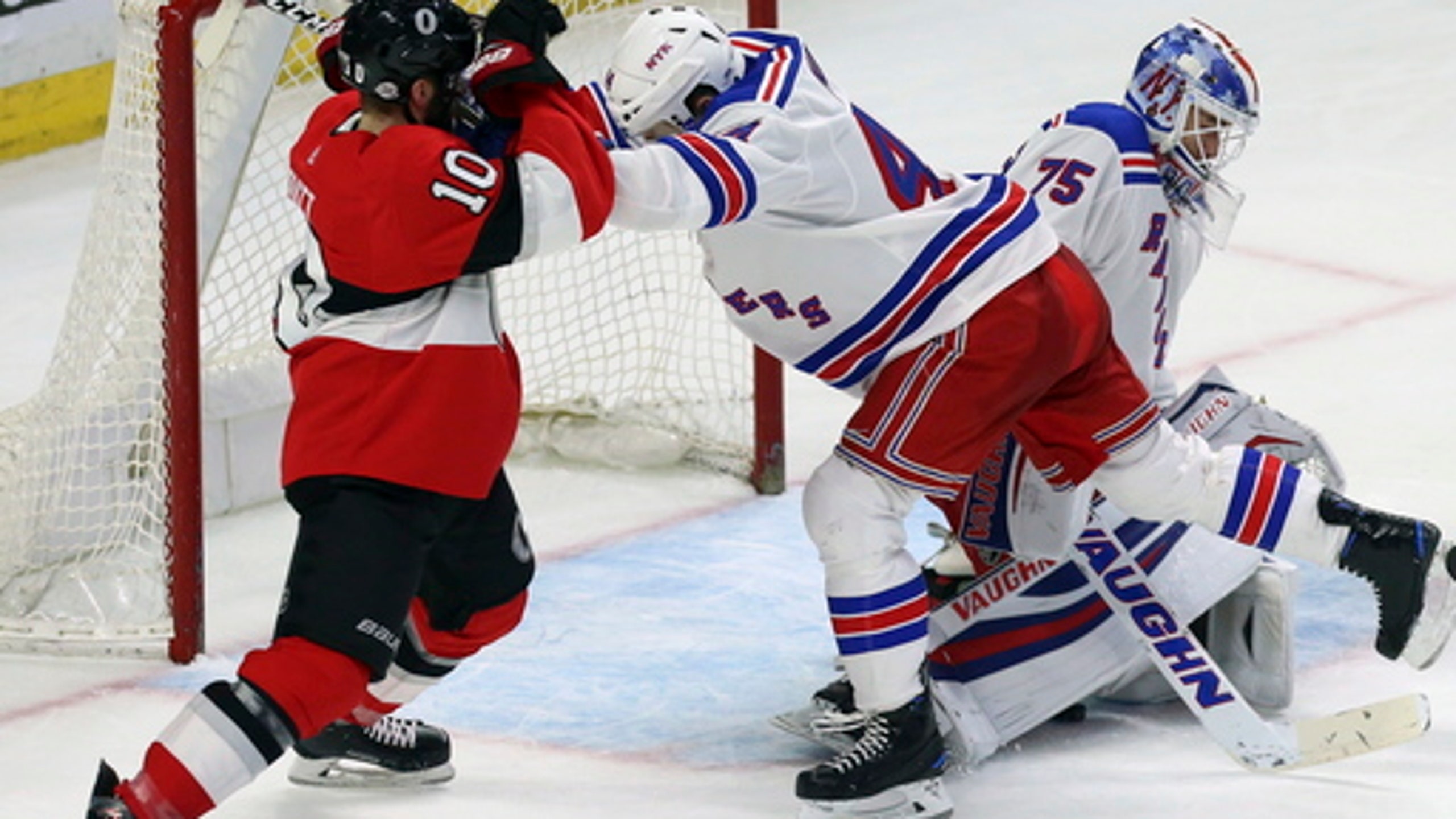 Brassard has goal, 2 assists to lead Sens past Rangers 6-3
February 17, 2018
OTTAWA, Ontario (AP) The Ottawa Senators' quick start led to an early exit for Rangers goalie Henrik Lundqvist.
Derick Brassard had a goal and two assists and Ottawa defeated the New York Rangers 6-3 on Saturday.
Lundqvist allowed five goals on 27 shots before being replaced by Brandon Halverson with 13 minutes remaining.
Halverson stopped five of the six shots he faced for New York in his NHL debut.
Matt Duchene and Mark Stone both added a goal and an assist for Ottawa, which has won two straight. Craig Anderson also stopped 35 shots and Johnny Oduya, Magnus Paajarvi and Thomas Chabot also scored.
Chabot's wraparound goal off Nick Holden's skate at 7:27 of the third period put Ottawa ahead 5-2 and led to Lundqvist being pulled.
However, the goal did require a video review to confirm the puck did cross the line.
''I saw it from my angle since I was behind the net,'' Chabot said. ''I saw it going off his skate and off his pad.
''It was kind of tough for the ref to see but I saw it from behind the net. It's in our style of play now to attack a little more and support the forwards and it's not just me, but other guys did a good job of jumping into the play.''
Michael Grabner had two goals and Mika Zibanejad also scored for the Rangers, who've lost three straight.
''It's a tough situation right now,'' Lundqvist said. ''I think we're doing a lot of good things, but I also feel we're beating ourselves.
''There's plays where we're there but we're not. Until we fix that we're not going to win a lot of games. You can look at the goalie and say he needs to make more saves, but ... I have stretches where I feel I can play better, but I feel I'm tracking the puck pretty good and one-on-one I feel pretty good, but clearly it's not enough.''
Grabner scored his second of the game at 15:11 of the third cutting the Rangers' deficit to 5-3. But Paajarvi scored at 17:15 to give the Senators their 6-3 advantage.
Stone opened the scoring at 1:03 of the first when he beat Lundqvist from the slot after taking a pass from Brassard, who was behind the Rangers' goal. It was Stone's first goal in eight games and his fourth game back after missing nine with an injury.
Oduya made it 2-0 by beating Lundqvist from the right faceoff circle at 12:07. Oduya moved in from the point and took a pass from captain Erik Karlsson.
The Rangers responded before the end of the period. Grabner chopped at a puck at the top of the crease and just barely put it past Anderson, who got a piece of the puck, cutting Ottawa's lead to 2-1 at 16:01.
Duchene restored Ottawa's two-goal lead at 11:59 of the second, tipping Cody Ceci's point shot past Lundqvist.
Zibanejad split the Senators' defense and avoided an Anderson poke check to score at 14:31 but Brassard countered at 18:53 redirecting Mark Borowiecki's pass past Lundqvist.
''As a team we're making more plays, we have more confidence and there's good chemistry among the guys,'' Brassard said of the Senators, who have six wins in their past nine games.
''The three lines complement each other, our defense are active and they support well. We're all on the same page.''
NOTES: Alex Burrows, Ryan Dzingel and Fredrik Claesson were scratches for the Senators. ... Cody McLeod, Ryan McDonagh and Alexandar Georgiev didn't play for the Rangers. ... Burrows was serving the fifth game of a 10-game suspension for kneeing New Jersey's Taylor Hall in the head.
UP NEXT:
The Rangers host the Philadelphia Flyers on Sunday.
The Senators visit the Nashville Predators on Monday.
---
---