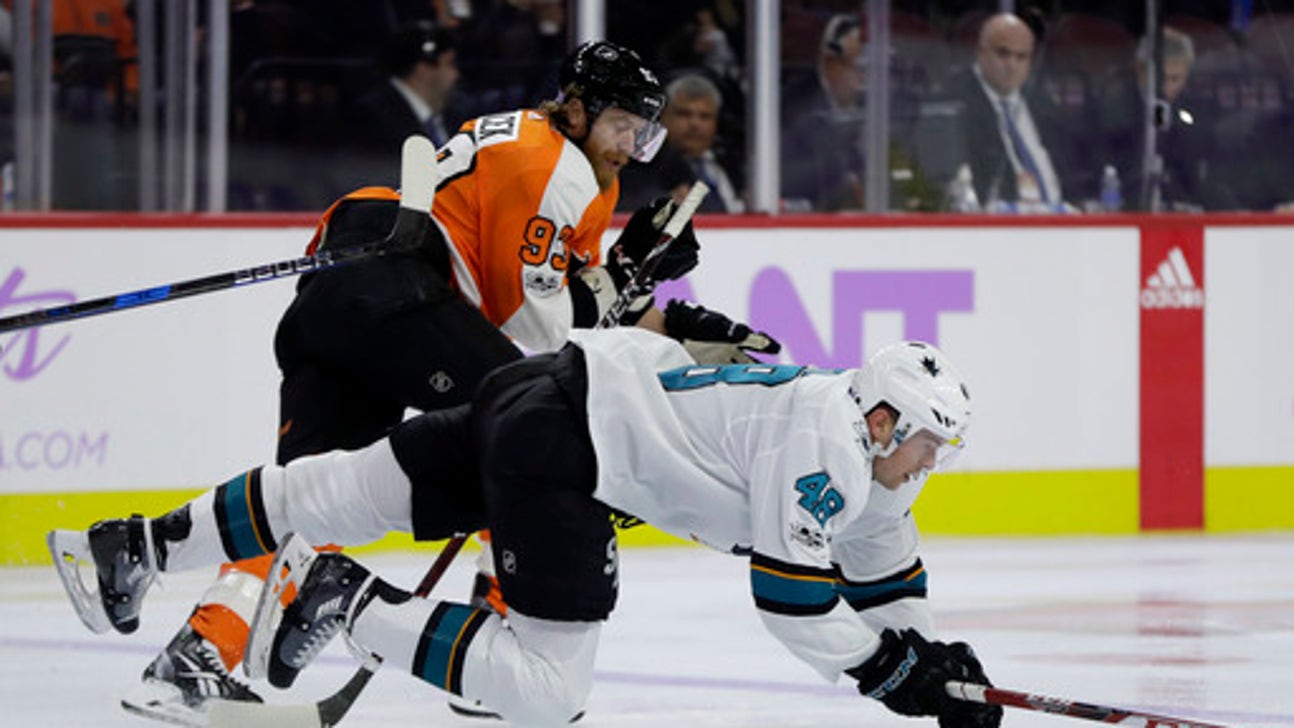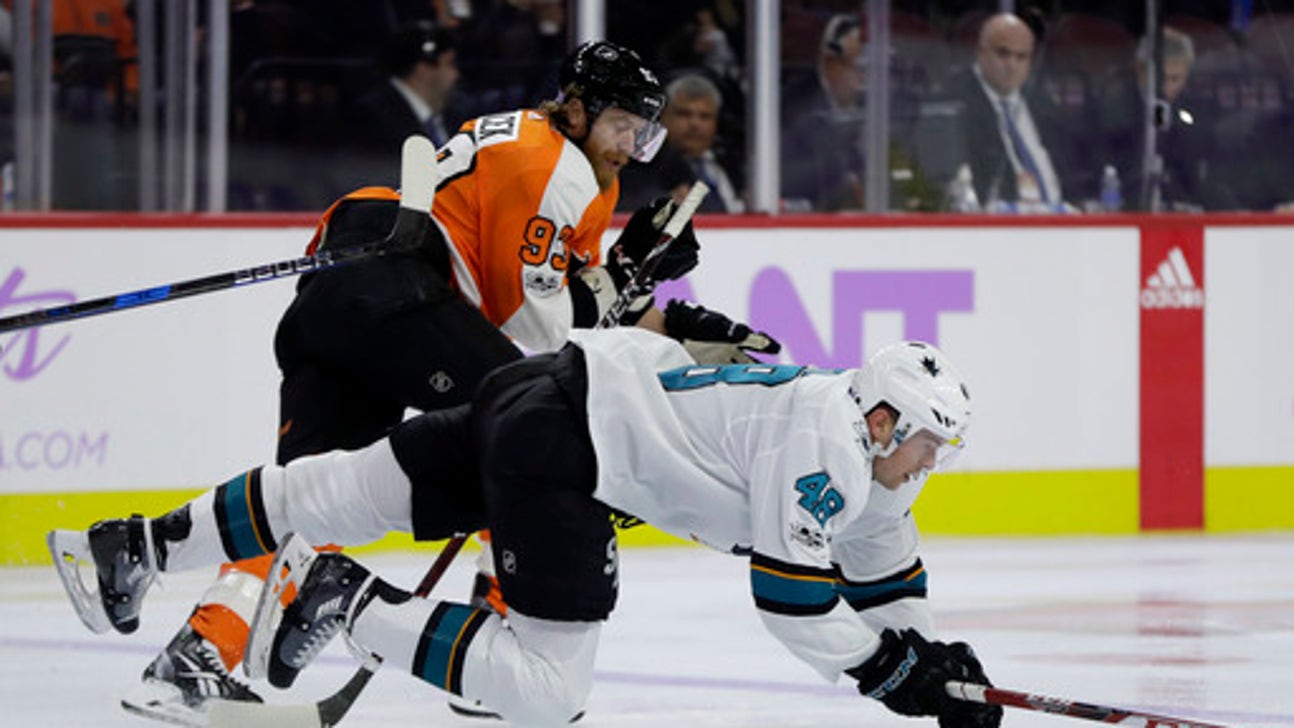 Booed off the ice: Sharks send Flyers to 9th straight loss (Nov 28, 2017)
Updated
Mar. 5, 2020 1:57 a.m. ET

PHILADELPHIA (AP) The boos picked up steam in the second period. The ''Fire Hakstol'' chants became louder in the third.
When the Philadelphia Flyers' ugly 3-1 loss to the San Jose Sharks was over Tuesday night, players held a closed-door meeting, general manager Ron Hextall was insisting they're still a playoff team and coach Dave Hakstol was shaking off calls for his job.
Mired in a nine-game losing streak - its longest skid in nearly in 10 years - things are getting ugly in Philadelphia.
''Nobody said this was going to be easy,'' Hakstol said. ''If you don't want to be in this spot, it's a choice. That's how I react to it. There are high expectations in this market.''
Joe Thornton scored the go-ahead goal late in the first period, Chris Tierney and Marc-Edouard Vlasic also scored and Logan Couture had two assists for the Sharks, who kicked off a four-game trip with their second straight win.
''The toughest game is always the first one,'' Thornton said. ''Three-hour time change, you get here late, dinner late, everything is kind of off. So this first game is huge for us.''
Claude Giroux scored 48 seconds in before the Flyers were blanked the rest of the way by backup Aaron Dell, who made 22 saves.
''They can chant whatever they want. We're in this together,'' Giroux said of his coach. ''We're all in the same boat here. It's not on him, it's on everybody.''
Thanks to blown leads and overtime and shootout defeats, Flyers are 0-4-5 since their last win, Nov. 9 against Chicago. It's the longest streak since an 0-8-2 stretch in February 2008.
After a players-only meeting postgame, Hextall addressed reporters.
''If we were playing poorly, I'd be the first to say, `We're playing poorly.' I would be,'' he said. ''We're not playing poorly. To look objectively at our team right now and to say we're playing poorly, no. Are we shooting ourselves in the foot at times? Yes, we are. Critical mistakes at critical times, yes.''
San Jose was without top goaltender Martin Jones, who sustained an unspecified injury near the end of his shutout of Winnipeg on Saturday. Jones traveled and is expected to play on the trip.
After Giroux's 11th goal, Dell looked sharp. Tierney tied it from the right circle at 10:29, and then Thornton's 5-on-3 goal with 1:18 left in the first period put the Sharks ahead 2-1.
Vlasic scored with 3:56 left in the second period as the Sharks improved to 6-2-1 on the road.
''Our style is good for the road, but I think our style is good for wherever we are playing,'' Vlasic said.
It marked the seventh time in nine games the Flyers have blown a lead during their skid. And undisciplined play continues to be a problem.
Philadelphia took three penalties in 3 minutes late in the first period. Then while trailing 2-1, the Flyers went on the power play early in the second period, only to have it negated 9 seconds later when Jakub Voracek tripped Tomas Hertl.
On the second day of a back-to-back, backup Michal Neuvirth made 31 saves for the Flyers, who showed little energy in the third period. They had just one shot on goal until Hakstol pulled Neuvirth for an extra attacker with about 3 minutes left.
''I don't have answers for you,'' Giroux said.
The Sharks earned a split in the season series after losing on opening night to the Flyers 5-3 behind Wayne Simmonds' hat trick. Simmonds has scored just four goals in 24 games since.
''We get booed every once in a while,'' said Simmons, who took two penalties. ''But when we're getting booed the whole game, it's pretty embarrassing.''
NOTES: Sharks F Joonas Donskoi left in the second period with an injury. . Sharks C Melker Karlsson (upper body) returned after a four-game absence and played on the fourth line. . Flyers D Radko Gudas served the sixth game of his 10-game suspension for slashing.
UP NEXT
The Sharks play at Florida on Friday.
The Flyers host Boston on Saturday before a three-game trip to western Canada next week.
---
---