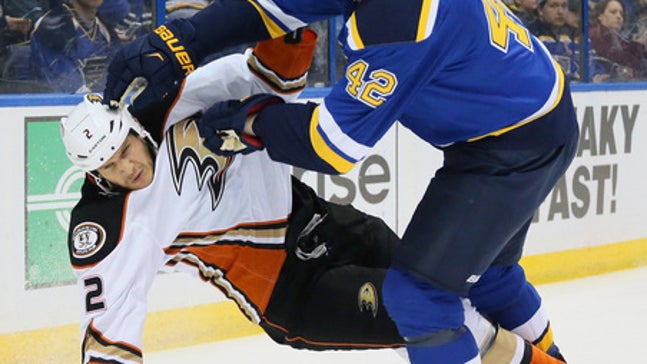 Allen wins fifth straight; Blues beat Ducks 5-2
Published
Mar. 12, 2016 12:02 a.m. ET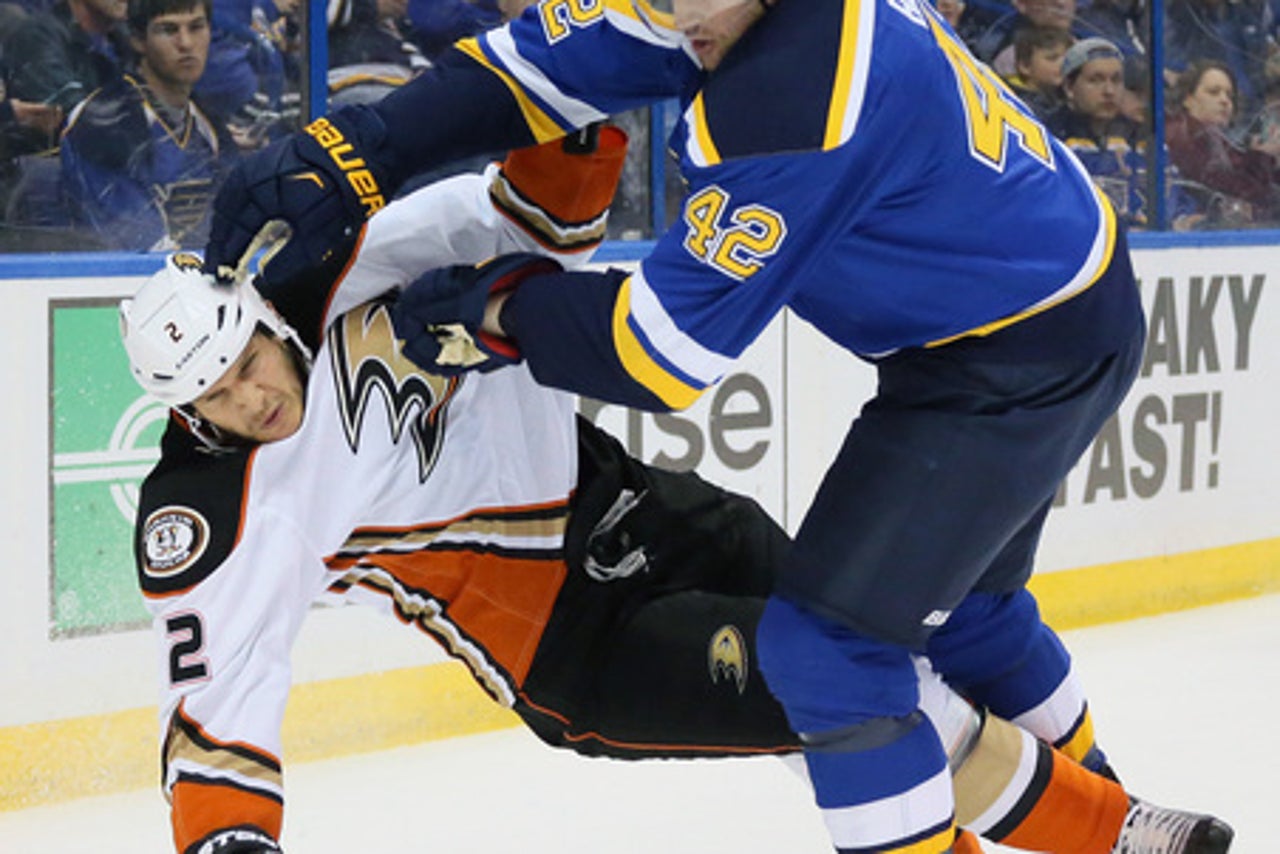 ST. LOUIS (AP) They are known in St. Louis as the ''STL line,'' and when the combination of Jaden Schwartz, Vladimir Tarasenko and Jori Lehtera is clicking, the Blues are tough to beat.
They clicked Friday against the Anaheim Ducks.
Tarasenko had two goals and an assist, Jake Allen got his fifth straight win and the Blues beat the Ducks 5-2.
The ''STL line'' accounted for three of the Blues goals and tallied five total points.
''The line was great on puck support,'' Blues coach Ken Hitchcock said. ''So this is the first time in a little while where you saw three guys close to the action, coming to the puck, lots of 15 and 20-foot passes. That's their game and they were in sync today.''
Lehtera and Patrik Berglund sparked St. Louis with third-period goals 1:04 apart for a 3-1 lead. Paul Stastny also scored for the Blues.
Allen made 26 saves and improved to 4-0-0 career against the Ducks. It was also his career-best 23rd win of the season.
Ryan Getzlaf and Rickard Rakell scored for the Ducks, and Frederik Andersen made 18 saves.
Lehtera's goal was a product of a strong forecheck by Tarasenko, who forced a turnover behind the Anaheim net. The puck went straight to Schwartz, and he found Lehtera all alone in front of the net.
Berglund capitalized on a turnover from Ducks defenseman Josh Manson 2:59 into the third.
''When you give them two shots right from the slot, it's tough,'' Ducks coach Bruce Boudreau said. ''They're a good team. We can't make those defensive mistakes.''
Rakell pulled the Ducks to within one with an unassisted goal at 15:27.
Tarasenko restored the two-goal advantage at 17:22 and added an empty-netter 1:06 later.
''We talk a lot about 6-on-5 and we're happy to get these two points,'' Tarasenko said. ''It's really important for us.''
It was the third straight win at home for the Blues against the Ducks, and St. Louis is 9-2-2 at home against Anaheim since 2010.
Getzlaf put the Ducks up 1-0 with a power-play goal 5:17 into the second. Allen made the initial save on Ryan Kesler, but Getzlaf banged home the rebound as it went off Allen's shoulder.
Getzlaf's goal came on a 5-on-3 for the Ducks after the Blues were called for too many men on the ice while already killing off Lehtera's interference penalty.
Stastny tied the game on a tip from Carl Gunnarsson's point shot. The goal snapped a 14-game scoreless stretch for Stastny dating back to Feb. 6.
''Our line's playing well,'' Stastny said. ''We're creating chances. We're comfortable out there and we've got to find ways to keep chipping in and getting on the scoreboard.''
The Ducks are now winless in their last three games after winning 11 straight.
''It was 1-1 in another team's building,'' Kesler said. ''It was a good situation for us. To go out and give up four goals in a period and make uncharacteristic mistakes like that isn't good. We have to nip this in the bud and learn from it.''
The Blues' win coupled with the Dallas Stars' win over the Chicago Blackhawks sets up a game with first place on the line when the Stars host the Blues on Saturday. Dallas has 90 points and St. Louis has 89.
''With the experience we went through in the playoffs (last year), I think the standings to be honest doesn't matter a whole lot,'' Allen said. ''We've got to beat all these good teams to get to where we want to go.''
NOTES: Blues D Gunnarsson signed a three year extension worth $8.7 million before the game. Gunnarsson has seven points in 62 games this season and a plus-6 rating. ... Ducks D Sami Vatanen did not play after getting clipped in the chin area during Wednesday's loss to the Avalanche. He was replaced by D Korbinian Holzer. ... Blues F Troy Brouwer played in career game No. 600. ... The NHL rescinded the game misconduct penalty called against Blues F Ryan Reaves during a game Wednesday night against Chicago.
---
---