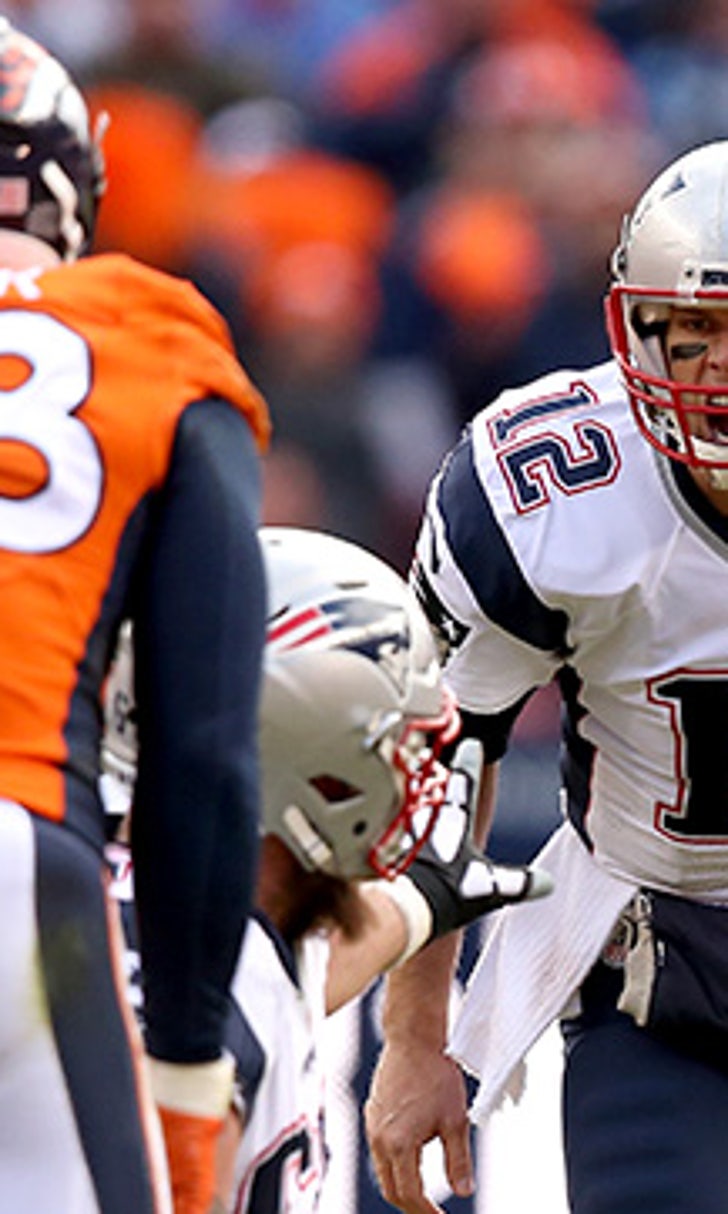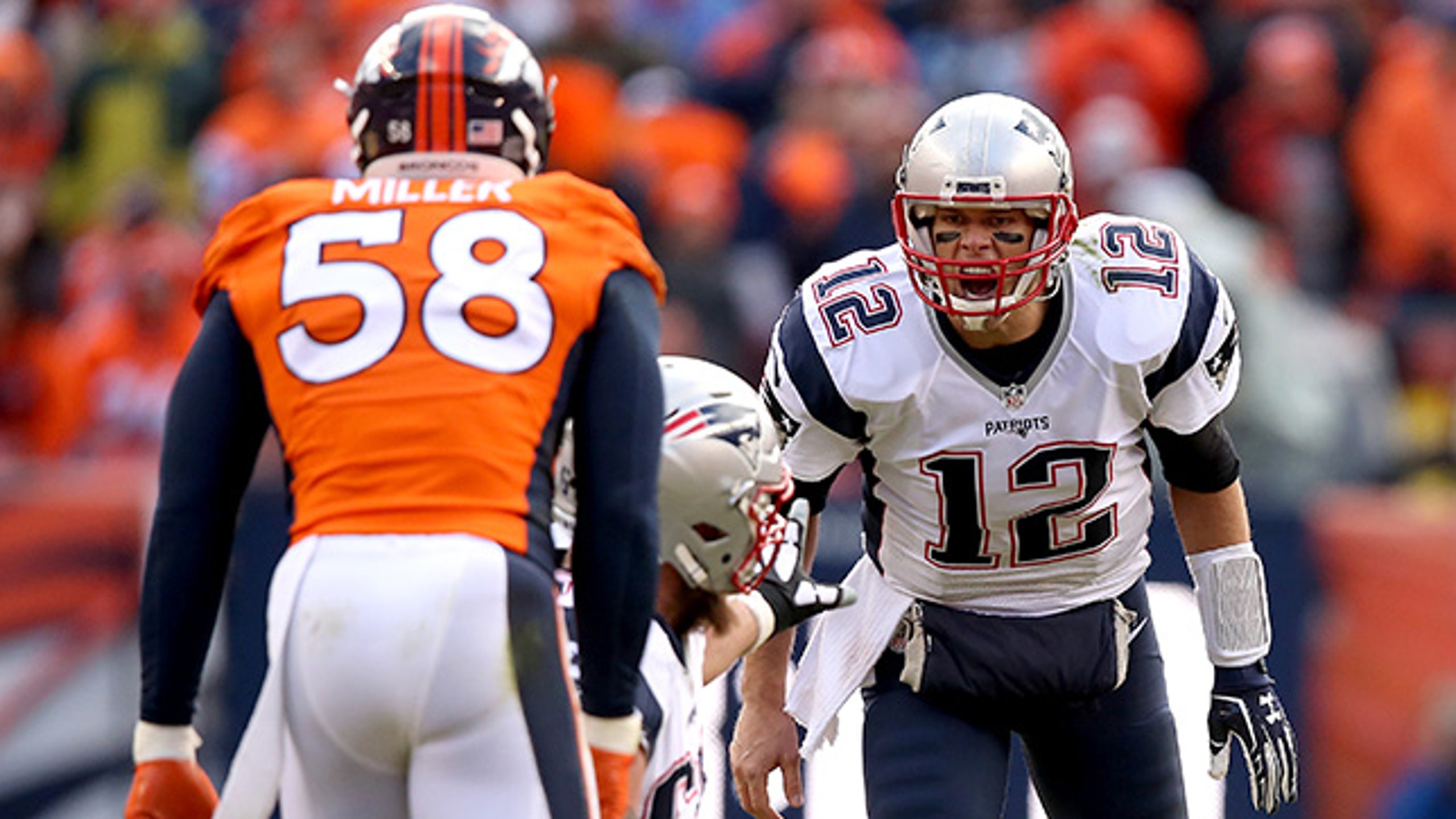 When Tom Brady Faces Down the Broncos
BY Sports Illustrated and Andy Benoit/Sports Illustrated via MMQB • December 16, 2016
In last year's AFC title game, the Broncos pass rush destroyed Tom Brady and his makeshift offensive line. The Patriots went into the game expecting to negate that rush by throwing quickly out of spread sets—a formula that had worked for years and continues to yield strong results this season. The Broncos countered that by rushing three and dropping eight into coverage, something they'd rarely done under coordinator Wade Phillips. In this they mixed their coverages, playing zone, hybrid concepts and, of course, their hallmark man-to-man. The eighth defender crowded the shallow passing levels that so many of New England's aerial designs exploit. Brady had to hold the ball, which made him increasingly uncomfortable, mainly because he knew his offensive tackles Marcus Cannon and, at the time, Sebastian Vollmer, could not compete with DeMarcus Ware and especially Von Miller.
The teams meet on Sunday, and it's a slightly better Patriots O-line this time around. But there's no reason for Denver to do anything other than what they did last January. With Rob Gronkowski out, New England's offense lacks a vertical threat. And with no tight end who must constantly be double-teamed, Phillips is freer to wrinkle his coverages, which is why Brady should expect more hybrid concepts.
You might wonder: If the Broncos had so much success rushing three against Brady and dropping eight, why don't other defenses do that? The answer is they do, just not as well. Stopping New England's quick-strike game is challenging because that offense is so refined in its intertwined route designs. Patriots receivers line up in various tight groupings and crisscross off the snap. Defenders have no choice but to back off.
Denver is great because their defensive backs are uniquely adept at picking up assignments after backing off. Sometimes they'll play straight man-to-man and just fight through the traffic. Other times, those defenders will coordinate to play the releases, with one man taking whichever receiver goes furthest inside off the snap and the other taking whomever goes furthest outside. The concept is simple; executing it is not. On film, the Broncos release coverages can look like a work of art.
Remember, as long as Brady's receivers are being guarded, Brady's linemen have to hold up in pass protection. They're mostly young, middle-tier linemen. Containing the likes of Miller, Ware or even Shane Ray and Shaq Barrett just isn't feasible, especially considering almost all of New England's pass protections involve one-on-one blocking.
To change their fortunes in this meeting, it's imperative the Patriots stay ahead in the down-and-distance—something they didn't do last time when they ran the ball on only 14 of 83 plays. It's a slightly better Patriots ground game this time around, and it's a much worse Broncos run defense. (Last season it yielded 83.6 yards a game, third best in the NFL. This season, it's 127.2 yards a game, 29th best.) And so the key to this AFC Championship rematch could very well be LeGarrette Blount, James White and Dion Lewis.
* * *
* * *
Pittsburgh at Cincinnati
Steelers: Everyone talks about Le'Veon Bell's patience as a runner—and rightfully so. But another, and related, important dimension of his game, particularly on the inside zone runs that Pittsburgh likes, is his ability to slither through small cracks.
Bengals: This team needs to consider drafting a defensive end in the first round next spring. Usually Marvin Lewis and director of player personnel Duke Tobin wait until the second or third round to address that position. But that hasn't worked out the past few years. 2013 second-rounder Margus Hunt's playing time has decreased as the season has worn on, and Will Clarke (third round, 2014) is yet to carve out a niche. If the Bengals want to keep playing so much straight zone coverage, they need a right defensive end who can wedge out the ineffective Michael Johnson.
* * *
Detroit at N.Y. Giants
Lions: Guards Marshall Newhouse and John Jerry are not very athletic. The Lions love to employ T-E stunts, with a defensive tackle attacking the B gap (between the guard and tackle) and the defensive end looping inside behind him. There will be a lot of those on Sunday.
• WHY STAFFORD IS MVP: Why no one has been worth more to a winning team than the Lions QB.
Giants: Portions of Victor Cruz's playing time have been going to Roger Lewis. Here's the harsh reality for Cruz, who publicly complained about his lack of opportunities two weeks ago: He can't separate like he used to. It's most evident on vertical routes.
• THE GIANTS' SUPER BOWL-CALIBER D: This year's unit is becoming as dangerous as the defenses that led the Giants to two Lombardi Trophies in the past decade.
* * *
Tampa Bay at Dallas
Bucs: How about Dirk Koetter as a Coach of the Year candidate? His offense has stayed afloat despite a barrage of injuries at wide receiver and running back. And his defense, run by Mike Smith, has shown enriching improvements in zone spacing and assignment sharing as the season has gone on.
Cowboys: Another Coach of the Years candidate—or, really, Assistant Coach of the Year—is Rod Marinelli. Dallas's lack of pass rushing talent remains evident, but it's less of an issue because Marinelli does such good work with D-line slants and always gets his men to play tenaciously.
* * *
Miami at N.Y. Jets
Dolphins: Quietly, this zone running game hasn't been nearly as hot as it was a few weeks ago. Jay Ajayi is averaging 62 yards a game and 3.65 per carry over the last five outings. With Ryan Tannehill out, it's imperative this change. Nothing influences a defense like a zone ground game and the collective O-line movement that comes with it. With a backup quarterback in there (Matt Moore), the Dolphins need play designs influencing the defense.
Jets: Todd Bowles has been calling less man coverage this season. The reason is likely the newfound need to hide an aging Darrelle Revis. When the Jets played the Dolphins in Week 4 last season, Revis traveled with Jarvis Landry in man coverage. Tellingly, he did not do that in the Week 9 meeting earlier this year.
* * *
Green Bay at Chicago
Packers: When these teams met in Week 7, Ty Montgomery was filling in at running back. Since then, James Starks has returned (but is currently in the concussion protocol) and Christine Michael has been added to the roster, but Montgomery is still atop the pecking order. In Week 7, Mike McCarthy frequently motioned Montgomery out wide, creating an empty backfield formation. Don't be surprised if, for field-balance and matchup purposes, a few more of Montgomery's routes come out of the backfield this time around.
Bears: Tight end Daniel Brown had two catches on out routes that took him right into the teeth of a Cover 2 trap last week. The catches only produced small yardage, but the toughness Brown showed holding onto them was impressive. He'll see it again Sunday. Cover 2 trap is one of Green Bay's favorite defensive play calls. And Matt Barkley has shown a willingness (or propensity) to throw at them.
• ARE PACKERS CONTENDERS OR PRETENDERS: With three straight wins, Green Bay is in the playoff hunt. But this is no time to R-E-L-A-X.
* * *
Cleveland at Buffalo
Browns: There's no chance Rex Ryan doesn't present to Robert Griffin III an array of amoeba fronts and zone pressure concepts. It'd be foolish not to.
Bills: It's funny that speculation about Tyrod Taylor's quarterbacking aptitude took this long to arise. The reason it did is Taylor's biggest issue shows up on film but not paper. That'd be his tendency to leave throws on the field. The Bills have a rudimentary passing scheme, yet each week there are open receivers that Taylor fails to identify.
* * *
Philadelphia at Baltimore
Eagles: Prior to last week, Philadelphia's third-down defense had been reeling, especially on third-and-long. Problems like these usually stem from a lack of pass rush. Brandon Graham has been sensational at left defensive end, but on the right side, Connor Barwin has been quiet. He played his fewest snaps of the season last week, as the Eagles experimented with rotations at his position.
Ravens: Left tackle Ronnie Stanley has a bright future, but it will hinge on whether he can play with better lower body strength.
* * *
Tennessee at Kansas City
Titans: Kevin Byard will become the latest poor soul to try to guard Travis Kelce. It may not be reflected in this game—Kelce is such a tough matchup—but the third-round safety has had a nice rookie campaign. He's an excellent run-filler and a relied upon matchup piece in a Titans defense that has played more man coverage than expected.
Chiefs: Linebacker Ramik Wilson now becomes the most important player on Kansas City's defense. Wilson must fill Derrick Johnson's role, which means not only defending the run from a lighter box out of the predominant dime package, but also covering running backs one-on-one anywhere in the formation.
* * *
Indianapolis at Minnesota
Colts: Edwin Jackson, filling in for the suspended D'Qwell Jackson, has looked better by the week. He was tremendous taking on blocks in the Houston game last week.
Vikings: Chad Greenway could be in his final month as a Viking, though it's worth noting that the tenured veteran played very well in place of a banged-up Eric Kendricks for several games prior to last week. Fresh from having his role reduced to base downs the past two years, Greenway showed some of the quickness, and certainly play recognition, that made him a stalwart for so many years.
• THE GM SHORT LIST: Albert Breer's list of candidates who could bring a fresh approach to turning around a struggling team.
* * *
Jacksonville at Houston
Jaguars: The interior O-line problems that have long plagued this team appeared to be on the path towards correction last season, but have re-emerged in discouraging fashion as of late. Guards A.J. Cann and backup Chris Reed, as well as center Brandon Linder, have not played well.
Texans: Perhaps no defense does more with coverage disguises than this one. Those come natural in a Cover 4 base scheme like Houston's, where both safeties align evenly in split, square positions, making post-snap rotations easier to enact.
* * *
New Orleans at Arizona
Saints: The problem with Coby Fleener is he's a grab bag when it comes to contested catches. Some he makes, too many he doesn't. Snagging contested catches is the essence of playing tight end. Fleener will have to step up here on Sunday. He's facing a good all-around defender in Tony Jefferson.
Cardinals: The only way to have made his disappointing 2016 season any worse was to screw up off the field. So congratulations newly minted two-time DUI offender (and now former Cardinal) Michael Floyd, that's exactly what you've done. And just in time for free agency.
* * *
San Francisco at Atlanta
49ers: One bright note has been the improvement of the run defense down the stretch. First-round rookie DeForest Buckner, in particular, has looked better. He still has a ways to go. Playing lower to the ground is key to his development.
Falcons: Speaking of development, last year's first-rounder Vic Beasley is now tied for the league lead with 13.5 sacks. Credit Dan Quinn and Falcons defensive coordinator Richard Smith. They've found creative ways to give Beasley the space to generate speed that makes him, at times, almost unblockable. One of those ways has been on longer-looping stunts inside.
* * *
Oakland at San Diego
Raiders: In their last meeting with San Diego, this defense had trouble against shrewd Chargers route designs that blurred the responsibilities of various zone defenders. And the damage would have been worse had Philip Rivers not gotten too much air under a few deep balls.
Chargers: This defense was shorthanded at cornerback when they met the Raiders in Week 5. That day, they wound up playing a lot of Cover 2, which forced Derek Carr to repeatedly check-down. San Diego's secondary is healthier now. Coordinator John Pagano has not been as aggressive with his patented coverage disguises, but maybe that changes against a rising QB who's seeing this defense for the second time this season.
* * *
Carolina at Washington
Panthers: Cam Newton has slipped back into a lot of his old bad mechanical habits. Not coincidentally, the Panthers have been more of a throwing offense and less of a running one.
Washington: It's important that Su'a Cravens, battling an elbow injury, get healthy and back on the field. He is becoming the most versatile piece of this defense.
* * *
Seattle 24, Los Angeles 3
Rams: L.A. has allowed 35.3 points per game and 386 yards per game over their last four; in their first 10 games they gave up 18.7 points (tied for fifth-best in NFL through Week 11) and 318 yards (sixth-best in NFL through Week 11).
• L.A.'s COACHING SEARCH: Jim Harbaugh isn't interested. Neither is Pete Carroll. But plenty of other candidates will line up for the Rams.
Seahawks: The Seahawks continued their trend of late-season success. Since 2012, they are 8-0 in games following a loss in the second half of the season, outscoring their opponents by a combined score of 221-58.
Katie Sharp (@ktsharp) contributed writing and research. For daily film study notes, follow @Andy_Benoit
Question or comment? Email us at talkback@themmqb.com.
---
---