Blake Bortles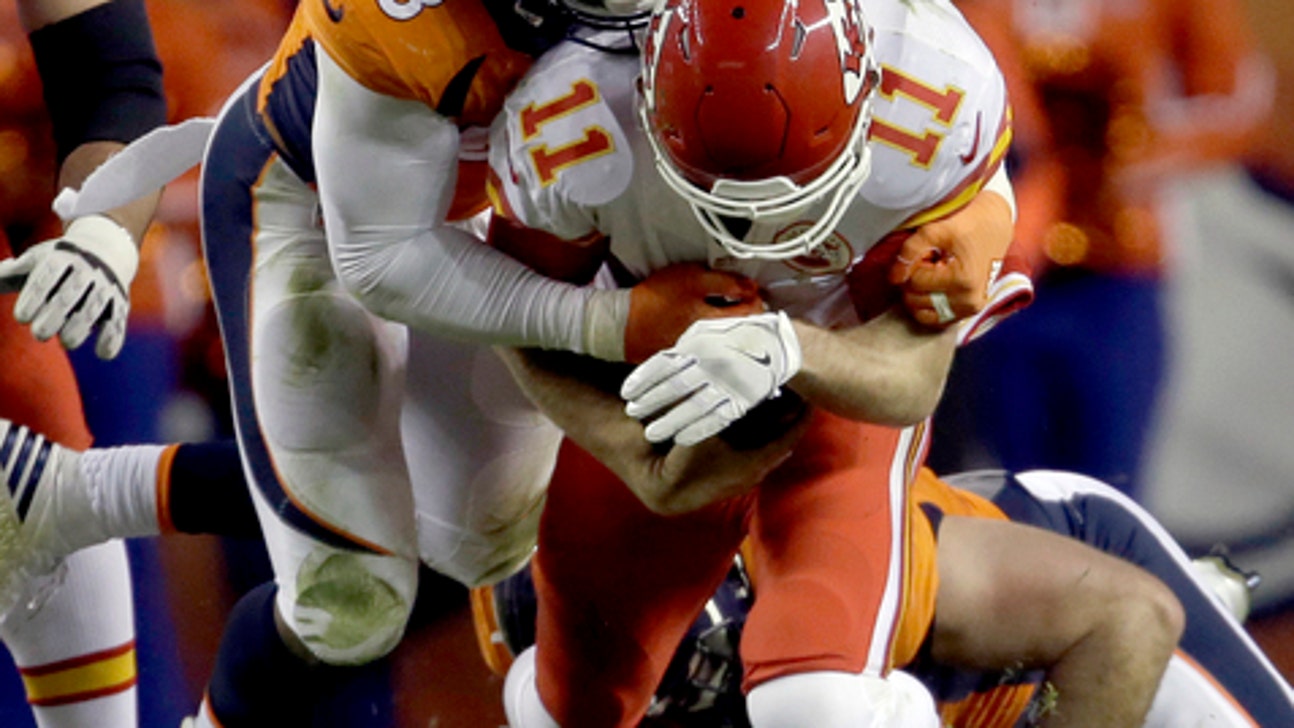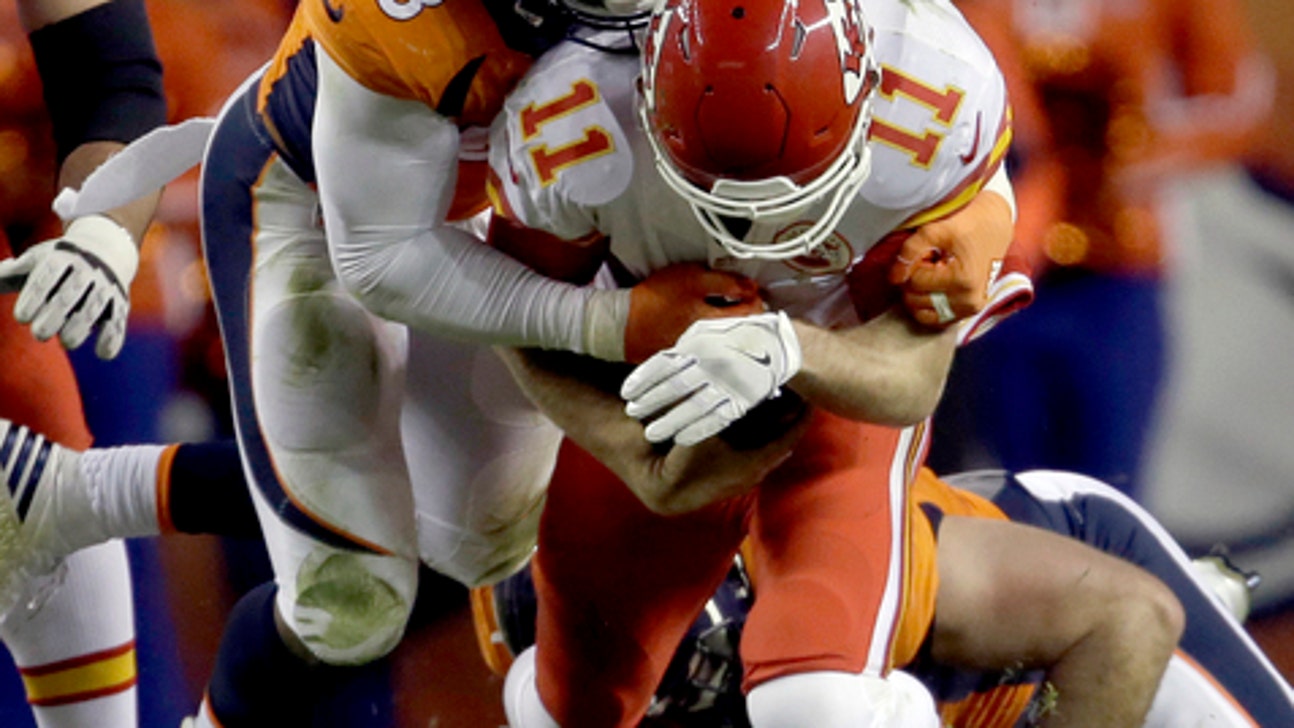 Blake Bortles
Von Miller's season special despite no return to playoffs
Updated
Mar. 4, 2020 3:23 p.m. ET

ENGLEWOOD, Colo. (AP) Von Miller is headed for a very different kind of offseason.
''For one, I already know that I'm not going to be Super Bowl MVP,'' the Broncos star cracked.
No, but he could still win his first Defensive Player of the Year award - if voters look past Denver's offensive-driven nosedive that will leave them out of the postseason party for the first time since 2010.
Even though he's been stuck at 13+ sacks for three weeks, Miller has grown into a well-rounded linebacker : one who can stuff the run, cover tight ends and torment tackles as adroitly as he can knock the ball out of the quarterback's hand.
Miller cringes at the term ''pass rusher'' because it describes just one aspect of his job, which he says is to ''make plays, big plays, for my team.''
''That's interesting that he would answer that question like that way because that tells you how much better a player he's become,'' coach Gary Kubiak said. ''Guys get a lot of accolades for sacks and numbers in this league, but really are you a complete player?''
In Miller's case, absolutely.
Denver's inept offense and poor run defense limited his chances down the stretch to have game-turning plays like he piled up earlier, including sack-strips of Andrew Luck and Blake Bortles that sealed victories and a sack of Cam Newton in the opener that was reminiscent of his spectacular Super Bowl.
Miller's 73 tackles are a career high and more than double what he collected last season (35) before embarking on a big playoff run that culminated with probably the greatest defensive performance in Super Bowl history.
At midseason, Miller was just about the only player in the conversation for top defender in 2016. Going without a sack for the last three games has opened the door to others, including Khalil Mack of the Raiders (12-3), who visit the Broncos (8-7) on Sunday.
Oakland coach Jack Del Rio said Miller and Mack are similar in their disruptive capabilities but ''Von's the only guy I've ever seen that can look like Gumby going around a corner and an inch off the ground and still be going at full speed.''
Miller also faces constant double- and even triple-teams that guys like Mack, Vic Beasley Jr. and Ryan Kerrigan don't usually have to worry about.
Sunday will mark the first time in Miller's six-year NFL career that the Broncos are playing for pride and not playoff positioning.
At this time last year, Miller was preparing for a stellar playoff run that would bring him fame and fortune, from a Super Bowl 50 MVP trophy to a record-breaking contract. His cross-country victory lap: a six-month jet-setting junket of television and dance studios, A-list parties and B-roll appearances.
''Honestly, I did miss my teammates. I love these guys in here. But it was so new and I was meeting new people and it was new experiences,'' Miller said. ''And the end of the day, I was like, `Dang, I was supposed to ... we had practice today.' I'm on my Snap and I'm getting messages from my guys like, `Bro, we ready to work out today and you at Six Flags.'"
He compared it to taking a sick day during school and thinking about what his buddies were doing all the time.
Miller combined his Super Bowl success and his franchise tag status to enjoy last year's offseason as a once-in-a-lifetime opportunity: ''An offseason like that with the contracts, you really only get one of those,'' Miller said. ''So, I wanted to take advantage of that.''
Miller is preparing for a very different kind of offseason now.
''I'm starting my offseason training on Wednesday,'' Miller told The Associated Press. ''I just don't want to take a break. Right now, I'm in great shape. So, why take a break and lose that? So, while I got January off, I'm just going to hit the workouts hard while I can where I just focus on working out and not appearances or endorsements. I'm heading to the Super Bowl. That's a month away. I've got all of January to just grind it out.''
Come April, he'll report to the Broncos' offseason program with the rest of his teammates.
''I'll be here with my guys,'' he said. ''I won't be so all over the place.''
He'll save that for game days.
NOTES: C Matt Paradis, Denver's 2016 Ed Block Courage Award winner, confirmed he'll have surgery on both hips this offseason. ... Kubiak, who had a second health scare in three seasons back in September, was asked about his desire to continue coaching Friday. ''Why, do I look bad?'' he said with a laugh, then added: ''I love this league. I love the Broncos. I love to work. I'm all in on the Raiders right now. There will be a time for reflection and all of that stuff next week.''
---
Follow Arnie Melendrez Stapleton on Twitter: http://twitter.com/arniestapleton
---
For more NFL coverage: http://www.pro32.ap.org and http://www.twitter.com/AP-NFL
---
---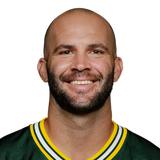 Get more from Blake Bortles
Follow your favorites to get information about games, news and more
---