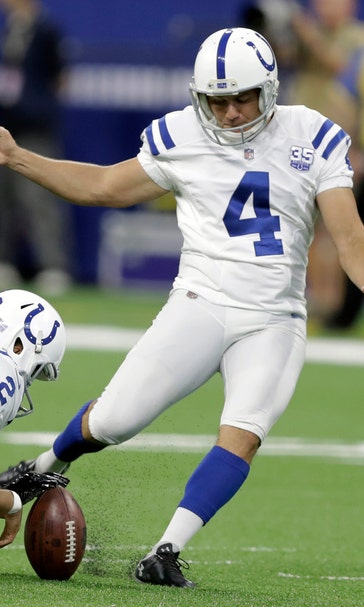 Vinatieri visits Washington with chance at field goal record
September 13, 2018
INDIANAPOLIS (AP) — Adam Vinatieri's weekend preparations have already kicked into full force.
He's working with wet footballs, determining his best footgear and getting ready for another potentially big day in messy weather. It's become a trademark of the NFL's best clutch kicker.
After 22-plus seasons in the NFL, Vinatieri has figured out how to thrive in pretty much every element: rain, wind, sleet, snow, ice and mud.
So it would be fitting if Vinatieri breaks Morten Andersen's career record for field goals in a rainy, windy Washington this weekend.
"They're fun in their own way," Vinatieri said. "I would prefer decent weather and clean games, if you will, but it's fun sliding around out there and doing that stuff. It makes your job a little more difficult, but whatever the weather is, we'll be ready to go."
Bet on it.
Vinatieri doesn't spend much time worrying about forecasts because the South Dakota native has produced some of his best work in the worst of times.
Nobody will forget the two kicks he made in the Snow Bowl , or "Tuck Rule" game, to help New England beat Oakland in a divisional-round playoff following the 2001 season. It helped the Patriots capture their first Super Bowl.
Last year, the oldest player in the league made a seemingly impossible extra point to force overtime in a December blizzard in Buffalo and helped keep the Colts within striking distance just 13 days later in monsoon-like weather in Baltimore.
Last week, in the controlled environment of Lucas Oil Stadium, the 45-year-old kicker calmly made 3 of 4 field goals to move within striking distance of Andersen's career mark (565). Vinatieri is at 562. He's also 47 points away from breaking Andersen's career scoring record.
"Records are fun to talk about," said Andersen, who scored 2,544 points in 25 NFL seasons. "Do they define you as a player? I don't think so. But they can motivate you. I think Adam is more like me, he's in the now and he wants to win, but he's earned the right to celebrate it."
Technically, Vinatieri already has more field goals than Andersen, who finished with 583 including playoff games. Vinatieri is the NFL's postseason record holder for scoring (234) and field goals (56); he has 618 counting the postseason, including two Super Bowl winners in the final minute.
But his favorite kicks don't even show up in the league's official count.
"Obviously, none of the playoff ones count in these, but the most memorable are those when it's the playoffs and games are on the line and seasons are holding by a string," Vinatieri said. "So yeah, I would say the Super Bowl, those two, and the one in the Snow Bowl game. Those are probably my top three if I had to rank them."
Along the way, Vinatieri has been surrounded by some of the biggest and best names in football history.
He's played for two Super Bowl-winning, Hall of Fame coaches in Bill Parcells and Tony Dungy, and a third, Bill Belichick, who seems like a shoo-in to make it when his career ends.
He's played with two of the league's greatest quarterbacks, Tom Brady and Peyton Manning, and a third, Andrew Luck, who just might join the list one day.
He's won four Super Bowl rings, was the only unanimous selection on the Super Bowl 50 Golden Team, and has participated in a league-record 225 victories.
And he still remembers asking Andersen, one of only two full-time kickers in the Pro Football Hall of Fame, about the secret to his long, successful career. Whatever Andersen told him certainly stuck with Vinatieri, who has been around longer than a growing number of teammates remember.
"I'm the second oldest guy in the locker room and my first year of playing football was his second year in the league," said right guard Matt Slauson, who turned 32 in February. "So he's not only had one incredible career, he's essentially had two incredible careers with two different teams. It's amazing."
Strangely, though, if Vinatieri does break the field goals record this weekend or this month, he's likely to do it with two unfamiliar names assisting: long snapper Luke Rhodes and punter/holder Rigoberto Sanchez. Both are in their second seasons with the Colts. Rhodes was 4 years old when Vinatieri was a rookie in 1996, while Sanchez was 2.
"You grow up watching him and then especially for me, I wasn't even in this position two years ago," Rhodes said. "I'm lucky and blessed to be where I am and pretty excited when the day comes he gets to break the record."
But neither has a choreographed script for a celebration. They'd rather let Vinatieri handle that part on his own — especially if it comes in a muddy mess this weekend.
"For me, it's more about an accumulation of a lot of years of work," Vinatieri said. "Can I remember every kick? No. But you add them all together, and I won't reminisce on any of that stuff until long after it's all done and over, if it happens. I will appreciate all the guys that came before me and set those records so high, and to be able to play long enough to get close to them is pretty special."
---
---