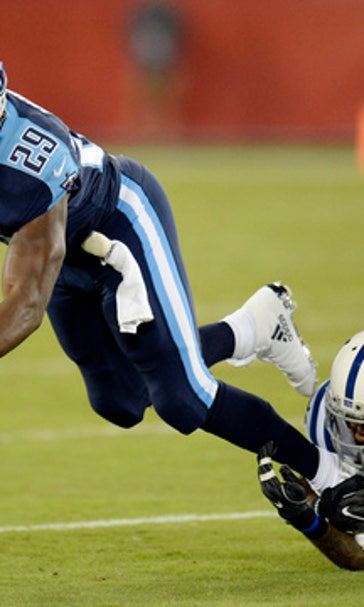 Titans hope they've rediscovered winning touch with run game
October 17, 2017

NASHVILLE, Tenn. (AP) The Tennessee Titans hope they've rediscovered their punishing ground game.
The NFL's third best rushing team a year ago, the Titans have run for at least 168 yards in three games this season. They've scored at least 33 points in each of those games to showcase the ''exotic smash mouth'' approach Titans coach Mike Mularkey wants.
And yes, they've won every time they run that well, including in a 36-22 win over Indianapolis on Monday night .
''We want to run the ball as much as we can,'' Pro Bowl running back DeMarco Murray said. ''And us as running backs, we want to impose our will on them.''
The Titans (3-3) did just that Monday night despite running for only 44 yards in the first half. They stuck with the run even after falling behind 19-9 when Marcus Mariota's first pass of the third quarter was intercepted for a touchdown. The Titans were so determined to run that Mariota even converted a fourth-and-1 on his first quarterback sneak since high school in Hawaii.
Tennessee finished with 168 yards rushing with Derrick Henry having the best game of his young career with 19 carries for 131 yards capped by a 72-yard touchdown run with 47 seconds left . Murray finished with 12 carries for 40 yards and four catches for 47 more.
''It took a while to try to establish, and that was the plan,'' Mularkey said Tuesday. ''We didn't know when and where it was going to hopefully kick in. But we were going to run it until it did. It really played out like we thought it would. I was pleased with watching it.''
The running game was so effective that Mularkey said the Titans called the same play - ''slant-35-deuce'' - four times in a row inside the red zone, culminating in a 3-yard run by Murray to go ahead 22-19 early in the fourth quarter.
''They kept saying, `Keep running it.' They came to the sideline, `Keep running it,''' Mularkey said.
Mariota's quarterback sneak kept alive the drive capped by Murray's TD, and the Titans wound up driving 87 yards and eating up 8 minutes, 24 seconds of the clock for the franchise's longest scoring drive since a 10:08 drive in a loss at Indianapolis on Dec. 9, 2012.
Tennessee also followed up with a pair of TD drives that went 75 and 87 yards as the Titans outscored the Colts 21-3 in the fourth quarter.
With their latest performance, the Titans are averaging 132 yards rushing and rank sixth-best in the NFL. They're also splitting the workload evenly between Murray (68 carries for 313 yards) and Henry (62 for 318).
Mariota also threw for a season-high 306 yards with a 53-yard TD pass putting the Titans ahead to stay.
''When you are able to run the football the way we do, it opens up a whole lot of things,'' Mariota said. ''That's got to be the standard, if we are able to do that run the football and convert third downs, I think we can be pretty good on offense.''
The Titans now find themselves tied with Jacksonville and Houston in the division but with a tiebreaker giving the edge for now. Next they visit the winless Cleveland Browns (0-6) on Sunday before their bye to rest up before resuming a swing through the rest of the AFC North with visits from Baltimore and Cincinnati followed by a trip to Pittsburgh on Nov. 16.
Notes: Mularkey said neither rookie WR Corey Davis nor S Johnathan Cyprien, both recovering from hamstring injuries, would play Sunday against the Browns.
---
For more NFL coverage: http://www.pro32.ap.org and http://www.twitter.com/AP-NFL.
---
Follow Teresa M. Walker at www.twitter.com/teresamwalker
---
---