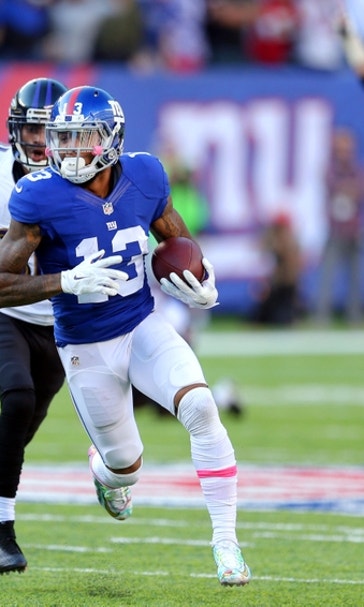 The New York Giants Have the Potential to Make a Playoff Run
December 31, 2016

Fansided, Jaclynkelli Kronemberg/FanSided via With the First Pick
The New York Giants are showing they have the potential to make a deep playoff run. They are finally in the playoffs for the first time in five years and could be a threat in the playoffs.
The New York Giants may have gotten help to get into the playoffs after Tampa Bay lost. But don't think that means they will be easy to beat in the playoffs. They like to play in the wild card position. Their last two appearances as a wild card resulted in a Super Bowl win.
Yes, that is in the past and this is five years later, but this defense has become a force over the weeks. Under Steve Spagnuolo, the Giants defense is back to playing lights out. They were able to hold the Dallas Cowboys to seven points three weeks ago, without Jason Pierre-Paul.
The offense has struggled due to the weakness of the offensive line. If the Giants offense can produce more, this team will be a threat in the Playoffs. The offensive line needs to protect Eli Manning better. If they can figure out how to do that, this offense is going to be hard to stop.
The Giants offensive line has had some trouble giving Manning time in the pocket. This has resulted in Manning turnovers and the lack of a running game. Recently the Giants have found a bit of a running game, but that will need to get better in the Playoffs.
Despite the offensive line, Manning has something no other team has, Odell Beckham Jr. OBJ makes crucial big plays at the right time. He has had some big drops, but he makes up for it when he has that one game changing play. OBJ's yardage after the catch is scary.
The offense needs to fix their mistakes to make a deep run in the playoffs. Last year, the Denver Broncos offense was mediocre, but the defense carried them through to the championship. The Giants defense is capable of doing just that.
The saying is "defense wins championships," and with the way the Giants defense is playing, this could be true. This defense is getting stronger with every game they play and could get Jason Pierre-Paul back in the playoffs. Don't count this team out, they are going to be a defense you don't want to face in the playoffs.
More from With the First Pick
This article originally appeared on
---
---