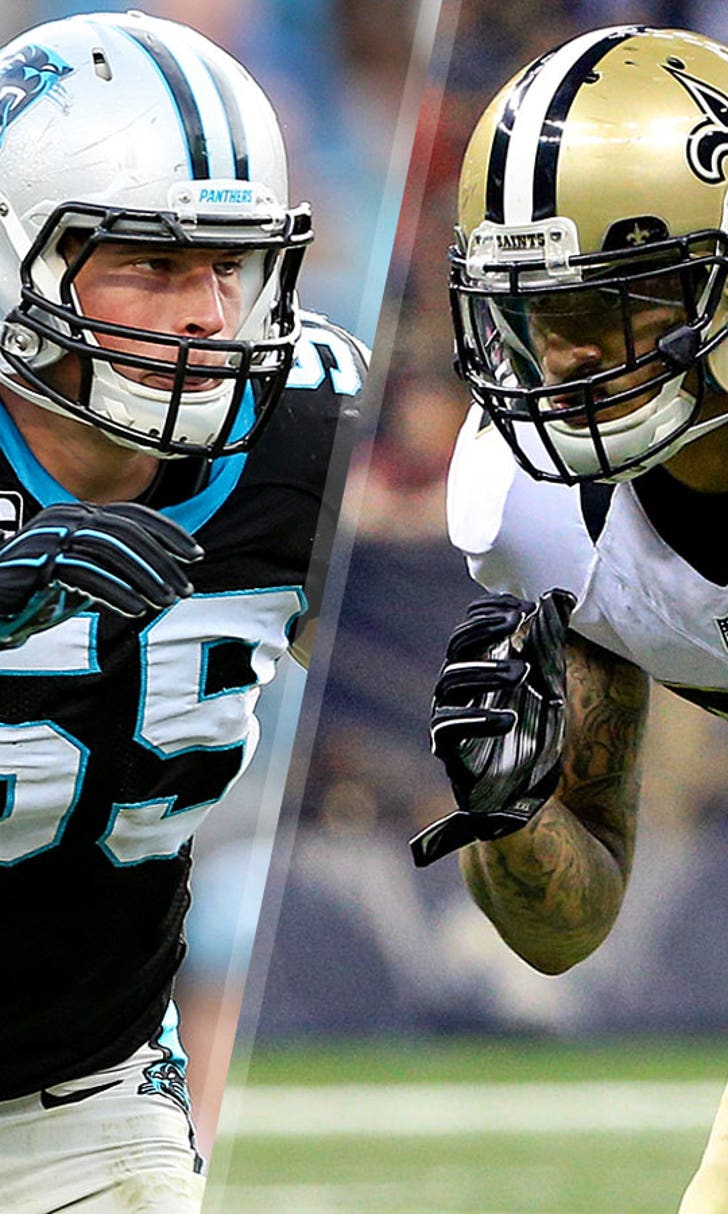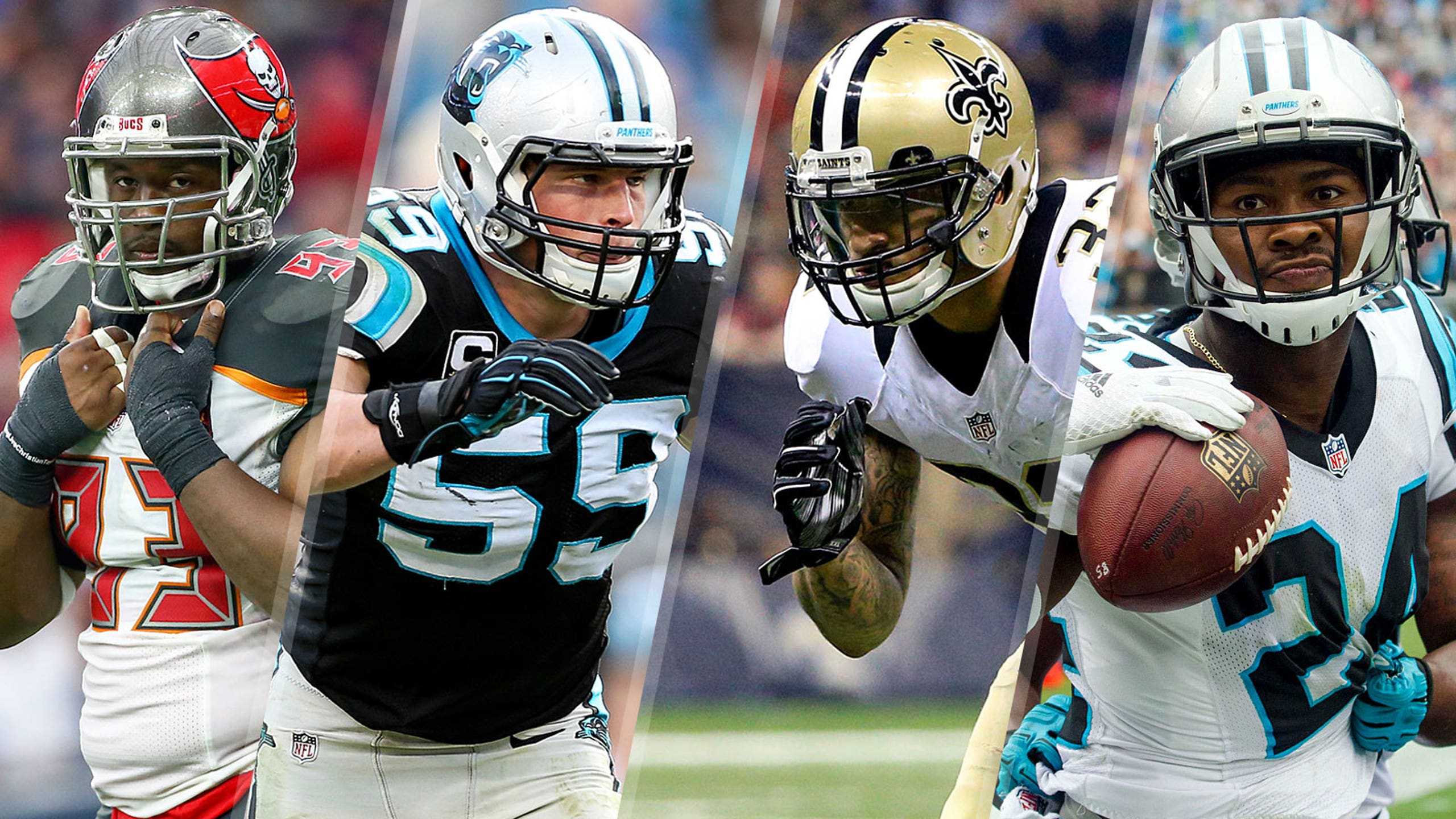 The 2015 All-NFC South Team (Defense)
BY foxsports • February 3, 2016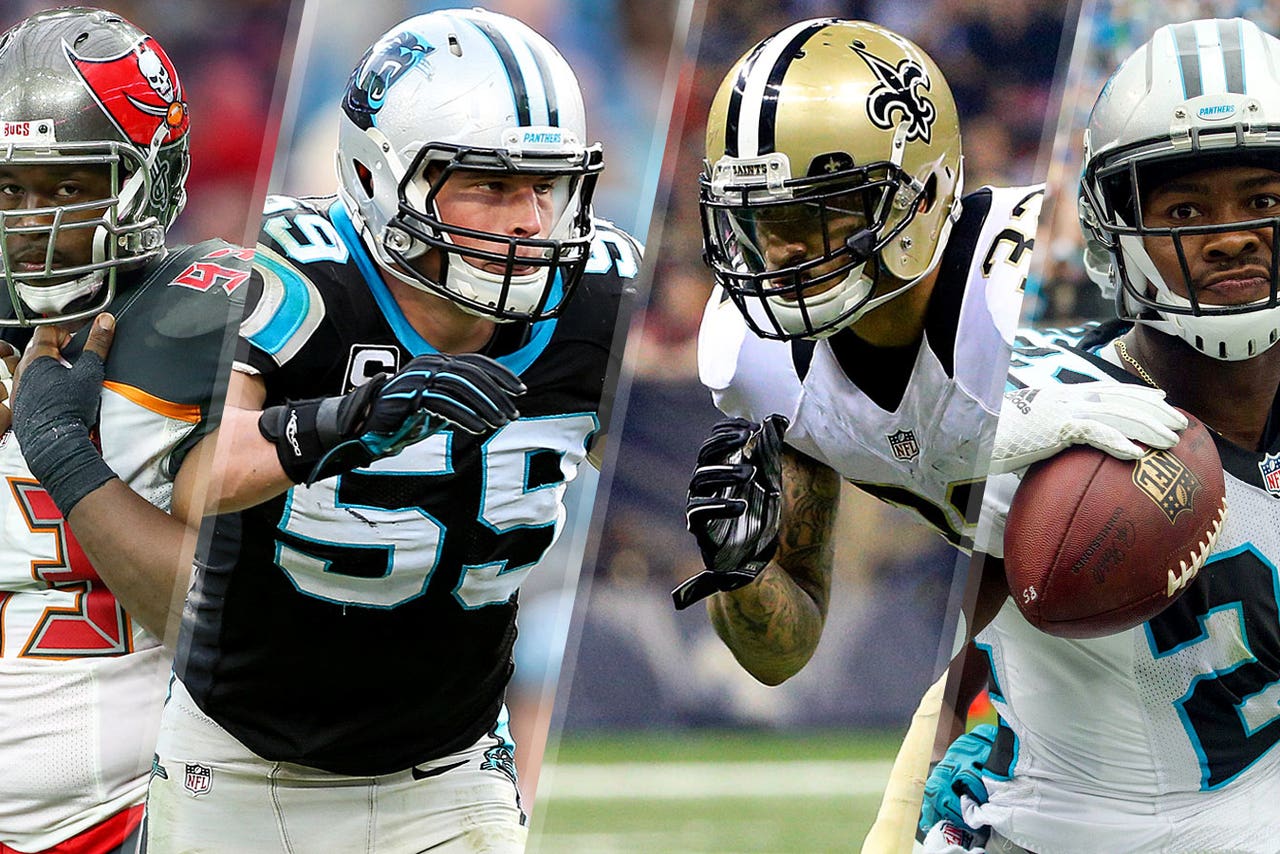 The NFC South was loaded with stars on both the offensive and defensive side of the ball, and while we looked back at the All-NFC South Offensive Team last week, it's time to check out the defense this week. It's a list loaded up with talented players, many of which made the 2016 NFL Pro Bowl, but also players who probably deserve even more praise than they actually get.
Let's get right to it by starting off with the defensive line, then we'll head to the linebackers and the defensive backs from there. No better way to start it off than with a player who's currently set to play in the 2016 Super Bowl.
Kawann Short, defensive end
Short was basically on another level this season for the Panthers. Throughout the first two seasons of his NFL career, his best season came in 2014 when he totaled 40 tackles with 3 1/2 sacks. This year? He finished up with 55 total tackles, 11 sacks, four passes defensed, three forced fumbles and two fumble recoveries. Short spent the bulk of games either in the backfield shutting down running backs, or in the face of opposing quarterbacks.
Cameron Jordan, defensive end
Jordan was a late add to the 2016 Pro Bowl, but he was absolutely deserving of the honor. When the New Orleans Saints didn't make the postseason, it was easy to overlook what Jordan did this year. He finished up the season with 45 combined tackles, 10 sacks, five passes defensed, two fumble recoveries and a forced fumble. On a Saints defense that struggled quite a bit early in 2015, Jordan wound up being one of, let's say three, bright spots.
Gerald McCoy, defensive tackle
Another year, another Pro Bowl for the Buccaneers' McCoy. This is now four years in a row that we've seen McCoy receive the honor, and he also played the bulk of this season with injuries, as well. In the end, he wound up with 34 total tackles, 8 1/2 sacks and one pass defensed. While it wasn't the most productive season of his career, it doesn't mean that he didn't make a major impact.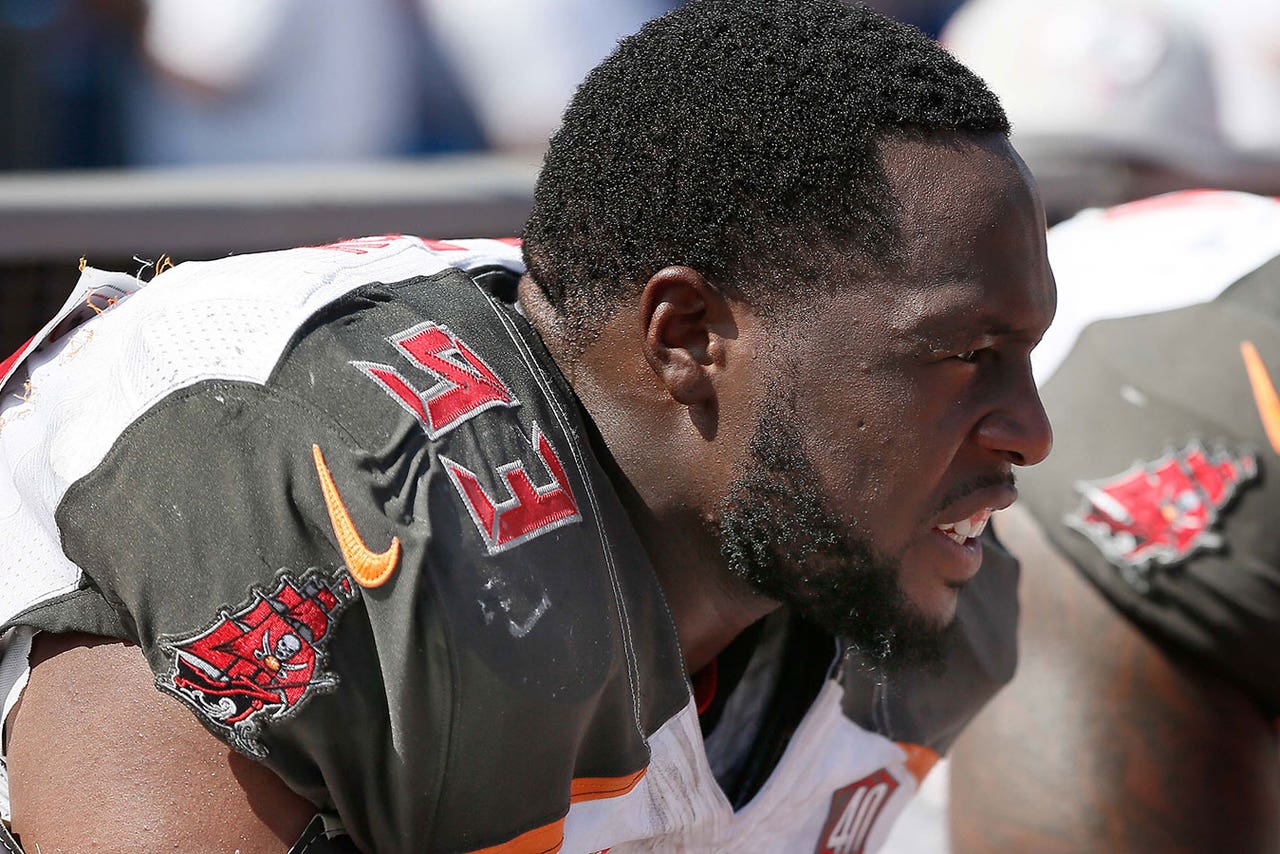 Gerald McCoy has been a consistent name at the Pro Bowl, and now he's ready to help take the Buccaneers to the next level.
Jonathan Babineaux, defensive tackle
He may be 34 years old, but that doesn't mean he's not producing. Yes, there's a chance that he could be a cap casualty if the Falcons really need to save money, but Babineaux stepped up for new coach Dan Quinn. His numbers aren't mind-blowing, as he finished with 30 combined tackles, two passes defensed, 1 1/2 sacks, a forced fumble and an interception, but he caused major issues for opponents on a consistent basis. Sometimes, getting push in the middle of the line is just as important as actually racking up stats.
Luke Kuechly, linebacker
And in the most shocking addition to the All-NFC South Defensive Team, we give the nod to the Panthers' Kuechly. Alright, kidding, he's probably the most deserving player on this entire list. Kuechly was probably the best linebacker in the NFL this year, totaling 118 combined tackles in 13 games, with 10 passes defensed, four interceptions, two forced fumbles, a sack, a fumble recovery and a touchdown for good measure. The man did a little bit of everything and now he'll get to show off his talents on the biggest stage of them all.
Lavonte David, linebacker
David may have been an alternate into the Pro Bowl, but there was a pretty heavy consensus that he deserved to earn the honor in the first place. Actually, he's pretty much deserved it in every single year that he's played. David filled up the box score on a weekly basis in 2015, finishing the year with 147 combined tackles (third-most in the NFL), 13 passes defensed, three sacks, three interceptions, two forced fumbles, two fumble recoveries and a touchdown. David is still just 26 years old, so Tampa Bay Buccaneers fans have plenty to be excited about when checking out their defense.
Thomas Davis, linebacker
Good old Mr. Reliable. The Panthers' Davis literally broke his forearm in the NFC championship game. So, he'll miss the Super Bowl right? Yeah, no chance. Davis had surgery and is expecting to play in the big game. We shouldn't be shocked by this in the slightest. Davis is a leader, he's strong, talented and battles through anything. This year he wound up with 105 total tackles, seven passes defensed, 5 1/2 sacks, four forced fumbles, four interceptions and a fumble recovery. Kuechly and Davis make one of the top dynamic duos in the NFL at the linebacker position.
Josh Norman, cornerback
Norman was so good at the start of the 2015 season, that his numbers actually look kind of mediocre on paper. With that said, there's no questioning that nothing about Norman's game is mediocre. This guy can cover and lock down any wide receiver in the NFL. We all remember his ridiculous battle with Odell Beckham Jr., but let's not look past his 56 tackles, impressive 18 passes defensed, four interceptions, three forced fumbles, two fumble recoveries and two touchdowns. Norman's going to get himself quite a contract extension from the Panthers.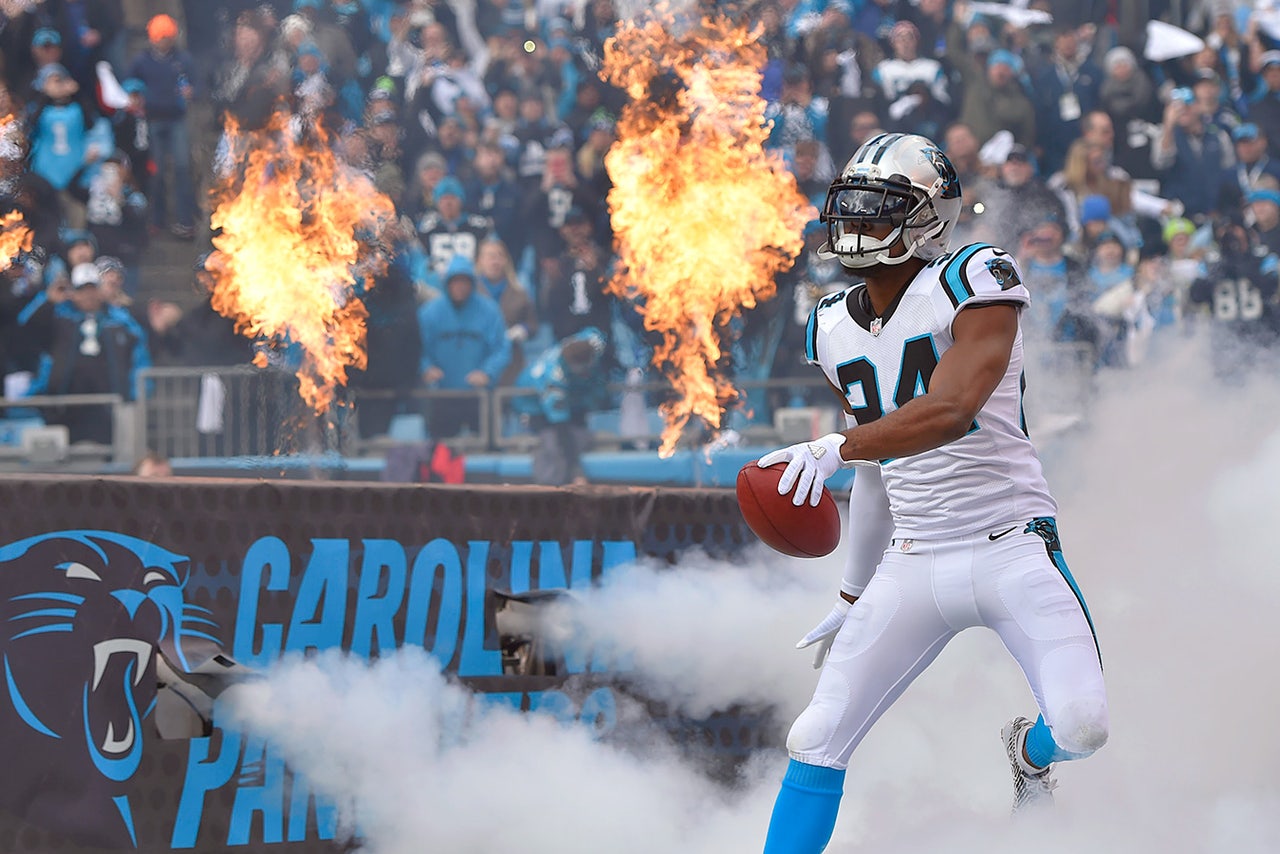 There may be no cornerback more feared in the NFL than Josh Norman.
Delvin Breaux, cornerback
Desmond Trufant was a Pro Bowl selection this year, but the Saints' Breaux is still flying under the radar quite a bit. Trufant mainly doesn't make this list due to something that was completely out of his control, simply because he wasn't targeted all that much in 2016. Instead, we get the former Canadian Football League standout Breaux, who shut down opposing wide receivers on a consistent basis. He was asked to cover the top wide receivers on opponents consistently, and stepped up time and time again.
Kurt Coleman, safety
Coleman has played for three teams since being drafted in the seventh round of the 2010 NFL draft. He couldn't find a home in Philadelphia or Kansas City, but it's safe to say that after just one season, he's found one in Carolina. Coleman was tied for the third most interceptions this season with seven, while totaling an impressive 90 tackles (second most in his career), nine passes defensed, one sack and one touchdown. There's nothing but praise to send in the direction of Coleman this year.
Kenny Vaccaro, safety
Give Vaccaro credit. After his first two forgetful years in the NFL, the former No. 15 pick bounced back in a big way. Not only was he exceptional against the run this year, but he topped 100 tackles (104 to be exact), while tacking on five passes defensed, three sacks, a forced fumble and a fumble recovery. Vaccaro's turnaround season is hopefully a sign of things to come for the Saints, as they obviously has plenty of young talent, which this list proves.
Jeff Smith writes about the NFL for FOX Sports. You can find him on Twitter @JSM8ith.
---
---