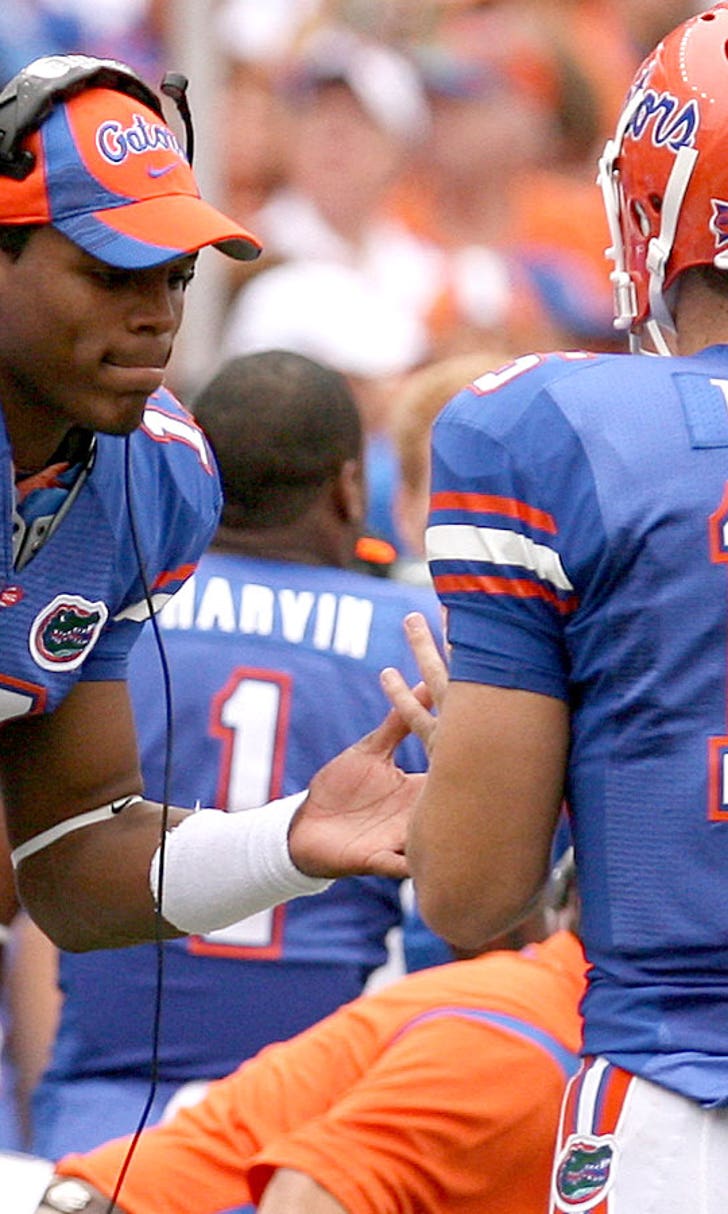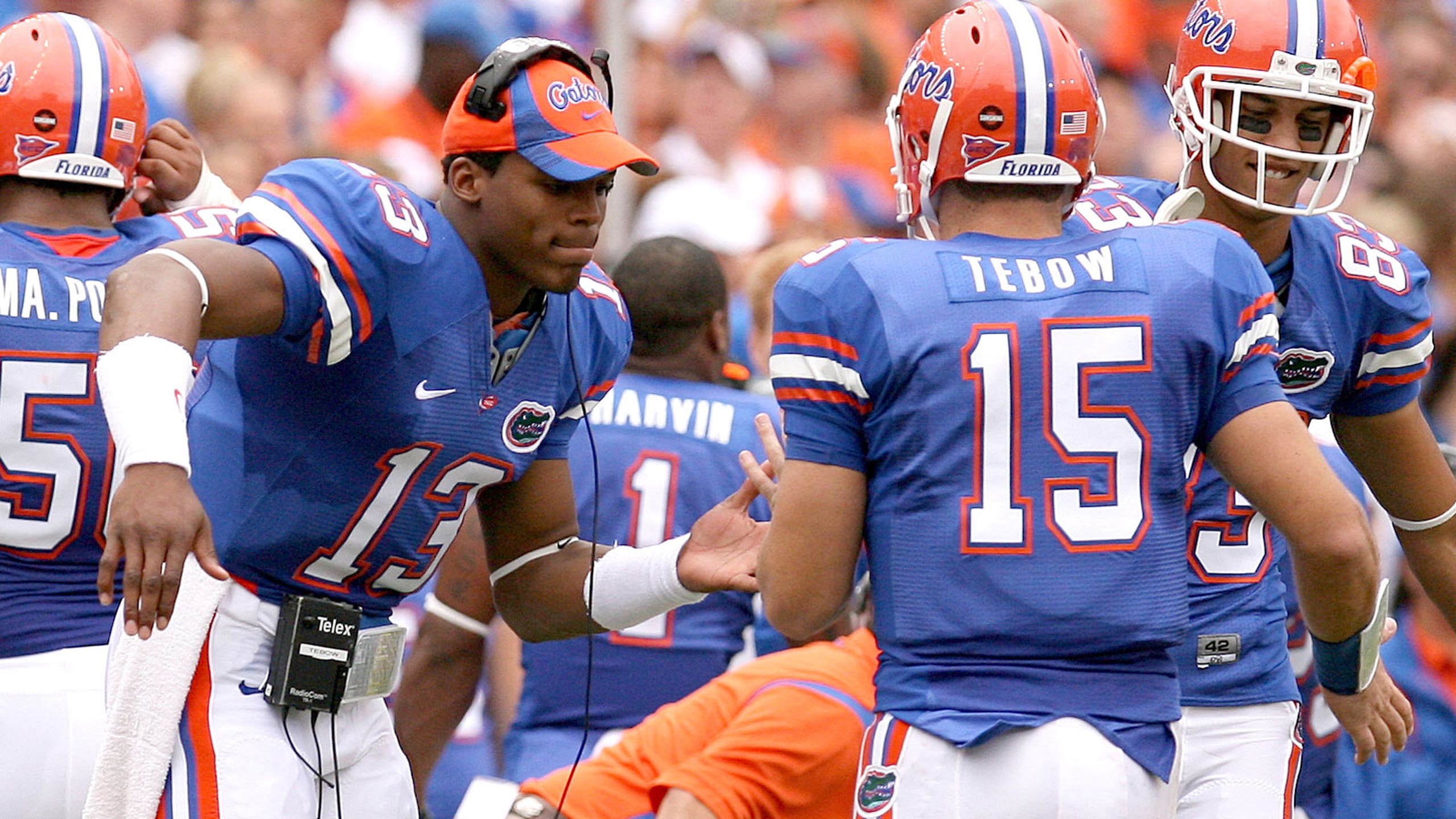 TBT: When Cam Newton was Tim Tebow's backup QB
BY foxsports • January 28, 2016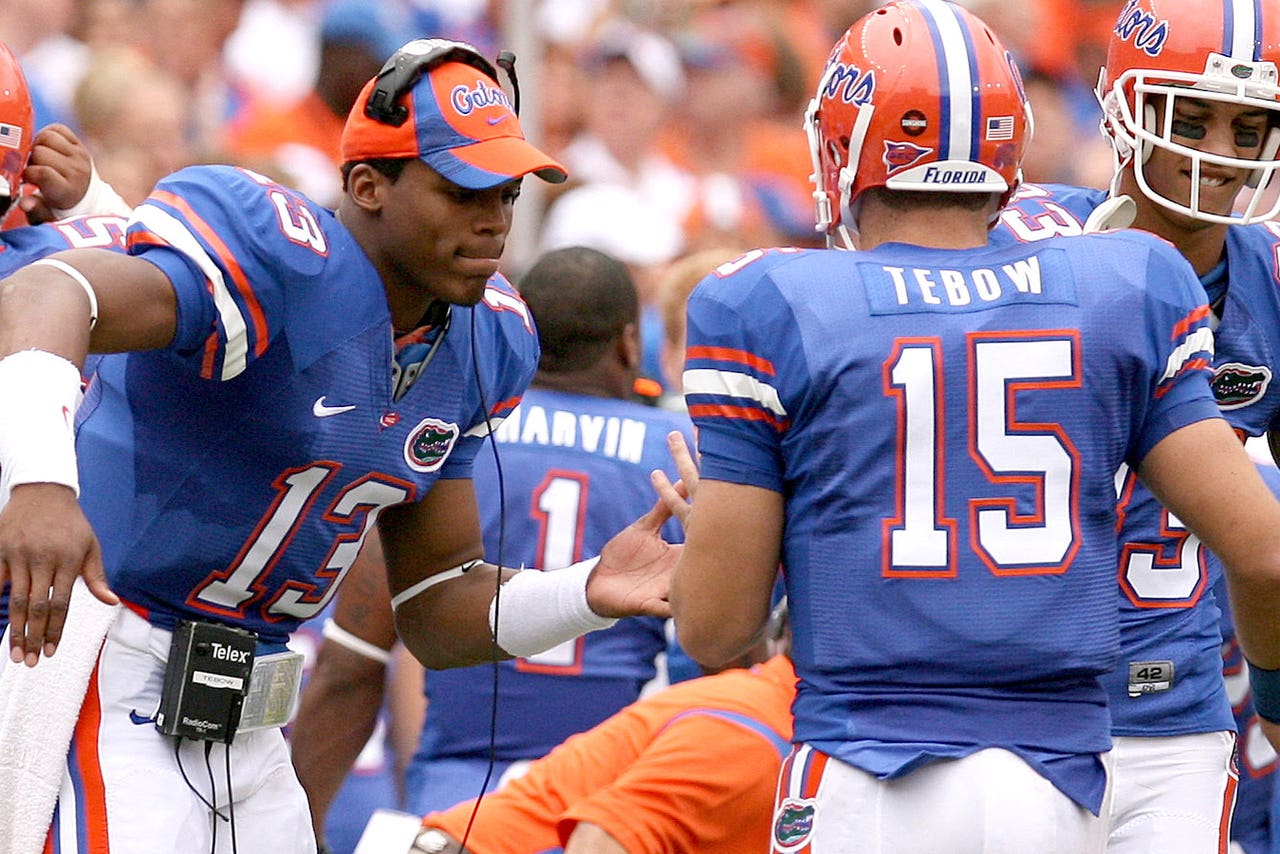 Carolina Panthers quarterback Cam Newton is preparing for his first career Super Bowl in a season where he may also be honored as the NFL's MVP, but just seven seasons ago, he started off as Tim Tebow's backup at the University of Florida.
Newton was a five-star prospect in high school out of Atlanta, Georgia, and he chose the Gators -- helping to complete their top-rated 2007 class. He quickly beat out John Brantley, but he couldn't overtake Tim Tebow as a freshman. Although the Gators finished just 9-4 with a loss in the Capital One Bowl game, Tebow won the Heisman Trophy after setting several personal and school records. Newton finished with just 10 pass attempts.
Entering his true sophomore season, there were whispers about Newton taking Tebow's job, or at least making things interesting. Then-head coach Urban Meyer said he would likely use two quarterbacks in 2008 at the end of the 2007 season, per the Orlando Sentinel. However, during Florida's spring practices, there remained concerns about Newton's progress as a passer. Newton would go on to play in the season opener, where he injured his ankle and took a medical redshirt season.
With another season of Tebow, the Gators finished 13-1 -- they capped off their season with a 24-14 victory over the Oklahoma Sooners in the 2008 BCS National Championship game. Newton might have returned in 2009 with an opportunity to split snaps with Tebow, but one mistake changed the course of his college career, affected many different coaches and altered the destinies of two national programs.
Almost three months after the injury, Newton was arrested and charged with stealing a laptop. He was kicked off of the football team. The charges against him were eventually dropped and he transferred to Blinn College for one season. He announced his intentions to transfer to Blinn just days before the championship game. Newton was back in the recruiting pool after his year at Blinn and chose Auburn for the 2010 season. 
Newton would find success quickly at Auburn. The Tigers finished 14-0 and capped off the season with a 22-19 victory over the Oregon Ducks in the 2010 BCS National Championship game. Newton completed 66.1 percent of his passes for 2,854 yards with 30 touchdowns and just seven interceptions that season. He added another 1,473 yards rushing and 20 touchdowns on 264 rushing attempts. He also added one receiving touchdown to bring his total up to 51 on the season.
Of course, Newton's time with Auburn wasn't without some controversy, either. He was eventually cleared, though.
Aside from the diverging paths that Tebow and Newton's careers took once they got to the NFL, it's amazing to think about how different the college football landscape would be if Newton had an opportunity to showcase his talents in Urban Meyer's offensive scheme during the 2009 or 2010 seasons. If he was there in 2009 and 2010, would Meyer still be at Florida? Would the Ohio State Buckeyes have won the 2014 National Championship?
The Newton/Tebow ripple is intriguing, and now it's reached the Super Bowl.
---
---