Super Bowl's most clutch kicker has some advice for McManus and Gano
BY foxsports • February 4, 2016
SANTA CLARA, Calif. -- The most clutch kicker in Super Bowl history has some advice for his two peers playing in their first championship game.
Relax, will ya?
That was essentially the message sent to Denver's Brandon McManus and Carolina's Graham Gano by Adam Vinatieri, who made the game-winning field goals in the final seconds of New England's victories in Super Bowls XXXVI and XXXVIII.
"You try to stay focused on the game, which you should do, but you should also enjoy the game, too, because it's so hard to get there," Vinatieri told FOXSports.com on Thursday. "You don't know how many times you're going to get there. It might be your only time. Soak it in. Enjoy the experience.
"The team that wins, it changes their lives forever."
Nobody knows that better than Vinatieri. His 48-yard field goal as time expired to lift the 2001 Patriots over the St. Louis Rams marked the first time in 31 seasons that a Super Bowl was decided by a last-second kick. Vinatieri followed that two seasons later by booting a 41-yarder with four seconds remaining in New England's 32-29 victory over Carolina.
"The kick itself wasn't that much different," Vinatieri said. "The major difference is every season is different. When we went (to the Super Bowl) for the very first time, we weren't expected to win. Nobody thought we'd even be in the game. The second one, we were expected to win so there was more pressure to be successful.
"I think the first time you win a Super Bowl is like the birth of your first child. It's special in its own way. All the other ones are equally special, but I think the first one is the most emotional one."
One major difference in kicking from those Super Bowls is the change in extra point rules. The NFL moved back the spot of the kick 15 yards to the 33-yard line this past season, which resulted in far more misses than during the chip-shot days. A botched attempt by Stephen Gostkowski, who replaced Vinatieri with the Patriots in 2006, played a significant part in New England's 20-18 loss to Denver in the AFC Conference Championship Game.
"You can't just go out there and fake it anymore," said Vinatieri, who missed three of his 35 attempts for Indianapolis this past season. "If anything goes wrong --€" snap, hold, you kick it wrong --€" there's been times in the past where I'm sure not only myself but everybody else you might have mishit a kick but it still went through because it was a shorter distance. Now, you can't get away with that. You'll miss it if you don't hit it well."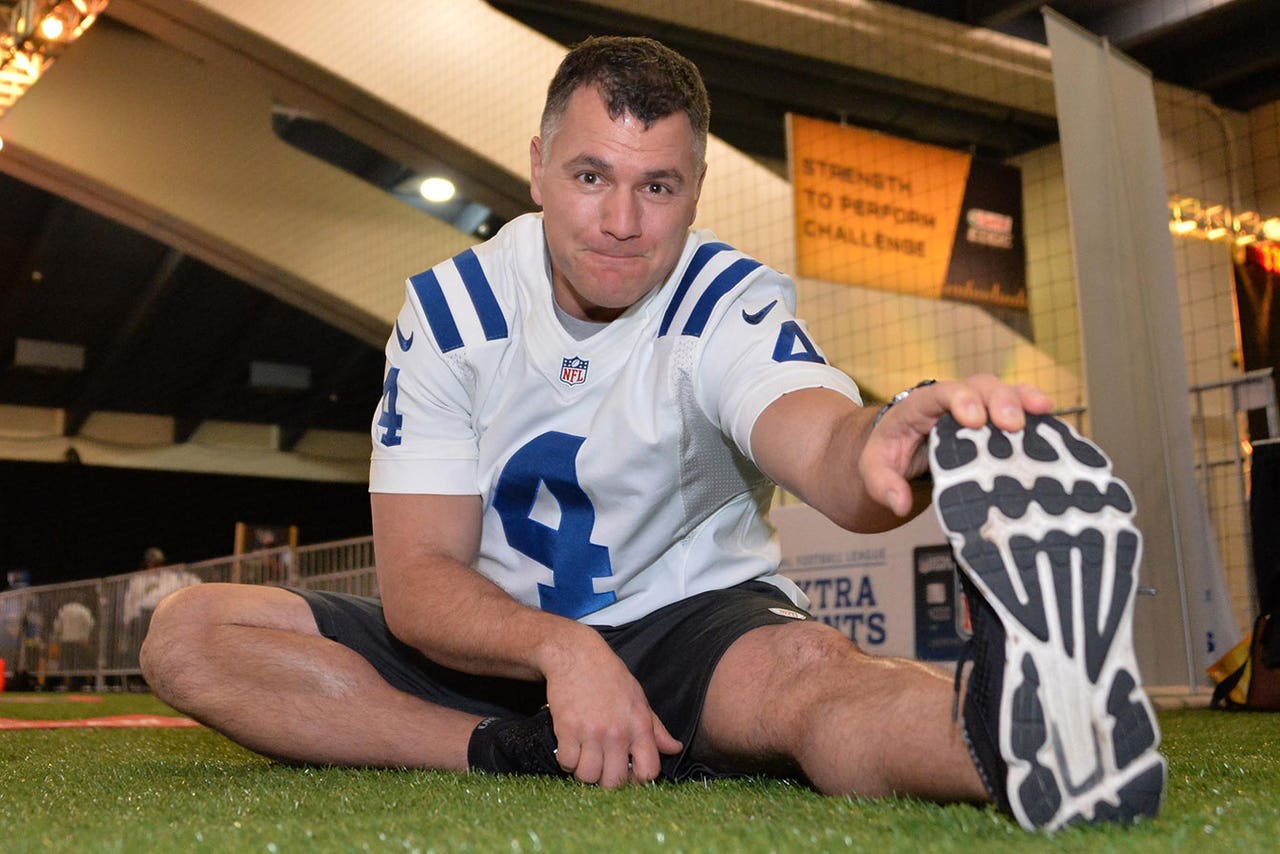 Adam Vinatieri looked sharp at the NFL Extra Points Kick Challenge to benefit the Pat Tillman Foundation
Vinatieri was on the mark Wednesday when participating in the NFL Extra Points Kick Challenge at Super Bowl 50 that raised $15,000 toward the Pat Tillman Foundation. Vinatieri was happy to help the cause --€" he comes from a military family and was friends with Tillman before his friendly-fire death in 2004 while serving as an Army Ranger. Vinatieri, though, admits he would rather be trading places with either McManus or Gano.
"The only thing I wish is that it wasn't so long since I've been there," said the 43-year-old Vinatieri, whose last Super Bowl appearance came with the 2009 Colts. "I'm fortunate to have been a part of six (appearances) but it's been a few years.
"When you've been there once it's like a crazy drug I guess. You just want to be there every single time. It's hard to watch other teams playing for the trophy when you're not in it."
---
---