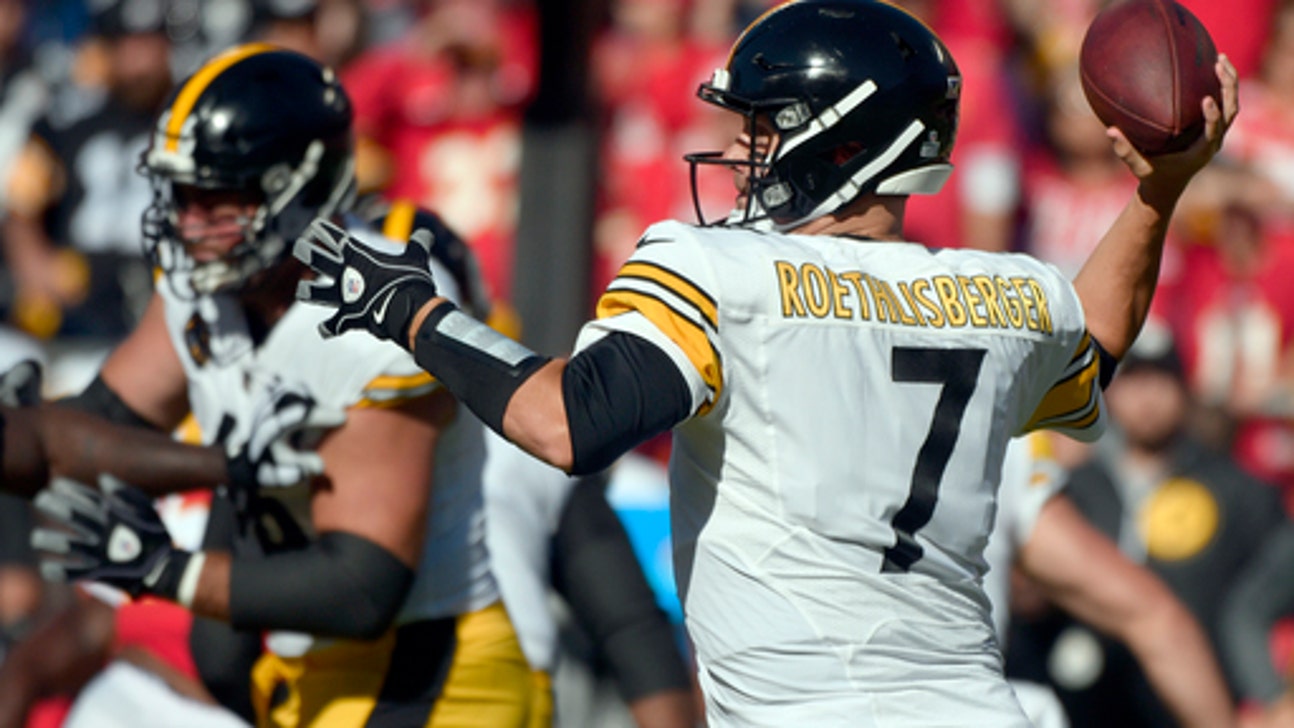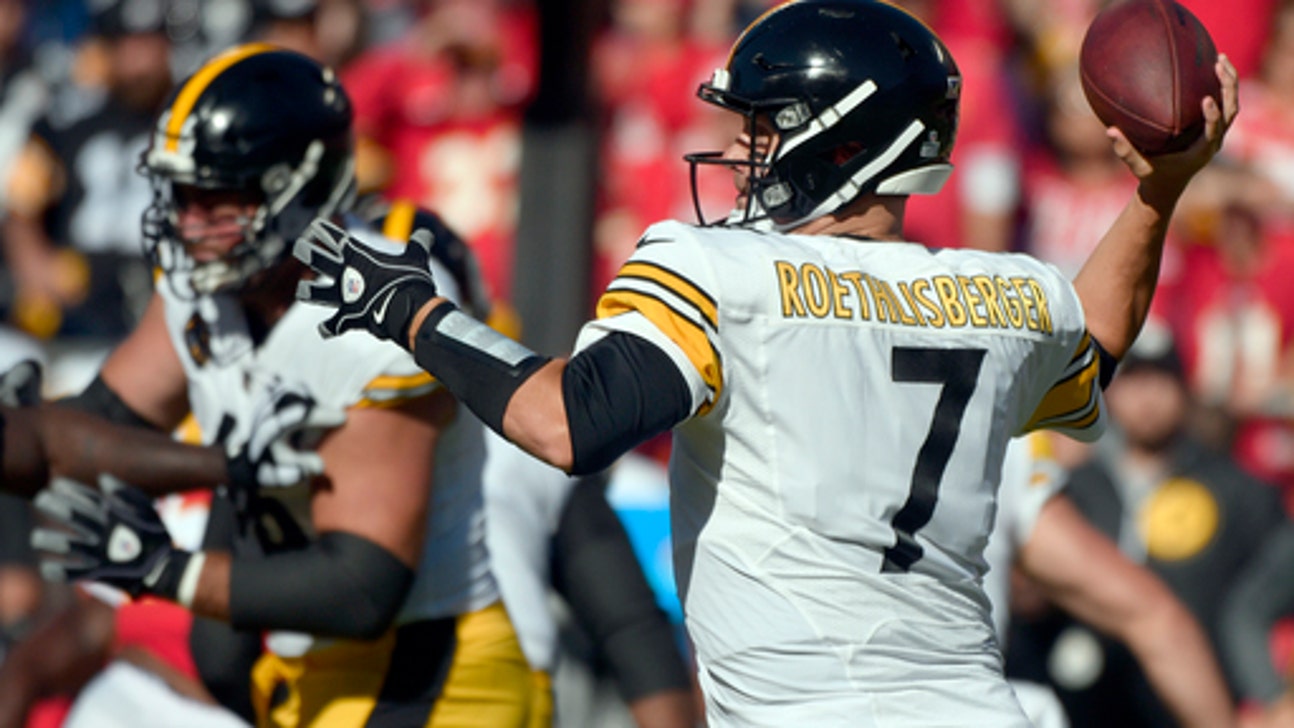 Steelers' 'Killer Bs' back on track in win over Chiefs
Updated
Mar. 4, 2020 2:47 p.m. ET

KANSAS CITY, Mo. (AP) Steelers quarterback Ben Roethlisberger was so disheartened after his five-interception performance against Jacksonville last week that he half-jokingly talked about having lost it.
Running back Le'Veon Bell subtly criticized the Steelers' play-calling this week, and wide receiver Antonio Brown was just a couple of weeks removed from his own sideline temper-tantrum.
The ''Killer B's'' had become the ''Dysfunctional Dudes.''
Well, they got back to normal Sunday.
Roethlisberger ripped apart the Kansas City Chiefs for 252 yards and a touchdown, forcing the ball into some near-impossible windows. Bell hammered away for 179 yards and a score, his patient running style causing Kansas City headaches all afternoon. Brown hauled in eight passes for 155 yards, the big highlight a tipped 51-yard touchdown reception late in the fourth quarter.
The result was a 19-13 victory that could very well turn around Pittsburgh's entire season.
''I guess,'' Roethlisberger said, ''this old cowboy has got a little left in him.''
The Steelers (4-2) appear to have a little left in all of them.
They certainly had their detractors after the Jaguars romped to a 30-9 victory, the Steelers' worst home defeat in a decade. Throw in an overtime loss to the lowly Bears and all the drama surrounding some of their biggest stars, and some wondered whether a team with legitimate Super Bowl aspirations was in danger of coming apart at the seams.
Their performance against the red-hot Chiefs answered any lingering questions.
They dominated the first half in every facet, pounding away with Bell and keeping the NFL's top scoring offense on the sideline. Kansas City only ran 11 plays and gained 6 yards in the first quarter, and was still searching for solutions when the break rolled around.
When the Chiefs finally got on track, the Steelers had an answer every time.
''The thing about Kansas City, they do what they do,'' Bell said. ''We made the right calls in the right situations and sometimes they made the right calls and got us off the field. It was kind of a chess match, but it's always a good game when we come here.''
The Chiefs knew what they were going to get from Pittsburgh, too. It just didn't matter.
''They were not afraid of us. They beat us twice last year,'' Chiefs linebacker Derrick Johnson said. ''Regardless of what happened with them and the Jags, hat's off to them. They were a tough team today.''
The Steelers' season is starting to resemble last year, when four consecutive losses left them 4-5 in late November. But they leaned on Bell and Brown down the stretch and ripped off seven straight wins to reach the playoffs, then trounced the Dolphins before beating the Chiefs at Arrowhead Stadium.
That game bore plenty of similarities to Sunday, too. Bell churned for 170 yards. Brown caught six passes for 108. And the Steelers' defense held the Chiefs in check in an 18-16 victory.
''It was all about our team today,'' Brown said. ''We rode in together. We came into a hostile environment; we beat a great opponent on the road, an undefeated opponent. That speaks volumes about this group. It speaks volumes about the guys in this locker room.''
The fact that Pittsburgh's biggest stars shone the most brightly should be no surprise.
That's what they're paid to do.
Roethlisberger is making nearly $22 million. Bell's franchise tender makes him the league's top-paid running back at $12.1 million. Brown is the top-paid wide receiver at $17 million.
The trio earned those paychecks against the Chiefs.
---
For more NFL coverage: http://www.pro32.ap.org and http://www.twitter.com/AP-NFL
---
---