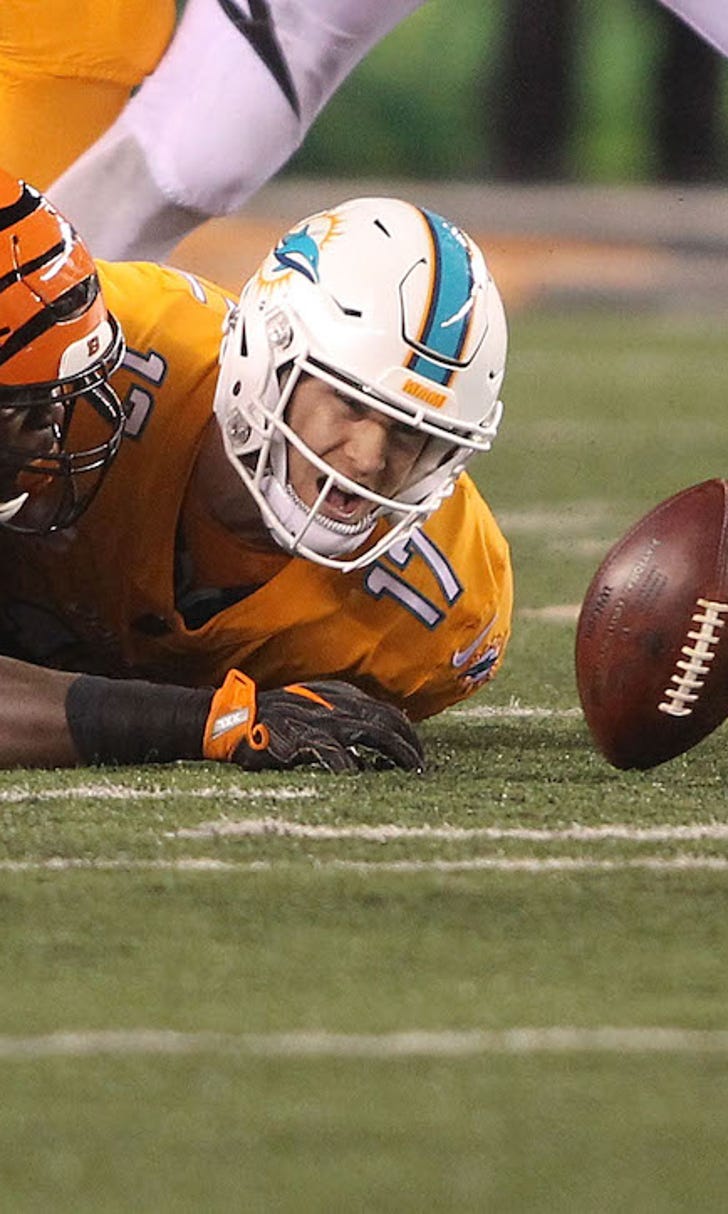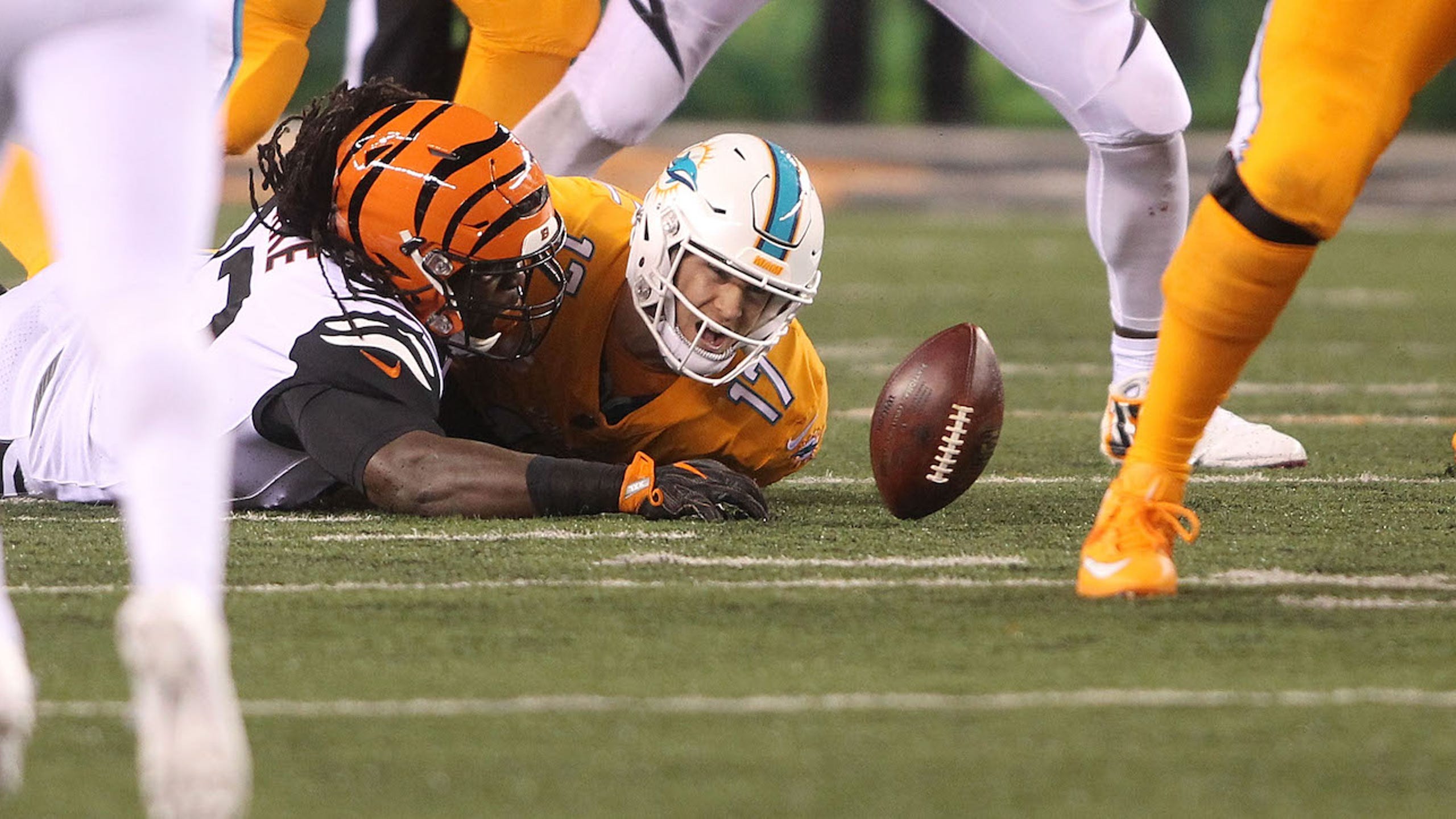 Sorry, Adam Gase, even you can't fix Ryan Tannehill
BY foxsports • October 13, 2016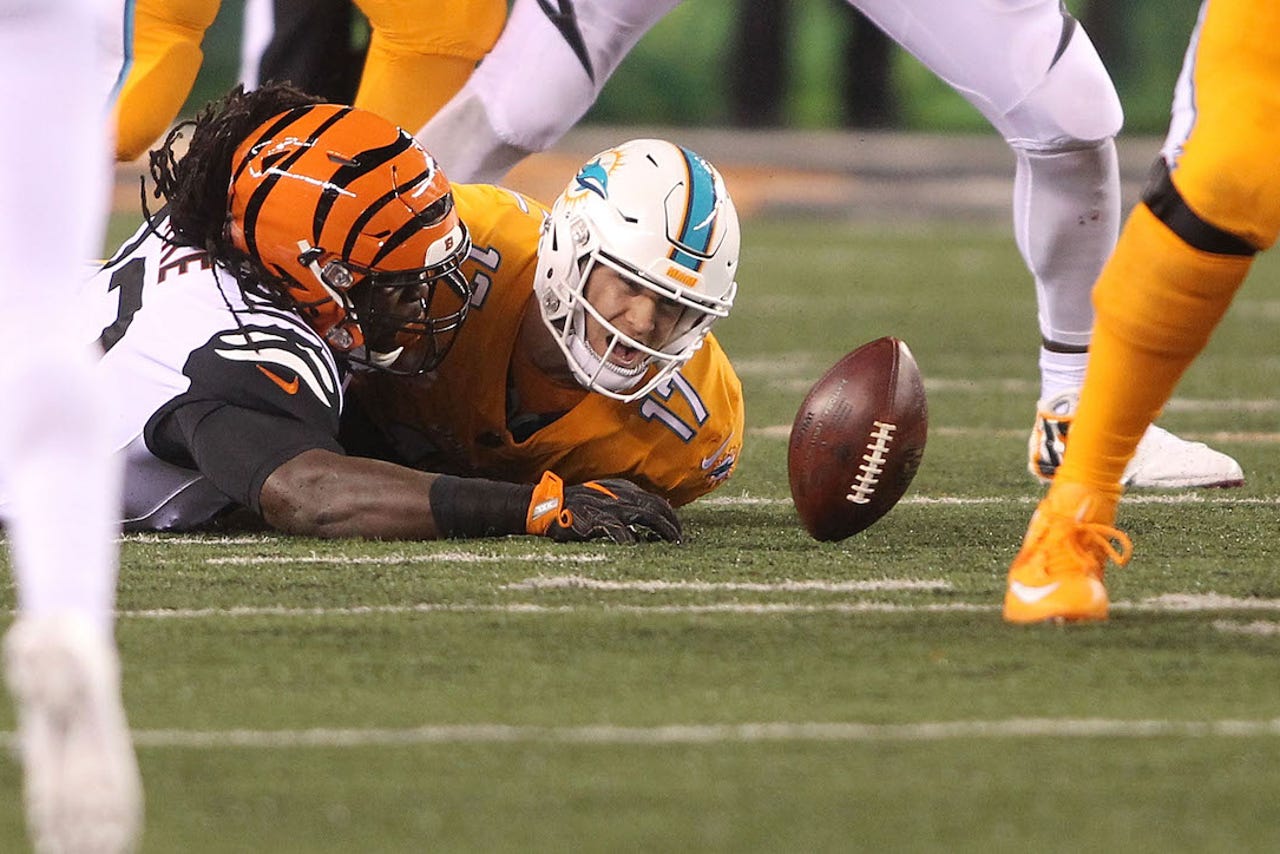 Joe Philbin went through it for three-plus seasons. Now it's Adam Gase's turn.
Call it the Three Stages of (Ryan) Tannehill.
First comes the honeymoon phase, generally before the season starts. As a coach, you see Tannehill's size (6-foot-4, 216 pounds), arm strength, athletic ability and his quick motion, and dream about the future and all that you can accomplish with him. No huddle. Zone read. Play-action bombs. It all seems possible on first glance.
In the second stage, the actual games start and things just don't work out as you envisioned. Something is missing, and the offense flounders. You say to yourself, "Ryan has all these gifts; it can't be him." So you find excuses on film —€" the offensive line, inconsistent drops from the receivers. "We need to play better around him, it's not all Ryan's fault; he's our guy," you finally declare.
The third stage is when reality sets in: Tannehill, for all his talents, just doesn't have the instincts for the position. If they ever come, it will be later in his career, like Rich Gannon. But you won't be around to see it.
It only took five games, but Gase is already elbow-deep in Stage 2 mode and the prognosis isn't good.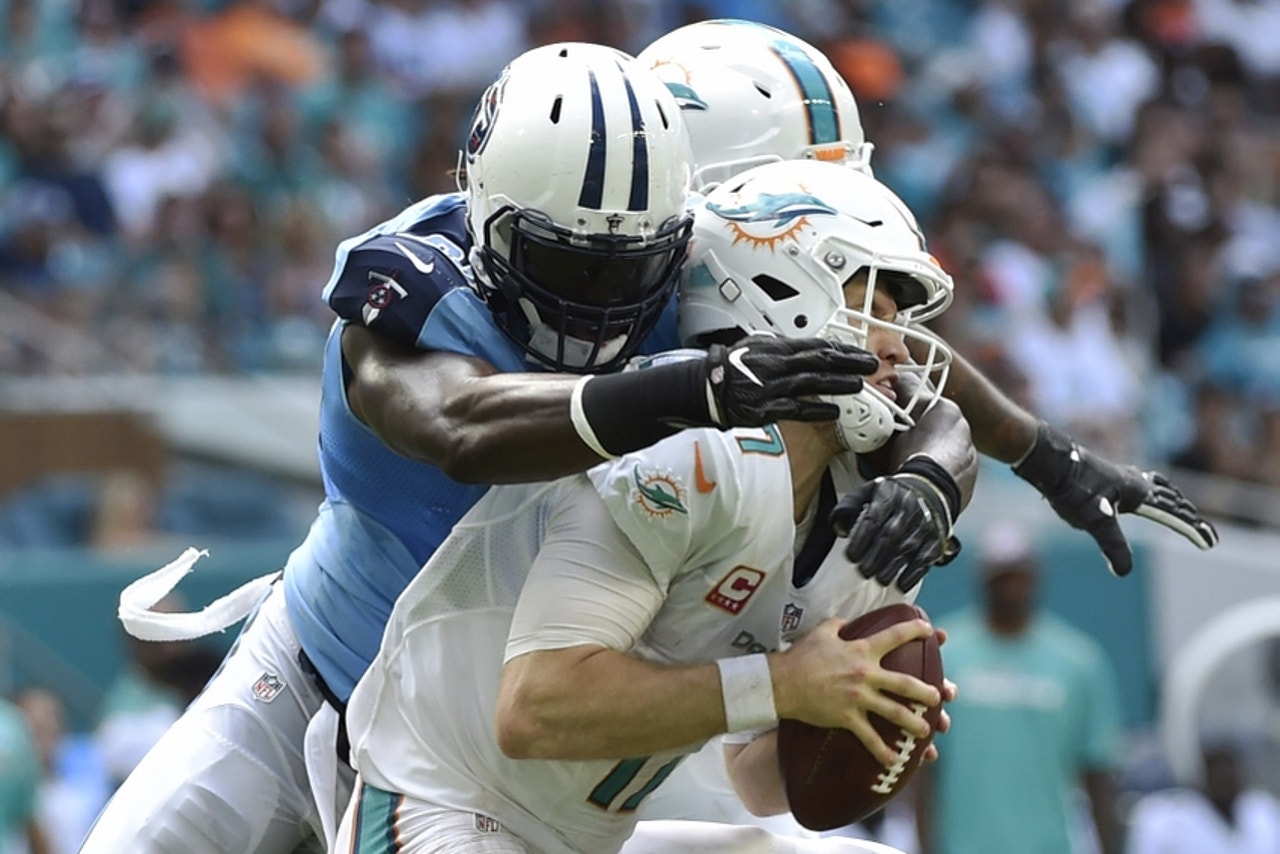 "He's not coming out," Gase said this week. "You can ask me 100 times. He's going to be in there the rest of this season.
"I know when we have 18 drop-back passes (in Sunday's 30-€"17 loss to the Titans) and he's hit or sacked on nine of them, and then the completions we do have, he's got guys in his face, so I'm supposed to blame him for that?"
Gase is absolutely biased when it comes to Tannehill. The former Bears offensive coordinator was hired so quickly because he told the Dolphins that he could fix Tannehill, their prized possession whom they made the sixth-highest paid quarterback in the NFL last year. He counts $11.64 million against the cap this year, and then $20.3 million in 2017 (but the Dolphins can get out). Gase was the quarterback whisperer. He made Jay Cutler a viable NFL quarterback. Certainly Gase could work wonders with Tannehill, who is a much better person and more diligent at his craft.
After going 7-€"9, 8-8, 8-8 and 6-10 in Tannehill's first four seasons, the Dolphins are off to a 1-€"4 start with the Steelers and Bills up next on the schedule. Tannehill's 83.6 passer rating is No. 21 in the league. His seven interceptions are tied for third-most in the league. When compared to the rest of the league through FootballOutsiders.com's computations, Tannehill is No. 31 in defense-adjusted yards above replacement, No. 31 in defense-adjusted efficiency and No. 30 in ESPN's QBR.
Since Gase is biased, what is the actual truth about Tannehill? How much is on him and how much has to do with his surroundings?
I watched all 17 of Tannehill's sacks and his seven interceptions, the kinds of plays that absolutely kill an offense. I wasn't even grading that strictly and the final tally showed that Tannehill was mostly at fault on 15 of the plays (62.5%), his teammates didn't give him any chance on eight (poor pass protection and/or poor routes or execution by receivers), and one play was too close to call either way.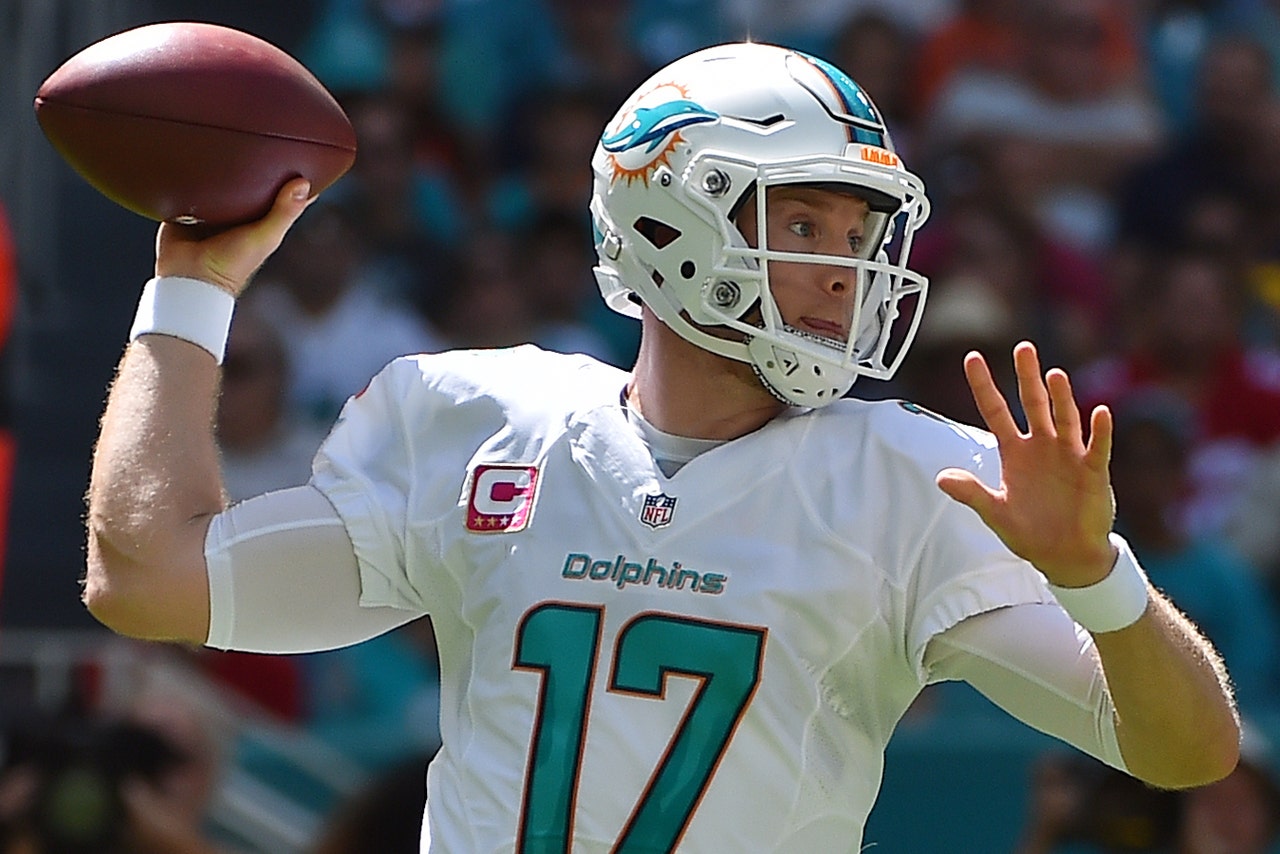 That is way too many plays being the quarterback's fault for an offense to properly function. Yes, pressure on Tannehill aside from the sacks has been a problem. According to ProFootballFocus.com, Tannehill has felt pressure on a league-high 43.3% of his dropbacks. Pressure speeds up quarterbacks and throws off their rhythm. But that is not Tannehill's issue, and that's the biggest problem.
On a vast majority of the sacks and interceptions that are his fault, the same issue keeps coming up. Tannehill gets to the top of his drop (when the ball is supposed to come out), none of his downfield options are open, and instead of maneuvering in the pocket to buy more time, or quickly coming to his checkdown (Gase does a great job of giving Tannehill a fail-safe), Tannehill stays in the pocket, doesn't feel the rush coming and gets hit. It's maddening. The best quarterbacks in the game have an innate feel for the rush and can make subtle movements in the pocket to help their line and receivers. Tannehill possesses neither of those important tangibles, and it's his biggest barrier in projecting future improvement.
The one thing going for Tannehill is that it sounds like he's being told what the issue is.
"I have to find a way to get the ball out," he said this week. "Receivers have to be able to get open quickly. I have to see them get open quickly and use my feet, if necessary.
"You have to be able to move. Some of it is ... You have to have time to move. If your eyes are downfield and you're looking at one [receiver and] you get hit from behind, it's tough to move at that point. As a quarterback —€" as a guy who has the ability to move —€" I feel like I need to be able to escape the pocket some and get out of harm's way."
Other quarterbacks with athletic ability, like Russell Wilson and Andrew Luck, play behind poor offensive lines but find a way to perform at a high level because of their natural instincts in and around the pocket. Tannehill is at the other end of the spectrum. It would be one thing if this was his second or third season. He's in his fifth. Tannehill is what he is at this point, and it's not good enough.
Read Greg A. Bedard's entire Blanket Coverage column at SI.com.
---
---