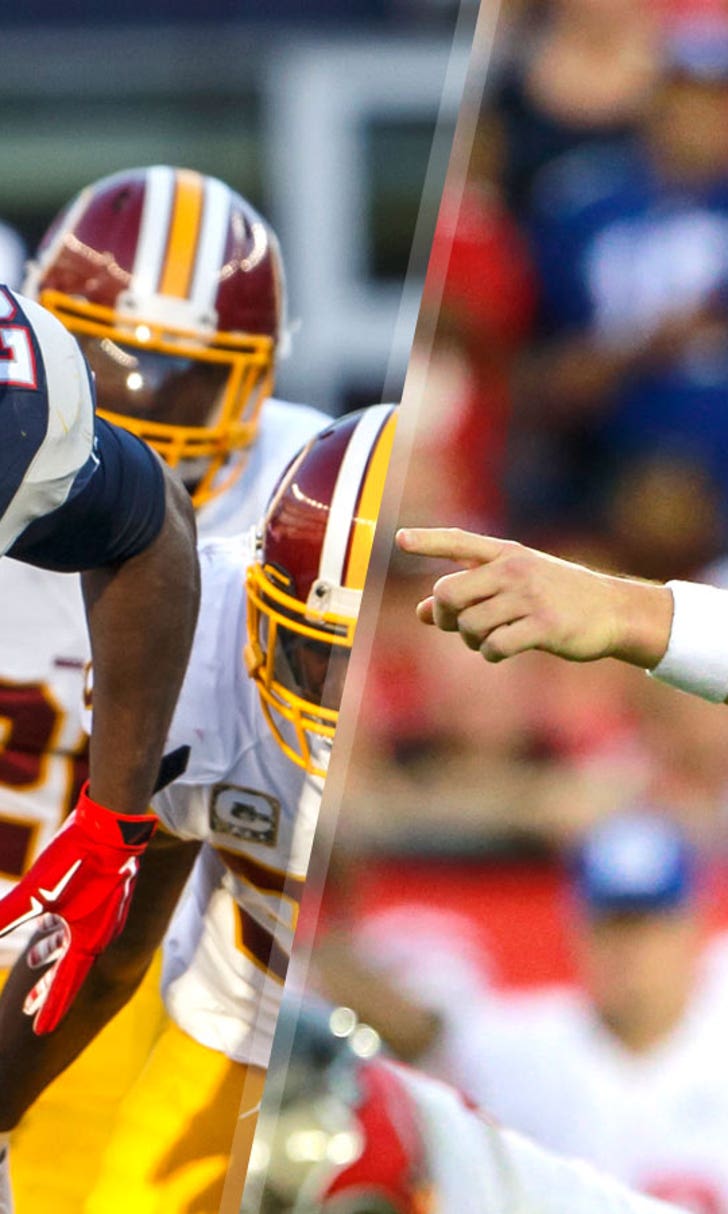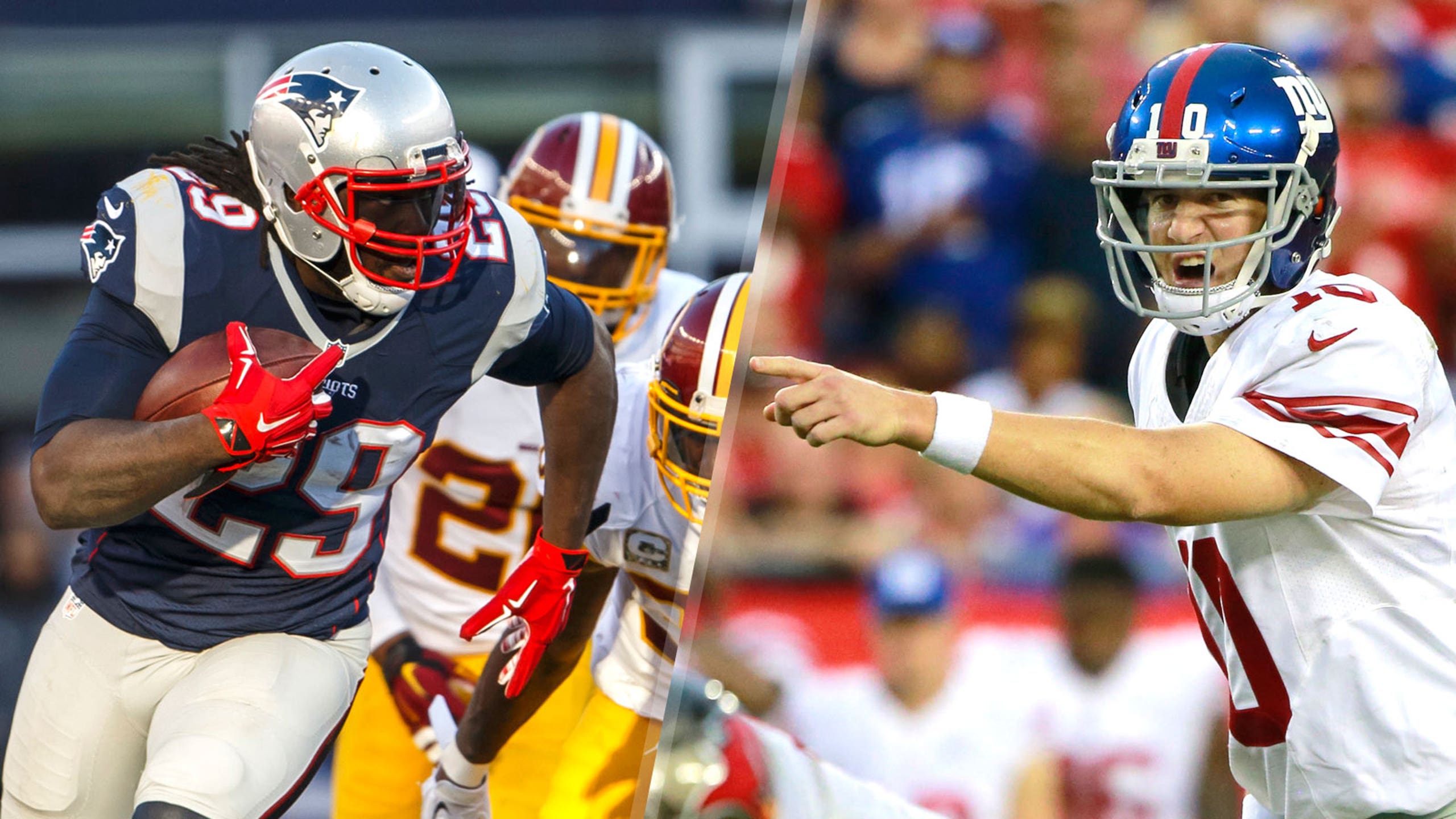 Six Points: Patriots vs. Giants
BY foxsports • November 13, 2015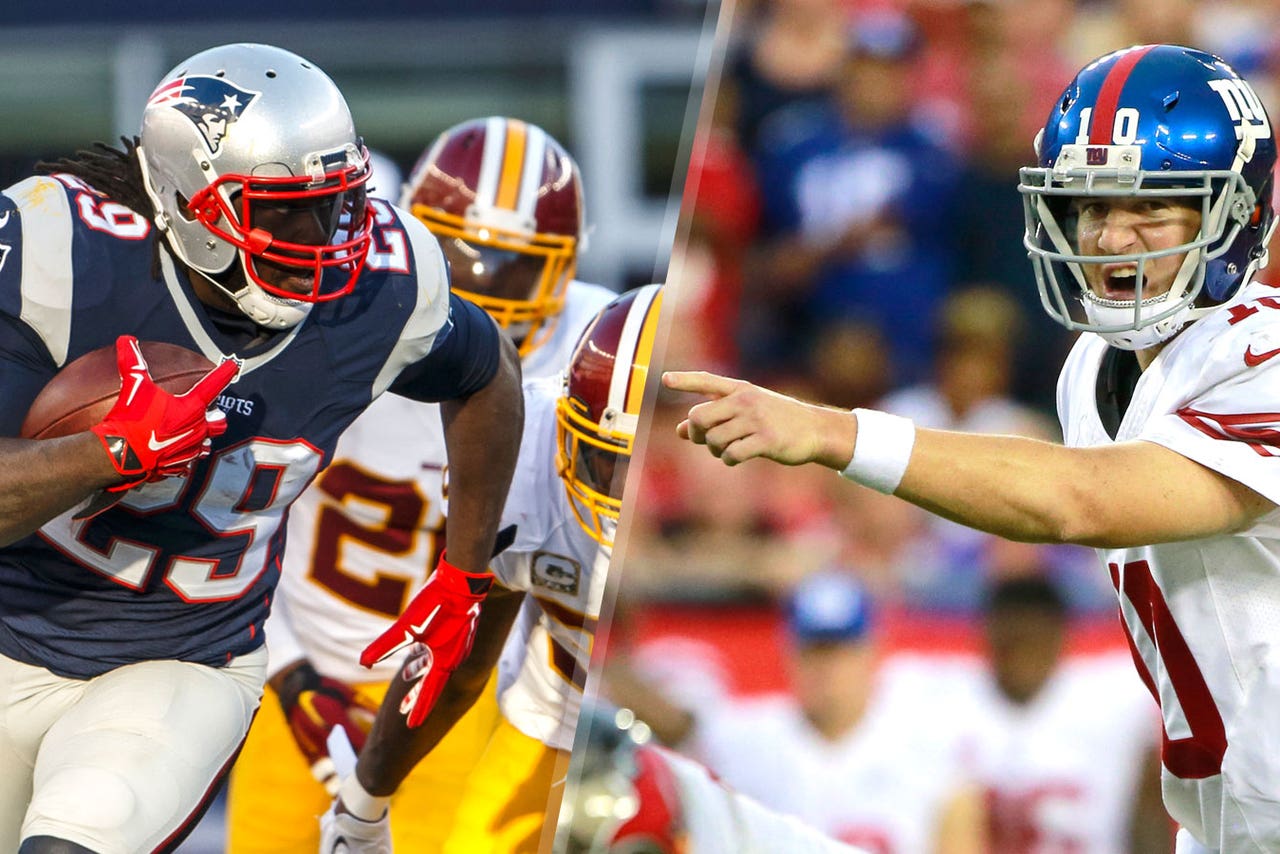 In a clash of two teams in first place in their division, the New York Giants (5-4) host the undefeated New England Patriots (8-0) at MetLife Stadium on Sunday.
The Giants are the only remaining team that the Patriots have not defeated since Super Bowl XLII in 2008. Stats like this are fun to toss around, but as New England's head coach Bill Belichick said earlier in the week, these past games have very little bearing on this matchup.
Here are three keys to the game for both the Patriots and Giants.
Can you beat the Crowd's Line? Submit your final score prediction below. Good luck!
1. Establish the run with LeGarrette Blount
The Patriots have proved that running the ball isn't a requirement to open up the passing game for Tom Brady. However, New England has a running back in Blount who can set the tone early on. Against the Redskins, Blount was able to wear down the defense with a healthy dosage of carries and can do the same against the Giants this week. There's no doubting Brady's ability to take over a game, but getting Blount involved early certainly won't hurt.
2. Get pressure with just four pass rushers
It's the Giants' best weapon, and it's something that can help the Patriots if they do the same. If the Patriots can get pressure on Eli Manning with just four pass rushers -- as they have thanks to Chandler Jones and Rob Ninkovich -- it will allow Matt Patricia to drop seven in coverage and make it more difficult for Manning to find open receivers. Additionally, it will help the defense send extra coverage Odell Beckham's way.
3. Score touchdowns in the red zone
The Giants have shown the ability to put up points in bunches, scoring 49 against the Saints in a losing effort. This game can undoubtedly turn into a shootout with both teams fielding high-powered offenses, which means field goals may not be enough. The Patriots scored touchdowns on just three of six red-zone possessions last week, leading to a season-low 27 points against Washington. New England must correct those mistakes this week in New York.
1. Only send four pass rushers
Brady is at the stage of his career where you can't afford to send extra pass rushers at him -- he'll simply diagnose your blitz and find the open receiver every time. Having said that, the Patriots are seriously beat up along their offensive line. In Week 9, they kicked their right tackle over to left tackle, put a rookie at left guard and even kicked over a center (Bryan Stork) to the right tackle for 46-of-80 snaps. The Giants need to rely on their front four to get pressure on Brady. In Week 9, we saw a specific package generate the most pressure. From right to left, that package included Jason Pierre-Paul, Robert Ayers, Cullen Jenkins and Damontre Moore. We should see a lot more of that grouping in Week 10.
2. Stick with the running game
New England's defense has been dominant the past two weeks. They have limited the Dolphins and Redskins to just 17 points, and save for a garbage-time touchdown in Week 9, that number would be 10. If there's one area where the Patriots haven't been as dominant it's against the run. The Giants may actually have the upper hand on a few matchups along the interior line. Center Weston Richburg and left guard Justin Pugh are playing at a Pro Bowl level. The Giants should look to use their four-headed running back by committee between the tackles early and often. The last thing the Giants want to do is stop the clock and put their defense on the field for the majority of this game.
3. Move Dominique Rodgers-Cromartie around the formation
After Rodgers-Cromartie played nearly 98 percent of his snaps at left cornerback entering Week 9, the Giants finally moved him, their best cornerback by far, around the formation in Week 9. This was an obvious move considering the matchup -- Buccaneers wide receiver drew 16 targets and primarily lined up at left wide receiver. In Week 10, the Giants would not be wise to leave him at left cornerback. New England's top-two receiving options, Rob Gronkowski and Julian Edelman, very rarely line up at right wide receiver.
---
---