Matthew Stafford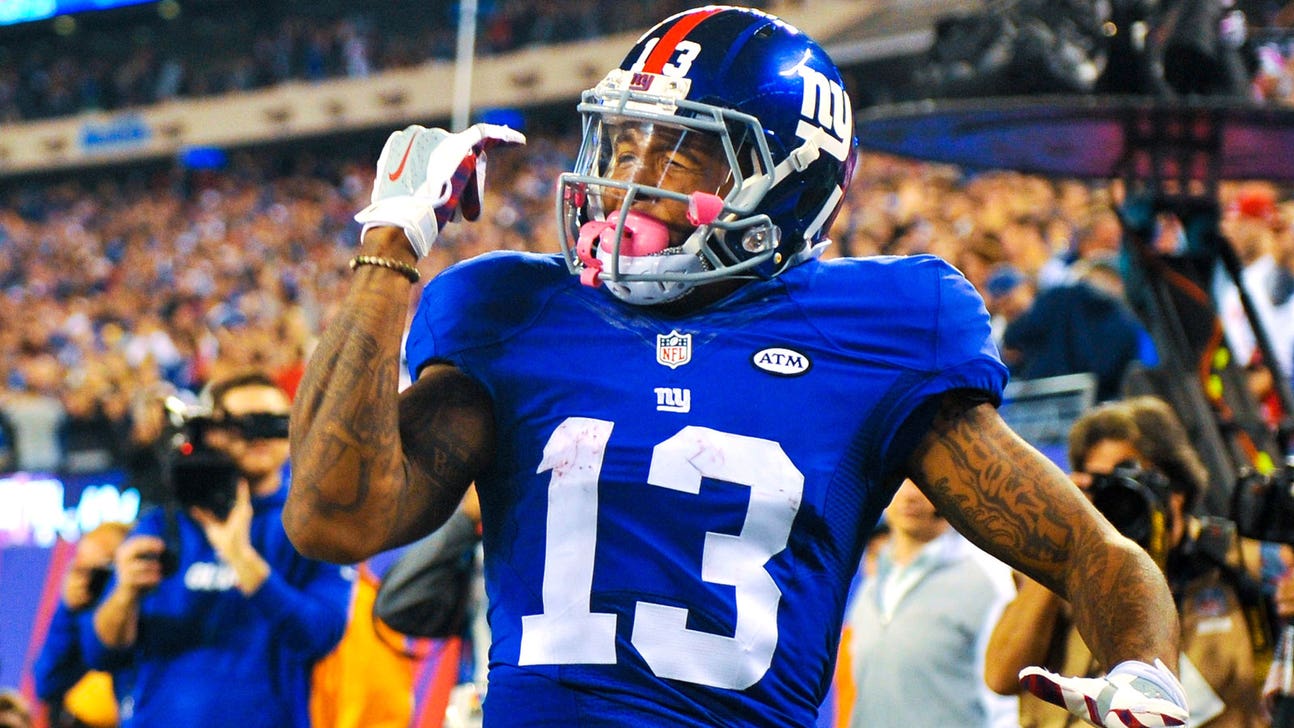 Matthew Stafford
Six Points for Week 5: Giants show some fight in gritty win
Published
Oct. 12, 2015 1:39 a.m. ET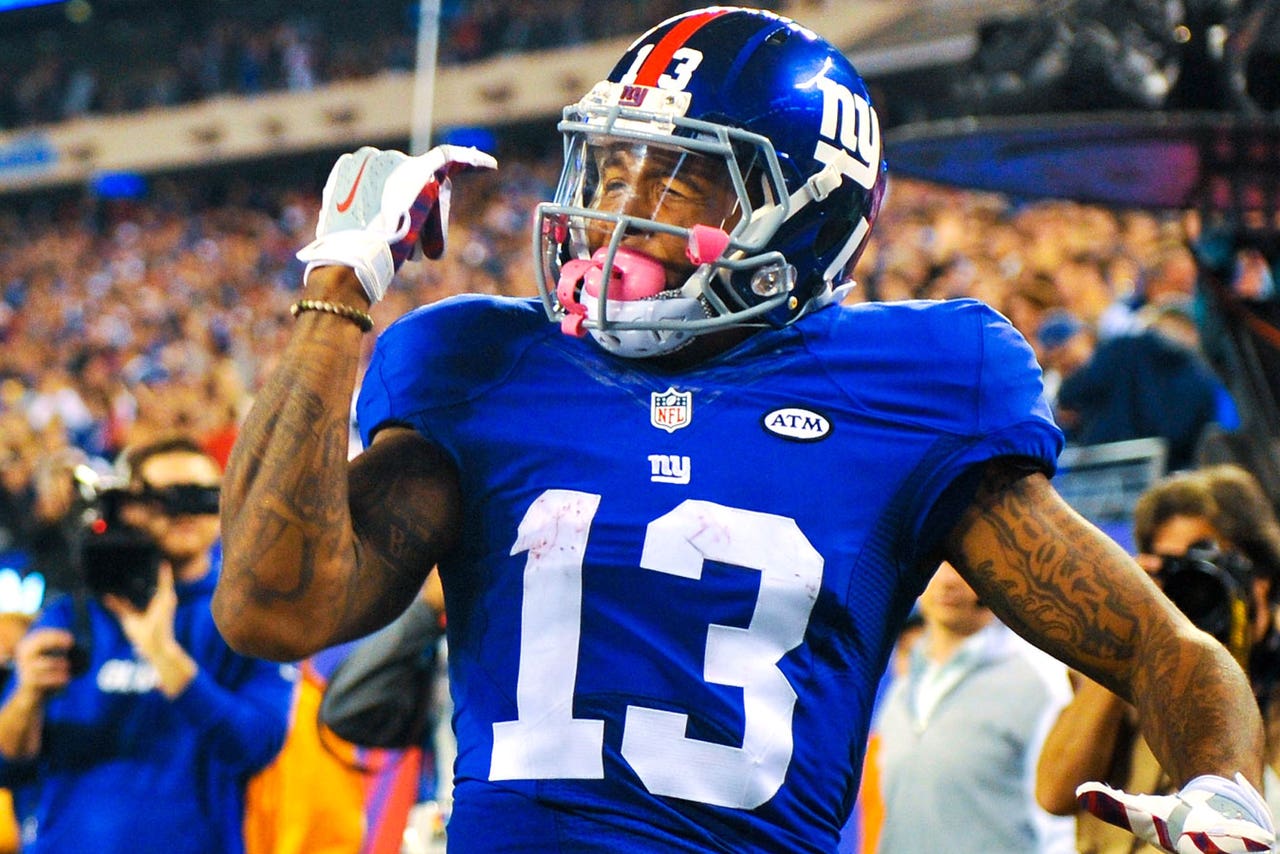 Odell Beckham limped up the tunnel and toward the home locker room, gripping a game ball tight with one hand and using the other one to wipe away tears with the tips of his glove.
The New York Giants wide receiver grunted and sighed with each stride, with the noises a mixture of pain, celebration, frustration, exasperation and elation.
Beckham had just experienced the highs of scoring another touchdown, recording another 100-yard game and participating in another team victory. He'd also felt the twinge of another hamstring injury, one that appeared to be suffered during a vigorous end-zone celebration that left him limping and sidelined him for much of a tightly contested fourth quarter. (Beckham denied the injury happened during his dance and claimed it happened a few plays earlier.)
Like the entire Giants team, Beckham's performance in Sunday night's 30-27 victory was both gritty and ugly. He talked his way back onto the field and drew a pass interference penalty on his first play back to set up the game-winning touchdown pass from Eli Manning to tight end Larry Donnell with 21 seconds left.
The play lifted the Giants, winners of three straight after being counted out by many after an 0-2 start, to the top of the NFC East.
"It seems like we're always counted out and things don't always go our way and in the past we've made mistakes," Beckham said at his locker after the game. "They say history is doomed to repeat itself. It was great to be able to see this team and the fans just light the stadium up. They gave us the energy we need to be able to go down there and score the winning touchdown.
"I love doing this. I love football and there's no way you can't be part of moments like that. That's what you play for."
Make no mistake about what happened here at MetLife Stadium on Sunday night. If Tramaine Brock had just pinched his forearms closer together as he attempted to cradle the football for a game-sealing interception that instead contacted the turf for an incomplete pass, no one would be talking about the Giants' grit. In fact, this space would have been devoted to breaking down the best performance by Colin Kaepernick so far this season (23 for 35 for 262 yards and two touchdowns).
But the Giants got a break when replay reversed Brock's interception to an incompletion. A few plays later, after Beckham returned to the game and drew the penalty, Manning threw a perfect ball over NaVorro Bowman and into the grasp of Donnell, who somehow held on to the back of the football and controlled it as he fell to the ground.
It was quite the ending for Tom Coughlin's team, especially considering Manning's top three targets were on the sideline for most of the fourth quarter. In fact, the NBC cameras caught a rather artistic shot of Beckham, Victor Cruz and Rueben Randle all seated with blank looks on their faces as Manning began the comeback drive.
"The only time I notice wide receivers is in the first huddle of a series," guard Geoff Schwartz said, "and I was like, 'Oh, we have some young guys in there.'"
Midway through that final dive, Schwartz watched his fellow offensive guard Justin Pugh run off the field with an ankle injury. Earlier in the game, the Giants had lost middle linebacker and defensive captain Jon Beason to a concussion.
And they were playing this game without tight end Daniel Fells, who has been in the hospital for over a week as he battles a MRSA infection in his foot. Coughlin said the team dedicated their performance to Fells and his family "and thank God we were able to give him a game ball" rather than a losing effort.
After two straight losing seasons and three consecutive years without a playoff berth, these Giants do seem to have a little bit of fight in them. Again, they got a huge break when Brock didn't secure the interception and, for the third time this year, they couldn't make a fourth-quarter stop to hold a lead.
But confidence has a funny way of taking hold of a team, and this group has some right now. On a night the Giants inducted two key members of their 2007 and 2011 Super Bowl teams — guard Chris Snee and defensive end Osi Umenyiora — into their Ring of Honor, they played like some of Coughlin's former, gritty teams.
"They're resilient, they're tough, they're tough-minded. They (think of) themselves as a scrappy bunch and they are that," Coughlin said, adding: "I told them in the locker room it took every guy tonight, every guy to secure the win. People were playing and getting pushed into roles they hadn't been in before. That's the real sign of a team."
And Manning played like the old Manning, the one who regularly leads late game-winning drives. Sunday night marked the 27th of those in his career, yet only the third since the start of the 2013 season.
"We're sitting on the bench watching the defense and (the 49ers) score. I tell him, 'You gotta put the team on your back, bro, you have to do it, somebody has to do it,'" Beckham said of Manning, who set a franchise record with 41 completions on his way to throwing for 441 yards and three touchdowns. "He stepped up big."
Coughlin said this comeback from Manning is "about as high as you can rank it."
That's called hyperbole.
"Well, there were a couple in the Super Bowl, obviously," Manning said with a laugh. "This one was special just because we hadn't been as good in the two-minute drives as we once were and we should. ... I've got the confidence we could do it, but sometimes you need that reinforcement, you need to do it, you need to have that success and get that attitude, get that feeling.
"It's big for this team. It was a big win today. It was special."
COLIN'S COMEBACK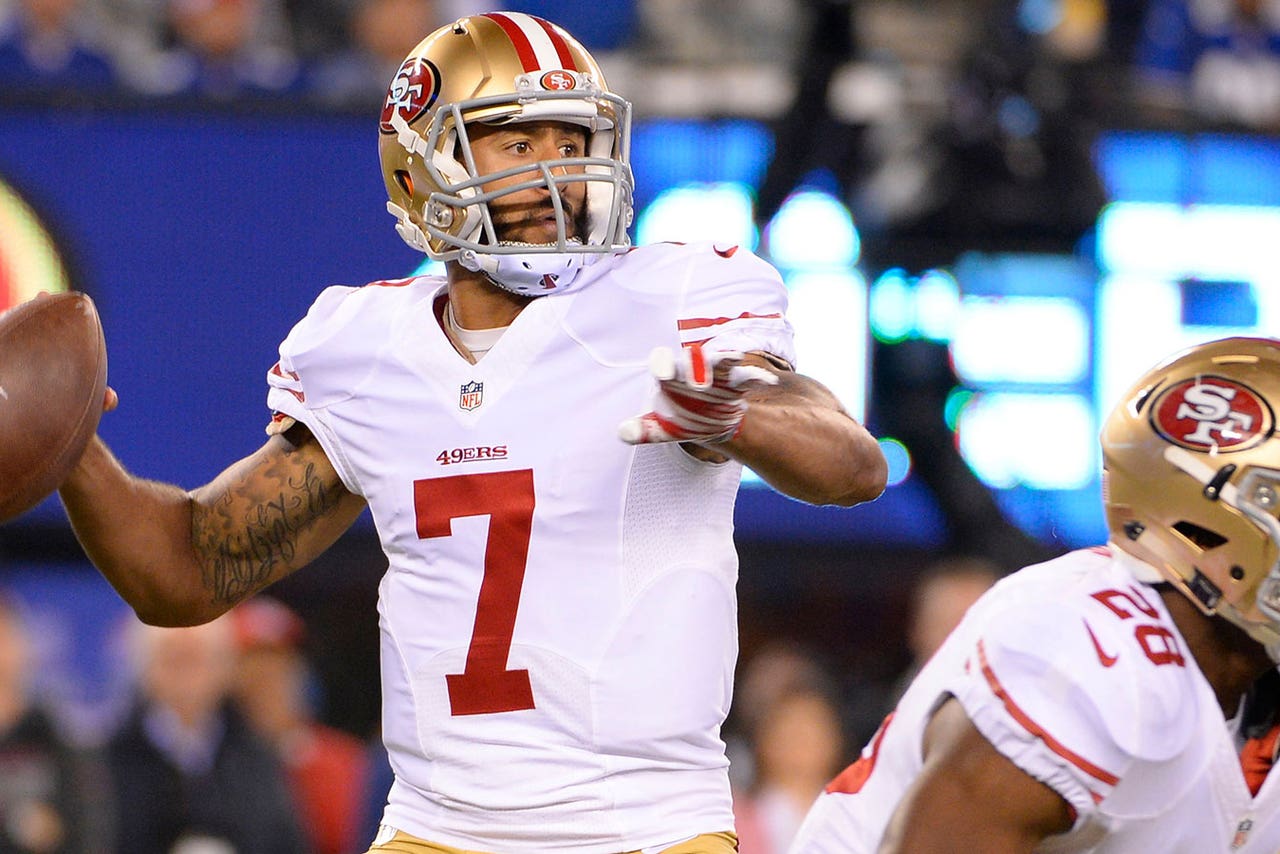 Kaepernick isn't broken.
That was the good news for San Francisco on Sunday night, news that got pushed to the national back burner after the Giants' comeback but will be viewed as a sign of progress within the walls of Niners' facility. The team has been trying to be as patient as possible with Kaepernick in recent weeks, despite performances that might have made some start to wonder whether the next escape hatch in his contract would be useful for the team.
The team's patience was no more evident than when coach Jim Tomsula was about to lose his mind over Kaepernick's calling a timeout at the end of the third quarter instead of just letting the clock run out. It was a waste of what could have been a useful timeout later. Like a parent trying to go easy on his kid, Tomsula went from rage to a calm look and a "That's all right" in a hurry.
Meanwhile, the team's veteran wide receivers Anquan Boldin and Torrey Smith have been staying patient and remaining supportive both publicly and privately. The gist of what the Niners players and coaches wanted from Kaepernick is for him to start letting it fly downfield instead of being hesitant in his reads.
Kaepernick did that, after getting comfortable on shorter passes early in the game, and it led to good results.
There was a deep ball to Smith in the second quarter that drew a holding penalty, a gorgeous ball on a vertical route to Boldin for 37 yards early in the third quarter, another good ball on the next play that could have easily been a touchdown but was slightly overshot, a good read on a hot route early in the fourth quarter and a deep ball to Smith that drew a 28-yard pass-interference penalty to set up a touchdown.
It was by no means a perfect performance and there were times Kaepernick again held the ball instead of taking a shot down the field on a mid-range or deep ball. But it was progress.
"You're able to complete some short stuff and it keeps you confident and you make some more plays," Smith said of the progression of Kaepernick's night. "He did a great job. I said I'm proud of him and we've got to continue to build on that."
"Obviously," Tomsula said, "that was much better."
If there's been one constant criticism of Andy Reid over his career, it's been his clock-management skills, or lack thereof. On Sunday, Reid opened himself to even more second-guessing in an 18-17 home loss to Chicago.
Trailing 17-12, the Bears were driving against Reid's Kansas City Chiefs and threatening to take the lead with less than a minute left. On a first-and-10, Jay Cutler hit Martellus Bennett for a 6-yard gain to the Chiefs' 7-yard line. The play ended with 52 seconds left and the Chiefs had two timeouts left, though Reid opted not to take one there. With 23 seconds left, Cutler took the next snap and hit Matt Forte for the go-ahead touchdown.
The ensuing kickoff came with 18 seconds remaining, and the Chiefs' desperate attempt at a comeback ended with a 66-yard field-goal attempt from Cairo Santos that wasn't even close.
Had Reid taken a timeout after Bennett's catch, Kansas City would've had 48 seconds to put Santos in better position for his kick. And even worse, Reid still had a timeout left in his pocket at the end of the game.
It's a matter of feel for a coach whether to take a timeout while trying to defend a lead. Nearly all of America was screaming for Bill Belichick to take a timeout in the last Super Bowl, but he sensed some chaos on the Seattle Seahawks' sideline, so he decided to let it play out. There's no telling whether the Seahawks would have changed their minds about throwing the ball instead of handing it to Marshawn Lynch if Belichick had called a timeout.
Belichick looked like a genius; Reid did not.
The Seahawks' gaffe aside, put me down for conserving time in that situation. Clearly, that's what Reid should have done on Sunday.
STAFFORD'S SITUATION
Two of the recent coach hirings in the NFL were done with quarterback development in mind. They were the Houston Texans' grabbing Bill O'Brien from Penn State and the Detroit Lions' bringing in Jim Caldwell to work with Matthew Stafford.
In Houston, O'Brien doesn't seem to have a firm feel for whether he thinks Brian Hoyer or Ryan Mallett is the best option for his team over the long term. O'Brien doesn't look like he's had a plan for how to manage those two. If not for Mallett's injury that briefly knocked him out of the game on Thursday, he might still be the starter in Houston. But Hoyer came in, played well in relief and, despite a bad throw for an interception late in the game, convinced O'Brien he should be the starter — which is what O'Brien decided before the season and should've decided again even after the Week 1 loss.
In Detroit, where on Sunday Stafford was on the sideline in the third quarter — the third quarter — in favor of Dan Orlovsky — Dan Orlovsky. That smacks of a desperate attempt by Caldwell, who has been unable to do for Stafford what he did for Joe Flacco as the Baltimore Ravens offensive coordinator in 2012, to distance himself from Stafford's play.
But frankly, it hasn't been that bad. Stafford had a 65-percent completion rate entering Sunday and had five touchdowns to five interceptions. He's a former No. 1 overall pick with four straight seasons of 4,000 or more passing yards. He's not Hoyer or Mallett. He's a team leader. He's by far the Lions' best option.
Caldwell had better know what he's doing on this one, otherwise he might lose Stafford's confidence, support from the locker room and the faith of front office.
Don't bet against Charles' returning from another ACL tear — and returning strong.
Charles has always been a hard worker and a tough guy. Another recovery from a significant injury will test him, but a few people who know him well were already expressing confidence on Sunday night he will be ready for another challenge.
Charles turns 29 on Dec. 27, so he'll still be on the right side of 30 when he begins next season. He might never be an unquestioned feature back the way he's been for much of his career, but he has a good shot to be productive for the Chiefs, or whoever will have him.
Charles is set to earn $6 million in total compensation next year — none of which is guaranteed. There's a chance the Chiefs will ask to reduce that number, though Charles fought hard to get a new deal before last season, so chances are he'll try not to make any changes heading into the season.
The Chiefs might have to make a tough call on Charles' contract and will have to make another one on the other side of the ball as well. Nose tackle Jaye Howard is playing very well and recorded a sack/forced fumble that resulted in a touchdown on Sunday. He's on his way to a big payday as a free agent, which means the Chiefs will have to figure out if they can keep him and Dontari Poe, who battled a back injury this summer.
A source said the Chiefs had preliminary discussions with Howard and offered in the range of $4 million per year. But Howard could make upward of double that on the market if he continues to play as well as he has been.
CHAMPIONSHIP FORMULA
The 190 points scored by the Arizona Cardinals through their first five games is the seventh-most in history. The 2013 Denver Broncos have the most with 230. Yes, those same Broncos who are now 5-0 with just 113 points scored. Amazing how their philosophy has changed so quickly, yet the results are the same.
Anyway, back to the Cardinals, who have a point differential of plus-100 right now. That's significant. Very significant.
The last six teams that have had a point differential that big after five games all went to the Super Bowl, with four of them winning it all. Those teams are the 2007 Patriots, the 2006 Bears, the 1999 Rams, the 1996 Packers, the 1991 Redskins and the 1975 Steelers.
Not that the Cardinals are getting sized for rings just yet.
"It's far too early," wide receiver Larry Fitzgerald said regarding whether the team would celebrate on the way home. "At this point of the season last year, we had a two-game (lead in the NFC West) and didn't win it."
---
---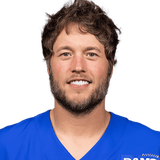 Get more from Matthew Stafford
Follow your favorites to get information about games, news and more
---