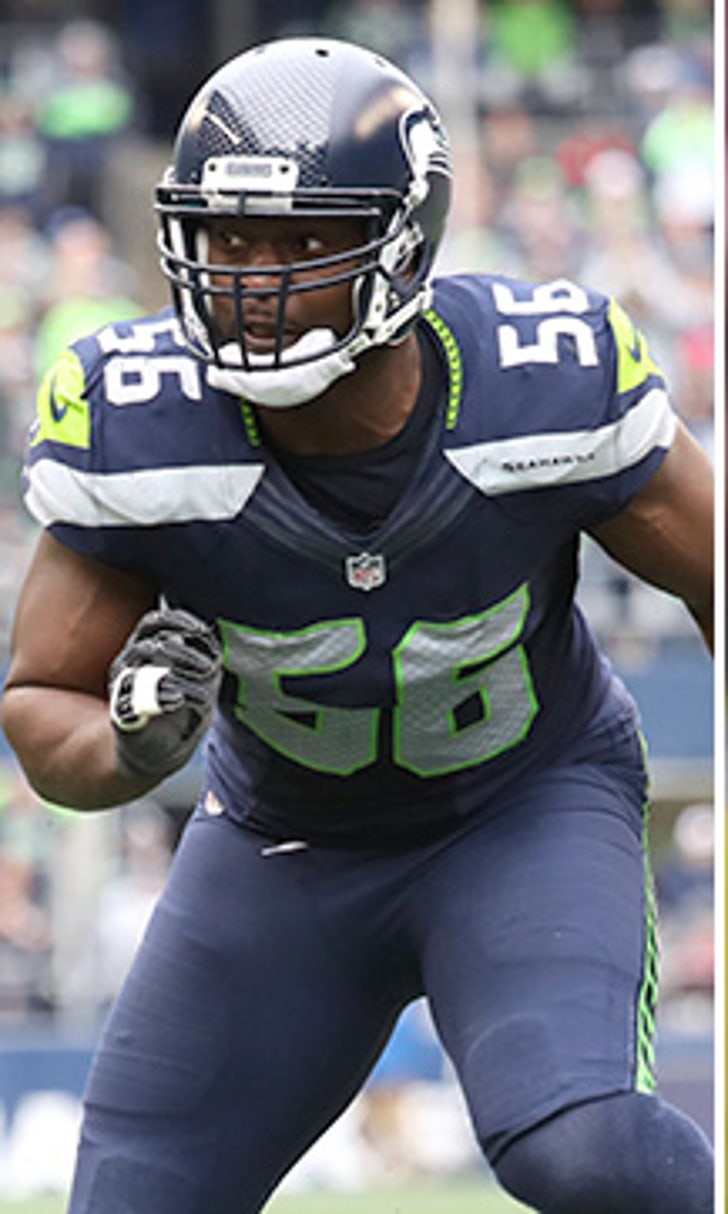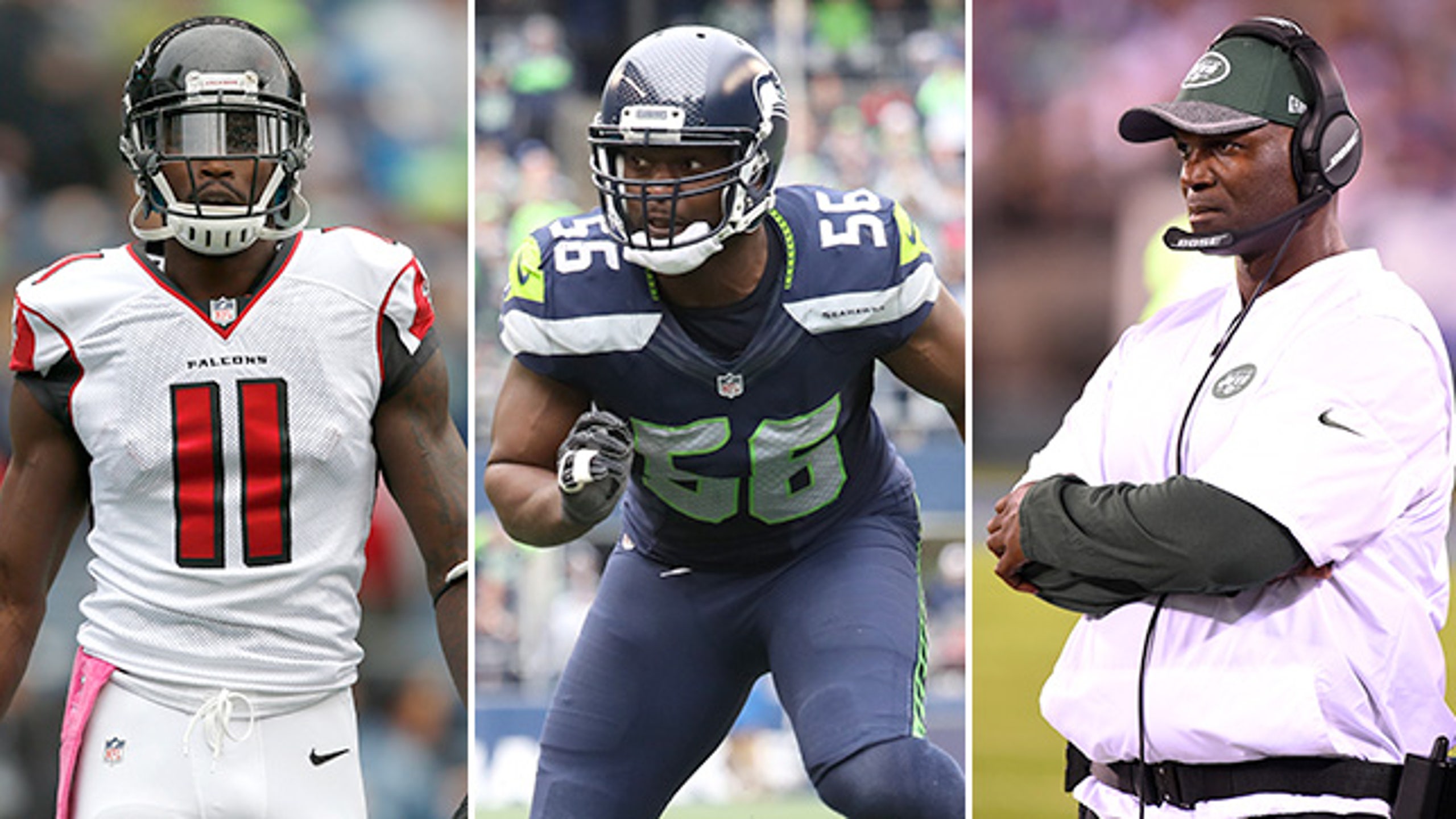 Short-Handed Pack Against Julio Jones, the Underrated Cliff Avril and a Glitch in the Jets D
BY foxsports • June 30, 2017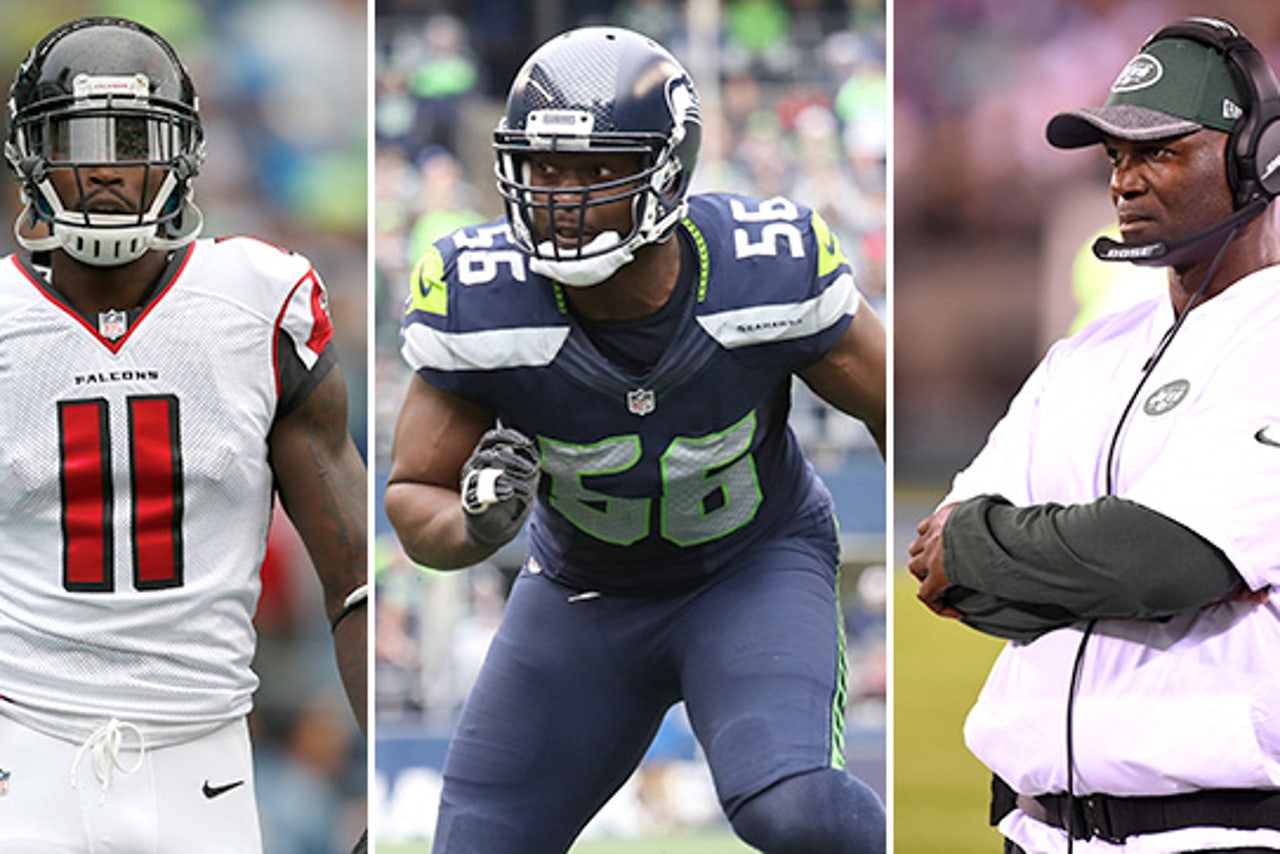 Green Bay at Atlanta
Packers: Most encouraging about Davante Adams' 13 catches last Thursday was that nine of them came along the right sideline—an important area in Green Bay's scheme and one where Adams has struggled in the past.
Falcons: What's the plan for Julio Jones this week? The Packers are frighteningly thin at cornerback, with Sam Shields on IR, Damarious Randall and Quinten Rollins out with (separate) groin injuries. The Falcons could align Jones on the weak side (as they traditionally do) and be assured of a very favorable mismatch. Then again, Packers defensive coordinator Dom Capers doesn't blitz when his secondary is thin. Which means Capers can afford to double Jones with a safety. Leaving Jones on the weak side makes those double teams easy and straightforward. Moving Jones around poses complications.
* * *
Kansas City at Indianapolis
Chiefs: Several times against New Orleans tight end Travis Kelce stood out positively as a run-blocker, often at the point of attack. That's a huge boon to this offense.
Colts: This defense doesn't have a potent edge-rusher. Erik Walden has good numbers, but they're not indicative of how he looks on film. Robert Mathis, 35, has been very quiet. Yes, Mathis had a fumble recovery return touchdown to seal the win against Tennessee last week. But that was created by defensive tackle T.Y. McGill, who beat backup guard Brian Schwenke with a tremendous inside move. It's very difficult to field a competitive NFL defense without an edge rusher.
* * *
* * *
Oakland at Tampa Bay
Raiders: Another QB who has been up and down is Derek Carr. He's playing with the wrong mental tempo right now. On film you see him coming off good reads too early and staying on bad ones too long. This will go one of two ways for the Raiders: either Carr gets this corrected and they remain on the 5-2 pace that they've still managed to set. Or, Carr continues to struggle and it eventually catches up to this team.
Buccaneers: It wasn't a stereotypical Bucs defensive approach at San Francisco last week. They played a little more man coverage and dialed up some designer pressures, including a nice edge blitz out of a double-A-gap look on corner Jude Adjei-Barimah's sack.
* * *
Seattle at New Orleans
Seahawks: Is there a more underrated defensive end than Cliff Avril? His combination of speed and leverage is as good as anyone's in football. That's why he has 19 forced fumbles since 2011, tied with Los Angeles's Robert Quinn for the most in the league.
Saints: Drew Brees was not his usual sharp self at Kansas City last week. A few times he was inaccurate, including on Daniel Sorensen's interception touchdown. There were other cases where Brees could have been picked off after making poor reads. We share this only because Brees was also a little up-and-down four weeks ago against San Diego. To be fair, though, his "ups" have been very high up.
• JIMMY GRAHAM TRADE FINALLY MAKES SENSE: The star tight end has become the most dangerous weapon in the Seahawks' offense.
* * *
Detroit at Houston
Lions: Matthew Stafford, known gunslinger, has thrown significantly more short passes this season. A new system and new receivers have helped make Stafford a new (more disciplined) quarterback.
Texans: Bill O'Brien should consider running the ball more often out of passing formations. Against Denver last week, the Texans gained 52 yards on the six times they rushed with three receivers on the field. And they ran 10 times for 74 yards out of 3x1 sets. All of these yards either converted a third down or put the Texans on schedule in the down-and-distance. Running out of passing formations could also be a good way to calm down the defenses that, these days, probably appear very swarming to Brock Osweiler.
* * *
Washington vs. Cincinnati (London)
Washington: Don't be surprised if tight ends and running backs catch a lot of balls in London. Washington's coaching staff does a great job calling pass plays that beat a predicted coverage. And the Bengals coverages you can predict: usually, they'll involve two high safeties. Underneath throws are the best way to attack this.
Bengals: The Bengals had a world of trouble against Cleveland's read-option. While mobility doesn't define Kirk Cousins's game, he's still apt enough in this department to warrant a read-option call or two. He got a big one last week late in the game against Detroit that he took 19 yards to the house.
• EIFERT TIME IN FANTASY: Why to put the Bengals tight end back in your lineup, plus 39 more pieces of fantasy advice.
* * *
New England at Buffalo
Patriots: Last time Bill Belichick and D coordinator Matt Patricia faced Tyrod Taylor, they wanted to make him hold the ball in the pocket. So they played a lot of Cover 2 behind a three-man rush. And in man coverage, they at times designated a QB spy. There's no reason to think this won't be the case again.
Bills: The problem with this run D at Miami was the front seven played too laterally against outside zone rushes and the back seven missed too many tackles.
* * *
N.Y. Jets at Cleveland
Jets: This D had a glitch exposed last week. When the Jets played "2 man," (man-to-man with two safeties over the top), the Ravens a few times had kept a tight end and running back in to help pass block. The Jets defenders who had those pass-blocking tight ends and running backs in man coverage responded by blitzing. (Many call this a "green dog" blitz.) Those blitzes vacated the middle of the field, leaving slot cornerback Marcus Williams on too much of an island. Williams was beaten in the middle by Kamar Aiken for 20 yards on third-and-19 and 29 yards on third-and-8.
Browns: We're going to keep finding silver linings to help drive home the point that, though winless, the Browns are not a joke. Each week on film they've looked like a respectable professional football team. Right now they're just not a very good one. This week's silver lining: Against the Bengals, Hue Jackson and offensive coordinator Pep Hamilton did an outstanding job calling pass plays that defined the read for Cody Kessler and Kevin Hogan. On almost every dropback, the play design clearly dictated where the ball should go. That's how you help a young QB become more comfortable.
• HACKENBERG AND THE WAITING GAME: While other first-year quarterbacks flourish, the pass-poor Jets are letting second-rounder Christian Hackenberg watch and learn.
* * *
San Diego at Denver
Chargers: Mike McCoy and offensive coordinator Ken Whisenhunt do a great job with rub route concepts to defeat man coverage off the line of scrimmage. The Broncos, as good of a man-to-man unit as you'll see, learned this the hard way against this team 15 nights ago. Defensive coordinator Wade Phillips adjusted in the second quarter, calling more zone coverages out of his dime package. It'll be interesting to see what Phillips does this time around.
Broncos: Two things that have really stood out lately with this offense: a lot of runs out of old-school I-formations behind fullback Andy Janovich, and a lot less play-action than you'd expect from a Gary Kubiak team (and especially from a Kubiak team that's running the ball out of base personnel so much).
• HOW DENVER STUDIES THE LITTLE THINGS: Denver feels like it found an advantage in dedicating two full-time coaches to studying the tells of opposing players.
* * *
Arizona at Carolina
Cardinals: Safety D.J. Swearinger has been playing well. In Arizona's matchup scheme he's often positioned as an enforcer over the middle and rarely gets isolated in coverage. That's exactly how you have to play with Swearinger.
Panthers: Perhaps the biggest change between the Panthers offense that Arizona faced in the NFC Championship and the one they'll see Sunday is the personnel usage. The 2015 Panthers were a two-tight end offense. The 2016 Panthers have played a lot more three-receivers.
* * *
* * *
Philadelphia at Dallas
Eagles: Carson Wentz has been doing a much better job of protecting himself the last few weeks, if not always in the number of hits then in how he takes the hits that he does absorb. The importance of this can't be overstated.
Cowboys: This is the best Cowboys secondary the Eagles have seen in years. Morris Claiborne has moved from right to left corner, and Brandon Carr vice versa. Both have played markedly better. Also, in the slot, Orlando Scandrick is slated to return after missing the last four games with injuries to both hamstrings. And the Cowboys can afford to bring Scandrick along slowly given how impressive sixth-round rookie Anthony Brown has been filling in.
* * *
Minnesota at Chicago
Vikings: Usually saying a guy "just knows how to play" is a way of actually saying nothing at all. But with Terence Newman, it's about all you can say. Newman is no longer fast. He's not particularly physical. His change-of-direction can be spotty. And yet he's been (mostly) rock solid as Minnesota's No. 2 boundary corner this year.
Chicago: Alshon Jeffery has struggled to get on track for a variety of reasons this season. Now he'll face Xavier Rhodes, one of the few corners in football physically equipped to match up to him.
• THE VIKINGS HAVE A PROBLEM: With both starting tackles on IR and an offense that lacks a quick-strike passing game, they will have to figure out a new way to keep the pressure off Sam Bradford.
* * *
Jacksonville at Tennessee
Jaguars: Blake Bortles is not throwing the ball well (obviously). What the Jaguars must determine is whether it is regression or merely a slump.
Titans: A power-running team that has been outstanding in the spread passing game in two-minute situations. Not a bad combination.
* * *
* * *
Bye Week Teams
Dolphins: Because he can be blunt with the media you can't always tell, but Adam Gase is one of the humblest coaches in the NFL. The latest illustration: Gase ran the ball on 41 of 73 snaps against Buffalo last week. A passing connoisseur, calling those runs must have felt to Gase like putting on a pair of damp socks. But he recognized his ground game was rolling. The Dolphins destroyed the Bills running outside zone out of three-receiver sets and behind six-man offensive lines. Both are tactics that defined Gase's rushing attack when he was in Denver.
Steelers: Second-round rookie Sean Davis started at slot corner in the defense's big nickel package early in the year. In Week 3, Davis also played significant snaps at his more natural safety position in place of an injured Robert Golden. But the past two games, he's been relegated to special teams. Mike Tomlin likes to keep a relatively set lineup in the second half of a season. Will Davis make it back into the group or not?
Ravens: The Ravens must really not like running outside zone plays against a defensive line as athletic as the Jets'. Because 13 days after changing offensive coordinators seemingly in part to establish more balance from the rushing attack, this offense went to MetLife Stadium and played in a close game without its best wide receiver (Steve Smith) and in high winds. And in that game Joe Flacco dropped back to pass on more than 80 percent of the snaps.
Giants: When talking about this at times befuddlingly choppy Giants offense, everyone mentions Eli Manning. But a lack of running game and instability at tight end are the two biggest issues.
49ers: This isn't a strong pass-blocking O-line. That's a real problem if your quarterback is as frenetic in the pocket as Colin Kaepernick. This was proven a number of times against the Bucs last week.
Los Angeles: This offense is doing better and better work with first down play calls. It has to; the Rams aren't talented enough to win through execution—they must win through play design. This is likely the main reason Jared Goff is still being kept in waiting. Case Keenum is not an NFL quality thrower (not starter quality, anyway), but Keenum can presumably read the field better than the 22-year-old rookie. Reading the field is key for winning through play design.
For daily film study notes, follow @Andy_Benoit
Question or comment? Email us at talkback@themmqb.com.
This article originally appeared on
---
---