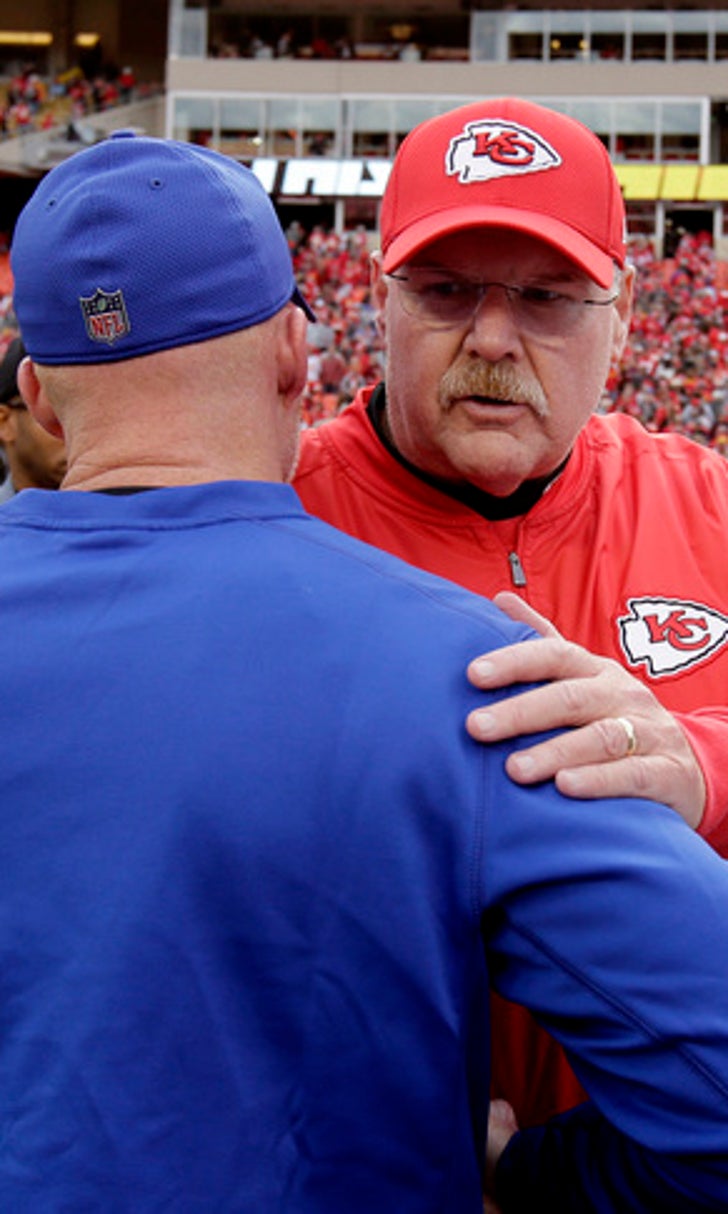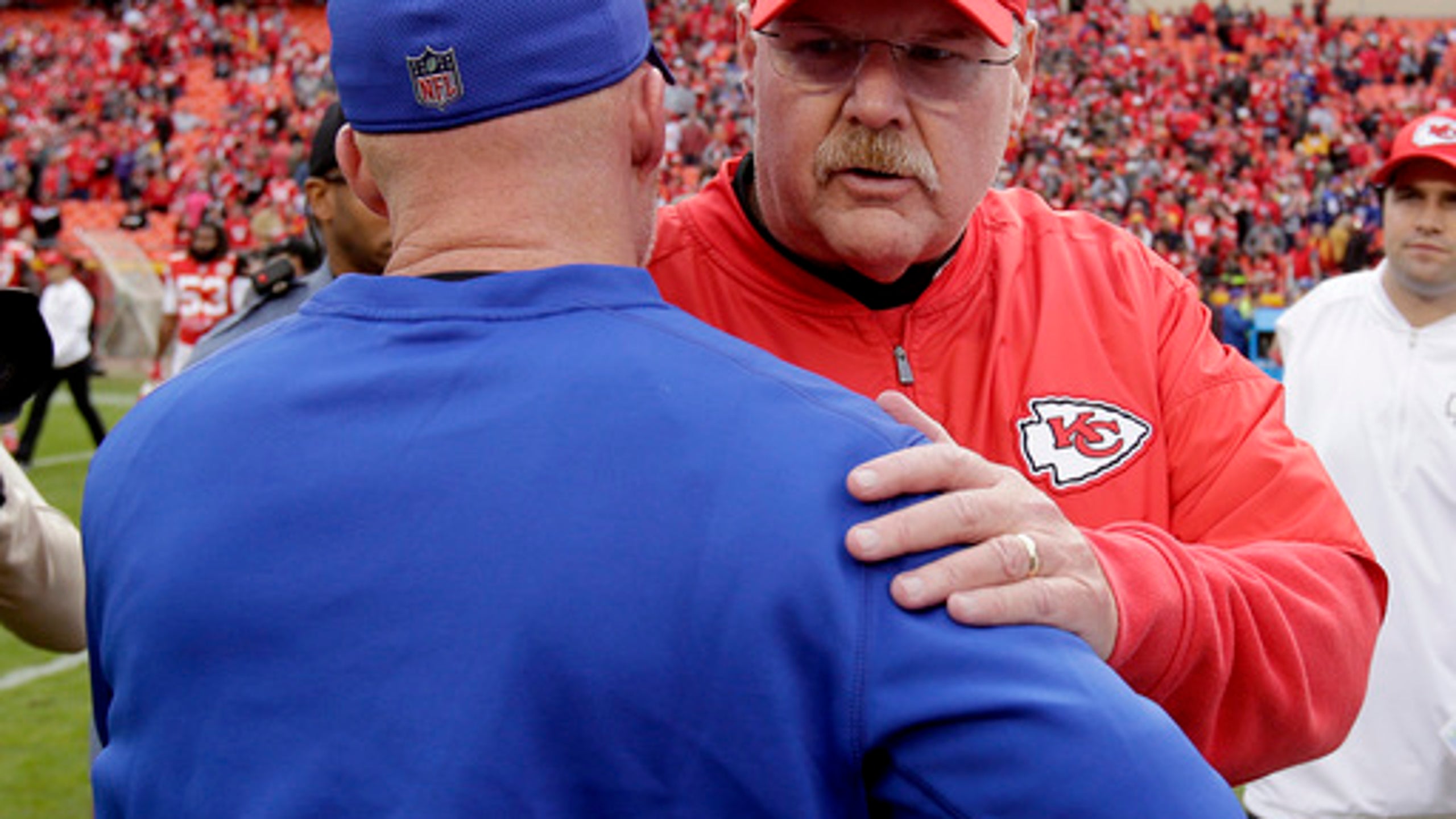 Sean McDermott gets sweet win as Bills hold off Chiefs
BY AP • November 26, 2017
KANSAS CITY, Mo. (AP) Sean McDermott went from having perhaps the worst week of his head coaching career to the best.
The Bills coach was lambasted last week after a switch to quarterback Nathan Peterman didn't pan out, and it appeared that Buffalo's season was swirling the drain. But with Tyrod Taylor back under center on Sunday, the Bills got back to their winning ways with a 16-10 victory.
''We are focused on what we do. I mean, the adversity that this team has been through, these guys push through,'' McDermott said. ''They bonded together and invested and that is where it starts.''
It didn't hurt that McDermott got his bounce-back win against his former boss.
He spent more than 10 seasons working under Kansas City coach Andy Reid in Philadelphia, rising from a lowly administrative assistant to defensive coordinator. McDermott said he learned a lot from Reid ''on and off the field,'' though his mentor probably wishes he picked up a little bit less.
''He laid a blueprint out for me for 12 years of how to do things the right way, and that is why he is where he is in terms of the all-time wins list,'' McDermott said. ''That doesn't happen by mistake.''
As for Taylor, he was 19 of 29 for 183 yards with a touchdown and no interceptions. It was a solid afternoon after Nathan Peterman threw five interceptions last week against the Chargers.
''I'm just proud of the way the guys played today,'' Taylor said. ''It wasn't the prettiest, but for us to come get a win on the road with our backs against the wall, people not believing in us.''
Now, it's the Chiefs (6-5) in which people have very little belief. They've lost five of their last six games, this one an abysmal showing by Alex Smith and their offense.
They managed 236 yards of total offense, much of that in the fourth quarter.
''A little shock there, no doubt,'' said Smith, who threw a pick to Tre'Davious White with just over a minute left that sealed the outcome. ''Yeah, a little frustrated.''
ONE RECORD ENDS
Bills kicker Steven Hauschka missed a 52-yard field goal with just under four minutes left in the second quarter, snapping his NFL-record streak of converting 13 consecutive attempts from 50 or more yards that dated to 2014. Hauschka would redeem himself later, hitting a 56-yard try right before the half. That marked his seventh field goal from more than 50 yards, a Bills single-season record.
ANOTHER BEGINS
Chiefs kicker Harrison Butker's 45-yard field goal late in the second quarter was his 23rd in a row - a franchise record. Butker hasn't missed with the Chiefs since his very first kick back in Week 4, shortly after he was claimed off waivers from Carolina.
WILSON RETURNS
Chiefs wide receiver Albert Wilson returned after missing the last two games with a hamstring injury suffered during a Week 8 win over the Denver Broncos.
''It felt great to be out there with the guys,'' Wilson said. ''Unfortunately, we didn't get the job done so it kind of takes away from the feeling.''
Wilson finished with three receptions for 36 yards, including the offense's lone touchdown on a 19-yard pass from Smith early in the second half.
PERFECT PUNTING PLAN
Chiefs wide receiver Tyreek Hill's prowess on punt returns is no secret, and that's causing special teams coaches to pay just as much attention to him as defensive coordinators.
Same goes for opposing punters, for that matter. Hill couldn't get anything going in the return game Sunday, advancing just two punts for zero net yards and being forced into several fair catches.
''He's a dangerous returner,'' Bills punter Colton Schmidt said. ''Tons of speed. The game plan was just to isolate him and cause him to take fair catches or kick the ball right on the sideline so he can't return it.''
REGGIE'S REVENGE
Chiefs linebacker Reggie Ragland was traded from the Bills less than two weeks before the season opener, and got his first chance to prove himself against his former team Sunday. He made his mark by leading all players with eight tackles and three tackles for loss.
Despite his history with Buffalo, he says the motivation wasn't any higher than usual.
''Anytime you play against another grown man who wants to hit you in your mouth, there is always motivation,'' Ragland said, downplaying any animosity toward his former team.
---
For more NFL coverage: http://www.pro32.ap.org and http://www.twitter.com/AP-NFL
---
---