Robert Griffin III
Robert Griffin III
RG3: 'I feel like I'm the best quarterback in the league'
Published
Aug. 17, 2015 2:08 p.m. ET

Robert Griffin III is entering a make-or-break season with the Washington Redskins, but the 25-year-old doesn't seem overly concerned about it. Why? Because there is no quarterback in the NFL who is better at their craft than RG3.
At least, that's what RG3 thinks. In an interview with WJLA's Alex Parker over the weekend, Griffin was beaming with confidence.
"I don't feel like I have to come out here and show anybody anything or why I'm better than this guy or better than that guy. It's more about going out and affirming that for me, I go out and I play, I know I'm the best quarterback on this team. I feel like I'm the best quarterback in the league and I have to go out and show that," RG3 said, per Clinton Yates of DC Sports Bog. "Any athlete at any level, if they concede to someone else, they're not a top competitor, they're not trying to be the best that they can be. There's guys in this league that have done way more than me. But, I still view myself as the best because that's what I work toward every single day."
Does Griffin actually think he is a better quarterback than Aaron Rodgers or Tom Brady? Probably not, but the point he is making is that he is not going to let the misfortunes of the past two seasons drag him down. And even if he is, he's not going to let the media know what he is thinking.
It remains to be seen if RG3 can have success under Jay Gruden. Based on what one former Redskins player recently said, you have to wonder if Redskins ownership has forced Gruden to keep working with Griffin. If RG3 struggles out of the gate this season, it won't be long before he's benched.
More from Larry Brown Sports:
---
---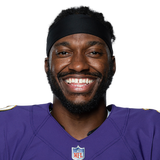 Get more from Robert Griffin III
Follow your favorites to get information about games, news and more
---