Reports: Kaepernick, 49ers working on deal that may get him back on the field
BY foxsports • October 8, 2016
The San Francisco 49ers are dealing with another quarterback controversy, this time on the field.
Following a fourth straight loss Thursday night, coach Chip Kelly said, "We're going to look at everything." Apparently, that includes Colin Kaepernick's contract, which FOX Sports' Dieter Kurtenbach writes is the reason behind Kaepernick's lack of playing time.
Kaepernick and the Niners reportedly are working on restructuring his contract, which could clear the way for him to return to the field and make him an unrestricted free agent after this season.
#49ers and QB Colin Kaepernick are closing in on a restructured contract to alleviate concerns regarding injury guarantees, source said.

— Ian Rapoport (@RapSheet) October 7, 2016
It still might happen, of course, but hearing a re-worked contract agreement between #49ers and Colin Kaepernick is far from a done deal.

— Matt Maiocco (@MaioccoCSN) October 7, 2016
Niners would like Kaepernick bigger, although injury protection for team (as @RapSheet said, they've been talking) would mitigate the issue.

— Albert Breer (@AlbertBreer) October 8, 2016
Kaepernick's $14.5 million salary for next season is guaranteed if he's injured on April 1, and according to multiple reports, the 49ers have held him off the field to keep him healthy. Kaepernick underwent shoulder, knee and thumb surgeries after last season, and when he failed to fully recover by April 1, his $11.9 million salary for this season became guaranteed.
Kelly has denied that the Niners' front office has any say in who plays, and he shot down the suggestion that Kaepernick's contract is keeping him off the field, pointing out that he played in the season opener (although for only three handoffs).
Pressure to play Kaepernick has mounted as starter Blaine Gabbert has been among the worst QBs this season, and perhaps reached a boiling point after he threw two interceptions in Thursday's 33-21 loss to an Arizona team playing without QB Carson Palmer. On Friday, CSN Bay Area's Matt Maiocco reported that some 49ers players were pushing for a switch to third-string QB Christian Ponder, not Kaepernick, when they face the Bills in Week 6.
Kaepernick has been the biggest story of the season since he started his protest during the national anthem. Many observers have opined that his stance has kept him off the field, despite Kelly's assertions that Kaepernick isn't physically ready to assume the starting job, in part because he lost a lot of weight while recovering from surgery.
And while Kaepernick's teammates reportedly support his anthem stance, it appears they're divided on who exactly is the answer at QB. According to reports, Gabbert has been the better of the two in practice. But restructuring Kaepernick's contract could clear Kelly to pick freely from his three QBs.
Whether Kaepernick ultimately will agree to a new deal is the question. He rejected a pay cut earlier this year when the Niners were discussing a trade to the Broncos, and the deal fell through.
---
---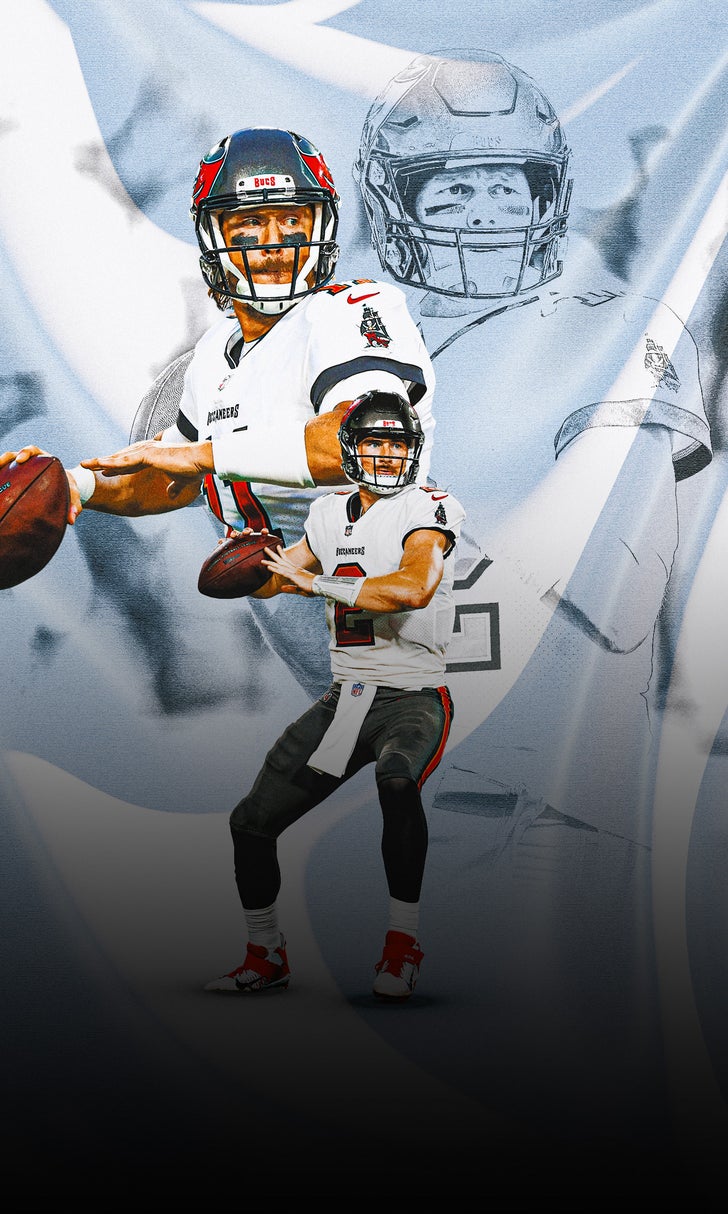 Bucs need better Tom Brady succession plan than Blaine Gabbert