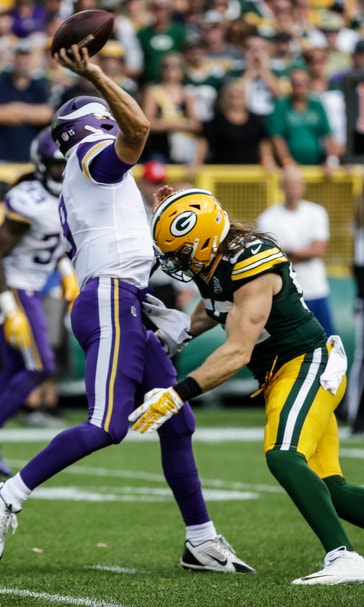 Renewed push to protect QBs has defenders stumped
September 18, 2018
Pass rushers like Clay Matthews are stumped as to what constitutes a clean hit on quarterbacks anymore. Lending a sympathetic ear is none other than Mike Zimmer, one of the biggest beneficiaries of the league's renewed emphasis on protecting the passer.
"It's pretty difficult," the coach of the Minnesota Vikings said. "You've got a target area the size of a strike zone."
So, from the top of the knees to the armpits.
No lower legs. No neck. No head.
"And then you can't fall on top of them," added Zimmer.
So, they've got to break the quarterback's fall or at least do a "gator roll," where they basically pull the quarterback on top of them as they land.
Do all that in the blink of an eye and there won't be a flag negating the game-sealing interception like Matthews was hit with Sunday, allowing the Vikings to escape Lambeau Field with a 29-29 tie instead of a loss.
To be clear, the rule outlawing defenders from landing on the quarterback has been in the books since 1995, but the league's competition committee made it a point of emphasis this year.
And while Matthews wasn't whistled specifically for that, the league's emphasis on roughing the passer appeared to play a role in the game-altering whistle that erased rookie Jaire Alexander's interception of Kirk Cousins with 1:37 remaining in the fourth quarter with Green Bay ahead 29-21.
Referee Tony Corrente explained that when Matthews "hit the quarterback, he lifted him and drove him into the ground."
Many critics didn't buy that explanation or the justifications for the more than 30 times roughing the quarterback has been called in the first two weekends of the season.
"I love the NFL - but it's crazy the #s being put up by QBs & WRs due to fact that D can't hit them anymore & can't lay hands on them downfield," tweeted Kurt Warner, the architect of the "Greatest Show on Turf" that put up its own big numbers.
"Everyone is running free the entire game (or it's a penalty)! Don't get me wrong I LOVE Offense, but better when it's a fair fight."
Other takeaways from Week 2 include the realization that not even his grandma is safe from Jalen Ramsey's trash talk; Marquette King got the last laugh on Jon Gruden after the Broncos' 20-19 win over the Raiders; kickers who can't cut it get cut; and Vontae Davis gave new meaning to walking away from the game.
---
---